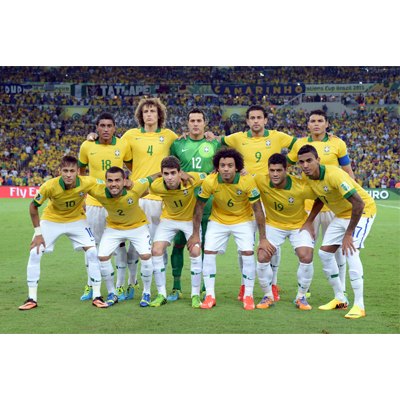 Brazil were humiliated in front of their home crowd as they were thrashed 7-1 by Joachim Low's Germany. With captain Thiago Silva and winger Neymar out of the clash, the chances of Brazil progressing to the finals were bleak. But no one would have expected the host nation to lose a semi-final match in such a fashion. But despite the humiliating loss, Brazil will play Netherlands in a match for the third place at at Estádio Nacional de Brasilia, Brasília.
Brazil stats in the World Cup:
Goals Scored: 8
Average Goals Scored per Match: 2
Average Shots on Target (%): 70%
Attempts per Match: 17.5
Fouls Committed: 65
Yellow Cards: 8
Red Cards: 0
Average Distance Covered per Match: 109.3km
Passes Completed: 1551
Pass Completion Rate: 70%
Country Profile:
Population: 200 million
Area: 8.5 Million km2
Capital: Brasilia
Currency: Real
Federation: Confederaçao Brasileira de Futebol (CBF) (former Confederaçao Brasileira de Desportos), founded 1914, affiliated to Fifa in 1923.
Registered players : 550,000
Colours: Yellow jersey, blue shorts, white socks.
World Cup appearances: 20 (1930, 1934, 1938, 1950, 1954, 1958, 1962, 1966, 1970, 1974, 1978, 1982, 1986, 1990, 1994, 1998, 2002, 2006, 2010, 2014 - the only country to take part in all tournaments).
World Cup record: winner (1958, 1962, 1970, 1994, 2002), finalist (1950, 1998), third place (1938, 1978), fourth place (1974), quarter-finalist (1954, 1986, 2006), second group phase (1982), second round (1990), first round (1930, 1934, 1966)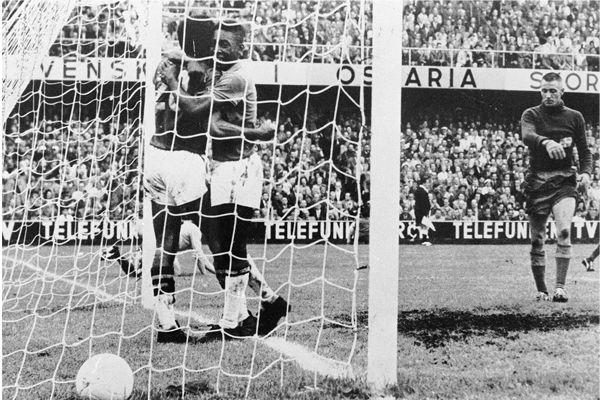 AFP: Pele celebrating his goal in 1958 World Cup - Brazil won it that year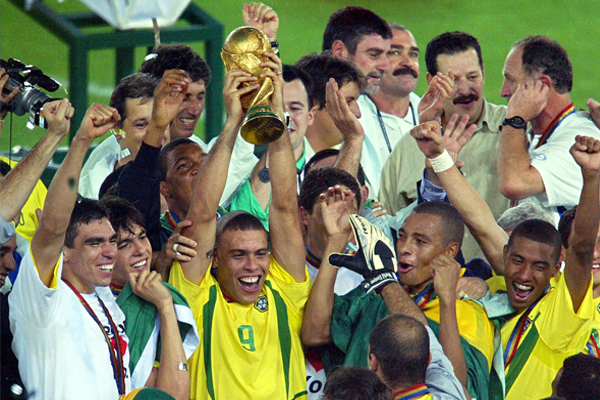 AFP: Brazil celebrating their 5th world Cup trophy in 2002
Copa America: Winner (1919, 1922, 1949, 1989, 1997, 1999, 2004, 2007), finalist (1921, 1925, 1937, 1945, 1946, 1953, 1957, 1959, 1983, 1991, 1995), third place (1916, 1917, 1920, 1942, 1959,1976, 1979), fourth place (1923, 1956, 1963)
How they qualified:
Brazil were automatically qualified as host of the tournament
Top clubs: Flamengo, Corinthians, Santos, Sao Paulo, Batofogo
Key players: Neymar, Oscar, Thiago Silva, David Luiz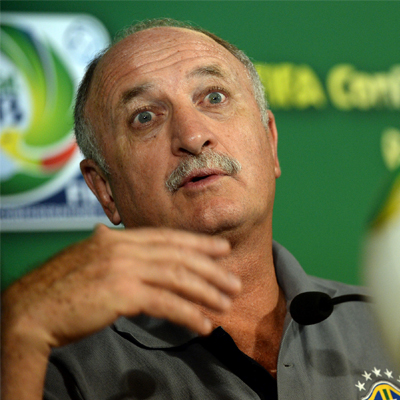 AFP
Coach: Luiz Felipe Scolari (since December 2012)
Sixth star and nothing less -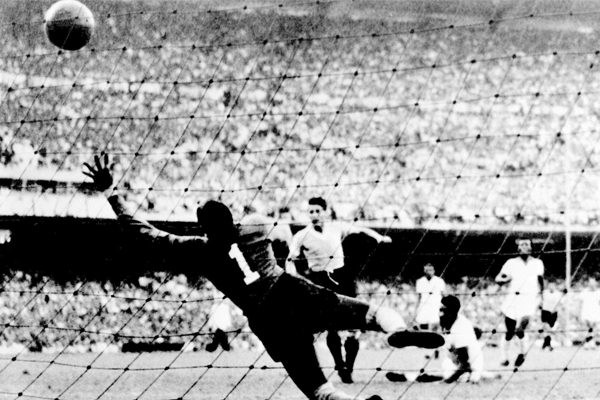 AFP: Brazil lost the 1950 World Cup final at home to Uruguay
Everyone everywhere was happy when Brazil were awarded the 2014 World Cup due to the legend and heritage of their football with a smile that has won them five titles in 1958, 1962, 1970, 1994 and 2002. Their tough talking coach Big Phil Scolari said the hosts were obliged to win it, that nothing less than a sixth star would be sufficient, but Brazil always set themselves a benchmark of claiming the trophy. As hosts Brazil have been condemned to a series of friendly matches plus the 2011 Copa America, where they were dismal and fell at the quarters, and the 2013 Confederations Cup where they were brilliant and spanked World Champions Spain 3-0 in the final. In between those tournaments Brazil had replaced coach Mano Menezes and installed Scolari, who had delivered the 2002 Japan/South Korea World Cup with his Ronaldo, Rivaldo, Ronaldinho led side. Scolari is seen as a winner, rather than a proponent of the beautiful game, but as Brazil have a plethora of top class players the two should go hand-in-hand for the fancied 2014 vintage.
Oscar the main man - A great deal of expectation has fallen on the slender (he weighs 56kg) shoulders of the multitalented star striker Neymar, who joined Barcelona from Santos in July 2013. He will enjoy a free role, albeit starting on the left wing. Chelsea's Oscar, 22, is alongside him as the playmaker with two more strikers, the powerfully built Hulk of Zenit St Petersburg on the right and journeyman Fred as number 9. He's enjoying a purple patch and was top scorer in the Confederations Cup. In midfield to back up the rather delicate Oscar and Neymar we are likely to see tough battlers such as Willian or Ramires of Chelsea, Luis Gustavo of Wolfsburg, and Fernandinho of Manchester City as Scolari adds brawn in the middle to the brains upfront. The backline is a shoe in - Barca's Dani Alves on the right and Madrid's Marcello on the left with Chelsea's mop-haired David Luis partnering the captain Thiago Silva in a slick central pairing. Julio Cesar looks like a potential weak link as the Brazil stopper currently keeps goal for Toronto FC. Scolari says he'll go to Hell and back for his chosen 23, the day he left out AC Milan veterans Robinho and Kaka in a move that echoed his decision in 2002 to ignore Romario. This group is required to exercise the ghost of 1950 when they last hosted the World Cup but lost 2-1 in the deciding match to Uruguay. That Brazil is still mourning this "maracanazo" defeat 64-years later is a real challenge to Scolari and his charges, adding to an already seemingly intolerable pressure on them to deliver.