After losing the 1990 FIFA World Cup final to West Germany, Argentina have reached the World Cup final for the first time in 24 years. Over the last six World Cups, the 2014 FIFA World Cup is the first time that Argentina have managed to progress ahead of quarter final round (they were out in the quarters three times in the last four World Cups). This World Cup, Argentina have displayed a modest performance as they have scored only eight goals on their way to the finals (Germany scored seven in a single match). On their road to finals, Argentina have improved defensively. They conceded three goals in the group stage, but did not concede a single goal through-out the whole knock-out phase. Argentina played Germany ( West Germany in 1986 and 1990) in their previous two finals and in this World Cup, once again they face them. After the World Cup final loss against Germany (West Germany) in 1990, Argentina will seek for revenge and win their third World Cup trophy.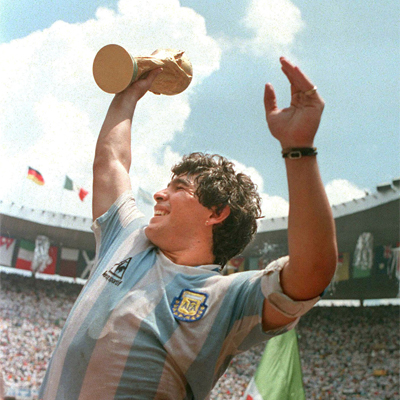 AFP: Diego Maradona celebrating after winning the 1986 World Cup
Argentina won a 3–2 against West Germany. In the 1990 World Cup final, Argentina lost 1–0 to Germany by penalty kick in the 85th minute. Argentina have a successful record in the Copa América as they won it 14 times. They also won the 'extra' South American Championships in 1941, 1945 and 1946. In 1992, the team won the FIFA Confederations Cup and the Kirin Cup. The Argentine Olympic team won the Olympics football tournaments in Athens 2004 and Beijing 2008. Argentina,along with France, are the only two national teams that have won the three most important men's titles recognized by FIFA: the World Cup, the Confederations Cup, and the Olympic tournament.
Country Profile:
Population: 40.2 million (UN 2009)
Area: 2.78 million sq/km
Capital: Buenos Aires
Currency: Argentine Peso
Federation: Argentine Football Association (AFA), founded 1893, affiliated to Fifa in 1912.
Registered players: 331,810
Colours: Sky blue and white striped shirts, black shorts and white socks
World Cup appearances: 16 (1930, 1934, 1958, 1962, 1966, 1974, 1978, 1982, 1986, 1990, 1994, 1998, 2002, 2006, 2010, 2014)
World Cup record: Winner (1978, 1986), finalist (1930, 1990), quarter-finalist (1966, 1998, 2006, 2010), second round (1974, 1982, 1994), first round (1934, 1958, 1962, 2002)
Copa America: winners (1921, 1925, 1927, 1929, 1937 1941, 1945, 1946, 1947, 1955, 1957, 1959, 1991, 1993), finalists (1916, 1917, 1920, 1923, 1924, 1926, 1935, 1942, 1967, 2004, 2007), third place (1919, 1956, 1959, 1963, 1989), fourth place (1922, 1987)
How they qualified:
Won the South America zone qualifying group with 32 points ahead of Colombia on 30, Chile on 28, Ecuador on 25 and Uruguay on 25, after 9 wins, 5 draws and 2 defeats with 35 goals for and 15 goals against.
Top clubs: River Plate, Boca Juniors, Velez Sarfield, San Lorenzo, Estudiantes de La Plata
Key players: Lionel Messi, Sergio Aguero, Javier Mascherano, Gonzalo Higuain and Ángel di María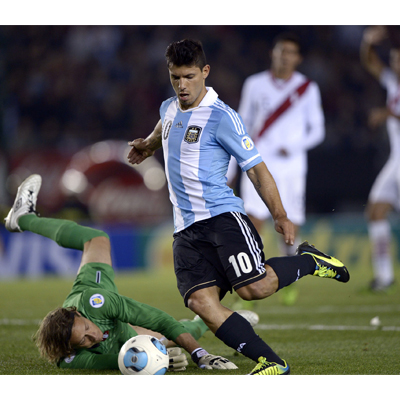 AFP: Sergio Agureo
Coach: Alejandro Sabella (since August 2011)
Messi needs to do a Maradona -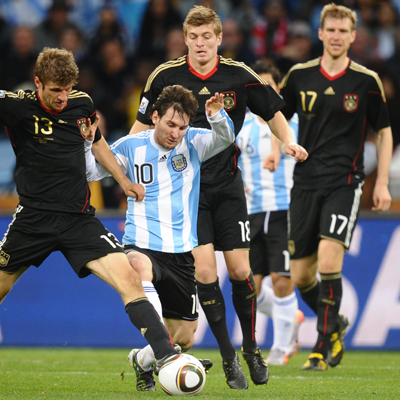 AFP
A sleeping giant since Diego Maradona delivered their second World Cup in 1986, the time is ripe for his natural inheritor Lionel Messi, widely regarded as the best player in the world, to spearhead a fresh challenge for Argentina at Brazil 2014. The big debate over Messi is whether or not he can do for Argentina what he has done for his club Barcelona. While Messi can count on several other supreme talents in the national side, there remain doubts over the goalkeeper and a quest to fine the right coach. As coach Maradona did okay at the 2010 World Cup until being exposed as tactically naive by Germany in a crushing 4-0 quarter-final rout. Sergio Batista then oversaw a calamitous Copa America 2011 on home soil as he also failed to bring the best out of Messi and the rest with a humiliating quarter-final exit to eventual champions Uruguay. Now at the helm is eternal Daniel Passarella sidekick Alejandro Sabella who has established a busy hardworking side with an astonishingly talented forward trident of Messi, Sergio Aguero and Gonzalo Higuain, surely the best forward line of any team in recent times. Backed up by a midfield of speedy Real Madrid winger Angel di Maria, and the hard tackling duo of Fernando Gago and captain Javier Mascherano, Argentina eventually won the South America zone qualifying group.
Magic - But questions lie unanswered about their consistency, after nine wins, five draws and two defeats with 35 goals scored and 15 conceded in a group where Brazil did not feature. One of the doubts is over 'keeper Sergio Romero who lost his place at Sampdoria before being loaned to Monaco for the 2013-2014 season, where he then failed to break into the first team. The defense is marshaled by the experienced and dependable Pablo Zabaleta of Manchester City, but that's where the top quality stops in the backline. But thanks to a fully functioning front line with Messi bagging 10 from 14, Higuain nine from 11 and Aguero five from eight, and the fact all three of them are world class strikers Argentina will be feared by everyone. Sabella is trying to keep enthusiasm down by insisting that Spain, Germany and Brazil are all ahead of them in quality. This is a de facto declaration he expects to make the semi-finals, and given that none of the other three teams have a match winner in the mold of the magical Messi, could he be the man to carry the day? His ability to conjure goals from nothing with a twist of the hips, explosive acceleration, unplayable ball control and a killer shot, means he might, as Maradona did in 1986, hoist a very good squad beyond just a place in the final four and cement his place in the football pantheon.