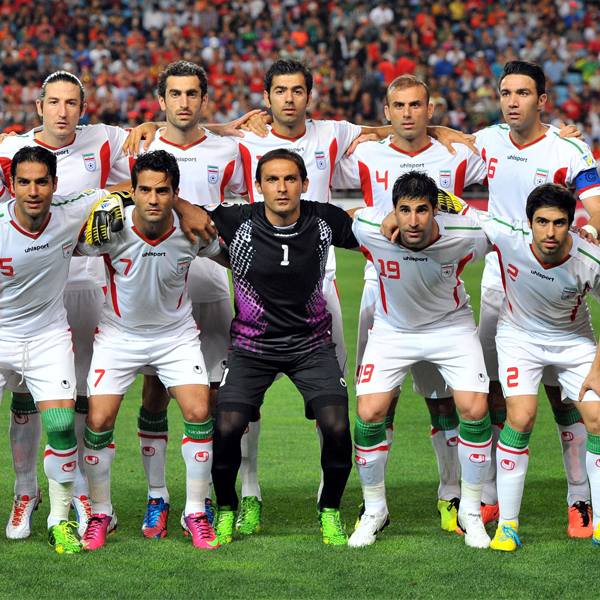 Iran is the highest ranked Asian team in the FIFA World Cup 2014 on No 43. With the help of Carlos Queiroz, former Real Madrid manager, Iran qualified for the FIFA World Cup 2014. They qualified for the FIFA World Cup 2014 as group winners.
Country Profile:
Population: 78 Million
Area: 1,648,000 km sq
Capital: Tehran
Currency: Rial
Federation: Iranian Football Federation founded in 1920 and affiliated to FIFA in 1945
Registered players: 450,000
Colours: All white
World Cup appearances: 4 (1978, 1998, 2006, 2014)
World Cup record: First-round (1978, 1998, 2006, 2014)
Asian Cup: 12 (1968, 1972, 1976, 1980, 1984, 1988, 1992, 1996, 2000, 2004, 2007, 2011)
Record in Asian Cup: winner (1968, 1972, 1976), 3rd (1980, 1988, 1996, 2004), 4th (1984), quarter-finals final (2000, 2007, 2011), 1st round (1992)
How they qualified: Asia zone: in round 2 they beat the Maldives 4-0, 1-0; 3rd round : Won Group E with 12pts ahead of Qatar (10), Bahraïn (9) and Indonesia (0), 3 wins, 3 draws, 0 defeats, 17 goals for, 5 against; 4th round: won Group A with 16pts ahead of South Korea (14), Uzbekistan (14), Qatar (7) and Lebanon (5). 8 games played, 5 wins, 1 draw, 2 defeats, 8 goals for and 2 against.
Top clubs: Esteghlal, Pirouzi (ex Persépolis), Sepahan
Key players: Javad Nekonam, Ashkan Dejagah, Reza Ghoochannejhad, Mojtaba Jabari, Ali Karimi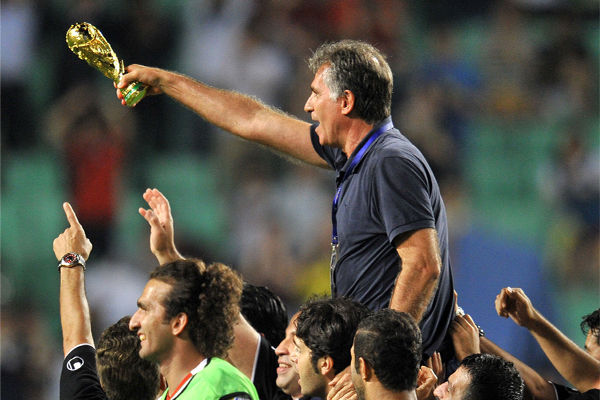 AFP
Coach: Carlos Queiroz (Por/since 2011)
Goals galore as Iran hit the mark -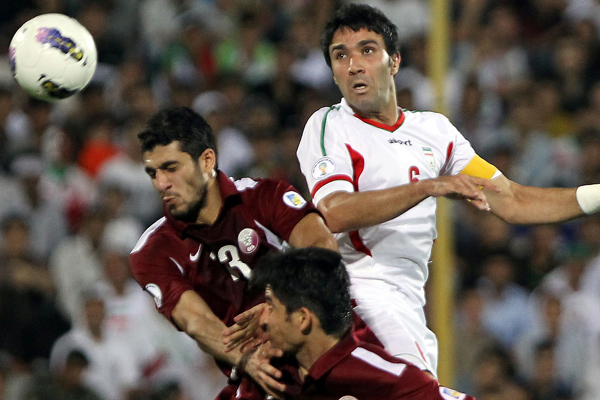 AFP
Iran are back at the World Cup for a fourth time after the experience of well travelled coach Carlos Quieroz fine-tuned a new generation 'Team Melli', whose goals galore saw them win Asia Group A after beating South Korea twice.
For Iran this is also their third appearance at the finals in the last five, since their first trip to a finals way back at Argentina 1978.
Queiroz, who has previously handled Real Madrid and Portugal and who was Alex Ferguson's right-hand man at Manchester United, added his trademark tactical rigour to the defence and midfield while shaking things up with plenty of new blood.
The results soon followed his April 2011 appointment and the high point was their second, cliff-hanger 1-0 victory over South Korea which clinched qualification in their final group game.
The statistics also tell an interesting story. Over the full set of qualifiers Iran found the back of the net some 30 times and, during the final eight match qualifying group, only conceded two.
Midfield general and national captain Javad Nekounam was an ever-present high performer during their qualifying campaign and is one of the survivors from Germany 2006, where two defeats to Mexico (3-1), Portugal (2-0) and a 1-1 draw with Angola were hardly satisfying.
New standard - For the trip to Brazil, Queiroz will hope his side's tendency to still pick up results when playing badly, their ability to hold on when under pressure, and that other crucial knack of coming up with timely goals, will carry them to the second round for the very first time.
Most of his players are based at home, with Esteghlal Teheran, who attract 100,000 fans to the Azadi national stadium on a regular basis, their city neighbours Persepolis and Sepahan of Ispahan in central Iran, supplying a major part of the squad.
Nekounam spent six years at Osasuna in Spain and Ashkan Dejagah plays at Fulham, while three-goal qualifying star Reza Ghoochannejhad, who was raised in the Netherlands, is a striker at Charlton. He scored the winner against Qatar and the clincher against South Korea in the last game.
The fact Iran is isolated politically by the international community makes it tough to find friendly warm-up matches and the Brazil World Cup is a great opportunity for a political raprochement.
But out in Brazil they'll also be hoping to for something to smile about on the pitch, something akin to the 1998 2-1 win over the United States, their only ever win a finals.