For their second straight World Cup finals and its third ever after 1982 and 2010, Honduras are hoping to play more than just a cameo role, with the Central American side set to take on Switzerland, France and Ecuador in a challenging but not overly daunting group. During qualifying Honduras enjoyed a historic victory at Mexico's Aztec Stadium, a 2-1 win which will live long in the memory alongside their home triumph over the United States by the same scoreline. Those two results will help the Catrachos (as Hondurans call themselves) to dream of other scalps.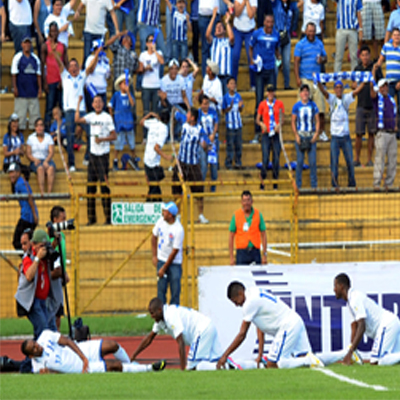 AFP
"We have a team capable of playing a role here," says their Colombian coach Luis Suarez. The 54-year-old took over the job in 2011 after having previously coached Ecuador, who he led to the quarter-finals at the London Olympic Games in 2010. Suarez tends to play a 4-4-2 with Carlo Costly (Real Espana), 32, and United States based Jerry Bengtson (New England Revolution), 27, leading the line. Bengtson scored nine goals in 12 games during qualification, including the winning goal at the Aztec Stadium. Costly, who missed the South African World Cup through injury, scored seven from nine games en route to Brazil. In 2010 the Hondurans went down to Chile 1-0 before taking on the mighty Spain, who defeated them 2-0. They then signed off with a 0-0 draw with the Swiss, who they play again this time out.
Country Profile:
Population: 8.5 Million
Area: 112,492 km2
Capital: Tegucigalpa
Currency: Lempira
Federation: Federacion Nacional Autonoma de Futbol de Honduras, founded and affiliated to FIFA in 1951
Registered players: 61,300
Colours: All white
World Cup appearances: 3 (1982, 2010, 2014)
World Cup record: First round (1982, 2010)
Gold Cup: Finalists (1991), semi-finals (1963, 1967, 1973, 2005, 2009, 2011, 2013)
Copa America: Third place (2001)
How they qualified: Came third in the Concacaf final group with 15 pts behind the United States 22, Costa Rica 18 and ahead of Mexico 11, Panama 8 and Jamaïca 5, 4 wins, 3 draws, 3 defeats, 13 goals for and 12 against.
Top clubs: Olimpia, Real Espana, Motagua, Marathon
Key players: Noel Valladares, Wilson Palacios, Carlo Costly, Jerry Bengtson
Coach: Luis Suarez (Col/since March 2011)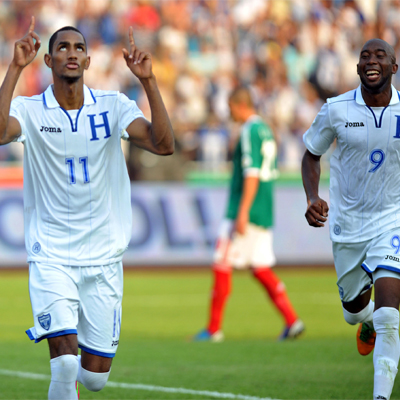 AFP
The team they take with them this time features many players who ply their trade in the UK such as the 29-year-old Wilson Palacios (Stoke), Roger Espinoza (Wigan Athletic), 27, their left-back from Celtic Emilio Izaguirre, 28, and the Hull City central defender Maynor Figueroa. The outfit plays a physical game backed up by the Olimpia Tegucigalpa 'keeper Noel Valladares, who has amassed over 120 caps for Honduras "We can qualify,'" insists Suarez, who counts on the combative spirit of a side dreaming of a first ever finals phase victory to take home. In their first ever finals back in 1982 they did quite well, drawing with hosts Spain and then Northern Ireland before going down to a narrow defeat by a penalty to Yugoslavia.