Ecuador will have a tough time as they face France in their final group match. Ecuador and Switzerland have three points each. Switzerland face Honduras in their last group match and if they win, provided with Ecuador's loss, they go through. Qualification chances for Ecuador are minimal.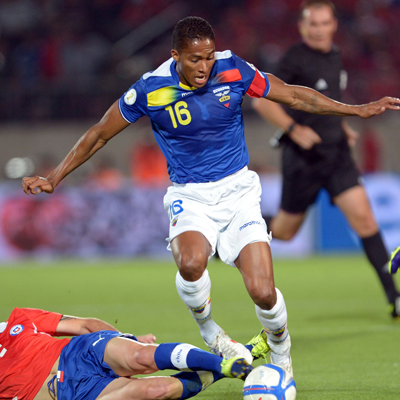 AFP
Country Profile:
Population: 15.9 million
Area: 256,370 km2
Capital: Quito
Currency: US Dollar
Federation: Ecuadorian Football Federation founded in 1925 and affiliated to Fifa in 1926.
Registered players: 31,000
Colours: Yellow shirt, blue shorts and red socks
World Cup appearances: 3 (2002, 2006, 2014)
World Cup record: Second round (2006), first round (2002).
Copa America: 4th (1959, 1993), 5th (1939, 1941), 6th (1963), 7th (1942, 1945, 1947, 1949, 1953, 1955 and 1957), quarter-finals (1997), 1st round (1975, 1979, 1983, 1987, 1989, 1991, 1995, 1999, 2001, 2004, 2007, 2011).
How they qualified: Came 4th in the South American qualifying zone with 25pts behind Argentina 32, Colombia 30, Chile 28 and ahead of Uruguay 25, etc... with 7 wins 4 draws and 5 defeats, 20 goals for and 16 against.
Top clubs: Barcelone, Emelec Guayaquil, Liga Quito, Deportivo Quito.
Key players: Antonio Valencia, Walter Ayovi, Christian Noboa, Felipe Caicedo.
Coach: Reinaldo Rueda (since August 2010)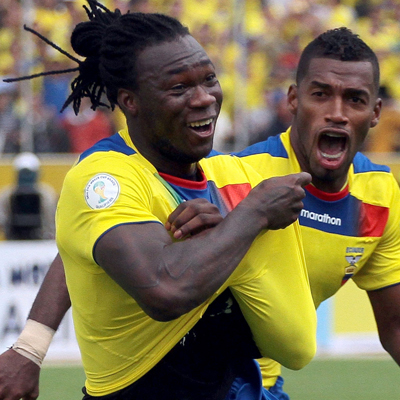 AFP
While the Condors' strong point in qualifying seemed to be their defence, with a game built on effective counter-attacking, the astonishing speed and power of right winger Antonio Valencia can be a determining factor. The Manchester United midfielder is not only fast and powerful but plays with his head up seeking out strikers, whilst also being able to set the tempo and provide the final ball. Although his goal tally could be better, he has no problem helping out in defence.
At the spearhead of Ecuador's attack is Felipe Caicedo (Lokomotiv Moscow), who banged home seven goals in qualifying, while there are also two Mexico-based forwards Joao Rojas (Cruz Azul) and Jefferson Montero, 24, who scored the 'qualifying' goal in the 1-0 win over Uruguay. But out in Brazil everything will be skewered by the brutal death in July 2013 of their forward Cristian Benitez, who scored four goals in nine qualifying games, taking his tally to 24 in 58 for Ecuador before his sudden and depressing demise. In his memory Ecuador will attempt to reach the last-16, which is where they fell, 1-0 to England, in 2006.