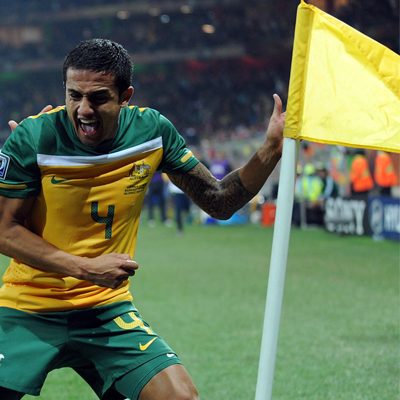 Tim Cahill is the most important Australian player. Cahill has scored in three World Cups for Australia, which no other Australian has done. Cahill, with four goals and one assist, has now been involved in 56 % of Australia's goals (9) in World Cup history.
Personal Data:
Surname: Cahill
Firstname: Tim
Country: Australia
Date of birth: 1979-12-06
Birthplace: Sydney
Height: 180 cm
Weight: 69.0 kg
Playing Career:
Position: Midfielder
Clubs: Sydney United (1997), Millwall (Eng/1997-2004), Everton (Eng/2004-2012), Red Bulls (USA/2012)
International appearances: 68
International goals: 32
International debut: 30/03/2004, Australia-South Africa (1-0)
Playing Honours:
International - World Cup: second round (2006), first round (2010), 6 matches, 3 goals
Asian Nations Cup: finalist (2011), quarter-finalist (2007), 9 matches, 3 goals
1 Oceanian Nations Cup (2004), 3 matches, 6 goals
Other Honours - Australian Player of the year (2009)
Biography:
Cahill packs a punch - Australia's top ever international scorer Tim Cahill is a box-to-box midfielder with an eye for the goal and an eye-catching trademark goal celebration of boxing the corner flag. He scored Australia's first World Cup goal as he hauled them from behind against Japan in their 2006 opener, a 3-1 victory that propelled the Socceroos toward the second round. Cahill would score another World Cup goal in 2010 in a 2-1 win over Serbia, but he had already been sent off early in the 4-0 mauling by Germany, thereby missing the tie against Ghana as Australia failed to make the second-round cut. From Sydney with European and Samoan roots he is now 34 years old and has traded his career club Everton for New York Red Bulls, where last season he scored a goal after just seven seconds in a Major League game.