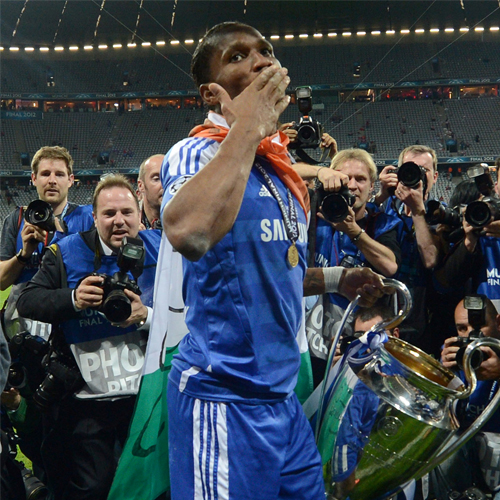 Didier Drogba needs no introduction. He is known for his impressive performances at Chelsea FC, helping them win 3 Premier League titles, 4 FA Cups, 2 Communtiy Shields, 2 League Cups and and 1 UEFA Champions League. He has scored more goals than any other foreign player in the Premier League and is currently the club's fourth highest goal scorer of all time. He currently plays for Turkish club Galatasaray He is the captain and all-time top scorer of the Ivory Coast national team.
Personal Data:
Surname: Drogba
Firstname: Didier
Country: Ivory Coast
Date of birth: 1978-03-11
Birthplace: Abidjan
Height: 180 cm
Weight: 84.0 kg
Playing Career:
Position: Striker
Clubs: Le Mans (Fra/1998 - Jan. 2002), Guingamp (Fra/Jan. 2002 - 2003), Marseille (Fra/2003-04), Chelsea (Eng/2004-2012), Shanghai Shenhua (Chi/June-Dec. 2012), Galatasaray (Tur/since Jan. 2013)
International appearances: 101
International goals: 64
International debut: 08/09/2002, Ivory Coast-South Africa (0-0)
Playing Honours:
International - World Cup: first round (2006, 2010), 5 matches, 2 goals
African Nations Cup: finalist (2006, 2012), 4th (2008), quarter-finalist (2010, 2013), 24 matches, 11 goals
Club - 1 Champions League (2012), finalist (2008)
UEFA Cup: finalist (2004)
3 English Championships (2005, 2006, 2010)
4 FA Cups (2007, 2009, 2010, 2012)
2 English League Cups (2005, 2007)
2 Community Shields (2005, 2009)
1 Turkish Championship (2013)
1 Turkish Cup (2014)
1 Turkish Supercup (2013)
Other honours - African player of the year (2006, 2009)
Biography:
Last waltz for King of the Elephants -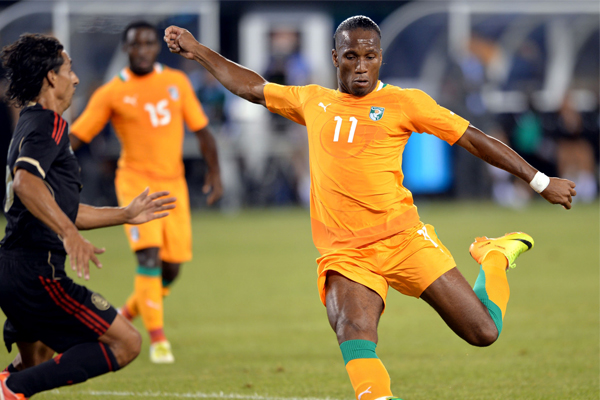 AFP
At 36 a diminished Didier Drogba leads Ivory Coast out to a third consecutive World Cup, hoping to guide his troops into the second round. Drogba rightfully became a legend at Chelsea, crowning his time there with a crucial and world class headed goal against Bayern Munich to help clinch a desperately sought after Champions League title in 2012. The giant centre-forward then moved to China for a king's ransom salary before switching to Galatasaray in Turkey. And while he looks diminished from when he was in his prime, Drogba is the type of warrior to drag one last great tournament from his aging limbs. Twice African player of the year, twice Premier League top gun, he was also on the losing side in the final of the African Nations Cup in 2006 and 2012.