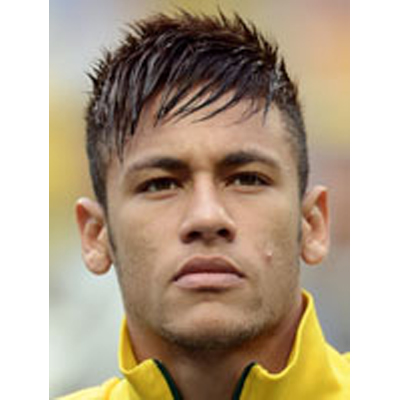 The entire nation will be heartbroken to see Neymar out of the World Cup with a broken vertebrae. Having played five matches, Neymar has four goals to his name, helping Brazil top the Group A. Wearing the iconic No 10 jersey which was worn by Brazilian legend Pele previously, Neymar is proving his worth. However, in Brazil's last World Cup match against Chile, Neymar struggled to perform upto the mark.
Personal Data:
Known as: Neymar
Surname: da Silva Santos Junior
Firstname: Neymar
Country: Brazil
Date of birth: 1992-02-05
Birthplace: Mogi das Cruzes
Height: 174 cm
Weight: 65.0 kg
Career Data:
Position: Striker
Clubs: Santos (2009-2013), FC Barcelona (Spa/since 2013)
International appearances: 47
International goals: 30
International debut: 11/08/2010, USA-Brazil (0-2)
Playing honours:
International -
Copa America - quarter-finals (2011), 4 matches, 2 goals
1 Confederations Cup (2013), 5 matches, 4 goals
Olympic Games - 1 silver medal (2012)
Club -
1 Copa Libertadores (2011)
1 South American Supercup (2012)
3 San Paulo Championships (2010, 2011, 2012)
1 Brazilian Cup (2010)
1 Spanish Supercup (2013)
Biography: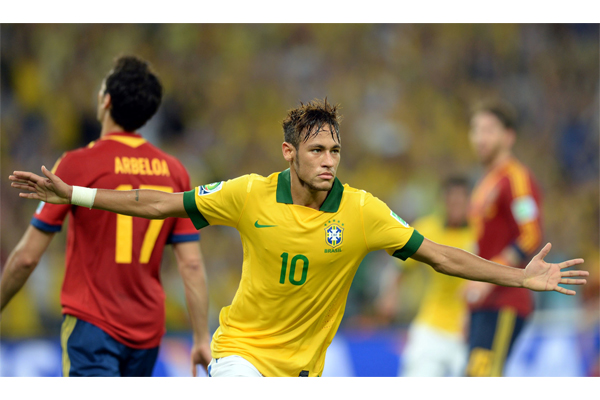 AFP: Neymar celebrating his goal against Spain in the 2013 FIFA Confederations Cup
All hopes on the wonder-kid - Brazilians feel that the slender 22-year-old striker Neymar is their key to success at the 2014 World Cup and if his performances on the way to the Confederations Cup title in 2013 are anything to go by they may well be right. He boasts the full range of talents you could expect from a Brazilian football prodigy announced as the new Pele, even if he prefers to play on the left and has none of Pele's bulk. He scored 30 goals for Brazil in his first 47 games. But his number 10 shirt and the fact he played for Santos provoked most of the Pele comparisons. Neymar switched to Barcelona in a blockbuster transfer in July 2013, and has been exposed to more robust defending in Europe than in Brazil. He had a slow start in the pre-World Cup season.