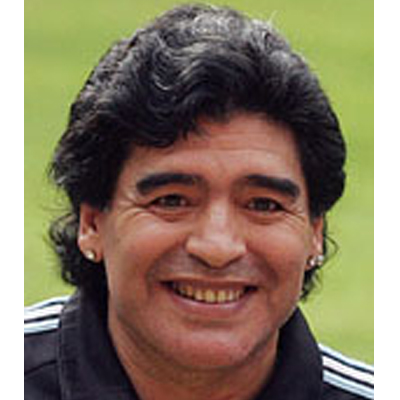 Diego Maradona needs no introduction. He is one of the greatest players in the history of football. Maradona was joint FIFA Player of the 20th Century with Pelé. His close control over the ball and amazing skills made him the best on the pitch. Maradona has his name on two world record transfer fees. In 1982, Maradona moved to FC Barcelona for a record fee of £5 million. Later, he joined Napoli in 1984 from Barcelona, again for a record fee of £6.9 million. Despite of his impeccable skills, Maradona is also known for his controversies. In the 1986 World cup quarter-final match against England, the world witnessed the most controversial goal in the football history. Maradona scored a goal off his hand, which is popularly known as the "Hand of God". But that match had even more to it as Maradona silenced his critics, as he scored the "Goal of the Century". For that goal, Maradona ran 66 yards, going past five English players to score the goal. This goal was voted "The Goal of the Century" by FIFA.com voters in 2002.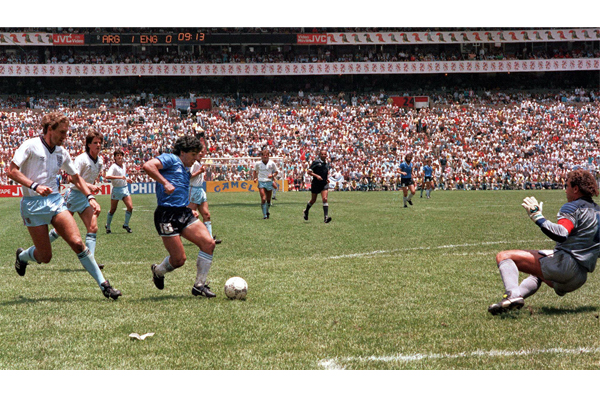 AFP: Maradona's "Goal of the Century"
But that's not all, Maradona was suspended from professional football for 15 months in 1991, after being tested positive for cocaine. In 1994, he was tested positive for ephedrine, which resulted in his exclusion from the 1994 FIFA World Cup in the U.S.
Personal Data:
Surname: Maradona
First-name: Diego
Country: Argentina
Date of birth: 1960-10-30
Birthplace: Buenos Aires
Height: 168 cm
Weight: 70.0 kg
Career Data:
Position: Midfielder
Clubs: Argentinos Juniors (1976-1980), Boca Juniors (1981-82), Barcelona (Spa/1982-84), Napoli (Ita/1984 - March 1991), Sevilla (Spa/Oct. 1992 - June 1993), Newell's Old Boys (Oct.-Nov. 1993), Boca Juniors (1995 - Oct. 97)
International appearances: 91 (1977-1994)
International goals: 34
International debut: 27/02/1977, Argentina-Hungary (5-1)
Last international appearance: 25/07/1994, Argentina-Nigeria (2-1)
First international goal: 02/06/1979, Scotland-Argentina (1-3)
Last international goal: 21/07/1994, Argentina-Greece (4-0)
Playing Career:
International - World Cup: winner (1986),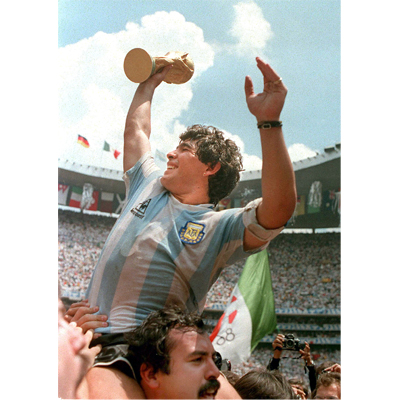 AFP: Maradona celebrating after winning the 1986 World Cup
finalist (1990),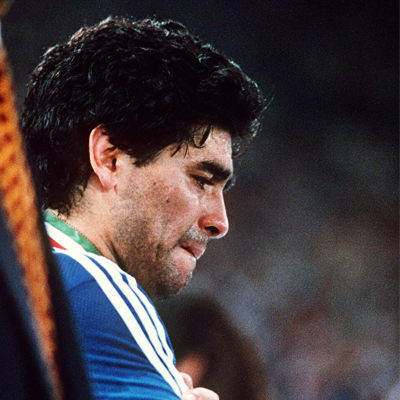 AFP: Maradona in tears after losing the 1990 World Cup finals to West Germany
second-round (1982, 1994), 21 matches, 8 goals, voted player of the tournament (1986)
Club - 1 UEFA Cup (1989), 1 Argentine Championship (1981), 1 Spanish Cup (1983), 1 Spanish League Cup (1983), 1 Spanish Supercup (1983), 2 Italian Championships (1987, 1990), 1 Italian Cup (1987), 1 Italian Supercup (1990)
Other honors:
1 Under-20 World Cup (1979), FIFA player of the century (2000), South-American player of the year (1979, 1980, 1986, 1989, 1990, 1992), Special 'career' Golden Ball awarded (1996)
Coaching Career:
Clubs - Mandiyu de Corrientes (Oct.-Dec. 1994), Racing Club de Avellaneda (May-Sept. 1995), Vice-president of Boca Juniors and head of recruitment (June 2005-April 2008), Al Wasl (Dub/16/05/2011-10/07/2012)
National Coaching Career - Argentina (04/11/2008-27/07/2010), record: 24 matches, 18 wins, 0 draws, 6 defeats, 47 goals for, 27 against
National Coaching Honours - World Cup: quarter-finalist (2010)
Biography:
Maradona forever - Considered by many fans as the greatest ever Diego Maradona inspired Argentina to the 1986 World Cup, but the flamboyant, often controversial legend fell short when coaching the side in 2010, albeit having a great deal of fun along the way.As a player, he had few rivals and with the possible exception of Brazil's Pele, is still considered the game's greatest ever talent despite the arrival of Lionel Messi and Cristiano Ronaldo.He was born in Buenos Aires into a poor family with eight children, his ball control as a child was so astonishing he earned the nickname Pibe de oro, the golden child.He made his league debut at 16 with Argentinos Juniors and was called up for his first full international six months later. Two years later he won the South American player of the year award, switched for a season to Boca Juniors and was then recruited by Barcelona.At his first World Cup in 1982 a shameful tackle (a deliberate chest high assault) saw him red-carded in a second round defeat to Brazil. At Barcelona his game was brilliant, but the Catalan club could only win the Spanish Cup. So in 1984 he joined modest Italian side Napoli, where he won two championships, the UEFA Cup and the undying love of the city, who have decided to rename their stadium after him when he dies.
Touched by the hand of God - At Mexico 1986 he was in inspired form even by his own standards, winning the player of the tournament award as he drove Argentina to their second World Cup, which will forever be remembered for two goals he scored against England in the quarter-final.The first he clearly scored with his hand, a goal that has entered football folklore after Maradona claimed the ball was touched by "the hand of God".The second was one of the World Cup's all-time great goals, weaving past five defenders before slotting the ball into an empty net.He was almost as brilliant in the semi against Belgium, scoring twice with one goal another mesmerizing run past defenders. He was double marked by Germany in the final but made the pass for the winning goal at the Aztec Stadium, which has since erected a statue to commemorate his one man mission that delivered the World Cup to Argentina.Maradona was subdued by injury at Italia 1990 as he captained Argentina past Brazil, Yugoslavia and Italy in the knock-out phase before a heavily depleted Argentina lost 1-0 to West Germany in the final after a controversial penalty.A positive test for cocaine landed him a 15 months ban from all football and the decline set in at that time that dimmed the lights of one of the greatest stars of the football firmament.He captained Argentina again at the 1994 World Cup in the US, but a positive dope test for ephedrine then ended his international career on a very sad note indeed.
Drugs, decline, Cuba and a second chance - He joined Boca Juniors in 1995 after a brief spell at Seville in Spain, but failed another drug test which effectively ended his playing career.He suffered heart attacks in 2000 and 2004 and put on a great deal of weight before moving to Havana for a lengthy drug cure on the invitation of his avuncular friend Fidel Castro.After he launched his own chat show in Argentina in 2005, he remained on the outer fringe of the game before returning to the spotlight as coach of the national side in 2008.Argentina's star-packed side however came unstuck against a tactically more astute Germany in the quarter-finals of the 2010 World Cup. It had been an emotional journey as ever, but it seems that this is one great player who won't make a great coach.