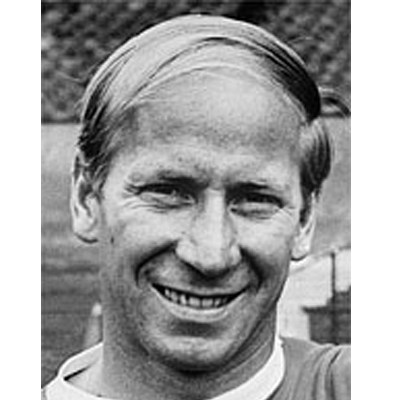 Sir Robert "Bobby" Charlton is a former English football player. He is regarded as one of the greatest footballers of all time. He was instrumental member of the England team who won the World Cup in 1966. That same year, he won the Ballon d'Or. He was renowned for his attacking and passing abilities from midfield and his ability to shoot from long range. He was also well known for his fitness and stamina.
Personal Data:
Known as: Bobby Charlton
Surname: Charlton
Firstname: Bobby
Country: England
Date of birth: 1937-10-11
Birthplace: Ashigton
Height: 173 cm
Weight: 72.0 kg
Playing Career:
Position: Winger, then midfielder
Clubs: Manchester United (1956-1973) Preston North End (1974-1975) Waterford (Ireland/1976)
International appearances: 106 (1958-1970)
International goals: 49 (national record)
International debut: 19/04/1958, Scotland-England (0-4)
Last international appearance: 14/06/1970, England-West Germany(2-3 after extra-time)
First international goal: 19/04/1958, Scotland-England (0-4)
Last international goal: 20/05/1970, Colombia-England (0-4)
Playing Honours:
International - World Cup: winner (1966), quarter-finalist (1962, 1970), 3 appearances, 14 matches, 4 goals
European Championships: semi-finalist (1968), 1 appearance, 2 matches, 1 goal
Club - one European Cup (1968), three English Championships (1957, 1965, 1967), one English FA Cup (1963)
Other honours - European footballer of the year (1966), Awarded CBE (Commander of the British Empire: 1974), Received Knighthood (1994)
Coaching Career:
Clubs: Preston North End (1973-1974-player-manager), Wigan (1976-caretaker manager)
Management Career:
Clubs: Wigan, Manchester United
President of England's candidature for the 2006 World Cup (awarded to Germany)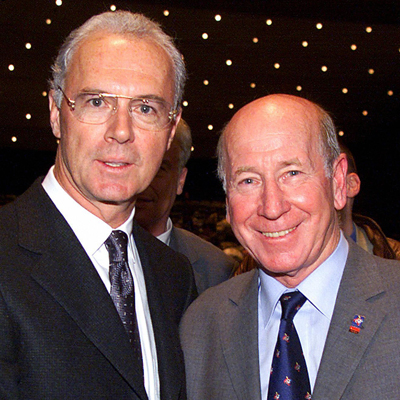 Bobby Charlton with Germany legend Franz Beckenbauer
Biography: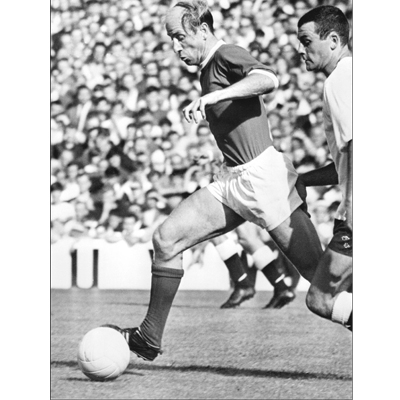 Busby Babe - Regarded as one of the greatest ever England players, Bobby Charlton emerged from a humble background as a miner's son to build an illustrious career both with Manchester United as well as on the international stage.Charlton's legend is made all the more romantic because of a piece of astonishing good fortune on a bitterly cold night in Munich in 1958.The plane Charlton and his United teammates were on crashed in snowy conditions on take-off, claiming the lives of eight of the legendary "Busby Babes".Charlton was able to scramble from the wreckage and went on to become a lynchpin of the rebuilt United side, managed by another of the survivors, Matt Busby.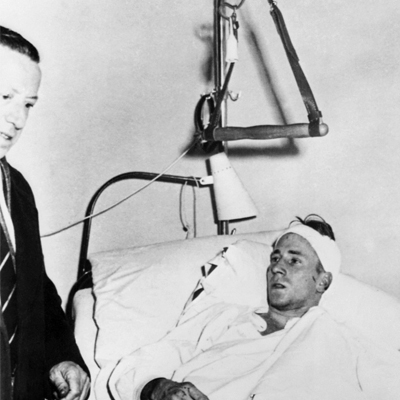 Bobby Charlton in a hospital after the Munich crash
Wembley success - After his first domestic success in 1957 when United won the League title, Charlton had to wait until 1963 before capturing more silverware, this time the FA Cup.The 1966 World Cup in England was the perfect stage for Charlton to display his talent and he didn't disappoint, scoring key goals in England's successful drive to their first and only world title.His brother Jack was also in the side and the pair became national heroes as England defeated West Germany 4-2 in the final.To cap a wonderful 1966, Charlton was also named European Footballer of the Year.At the heart of a brilliant United side that featured Dennis Law as well as George Best, Charlton was again instrumental in the club's historic success in the European Cup competition in 1968, scoring the first and last goal in the 4-1 extra-time win over Benfica at Wembley.The same year he was also in the England side that finished third at the 1968 European Championships which was eventually won by Italy on home soil.
Impressive numbers - By the time he retired from the game in 1973 Charlton had played 754 matches for United, scoring 247 goals, while his 49 international strikes in 106 games for England remain a national record.His career as a manager was modest with brief spells at the helm of Preston and Wigan, and Charlton returned to Manchester as a director in 1984.During the 50th anniversary year of the Munich disaster Charlton watched Ryan Giggs play a 755th game for United during the 2008 Champions League final, which United won, and must stand amongst his most emotional moments.Charlton also played a key role in England's unsuccessful bid to host the 2006 World Cup.