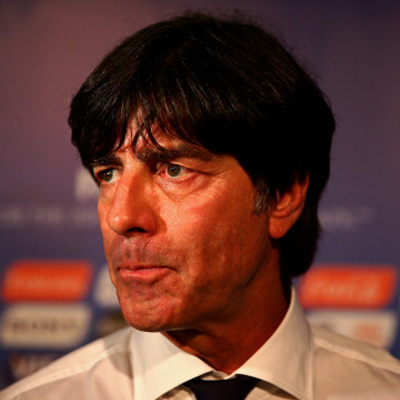 Germany head coach Joachim Löw announced Germany's 23-man squad from the provisional 30-man squad. 35-year old Miroslav Klose is the only striker included in the German side. Klose, currently with 14 World Cup goals, will be looking forward to equal Ronaldo's record of 15 goals in the World Cup. With Klose being the only striker in the team, it is likely for Klose to equal Ronaldo's record, or possibly set a new record if he manages to take his goals tally to 16.
On the goal, Bayern Munich's Manual Neuer will be the first choice keeper. Borruisa Dortmund's Roman Weidenfeller and Ron-Robert Zieler of Hanover 96 are included for back-up. Neuer, despite injury scare, has been included.
In the defence, Jerome Boateng, Per Mertesacker and Mats Hummels are the main central-defenders. Philipp Lahm, who will captain the German side, will take care of the right-wing back position. Lahm, along with Neuer, was injured and was doubtful to make it into the squad, but is included. Bourissa Dortmund's 22-old wing-back Erik Durm has also been named into the squad. Durm's more exprienced team-mate, Marcel Schmelzer, has been sidelined from the squad due to injury. Schalke 04 FC's Benedikt Höwedes along with Dortmund's Kevin Grosskreutz are included in the defense. Youngster Shkodran Mustafi has been excluded from the 23-man squad.
German national team is blessed with talented midfielders. Bastian Schweinsteiger, Sami Khedira and 23-year old Christoph Kramer are the holding midfielders. The likes of Mesut Ozil, Mario Gotze, Julian Draxler, Thomas Müller and Toni Kroos will add unimaginable creativity in the midfield. The German national team also has immensely talented wingers. Lukas Podolski, André Schürrle and Marco Reus are the wingers included to add pace to the midfield.
In the attack, Lazio's 35-year old Miroslav Klose is the only striker included in the team. Klose, who will be playing his last World Cup, will hope to leave his mark on the world by becoming FIFA World Cup's all time top goal-scorer. Joachim Löw won't have a problem in the in the attacking aspect as apart from Gotze, Müller, Reus and Podolski can also fit into the striking position, if needed.
With this young and talented squad, Germany will look forward to end their 24-year wait for their fourth FIFA World Cup, which would see them equal Italy's record of four World Cup. Here is Germany 23-man squad for the 2014 FIFA World Cup:
Goalkeepers: Manuel Neuer (Bayern Munich), Roman Weidenfeller (Borussia Dortmund), Ron-Robert Zieler (Hanover 96)
Defenders: Jerome Boateng (Bayern Munich), Kevin Grosskreutz (Borussia Dortmund), Erik Durm (Borussia Dortmund), Benedikt Hoewedes (Schalke 04), Mats Hummels (Borussia Dortmund), Per Mertesacker (Arsenal), Philipp Lahm (Bayern Munich)
Midfielders: Julian Draxler (Schalke 04), Matthias Ginter (Freiburg), Mario Gotze (Bayern Munich), Christoph Kramer (Borussia Moenchengladbach), Sami Khedira (Real Madrid), Toni Kroos (Bayern Munich), Thomas Mueller (Bayern Munich), Mesut Ozil (Arsenal), Lukas Podolski (Arsenal), Marco Reus (Borussia Dortmund), Andre Schuerrle (Chelsea), Bastian Schweinsteiger (Bayern Munich)
Forwards: Miroslav Klose (Lazio)