Wednesday's 2014 FIFA World Cup semifinal match between host nation Brazil and Germany made a record for the most number of tweets sent out per minute. The host nation were thrashed 7-1 by the rampant Germans, leaving millions around the world in disbelief and shock. It was Brazil's worst defeat ever and left the entire nation in tears.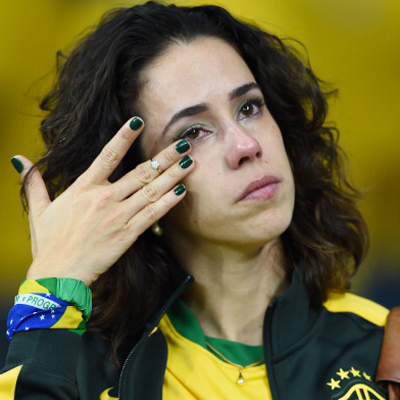 Getty
Keeping that in mind, it was proven that Muller > Miley, Germany's World Cup blowout of hosts Brazil was the most tweeted sporting event in history, according to metrics from Twitter. The game was tweeted about 35.6 million times, shattering the record of 24.9 million tweets sent during another rout, February's Super Bowl XLVIII.
With 35.6 million Tweets, #BRA v #GER is the most-discussed single sports game ever on Twitter. #WorldCup pic.twitter.com/pRjssAZmhg

— Twitter Data (@TwitterData) July 9, 2014
Tweets also hit a peak of 580,000 tweets per minute when Sami Khedira scored Germany's fifth goal (and fourth in four minutes). That broke the mark that had been previously held by Miley Cyrus' infamous twerking performance at the VMA's. In all, Twitter saw 9,667 tweets per second in the aftermath of Khedira's goal, half of which were probably some variation of "WOW!"
The #BRA v #GER match also set a TPM record: Khedira's 29' goal (0-5) saw 580,166 TPM. #WorldCup pic.twitter.com/188YGgrgZg

— Twitter Data (@TwitterData) July 9, 2014
Facebook also saw strong engagement throughout the match, with 66 million users generating 200 million interactions- Likes, comments and posts on the social networking site. Germany now face either Netherlands or Argentina in the 2014 FIFA World Cup final on Saturday.