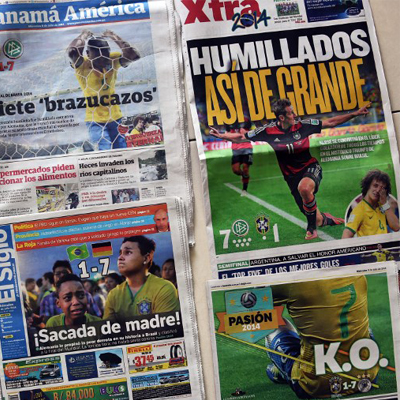 Brazil's capitulation in their staggering 7-1 defeat by Germany in the World Cup semi-final sent shockwaves around the world and cast the country into mourning but it came as no surprise to former England manager Glenn Hoddle.
Brazil were 5-0 down inside 29 minutes in Belo Horizonte on Tuesday as Germany ripped them apart with ease in a complete mismatch which left fans of the hosts in tears. It was Brazil's heaviest World Cup defeat and first loss at home in a competitive match since 1975 but Hoddle thought it had been coming.
"For me it was no surprise that Brazil fell apart defensively last night, because from before the tournament started I made the point that Brazil cannot defend," he said in his column for British bookmaker William Hill.
"Only the margin of the defeat by Germany was a surprise. Yet, I'm not so sure it should have come as such a shock if you've been following my predictions."
Hoddle, who played in the 1986 World Cup quarter-final defeat by Argentina featuring Diego Maradona's 'Hand of God' goal, and coached England to the last 16 at the 1998 tournament, said the absence of Brazil skipper Thiago Silva through suspension had left their backline in a shambles.
"My point has always been that three out of their four defenders cannot defend, that only Thiago Silva resembled a defender, and with Silva suspended, I don't think I have ever witnessed a back line of four with all four 'defenders' unable to defend. The bottom line has been that Brazil sent out an entire back four - all of whom wanted to play on the ball," Hoddle said, also noting how average the hosts' attack had been.
"It has been a measure of Brazil's support that they had been tolerant of such a team for so long, but the fans clearly made their feelings felt at the end of a semi-final that has clearly defined this entire tournament."