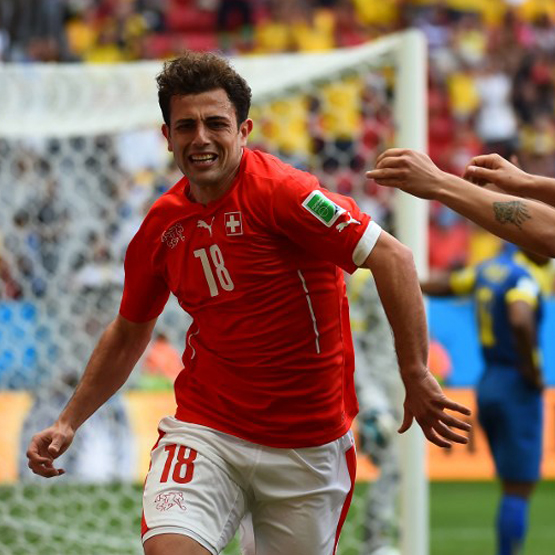 FULL-TIME What a heartbreak for Ecuador. A goal in the 93rd minute from V Behrami sealed what was a fascinating game. Switzerland had more possession and more shots on goal throughout the match, and perhaps it showed in the final score
90 + 3' GOAL! Second goal for Switzerland as V Behrami scores, brilliant finish off the pass from the left flank
86' Equador are really pressing hard for an equaliser here. The battle is getting dirtier.
85' Good kick from the centre by Ecuador, well blocked by the Swiss keeper. The Swiss defender then kicks the ball away to prevent Ecuador from having another shot
84' Johan Djourou gets a yellow card. That was a clever foul
83' Switzerland still holding 62% of the possession
82' Penalty for Switzerland, they are taking a long time to get their act together...but it doesn't matter as Switzerland could not convert it into a goal.
81' That should be a foul and Ecuador take down a Swiss midfielder
77' J Rojas replaces the wonderful Montero for Equador
77' It's Ecuador now who are unable to capitalise on their chances
74' Now a quick kick from Shaqiri gets blasted into the side netting and Switzerland have missed another goal
71' M Arroyo is substituted for Felipe Caicedo
71' Goal gets disallowed for Switzerland, the referee calls it outside and Ecuador have also been warned
68' Montero attacks again from the left flank but his shot is kept out by Benaglio
66' Shaqiri almost gets Rodriguez in behind the Ecuador backline with a clever pass but is denied again by the defence.
Rodriguez's delivery and Mehmedi's finish both superb. Going to get interesting. #SUIECU

— Ahmed Yussuf (@ahmedyussuf10) June 15, 2014
63' This has suddenly turned into a much more competitive game after Switzerland's equaliser
60' That was close....Enner Valencia almost scored his second goal for Ecuador with a curling strike from outside the penalty area.
56' The Swiss are attacking with much more conviction now. Mehmedi was on the field for just 2 minutes before he scored that goal.
53' Juan Carlos Paredes has been handed a yellow card. Nice idea to foul the guy who just scored a goal.
48' GOAL! Switzerland have equalised right after the break. Pass from the left flank, and a beautiful header by Admir Mehmedi into the goal
46' Admir Mehmed replaces Valentin Stocker for Switzerland
HALF-TIME At half-time, Ecuador will be the happier team being 1-0 up, despite Switzerland having more shots at the goal. The Swiss have been unable to break through the Ecuadorean defence.
45' Ecuador take a shot from the centre at the goal, but it flies wide to the left
44' Montero cuts in from the backline and challenges the Swiss defence again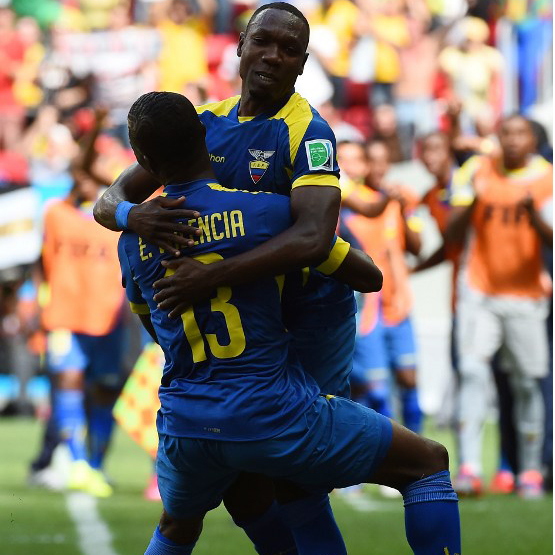 41' Switzerland have had nine attempts at the goal but to no avail. Less than 4 minutes left to half-time
40' Switzerland have had far more shots on target, more corners, less fouls conceded and more possession than Ecuador, but its Ecuador who are 1-0 up
38' The Swiss skipper fumbles up an effort near the goal now
36' Was that a handball? Switzerland think it is but the referee turns it down much to the relief of Ecuador
Unfortunately this is not happening yet:
Every game of this World Cup has been great to watch. If Switzerland entertain us it really is going to be one hell of a tournament.

— Gary Lineker (@GaryLineker) June 15, 2014
35' Valon Behrami produces a header at goal from Shaqiri's corner but Dominguez collects at the second attempt.
32' Switzerland keep holding possession but simply cannot get past the Ecuadorian defence. The Swiss have never defeated South American opposition at the World Cup
29' The Ecuadorian defence has been very stubborn despite Switzerland having more possession
27' Enner Valencia has scored in each of his last 5 appearances for Ecuador
22' GOAL! Ecuador score the first goal through a brilliant header. It's Enner Valencia who's the man
16' Shaqiri (Switzerland) fires on target, saved by Alexander Dominguez
15' Switzerland have just conceded one of their last 7 World Cup matches
12' Switzerland have held about 64% of the possession so far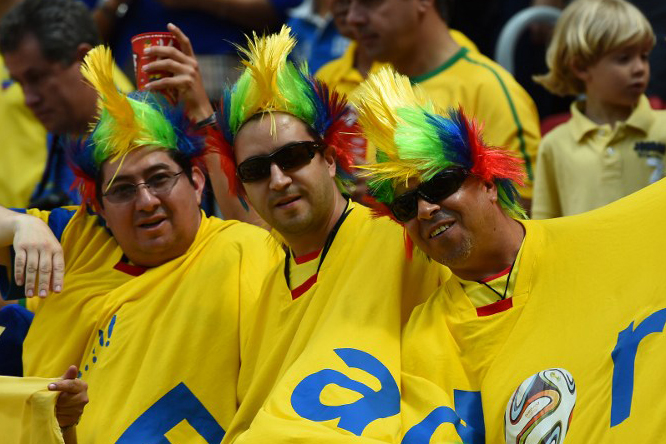 10' This is a very dull game so far as both teams try to get behind the others' defence.
4' Ecuador are getting behind the Swiss defence quickly
2' Ecuador gets a penalty, but to no avail as the kick is wide of the net
Bright sunshine as Switzerland begin
1' This match is important for both teams because with France expected to top the group, the second place is really up for grabs.
The team lineups have been announced:
Switzerland's substitutes: Sommer, Burki, Ziegler, Senderos, Lang, Schar, Dzemaili, Fernandes, Barnetta, Mehmedi, Gavranovic, Seferovic
Ecuador's substitutes: Bone, Banguera, Bagui, Achilier, Ibarra, Mendes, Rojas, Minda, Arroyo, Saritama, Martinez, J.Ayovi
ECUADOR'S STARTING XI: Dominguez, Guagua, Erazo, Paredes, Noboa, Montero, W Ayovi, Caicedo, E Valencia, A Valencia (C), Gruezo
SWITZERLAND'S STARTING XI: Benaglio, Lichtsteiner, Von Bergen, Inler (C), Xhaka, Behrami, Rodriguez, Stocker, Drmic, Djourou, Shaqiri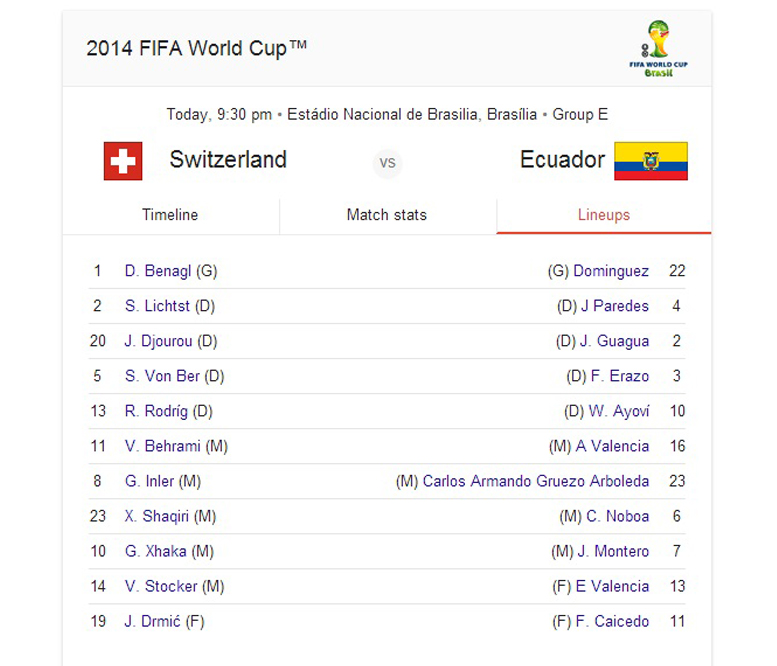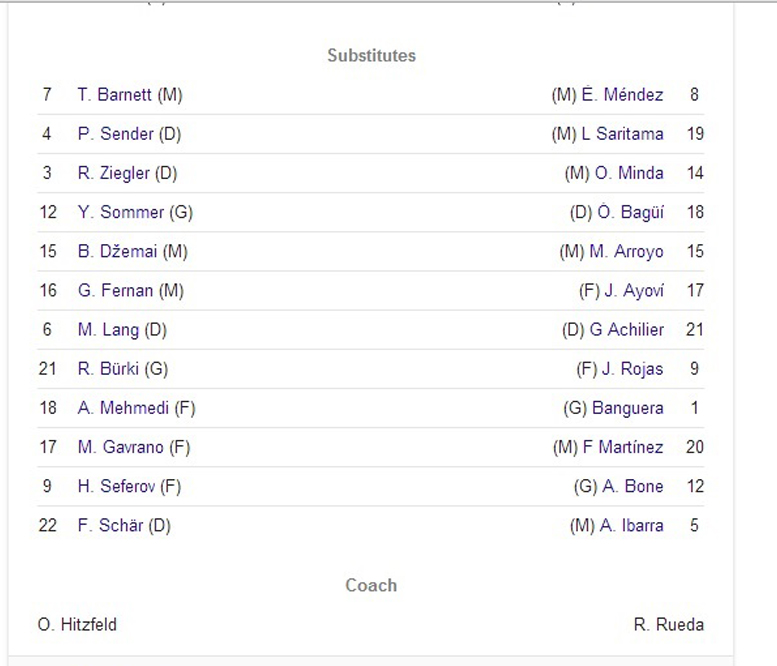 The national anthems are over and the match is set to begin
The teams are out in the middle for the national anthems
Switzerland v/s Ecuador, a relatively low-key affair, kicks off at 9:30 pm.
Last time out Switzerland caused a shock by beating eventual winners Spain 1-0 in their opener, but were then beaten by Chile and could only draw with Honduras as Spain and Chile went through to the second round with six points each.
Read the full Switzerland team profile here
Ecuador qualified for their third World Cup thanks to a solid defence and will be bolstered by landing in a relatively easy group where they take on Switzerland, France and Honduras. They went out in the group stage on their debut in 2002 but made the cut for the second round in 2006. The 2014 qualifying campaign was overshadowed by the death of their centre-forward Christian Benitez, who fell victim to a heart-attack aged just 27. In their high-altitude home of Quito (2850m), they were unbeaten in eight games, with seven wins and a draw against Argentina.
For the full Ecuador team profile, click here
Switzerland started the 2010 World Cup with a surprise win over Spain and they will be looking to get this summer's tournament off to a similar start. National team coach Ottmar Hitzfeld doesn't have any noteworthy injury problems ahead of the match versus Ecuador and has a fit squad to pick his starting XI from. His main selection headache will be who to pick alongside centre-back Steve von Bergen, with Philippe Senderos, Fabian Schar and Johan Djourou all hoping to get the nod.