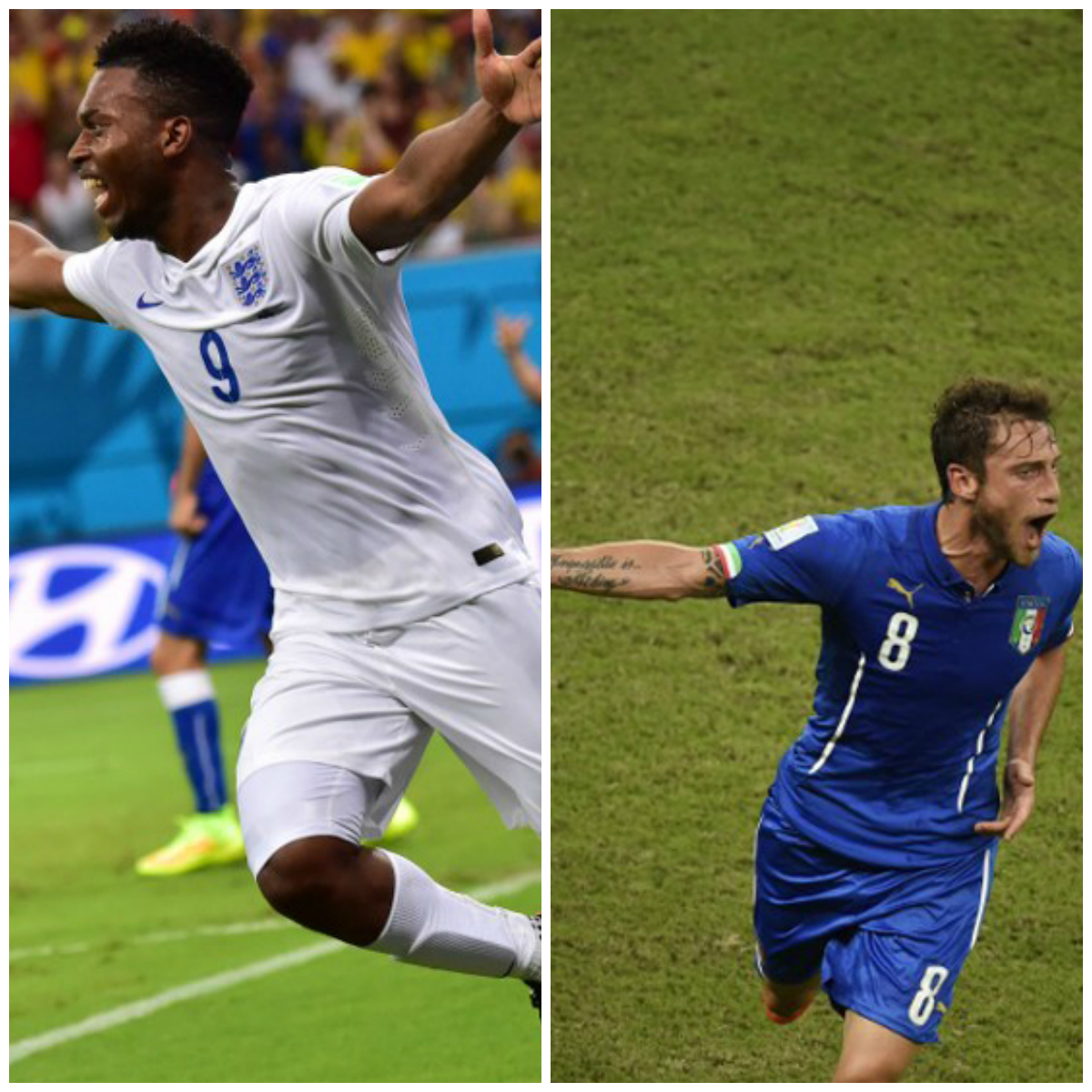 FULL-TIME. Here's the full-time whistle and Italy have won 2-1. Mario Balotelli's goal was the crucial one, and Andrea Pirlo produced moments of magic. England looked tired and struggled for possession through the second half.
90 + 4' Almost a goal for Italy off the free kick, the ball hits the cross bar as the England keeper had no idea of the ball. Brilliant kick from Andrea Pirlo that.
90 + 2' Sterling gets a yellow card, first card of the match
90' Sterling beats Pirlo with a turn of pace, before firing the ball high into the stands.
89' England win a corner, but Rooney is unable to turn a header towards the goal
88' The home crowd are getting behind Italy as we reach the last few minutes. England look tired, unable to change the direction of play
85' Steven Gerrard's free kick fails to test Sirigu as it goes over the goal
83' Italy are shutting shop here, Sterling delivers an awful cross from the right flank
82' Johnson can't get beyond the Italian defence as England scramble to find the second goal
80' England substitution: Daniel Sturridge is limping and he is gonna come off. Adam Lallana comes in.
79' Italy substitute Marco Parolo for Candreva
77' Baines gets a free kick but Sirigu is at full stretch to make another save
75' Incredibly, England are in no hurry for the equaliser as Italy continue to hold possession.
73' Mario Balloteli gets substituted by Ciro Immobile for Italy. England substitute Jack Wilshare for Jordan Henderson. Immobile has been in great scoring form, don't go by his name!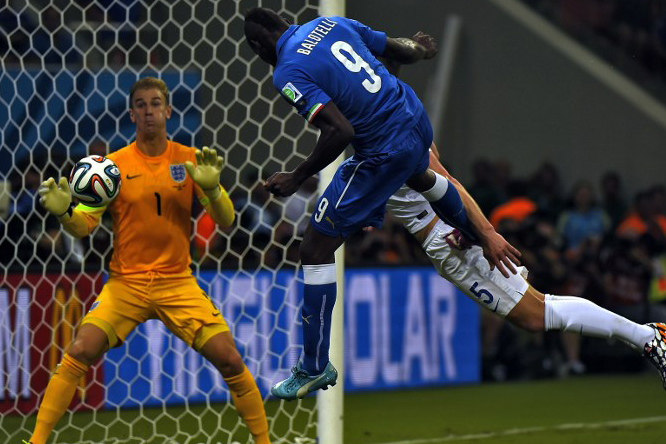 70' With 20 minutes left, Italy are holding most of the possession and England are looking tired
67' Great play from Sterling! The youngster weaves beyond Marchisio and Chiellini, before playing a cross along the six yard box.
65' 19-year-old Sterling is down with cramps, the first sign of fatigue. But he has been impressive tonight.
62' What a miss from Wayne Rooney! Baines slips an intelligent ball through to Rooney, who just about manages to stay onside. He cuts infield onto his stronger right foot, but drags his eventual drive wide of the near post. That was just 10 yards from the goal.
61' England substitute Ross Barkley for Danny Welbeck
59' Italy have held 59% of the possession to England's 41. Everything else is pretty close - 9 shots for England to Italy's 10 and 3 shots on target for England to Italy's 4
57' Thiago Motta substituted for Marco Verratti - there's the first substitution of the game - by Italy. How long before England bring in Lampard? But Barkley is warming up.
51' Some fantastic running from Sturridge, he races beyond two Italian defenders and into the penalty area, but overruns slightly and Italy make a clearance
50' GOAL! It's Super Mario who makes it 2-1 for Italy. What a header!
48' England get a corner
47' We are back for the second half. There have been no substitutions at the break
PHOTO: Here's @D_Sturridge scoring our equaliser against @azzurri #ENG #ITA #3Lions pic.twitter.com/x5qPUIoBeX

— England (@england) June 14, 2014
PHOTO: Claudio Marchisio of @azzurri shoots and scores the opening goal of the game #ENG #ITA #3Lions pic.twitter.com/2uVZ0DQKD9

— England (@england) June 14, 2014
HALF-TIME
45' At half-time, the match is poised at 1-1
43' Wayne Rooney is having to do a lot more defensive work than normal
41' A few minutes before the break and England fans are finding their voice due to the goal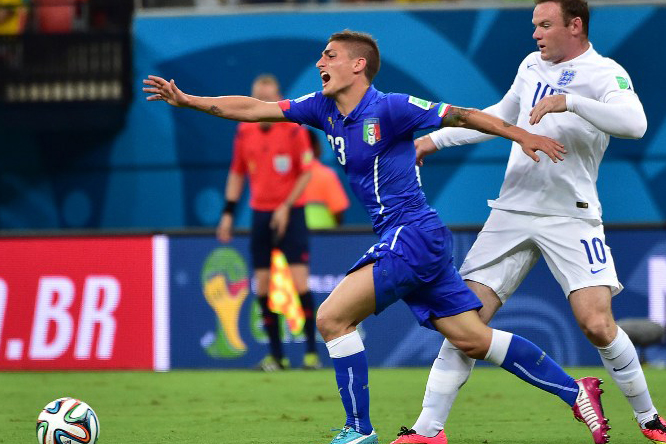 37' GOAL! Another goal, this time by Daniel Sturridge and England have equalised! Assist by Wayne Rooney
35' GOAL! Italy draw first blood, Marchisio is the man, he puts it through the full wall of defence
31' Around 15 minutes left until the interval, with both sides keen to find the breakthrough goal. Plenty of hard running is behind put in by all involved, though England are doing more of it without the ball.
24' Almost a goal for England. Italy's Barzagli intercepts Sturridge to drive the ball into the corner just in time
22' Great teamwork from Gerrard and Sterling as Gerrard plays a beautiful crossfield ball to pick out Sterling on the left hand side, allowing for the debutant to break to the byeline and drill in a cross, but Paletta blocks it.
21' Debutant Sterling tries to do too much and loses possession of the ball to De Rossi
19' Candreva with a great strike Italy are keeping much more of the ball, given their talented midfield trio. Candreva tries an audacious shot from 30 yards which is blocked by the England defence in time
18' Mario Balotelli has been the only constant presence in England's 18-yard area for Italy.
16' Very measured football from both sides so far, its even stevens. However the fans are baying for more aggressive football
15' The first 15 minutes have been uneventful except that Italy have regained their composure and are keeping the ball deep in the English half
Huge cheers as names announced of Balotelli and Pirlo from #ita fans and Brazilians in the Arena Amazonia

— Henry Winter (@henrywinter) June 14, 2014
10' Italy have begun to settle into their groove
9' Italy take a few half-chances as England's defence gets bogged down
7' Some strange errors from Italy in the first few minutes.
5' Sirigu makes the save for Italy. England are putting up a powerful challenge in the early going, they keep pushing Italy's defence back
4' Almost a goal from the 19-year-old Sterling. The debutant tries his luck from 30 yards, a long-range strike into the side netting
3' England attempt to keep the ball in the early stages, which is booed by this crowd.
1' The national anthems are over and here we go
The teams have taken to the field. The heat is sapping.
Interestingly, Frank Lampard is in the subs for England
England starting line-up (4-2-3-1): Hart; Johnson, Cahill, Jagielka, Baines; Gerrard, Henderson; Sterling, Rooney, Welbeck; Sturridge.
Italy starting line-up (4-3-3): Sirigu; Darmian, Paletta, Barzagli, Chiellini; Pirlo, De Rossi, Pirlo; Candreva, Balotelli, Marchisio.
The wait is over and England finally get their World Cup campaign underway on Saturday, where they are looking to exact revenge on the Italian team who knocked them out of Euro 2012. It is set to be an intriguing encounter as both teams sweat it out in the humidity of the Amazon, desperate to get off to a winning start, or perhaps more importantly to avoid defeat.
For the complete match preview, click here
For once England can go and enjoy a World Cup finals without the players, the fans and the media all believing that they can win it. There was even a sense of achievement that they actually qualified for Brazil 2014. England's top scorer Wayne Rooney scored seven goals in six starts as England squeezed past Ukraine, Montenegro and Poland to win Group H with a fresh faced, fast evolving side.
Here's the England team profile
Four years after a nightmare first round exit at the South African World Cup, Italy will head off to Brazil with real ambitions of lifting the trophy. The 2010 team that drew with Paraguay and New Zealand before going down to Slovakia to go home after the first round, has been completely revamped into one with multi-fold attacking options under the brilliant guidance of coach Cesare Prandelli.
And here's the Italy team profile
Italy will be without their goalkeeper Gianluigi Buffon has been ruled out of the match, dealing a huge blow to the team. Here's the complete story
The team lineups have been announced: