Netherlands v/s Australia (Group B) | Kickoff: June 18, 21 30 IST | Stadium: Beira-Rio Stadium, Porto Alegre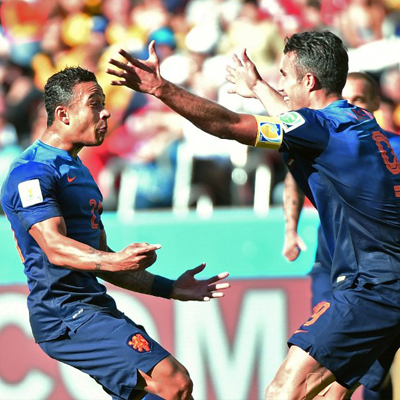 LIVE UPDATES:
FULL TIME SCORE - Netherlands 3-2 Australia. A brilliant match, in which Australia gave a great fight to the Dutch
90 + 1' Lens takes a shot on target but is blocked by Ryan.
90' 3 minutes of added time announced.
88' Wilkinson concedes a free kick.
87' Lens comes in to replace Dutch captain Robin van Persie.
85' McKay concedes a free kick.
84' Netherlands seem to be controlling the game, although the Australian fans scream cheers from the stand.
83' Foul by Janmaat.
77' Taggart comes in to replace Oar for Australia.
74' Ryan blocks a shot on target by De Jong.
73' Sneijder takes a shot on target but it's blocked by Wilkinson.
69' Van Percie tries one more shot, but is blocked by Ryan, the Australian keeper.
69' Halloran comes in to replace Cahill.
68' GOAL! Memphis scores making it 3 goals for Netherlands.
Depay for the Netherlands. What a game. https://t.co/wIp25lNRK0

— Football Vines (@FootballVines) June 18, 2014
* FIFA Stat: Robin van Persie has now scored 17 of the Netherlands' 56 goals (30 per cent) during the current reign of coach Louis van Gaal (i.e. since August 2012).
63' Cahill takes a shot but it's off target.
61' Janmaat commits a foul.
58' GOAL! Robin van Persie scores. Makes the score 2 all.
Robin van Persie http://t.co/YYJ95J3bYh

— Football Vines (@FootballVines) June 18, 2014
54' GOAL! Jedinak converts from the penalty spot, gives Australia the lead
Jedinak makes it 2-1… http://t.co/OwX1pHSV0w

— Football Vines (@FootballVines) June 18, 2014
53' Penalty to Australia!
51' Substitution for Australia, Mark Bresciano out, Oliver Bozanic in
47' Robin Van Persie booked, set to miss the match against Chile
HALF TIME: Score - Netherlands 1-1 Australia.
45' 2 minutes of additional time has been added.
45' Martins Indi goes down again. This foul looks a little more serious.
43' Tim Cahill gets his second Yellow Card, meaning he will the match against Spain. A great disadvantage for Australia.
40' De Jong concedes a free-kick.
* FIFA STAT: The Netherlands are unbeaten in all 21 matches in which Arjen Robben has scored (18 wins, 3 draws).
38' Davidson concedes a free-kick.
32' Spiranovic taks a shot on target, but is blocked by the Dutch keeper.
32' Possesssion so far, Australia 53%-47% Netherland.
31' Breciano sees a chance, but plays it off target. Could have been a great chance for Australia.
28' Sneijder concedes a free-kick.
26' Van Persie is seen illigally handling the ball.
* FIFA STAT: Tim Cahill has scored half of Australia's total number of goals in World Cup finals, and has now scored at three consecutive World Cups.
22' Robben takes another shot on target, but Davidson blocks.
21' GOAL! Tim Cahill scores a brilliant goal, equalising the score.
GOAL OF THE TOURNAMENT Tim Cahill http://t.co/EIh25yJaWE

— Football Vines (@FootballVines) June 18, 2014
20' GOAL! Robben scores
Robben is too good http://t.co/RNRtIXgozF

— Football Vines (@FootballVines) June 18, 2014
18' Van Persie takes a shot on target, but it's saved by the Australian keeper.
17' Cahill concedes a free-kick.
13' A lot of fouls happening in this game, while Australia really need to pick up their defence.
12' Leckie from Australia commits a foul.
10' Bresciano from Australia commits a foul.
8' Van Persie seems to be attacking well, but is in the offside position.
7' Van Persie concedes a foul.
5' Robben takes advantage on the poor control by Spiranovic and bursts into the Australia penalty area. First chance of the match.
* Here's the best win Australia has ever made. Actually the best win by any team ever. 31-0
3' Martins Indi down after a foul. Seems to be okay.
1' Spiranovic from Australia gets penalised for the first foul of the game.
* And the whistle blows, and the game begins. The Dutch are expected to sail through, although Australia needs to win this game to have any chance of qualifying.
* Match is about the begin, the national anthems are underway.
* Fans get ready for the match. AFP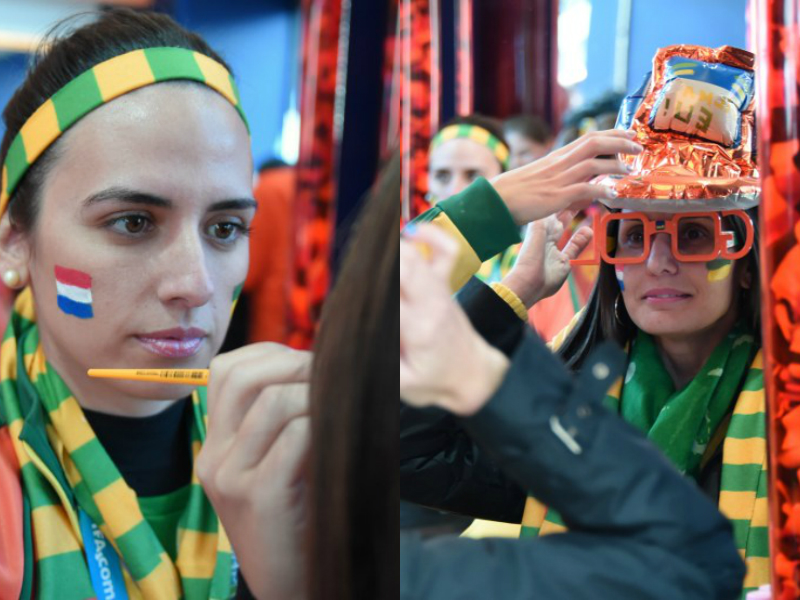 * The Line Ups of both teams have been announced.
#NED LINE-UP: Cillessen, Vlaar, De Vrij, Martins Indi, Blind, De Jong, Janmaat, De Guzman, Van Persie (c), Sneijder, Robben #AUSNED

— FIFAWorldCup (@FIFAWorldCup) June 18, 2014
#AUS LINE-UP: Ryan, Davidson, Cahill, Spiranovic, Leckie, Oar, Jedniak (c), McKay, McGowan, Wilkinson, Bresciano #AUSNED #WorldCup

— FIFAWorldCup (@FIFAWorldCup) June 18, 2014
Netherlands play Australia in the second of the Group B matches in a short while.
Australia lost their previous match to Chile, while Netherlands massacred current World Champions Spain winning with a 5-1 victory.
Netherlands set the World Cup ablaze last week as they made a stellar comeback and destroyed holders Spain in Salvador 5-1, with Louis van Gaal's men looking sublime in-front of goal and ready to face Australia in Porto Alegre full of confidence. Coach Louis van Gaal should return to his classic 4-3-3 formation after lining up his players in a 5-3-2 last Friday, which means Jonathan De Guzman may lose his place in the middle for Jermaine Lens in attack.
Like defender Ron Vlaar, Daley Blind gave his boss an injury scare after missing a training session, but is set to take his place alongside Nigel De Jong and Wesley Sneijder as Bruno Martins Indi occupies his original spot at left-back. If the soon-to-be Manchester United manager Van Gaal chooses to maintain his experiment, though, De Guzman could be dropped in favor of Georginio Wijnaldum or Jordy Clasie.
Read the Full Match Preview Here
Read Also: 5 FIFA World Cup statistics - Germany, Clint Dempsey, Juergen Klinsmann and more
Netherlands Team Profile: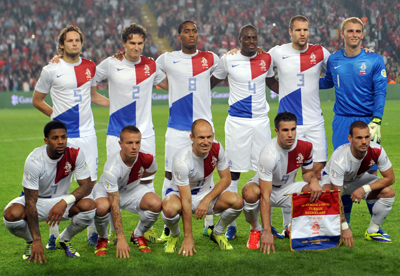 The Netherlands national football team represents the Netherlands in international association football. It is controlled by the KNVB, the governing body for football in the Netherlands. The team is colloquially referred to as Het Nederlands Elftal (The Dutch Eleven) and Oranje, after the House of Oranje-Nassau. The Dutch hold the record for playing the most World Cup finals without ever winning the tournament. They finished second in the 1974, 1978 and 2010 World Cups, losing to West Germany, Argentina and Spain respectively.
They won the UEFA European Championship in 1988. At the peak of their success in the 1970s, the team was famous for its mastery of 'Total Football.' The team are currently managed by Louis Van Gaal, but he has announced he will leave for English Premier League giants Manchester United after the 2014 FIFA World Cup. His replacement would be current Anzhi Makhachkala manager, Guus Hiddink.
Read the Full Team Profile Here
Here are some Dutch players to look out for: Arjen Robben, Robin Van Persie, Wesley Sneijder
Read Also: FIFA World Cup 2014 Brazil v/s Mexico: Spirited Mexico hold Brazil to surprising 0-0 draw
Australia Team Profile: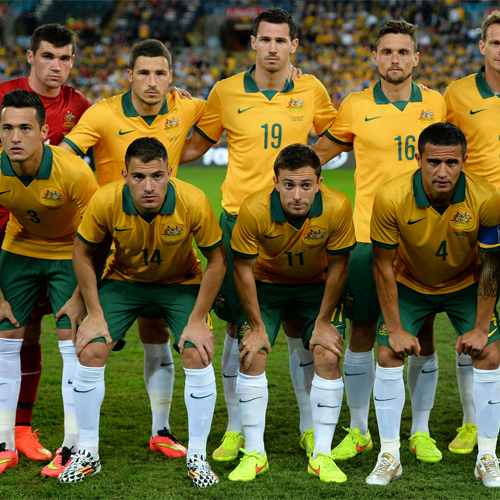 The momentum built over years of solid Socceroos results was left floundering when shortly after squeezing through the Asia zone World Cup qualifiers Australia suffered consecutive 6-0 defeats to Brazil and then France. Their German coach Holger Osieck may have qualified them for the 2014 finals, but he was sacked in the dressing rooms of Paris' Parc des Princes stadium after a truly painful spanking from a rather ordinary France side. Some pundits were shocked at the sacking of a coach after a friendly defeat. In qualifying second from Asia Group B behind Japan but ahead of Jordan, Oman and Iraq. Osieck was never popular and came in for plenty of criticism during qualifying when Australia lost to Jordan and drew twice with lowly Oman.
The signs of decline have long been present at Australia, who were thumped 4-0 by Germany in their opening game of the 2010 World Cup campaign and four years down the line Tim Cahill and the old guard are risking their dignity unless the new man can tighten the defence. Incoming boss Ange Postecoglou is an Australian of Greek origin and was chosen ahead of interested parties including Marcelo Bielsa and Guus Hiddink. He had notably won the A League twice but has no experience of high level football and says he wants to restore pride in wearing the Australia shirt. He has his work cut out, but what better motivation than a World Cup finals.
Read The Full Team Profile Here.
Here's the last match Netherlands played: