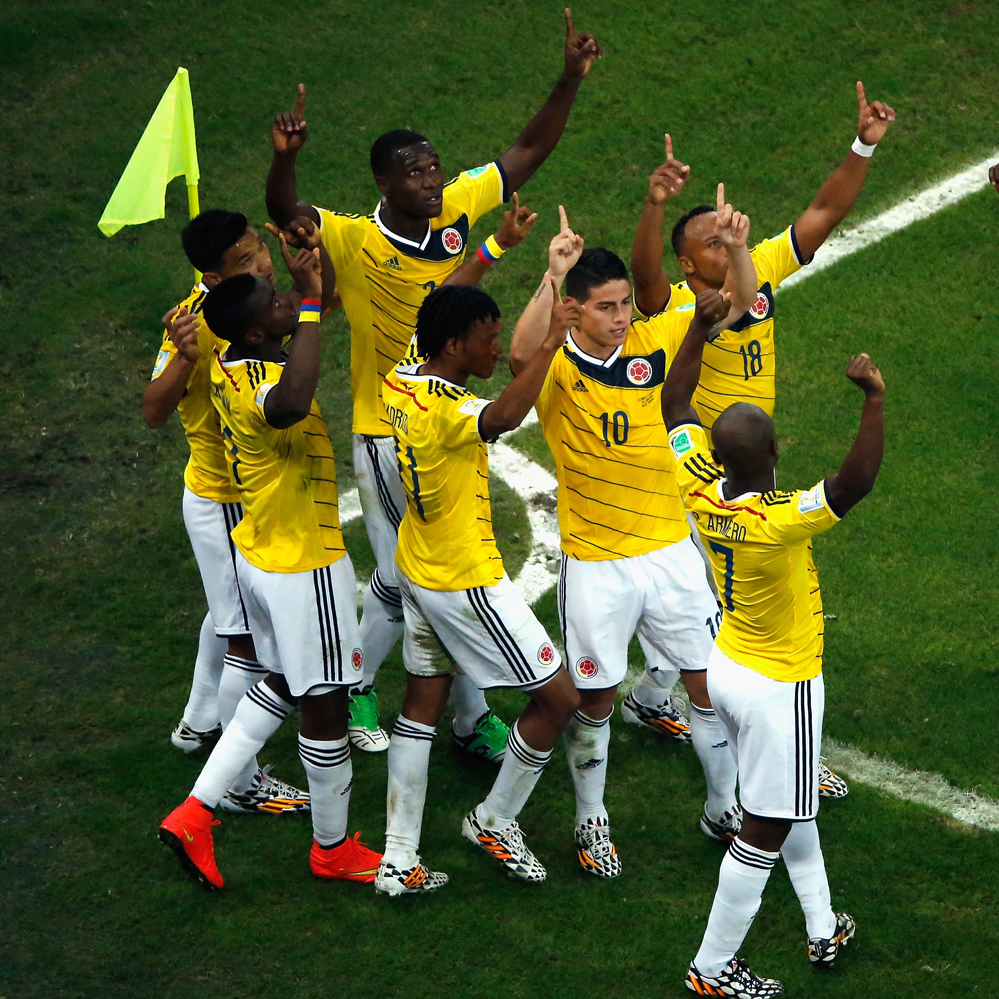 FULL-TIME What a victory for Colombia! The hero of the night is James Rodriguez! One goal in the first half, a stunner of a volley, and then a second one in the 50th minute. He has almost single-handedly taken Colombia to the quarterfinals against Brazil. Uruguay's World Cup campaign has come to an end, hit first by a shock loss to Costa Rica and then by Luis Suarez. They just didn't look the same side without Suarez tonight, just as they didn't against Costa Rica in their opener. FINAL SCORE Colombia 2-0 Uruguay.
90 + 1' E Cavani of Uruguay has committed a foul
90' Three minutes of stoppage time has been provided. Too little for Uruguay, as Colombia get another free kick
88 It's all but over from Uruguay's point of view. They're getting increasingly desperate, pumping the ball into the area whenever they can but it reeks of a side without a plan.
86' Some quarelling betwenn Yepes and Godin following a Uruguyan corner, but it does not get aggravated.
85' Godin of Uruguay sees an effort go off target
84' Adrian Ramos comes in for James Rodriguez, who gets a standing ovation from the crowd! What a performance!
83' Guarin is penalised for committing a foul
81' Fredy Guarín comes in for Cuadrado for Colombia. Colombia are within 9 minutes of the quarterfinals for the first time in their World Cup history.
78' Armero of Colombia and Ramires go down in a heap in the centre. Armero has committed a foul and will be yellow carded.
74' Colombia's keeper has showed a lot of presence of mind tonight.
72' Crazy moment and that could have been 2-1! For one second, Colombia's keeper Ospina misjudges a looping ball headed towards his far post but takes the safety first route and tips it over the crossbar instead of risking a catch.
70' Uruguay seem to be lacking the will or skill to finish well in the final third despite being more aggressive now
68' Colombia make their first swap of the match, bringing on Alex Mejia for Teofilo Gutierrez in a move designed to add more protection to their midfield. Uruguay swap out Alvaro Gonzalez for Abel Hernandez to add another body up front.
64' Perhaps Uruguay finally beginning to show a bit of urgency. 'What we have, we hold' seems to be the mantra of the moment from Colombia, who are starting to invite pressure on themselves by lessening their once suffocating pressing approach.
55' Jimenez of Uruguay gets a yellow card, and Colombia get a free kick. This time however, THAT MAN RODRIGUEZ hits it into the Uruguayan wall.
Man watching this Colombian game I think I have my fav player in the world cup! Obviously his name help that out #Biased #10 #James #WC2014

— LeBron James (@KingJames) June 28, 2014
50' GOAL! James Rodriguez scores ANOTHER goal for Colombia, and now becomes the top scorer in the tournament, beating Messi. Cuadrado heads the ball, and Rodriguez kicks it into the goal!
47' Colombia are 45 minutes away from meeting Brazil in the quarters even as Uruguay continue to struggle
46' One minute stoppage time added. End of first half.
39' Uruguay keeper Muslera keeps a Colombian shot at bay
37' Uruguay still reeling under the burden of the Rodriguez goal as they scamper to snatch a quick equaliser desperately
33' Edison Cavani has an opportunity to make it count with a freekick. A lot of curl on the ball; seemed to sail over the goal narrowly missing the goal
27' What a stunner! James Rodriguez with a wonderful one-touch on the chest, turn and blasts one past the keeper in what could seem a goal of the tournament. Sheer class.
27' Maxi Pereira does a fine job of keeping the ball; not enjoying enough support. Colombia players provide inadequate space for a Uruguayan attack.
22' Uruguay captain Godin chests a James Rodriguez corner, blocked off and cleared by Uruguay players in the box
19' Cavani comes close to the goal with a perfectly supplied ball, but he fails to capitalise
17' Colombia involved in a clever build-up; keep possession
15' Clever touch from Uruguay's Diego Forlan goes in vain
7' Abel Aguilar on the attack
4' A. Pereira concedes a free-kick following a challenge on CUADRADO (Colombia).
2' A. Pereira (Uruguay) is penalised after committing a foul.
The national anthems are over and the match is about to begin
Colombia and Uruguay have both declared their team lineups:
#URU LINE-UP: Muslera, Godin (c), Pereira, Rodriguez, Forlan, Gimenez, Pereira, Arevalo, Gonzalez, Cavani, Caceres #COLURU #WorldCup #joinin

— FIFAWorldCup (@FIFAWorldCup) June 28, 2014
#COL LINE-UP: Ospina, Zapata, Yepes (c), Sanchez, Armero, Aguilar, Gutierrez, Rodriguez, Cuadrado, Zuniga, Martinez #COLURU #WorldCup

— FIFAWorldCup (@FIFAWorldCup) June 28, 2014
Welcome to the live coverage of the second game tonight, between Uruguay and Colombia in the Round of 16. The first game was a thriller which went into the penalty shootouts, where Brazil eked out a 3-2 win against Chile.
The FIFA World Cup 2014 is at the peak of excitement as the knock-out has finally approached. Colombia take on Uruguay in the second match of the Round-of-16. Read the Colombia v/s Uruguay match preview here
Uruguay face a good Colombian side in their last 16 match after beating Italy in their final do-or-die group game. The game was marred by controversy as star player Luis Suarez has been banned for 9 international matches after 'biting' Azzuri defender Giorgio Chiellini. Uruguay will surely miss him, the last time he didn't play, they slumped to a 3-1 defeat in their opener against underdogs Costa Rica. Here's the Uruguay team profile
Colombia sweept through the group stages, winning all 3 of their matches and with a formidable scoreline, scoring 9 goals in 3 matches. Read Colombia's team profile