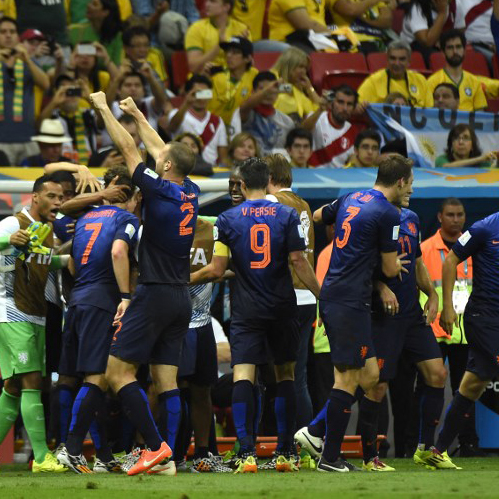 FULL-TIME The final whistle sounds and Brazil have been thrashed 3-0 by Netherlands, who finish in 3rd place in this World Cup. Brazil have conceded 14 goals in this World Cup, the most by any team, and have lost two home games in a row for the first time in 74 years. The humiliation is complete as the players move off the ground to a round of booing. What a terrible way to end a World Cup on home soil.
90 + 2' Vorm comes in to substitute Cillisen, the goalkeeper for the Dutch. Brilliant time-wasting tactics from Holland, to just rub it in, the terrible humiliation, on Brazil. The boos are defeaning now.
90 + 1' GOAL! Holland score! The first minute of extra time sees Wijnaldum beat the Brazilian defence with ease, to make it 3-0 for Netherlands. The nightmare continues for Brazil, but it's about to be over. All over.
Brazil concede the 10th goal in last 180 minutes http://t.co/j4TXQmza3t

— Football Vines (@FootballVines) July 12, 2014
90' The referee signals for 5 minutes of added time.
88' Clasie drops to ground and Netherlands have to replace him for these last few minutes. Veltman comes in to replace him.
88' Boos rain down upon the stadium now as Netherlands merely attempt to keep the ball in the midfield, with less than five minutes to go.
87' OH! That could have been Holland 3-0. Robben's corner kick is intercepted by Kyut with a header. The header flies just over the goal, and Julio Cesar, who had come forward to receive the ball, was stranded.
85' The Brazilian crowd's cheers are now turning into boos as a long ball across the Dutch half is too long for David Luiz to intercept.
84' De Guzman commits a foul, and Brazil take a free kick, but its cleared by the Netherlands defence
83' Robin Van Persie is adjudged to have committed a foul on Fernandinho, and the Dutch coach Van Gaal is furious.
81' Robben goes down again after another run into the Brazil penalty area, and again he's laughing.
80' Willian gets the ball deep into the Dutch half and makes a cross, but it is collected by Cillisen.
80' Again Brazil manage to keep Arjen Robben at bay. His final ball has been problematic in the last two games.
79' Ron Vlaar again concedes a corner, but Oscar curler is wide of the goal
76' Brazil storm through the Netherlands defence, with four in the Dutch half. Hulk has the ball for a long time but finally gets dispossessed.
75' Hulk makes a run into the Netherlands left, but his kick is wide of the goal.
73' The crowd is coming alive every time Brazil get possession now, willing them on.
72' Hulk comes in off the bench to replace Ramires, and immediately wins a corner, but its a very long ball, too far for anyone.
71' Janmaat replaces the goal-scorer Blind for Netherlands. Janmaat had a decent game against Argentina.
71' This is the first yellow card for simulation (diving) in this World Cup
70' Oscar gets a yellow card for diving. Brazil are livid as Oscar was the one taken down. The crowd is furious. And Oscar thought he should have had a penalty, Oscar is still arguing his case!
68' Robben is really enjoying himself, after David Luiz put a challenge on him and took him down
66' Van Persie concedes a free kick after a challenge on Maicon, but Brazil were appealing for a handball there
64' Oscar is into the mix again, he makes a skilful run into the Dutch penalty area on the left, but is taken down
63' David Luiz free kick, gets it over the wall, but Cillisen makes a fumbling stop.
62' Brazil get another free kick after a challenge by Blind
60' Kyut with a tremendous block saves another near-certain goal as the Brazilians continue to attack full-throttle
59' Ramires! He had a great chance to score for Brazil, he got into position but his quick shot was way wide of the left of the goal
57' Brazil make another substitution, Paulinho goes off and Hernanes comes on
55' Brazil have created several chances in the second half so far, but the Dutch defence remains resolute.
53' Fernandinho finds himself in the referee's yellow book after a foul on Van Persie
50' Robben interchanges passes with Blind, runs on goal and fires a shot. The block from Thiago Silva loops in the air but Wijnaldum can't direct his header.
46' Fernandinho comes in for Luis Gustavo for Brazil, not much cheering from the Brazilians in the crowd.
45+2' HALFTIME Netherlands 2-0 Brazil
45' MAXWELL (Brazil) sees an effort go off target. The free kick is finally taken, and it's an anti-climax as Oscar is unable to beat the wall. The loose ball then falls to Maxwell but the left-back sends a rasping volley over the top of Cillessen's goal.
43' VLAAR (Netherlands) concedes a free-kick following a challenge on RAMIRES (Brazil).
41' JULIO CESAR (Brazil) blocks the shot. A trademark half-volley from Manchester United's Robin van Persie is well saved by Julio Cesar. Will there be a goal before half-time?
40' There is a short break in play as Kuyt goes down to receive some treatment. It offers the players a chance to take on some fluids while the coaches bark instructions at them in front of the dugouts. Play quickly resumes, though. There is a short break in play as Kuyt goes down to receive some treatment. It offers the players a chance to take on some fluids while the coaches bark instructions at them in front of the dugouts. Play quickly resumes, though.
I don't think I've ever seen a team as vulnerable to a counter attack as this Brazil side. Good to watch though, unless you're Brazilian.

— Gary Lineker (@GaryLineker) July 12, 2014
38' Brazil are inches away from pulling one back. Oscar's free-kick is nodded across the face of goal by Luiz Gustavo, but Paulinho and David Luiz can't apply the finishing touch.
37' DAVID LUIZ (Brazil) sees his effort hit the target. MARTINS INDI (Netherlands) blocks the shot.
36' DE GUZMAN (Netherlands) is booked by the referee for fouling Oscar from behind. Yellow Card Jonathan De Guzmán
34' Oscar bends it in with his right foot but Martins Indi nods it behind for a corner. David Luiz went to ground under some rough treatment from Vlaar during the set play, but the referee clearly saw nothing untoward.
33' WIJNALDUM (Netherlands) commits a foul. Maicon wins a free kick for Brazil just outside the box on the near side after he is caught by Wijnaldum. It is right on the corner of the area, so can Brazil use this to get a goal back?
32' L GUSTAVO (Brazil) is penalised after committing a foul.
31' Thiago Silva brings the ball out from the back and ventures into the Dutch half unchallenged. He spots Jo spinning his marker and looking to run in behind so he sends a long pass in his direction. Kuyt reads it, though, and manages to nod it back into the arms of Cillessen.
30' V. PERSIE (Netherlands) concedes a free-kick following a challenge on RAMIRES (Brazil).
29' Oscar flights the resultant free kick into the area from just outside it on the near side, but there is no solid connection from a Brazilian shirt at the back post.
28' MARTINS INDI (Netherlands) concedes a free-kick following a challenge on OSCAR (Brazil).
26' DE GUZMAN (Netherlands) commits a foul.
25' RAMIRES (Brazil) is penalised after committing a foul. There can be no doubting Kuyt's workrate at wing-back, but his deliveries regularly fail to prove as effective. He sends a completely aimless cross well high of the goal and out for a goal kick, despite Van Persie's presence in the middle.
24' PAULINHO (Brazil) concedes a free-kick following a challenge on WIJNALDUM (Netherlands).
23' Good run from Maicon (BRA) who takes a shot but it is blocked. Maicon has been keen to push on down the right in the early stages and now he picks up the ball and ventures inside. He releases an effort from outside the area but Vlaar puts his body on the line and blocks the attempt.
22' OSCAR (Brazil) sees his effort hit the target. CILLESSEN (Netherlands) blocks the shot. Great effort from Oscar. He embarks on a mazy run and then hits a shot from the edge of the box which Cillessen is equal to.
20' We are 20 minutes into the game and Cillessen is yet to be forced into a meaningful save by the Selecao. Things just aren't clicking for them in the final third, but they have looked dangerous when trying to exploit the space in behind the wing-backs.
18' CLASIE (Netherlands) concedes a free-kick following a challenge on DAVID LUIZ (Brazil).
16' GOAL- Daley Blind smashes it in the back of the net. Horrible defending from a cross from David Luiz. He heads the ball straight to Daley Blind who, with his weaker foot, finishes well to double the Oranje's advantage.
15' OSCAR (Brazil) illegally handles the ball. David Luiz pings a brilliant diagonal ball up from the back, finding Oscar in behind Kuyt on the left wing. However, the Chelsea man inadvertently controls with his arm as he looks to bring it under and the referee spots it. Free kick to Netherlands.
12' A feature of this Dutch side is that the back three will often step out from defence and shadow a player to force them back away from their goal. Martins Indi just closed Ramires relentlessly and won the ball for his side on the half-way line. He then continued his run into the box but Kuyt was unable to pick out Robben on the left with his pass.
Holland have scored ALL 10 of their penalties in regulation (excluding penalty shootouts) at the World Cup. #BRA #NED

— Infostrada Sports (@InfostradaLive) July 12, 2014
10' The Selecao win a free kick on the left and it is taken quickly by Oscar to set Maxwell away towards the byeline. The left-back swings a great delivery into the box but Martins Indi does just enough to stop Jo from getting his head to it, and the ball goes out on the far side untouched.
9' Netherlands caught napping on more than one occasion.
9' ROBBEN is penalised after commiting a foul and (Netherlands) is booked by the referee. Yellow card awarded. Robben is the next player into the book as he cynically brings down Paulinho after being dispossessed by the midfielder. It is perhaps unsurprising, given these two sides have conceded the most fouls in this World Cup!
7' Robben drops deep to pick up the ball and run at the opposition. He cuts inside of Luiz Gustavo expertly and attempts to find De Guzman with an ambitious pass towards the top of the box. He gets a bit too much behind it, though, and Brazil are able to clear away the danger.
5' Looking at the replays Thiago Silva certainly should have been shown a red card there as he was the last man. Perhaps the referee doesn't want to cause any upsets for the hosts! The contact took place right on the edge of the box, with some of the Brazilian team suggesting it should only have been a free kick.
GOAL- Van Persie makes no mistake to put the ball in the net.
2' PENALTY- Robben's pace no match for Brazil's Thiago Silva who fouls him in the penalty box as his shirt is pulled to hold him back. Silva is cautioned and awarded a yellow card.
1' Match gets underway in Brasilia! Brazil donning their traditional yellow shirts and Netherlands their alternate dark blue jerseys.
Brazil is playing the 4-2-3-1 and Netherlands are playing the 3-4-1-2 formation.
Algerian Djamel Haimoudi will be the chief referee.
Brazil (yellow army) will look to restore pride and honour after the 7-1 humiliation at the hands of Germany.
The teams have lined up and are reciting their national anthems. Brazil- "Brazilian National Anthem" and the Netherlands- Wilhelmus.
The Brazil lineup is very interesting - there is no Hulk, no Fred and no Fernandinho in the starting XI. All three players put in sub-par performances on Tuesday against Germany, and Fred in particular was heavily booed by the Brazilian crowd.
Here are the lineups for the two sides:
#BRA Line-Up: Julio Cesar, Thiago Silva (c), David Luiz, Paulinho, Oscar, Maxwell, Ramires, Luis Gustavo, Willian, Jo, Maicon #BRANED

— FIFAWorldCup (@FIFAWorldCup) July 12, 2014
#NED Line-Up: Cillessen, Vlaar, De Vrij, Martins Indi, Blind, Van Persie (c), Sneijder, Robben, Kuyt, Clasie, Wijnaldum #BRANED #WorldCup

— FIFAWorldCup (@FIFAWorldCup) July 12, 2014
Welcome to the live coverage of the third place playoff between Brazil and Netherlands, which begins at Brasilia at 1:30 am IST.
Brazil are still recovering from a record 1-7 thrashing at the hands of Germany in the semifinals four days ago. The massive humbling in the absence of Neymar and captain Thiago Silva, shook the country to the roots. While there is no coming back from that loss, Brazil can hope for some consolation by winning third place when they take on Netherlands in Brasilia. Indeed, Brazilian coach Luis Felipe Scolari has said they will treat the playoff as a World Cup final. Read the Brazil Team Profile
Brazil missed captain Thiago Silva in their squad as they were humiliated 1-7 against Germany. Silva missed the semifinal match as he picked up a second yellow card in the quarterfinal against Colombia. With the suspension over, Thiago Silva will return to captain the Brazil squad that will face Netherlands in the third place play-off match at at Estádio Nacional de Brasilia. Read Thiago Silva's Player Profile
While Brazil play for pride, Netherlands will want to preserve their unbeaten record in this competition, having lost out only on penalties to Argentina on Wednesday. Before that, the Dutch had thrashed Spain 5-1 in their opening game, then went on to beat Australia, Chile and Mexico, and edged out Costa Rica in a penalty shootout in the last 16. Read the Brazil v/s Netherlands Match Preview
Despite having a good World Cup campaign, Netherlands lost to Argentina in the semi-final round. The match headed towards penalties as the score remained the same till the end of 120 minutes. Ron Vlaar and Wesley Sneijder missed penalties for the Dutch, which resulted in their exit from the World Cup. But their 2014 World Cup campaign is not over yet as they play Brazil in a match for the third place. Here's the Netherlands Team Profile
Captain Robin Van Persie could not save Netherlands from being knocked out of the World Cup as they lost 4-2 on penalties to Argentina. His own performance was very poor as he was barely visible. Read Robin Van Persie's Player Profile
Arjen Robben had a decent World Cup as he scored three goals for the Dutch. But his influential performances could not save the Dutch from being knocked out of the tournament in the semifinals, missing a very close goal chance in the 91st minute thanks to a superb tackle from Javier Mascherano of Argentina. Following the match, Robben lashed out at Argentina, claiming they did not deserve to be in the World Cup finals and that they were 'playing for penalties'. Here's Arjen Robben's Player Profile