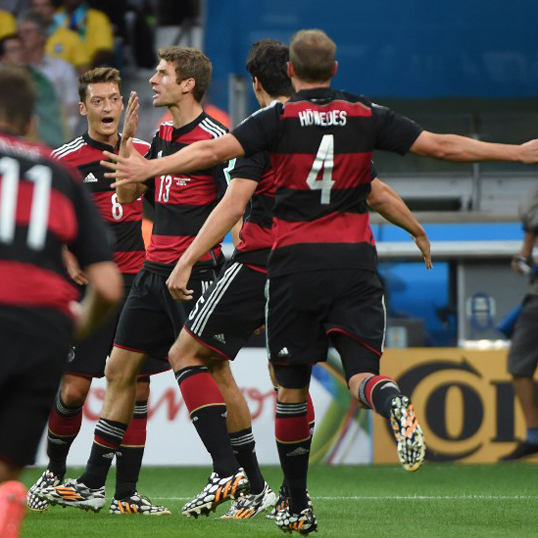 FULL TIME The Brazilians sink to their knees as the referee blows the final whistle, and the fans boo loudly. The game was gone for Brazil by the 29th minute, when Germany made in 5-0. Oscar scored a consolation goal for Brazil in the closing minutes. This has been a most astonishing semifinal from Belo Horizonte. FINAL SCORE Germany 7-1 Brazil.
90' The referee has now called for three minutes of added time
90' Oscar scores for Brazil! Neuer is furious at conceding a goal, but at least Oscar has escaped the fury of the fans.
89' Bernard slashes over the bar! Brazil won't be getting a goal tonight, as the referee says there will be no extra time.
88' Germany makes another good ball through the middle, and the tension rises as Muller gets closer to it, but Cesar.
87' Three minutes remain, the Brazil fans are in SHOCK. This is their worst ever loss, in all games, and what a time for it.
86' Ramires shoots from distance. It's on target but Neuer isn't troubled by it and he comfortably saves.
83' In cricketing parlance, Germany could well have 'declared' their 'innings'
79' GOAL! Schurrle scores AGAIN for Germany, who are now 7-0 up. This is a record defeat for Brazil, of all time
GOAL Schurrle makes it 7-0 yeah http://t.co/1hVi1MSr0x

— Football Vines (@FootballVines) July 8, 2014
75' Khedira of Germany comes off for Julian Draxler, who may well be the next goal scorer, such has been the day.
73' Neuer is more than equal to a desperate shot from Paulinho. It was never a favourable position as a cross looked to be the only sensible option.
69' GOAL! It's 6-0 for Germany as Andre Schurrle scores after a strong build-up from Germany.
André Schürrle 6-0 http://t.co/9rUOg1liuD

— Football Vines (@FootballVines) July 8, 2014
67' Willian comes in for Brazil, just as Dante gets a yellow card, for a challenge on Muller. Hulk was booed off the ground as he came off.
65' Germany expose the Brazilian defence again, as Muller makes a run through the centre, but again Julio Cesar saves it, he prevented Muller from making the pass to Schurrle
64' It's amazing that Brazil have 51% of the possession in this game.
61' Julio Cesar makes another save as Brazil scramble to take away something from the semifinal. Cesar tipped a Muller kick over the ball
60' Muller had another opportunity, as he beat two Brazilians before being denied by Julio Cesar.
58' Brazil get a free kick, and Neuer makes another save for Germany; the crowd boo loudly
57' Miroslav Klose goes off to a smattering of applause, by this hostile Brazilian crowd, Schurrle comes in
51' Brazil miss a close chance! Finally we see a coordinated attacking sequence from the Selecao as Ramires tosses the ball to Fred at the top of the box, who does well to find the midfielder's run with his return pass. However, Neuer covers his near post and denies the Chelsea man anything!
47' Ramires comes on for Hulk for Brazil
46' Paulinho comes in for Fernandinho for Brazil
HALF-TIME Germany are 5-0 at half time. You read it right, 5-0. Miroslav Klose has attained the World Cup record for most goals, from - as if to rub salt into wounds - Brazil's great Ronaldo. Brazil have no chance of coming back.
45+3' Brazil being given a taste of their own medicine? Made to do the samba all over the field! Germany scored four goals in six minutes.
44' Khedira of is penalised after committing a foul.
41' Oscar has a chance to gift Brazil the 1st goal by defended well by Germany
36' Hulk of Brazil is adjudged to be in an offside position.
35' JUST WIDE! This is staggering! It's all I can do to keep my cool here as we witness history. Germany narrowly see a chance at a sixth go begging. Kroos nearly wraps up a first half hat trick from his zone at the top of the box, but it takes a nick off Luiz and bobbles agonizingly wide!
33' This match is playing out like a training exercise here. Which is never what you expect from a World Cup semi-final. It's been a bloodbath on the field. Absolute carnage. The fear of God is palpable in the Brazil ranks now on every German advance. It's almost not fair.
31' Can Germany let us breathe now? My fingers are worn down to the bone here! Quite possible the most devastating six minute spell we've ever seen at the top level in football. FOUR Germany goals in that period, a 5-0 lead, a place in the final all but sealed and a nation brought to their knees.
29' GOAL- This time it's Sami Khedira on the scoresheet for Germany. A strong build-up with Mesut Ozil and Miroslav Klose on either side of the Germany No6 spread the Brazil defence thin and Khedira is able to finish in the bottom corner.
26' GOAL Toni Kroos yet again! Assisted by Sami Khedira. Kroos makes it four with his second goal in two minutes! The Estadio Mineirao is in stunned silence, with the exception of the singing Germany supporters. Khedira leads the German counter-attack and selfishly passes off to Kroos for a simple tap-in.
24' GOAL Toni Kroos takes Germany's lead to three! Toni Kroos Assisted by Philipp Lahm.
23' GOAL- Germany make it 2-0, Klose scores
Was this in the script. 1 nil #GER poor marking for the goal but #Mueller is a finisher #greatgoal

— Tim Cahill (@Tim_Cahill) July 8, 2014
18' Oscar controls well in the area and the Chelsea forward turns and squares the ball but Benedikt Howedes intercepts.
16' BERNARD (Brazil) is penalised after committing a foul.
14' MARCELO (Brazil) commits a foul.
13' David Luiz attempts to get his side back on track right away with a towering stride through the middle. The ball gets worked out quickly to Hulk on the left and suddenly, his options in the box look plentiful! However, Germany escape thanks to a poor delivery from the Zenit man into the first defender. Should have been a lot more than it was.
11' GOAL Thomas Müller scores off the corner after the ball drops to the No13 in the middle of the box and the Bayern Munich man calmly side-foots it past Julio Cesar!
Can Germany let us breathe now? My fingers are worn down to the bone here! Quite possible the most devastating six minute spell we've ever seen at the top level in football. FOUR Germany goals in that period, a 5-0 lead, a place in the final all but sealed and a nation brought to their knees.
10' Another kick against Miroslav Klose for bringing David Luiz down
9' A real back and forth rapport developing between these two teams. Brazil, as ever, are looking to move the ball quickly from the flanks to the centre amongst their front four, but Germany are looking increasingly poised at the back and on the break.Dante comes to the rescue to clear the ball.
4' A sneaky shoulder barge from Schweinsteiger into Gustavo goes unpunished by the referee despite the howls from the Brazil fans. Their side go on the offensive soon after and see the first shot of the game, when Marcelo pulls one off target with a bouncing attempt!
3' Hulk puts in a lovely ball that made Manuel Neuer stretch. Hulk is on the receiving end of a long ball and the No7 brings it down well. His early cross tries to find Bernard but Neuer is there to intercept.
2' Oscar taking an early corner for the Samba Boys. Brazil earn an early corner, but it is easily cleared by the German backline.
Germany last won the world cup against Argentina in Rome in 1990.
KICK OFF
Germany kicks-off
Germany have deployed a 4-5-1 formation and Brazil 4-2-3-1
Brazillians out to spoil a massive German party. Thiago Silva and Neymar are out owing to suspension and injury concerns respectively.
German players recite their national anthem: The "Deutschlandlied" (meaning Song of Germany), followed by the Brazillian national anthem
The lineups for both Brazil and Germany are out:
#BRA LINE-UP: Julio Cesar, David Luiz (c), Fernandinho, Marcelo, Hulk, Fred, Oscar, Dante, Luiz Gustavo, Bernard, Maicon #BRAGER #WorldCup

— FIFAWorldCup (@FIFAWorldCup) July 8, 2014
#GER LINE-UP: Neuer, Hoewedes, Hummels, Khedira, Schweinsteiger, Ozil, Klose, Muller, Lahm (c), Kroos, Boateng #BRAGER #WorldCup #Joinin

— FIFAWorldCup (@FIFAWorldCup) July 8, 2014
Welcome to the live coverage of the first semifinal, between Brazil and Germany, to be played at Belo Horizonte in Brazil at 1:30 am IST.
Brazil are without their star player Neymar and their captain Thiago Silva. The former suffered a vertebrae fracture in the game against Colombia after being taken down by Juan Zuniga. Silva on the other hand, has been banned for the semifinals after receiving two yellow cards, the second in the Colombia match. Germany, therefore, are favourites to win. Either Germany or Brazil will face the winner of Argentina v/s Netherlands in the final on Sunday.
In the absence of Neymar, Scolari is set to choose between Willian, Bernard, Oscar and Hernanes to fill in for team's most famous player. Captain Thiago Silva will be replaced by Bayern Munich's Dante for the clash with Germany. Brazil and Germany have only met once before at a World Cup and that was in the 2002 final when the Selecao won 2-0. There are no survivors from either side in the two squads this time around, but Scolari was the coach in his first spell as Brazil boss. Read the Brazil v/s Germany Match Preview
Though Germany are favourites to win, they have a very poor record against Brazil, winning just four out of 21 matches between the two teams. None of these wins have come in Brazil.
Luiz Felipe Scolari has his eyes set on his second World Cup trophy with Brazil, previously winning it with them in 2002 and the nations record sixth World Cup trophy. The Seleção had a decent performance in the group stage, winning two out of the three games. In the Round-of-16, they faced Chile and won the match 3-2 on penalties. In the Quarter-Final round of the FIFA World Cup 2014, they beat Colombia 2-1. Read Brazil's Team Profile here
Frederico Chaves Guedes, better known by his nickname 'Fred' will be a crucial player for Brazil in their semifinal clash against Germany. Having been the best player of Brazil in the 2013 FIFA Confederations Cup, Fred has failed to perform for Brazil in the 2014 FIFA World Cup as he has scored only one goal so far. Read his player profile here
Germany made it into the semifinals with an impressive 2-0 win against France in their quartefinals match. The best performance the Germans put up was against Portugal, which ended 4-0 in the Germans favor. Apart from that the Germany have looked less than impressive and struggled through the group stages and then in the round of 16. If they are to qualify for the semifinals, then the team will have to display resilience and their players need to start clicking. Read Germany's team profile here
The pint- sized, defender captain, Philip Lahm an ever inspiring force for the side will look to inspire his team to a win against hosts Brazil on Tuesday. Having acquired the tag of 'chokers' is something more than what Lahm can digest as the team is know to be spectacular throughout the tournament but flop towards the fag end. Read Lahm's player profile
Schweinsteiger, a regular feature for the German side since 2004, has had lacklusture form at the 2014 edition of the World Cup. He has scored zero goals for the team and will be looking to inspire his team tonight as they face hosts Brazil. Here's his player profile
Read: FIFA World Cup 2014 Semifinals: Will Germany's poor record against Brazil come back to haunt them?
The last 13 months have been good to David Luiz, who goes into the semi-final of the World Cup not just as captain of Brazil but as one of the most popular players with both team mates and fans. Before last year's Confederations Cup, Luiz was one of the top players in Europe but he was not well known among the general public in his homeland. That changed as the central defender played in every game of the tournament the host nation won by beating world and European champions Spain in the final. Read more about Luiz here
Meanwhile, controversy continues to dog the World Cup in many ways. Ray Whelan, the chief executive of a hospitality firm arrested in connection with an investigation into VIP ticket scalping at the World Cup, was released on Tuesday after spending the night in custody
Also, hackers on Tuesday put a cartoon of the back injury suffered by Brazilian star Neymar on the website of leading World Cup goalscorer James Rodriguez. Read the full story here