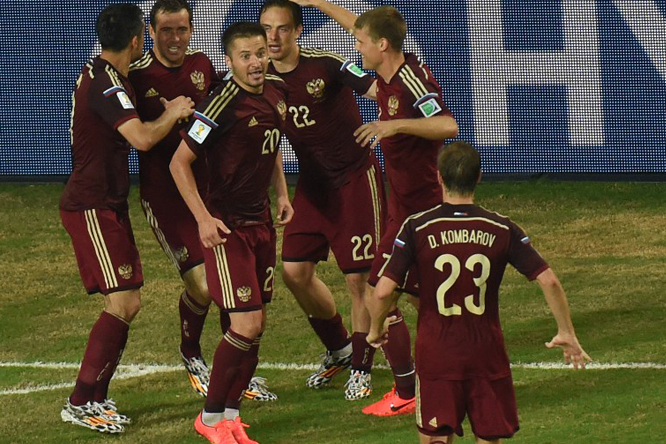 FULL-TIME Russia and Korea draw 1-1, and Russia will be relieved that they managed to equalise after a horrific error by their keeper Akinfeev. They will also be disappointed however, given what could have been had the error not been committed. A very competitive game though.
90 + 5' Into the last 20 seconds and both teams will be moderately happy with the result
90 + 3' 90 seconds to stoppage time and Russia are playing a very patient game here
90 + 1' Koo Jaa Cheol of Korea gets a yellow card
90' We are almost done with the game here and it doesn't appear as if another goal will be scored, but four minutes of extra minutes have been provided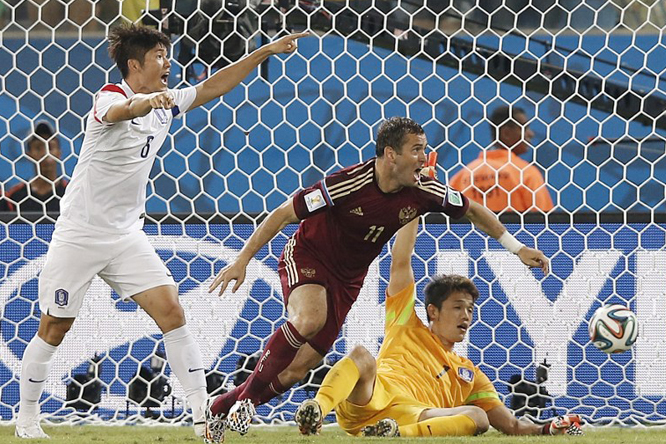 85' Ignashevich of Russia commits a foul and gets penalised
84' Bo-Kyung Kim gets substituted for Heung-Min Son for Korea
83' Russia are suddenly attacking after Dzagoev's great pass. He attempts a kick from the right flank but its just wide of the goal
74' GOAL! Russia have equalised! Great teamwork by the Russian substitutes! Dzagoev shoots from a tight angle, and Kerzhakov takes it on the turn to fire home!
69' GOAL! What a horrific moment for the Russian keeper Akinfeev. Korea's KH Lee with another long-range shot from the centre, and Akinfeev was out of position. He tried to get back to save the goal but it was too late. That goal will be an own goal for Igor Akinfeev as he touched the ball before palming it in!
I have a feeling that this game is going to end up as a draw. #RUSvsKOR

— July 14. (@gissy_estrada) June 17, 2014
67' Long-range shots have been the order of the day as neither team has been able to get behind the other for very long
62' Kombarov hits a shot from distance and the Korea Republic goalkeeper gets down to save. He does it nicely because of the absence of Russian forwards
59' Even as Kokorin commits yet ANOTHER foul, Russia get a replacement, as Dzagoev comes in for Shatov
56' Wow. Another foul by Kokorin gives Korea the free kick, and they do very well, or rather the Russian keeper does badly. The shot is on target but Akinfeev fumbles with the save and just manages to gather it again as the Korean forwards charge
56' Korea Republic get a free kick off a foul by Russia, within range
55' KH Lee replaces CY Park for South Korea
54' CY Park of Korea commits a foul
52' Russia have made a strong start after the break, but South Korea are coming back
51' Akinfeev spills a strike from Ki that bounced in front of him, but is able to gather the loose ball
48' Oleg Shatov of Russia gets a yellow card
HALF-TIME The whistle has sounded and neither team has looked too threatening, though both Russia and Korea had a few good shots at the goal. Scoreline 0-0
45' STAT: South Korea played their first World Cup match on 17 June 1954 against Hungary, and lost 9-0. It's been exactly 60 years, and now this appears to be going towards a facile draw already.
43' South Korea win a corner through some good work by Son, but they can't score
41' We are nearing half-time in this game as neither team looks very interested in working hard towards a goal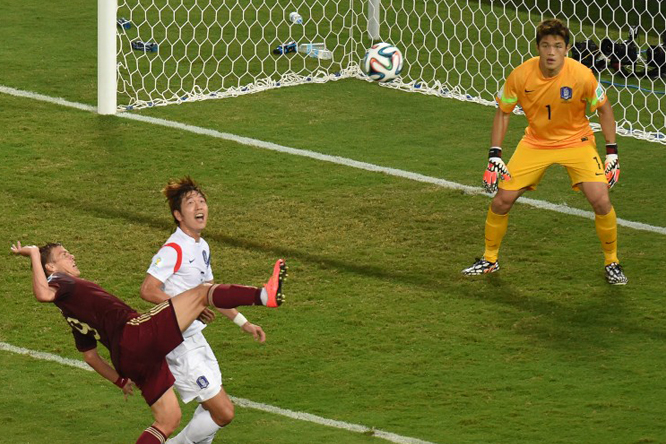 39' HM Son of Korea had a big chance there. He dribbles the ball off his chest, beats two defenders and then attempts a kick, but he nearly kicked it into Rio de Janiero, it was so high and so wide!
37' Kokorin of Russia once again commits a foul and is penalised. The crowd is chanting "Russia" but the team is sleepwalking through the match...almost
I can play football! I'm can do better than this game #RUSvsKOR

— Juliet Aiyedogbon (@Juliet_dogbon) June 17, 2014
34' South Korea get the first corner of the match, but meet a header from a Russian defender
33' Zhirkov of Russia charges towards the goal, he beats two challengers but his kick is wide to the right
31' Ignashevic of Russia gets the free kick from a distance of about 35 metres, and he is on target, but the Korean keeper just about manages to save it
30' S Y Ki of Korea Republic gets a yellow card
28' Kokorin of Russia gets a kick in at the goal but his shot is wide off target.
25' This game is petering out into a dull one as neither team looks to make an effort on goal
24' Meanwhile, Korea get a free kick, but cannot make much of it. Korea are not playing with their usual high tempo today
23' Russia look the team more likely to score a goal at the moment. Korea are just passing the ball around in defence
21' Heung Min-Son of Korea gets a yellow card
20' Kokorin of Russia commits a foul
19' Russia's manager Fabio Capello has turned 68 in his home country of Italy, but is still 67 in Brazil, due to the time difference
18' Neither goalkeeper has looked remotely threatened so far as both teams play in the midfield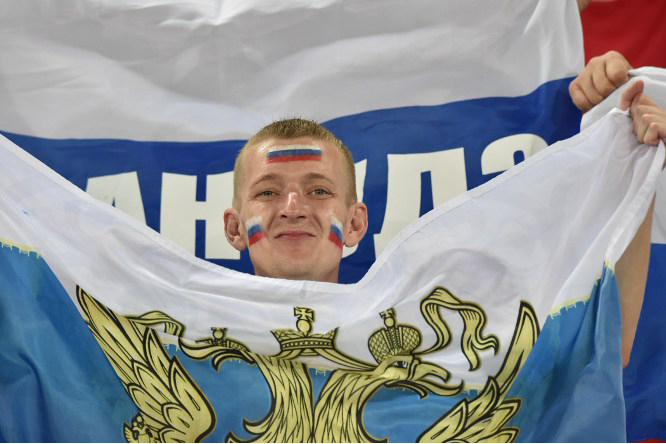 13' Now HM Son gets a yellow card for a foul
11' HM Son's effort for Korea is wide off the goal
10' KY Han of the Korea Republic commits a foul
8' Korea with a lovely pass but the strikers cannot capitalise on it
6' Glushakov of Russia commits a foul
4' JC Koo of Korea commits a foul and is penalised
4' CY Park of the Korea Republic concedes a free-kick following a challenge on Fayzulin of Russia
KICK-OFF The whistle sounds and the match is underway, as Russia kick things off in Cuiaba
The formalities are over, so the match can now get underway
The national anthems are underway, beginning with that of Russia
South Korea have won each of their last three opening games at the World Cup. Can Russia break that streak?
The team lineups are out:
#RUS LINE-UP: Akinfeev, Ignashevich, Glushakov, Kokorin, Berezutskiy (c), Shatov, Zhirkov, Samedov, Fayzulin, Eshchenko, Kombarov #RUSKOR

— FIFAWorldCup (@FIFAWorldCup) June 17, 2014
#KOR LINE-UP: S R Jung, S Y Yun, Y G Kim, H M Son, C Y Park, Y Lee, J C Koo (c), K Y Han, S Y Ki, C Y Lee, J H Hong #RUSKOR #WorldCup

— FIFAWorldCup (@FIFAWorldCup) June 17, 2014
Russia is to play South Korea in second Group H match. Russia enters the World Cup after a 12-year gap.
Twelve years after appearing at their last World Cup, the Russians are back. Their recent World Cup history, however, doesn't read positively. They went out of the first round in 1994 and did not appear again until 2002. They won a grand total of two matches across those eight years. Fabio Capello is the man tasked with whipping an under-performing nation into shape before hosting the tournament in four years and the veteran coach led them through this qualification campaign successively, relegating Cristiano Ronaldo and Portugal to the play-offs.
The Russians come into the World Cup unbeaten in their last 10 matches but there are nonetheless doubts about their quality. Their Euro 2012 campaign fizzled out after a good start with Russian Premier League mainstays disappointing in the harsh continental glare. The squad is still drawn in its entirety from the national league but there are key components missing. Captain Roman Shirokov has been ruled out through injury so eyes again will be drawn to Alan Dzagoev, who will likely shoulder the creative burden.
Russia Team Profile
Russia will be looking to boost football in their country as they will host the 2018 FIFA World Cup. Russia qualified for the 2014 FIFA World Cup as the UEFA Group F winners with 22 points, finishing a point ahead of Portugal. This is the 3rd appearance of Russia at the FIFA World Cup. Russia's best result is group stage in 1994 and 2002. However FIFA considers Russia as the successor team of the USSR.
Having missed the last two World Cups Russia will be present at the next two having edged Group F ahead of pre-qualification favorites Portugal to make the cut for Brazil and by virtue of the fact they host the show in 2018. The man behind their qualification is the Italian coach Fabio Capello who took over from Dick Advocaat after a first round exit at Euro 2012. Russia's on field performance had been gutless and captain Andrey Arshavin had a public row with supporters, refusing to say sorry to Russia for their failure. Capello sidelined Arshavin right from the off as well as striker Roman Pavlyuchenko and several others. The stern disciplinarian who had previously handled Roma, AC Milan, Juventus, Real Madrid and England soon whipped his new charges into shape.
South Korea Team Profile
When co-hosting the finals back in 2002 South Korea went wild with football fervor as the Taeguk Warriors reached the last four. Now they have qualified for their eighth straight finals after a campaign marked by a war of words with Iran. In South Africa, a solid side made it to the last-16 but since then there has been a managerial merry-go-round, with their current boss Hong Myung-bo, captain and hero of the 2002 campaign and South Korea's most capped player, the fourth man at the helm in four years.
However, he only took the post after the man who guided them over the qualification finishing line, Choi Kang-hee, was fired in June 2013 after a debacle with Iran. It had been a harrowing campaign as they lost a war of nerves with group A winners Iran, which culminated in an undignified slanging match and a home defeat 1-0 to the Persians. South Korea finished level with Uzbekistan, but had a better goal difference to thank for their qualification for Brazil. Upset at their manager's trash talk the authorities decided to go with Hong Myung-bo, who had guided the under-21's to a bronze medal at the London Games and had himself actually played at four World Cups. Hong's main challenge is to raise the team's confidence after only securing his furst win in his fifth game in charge, against minnows Haiti.