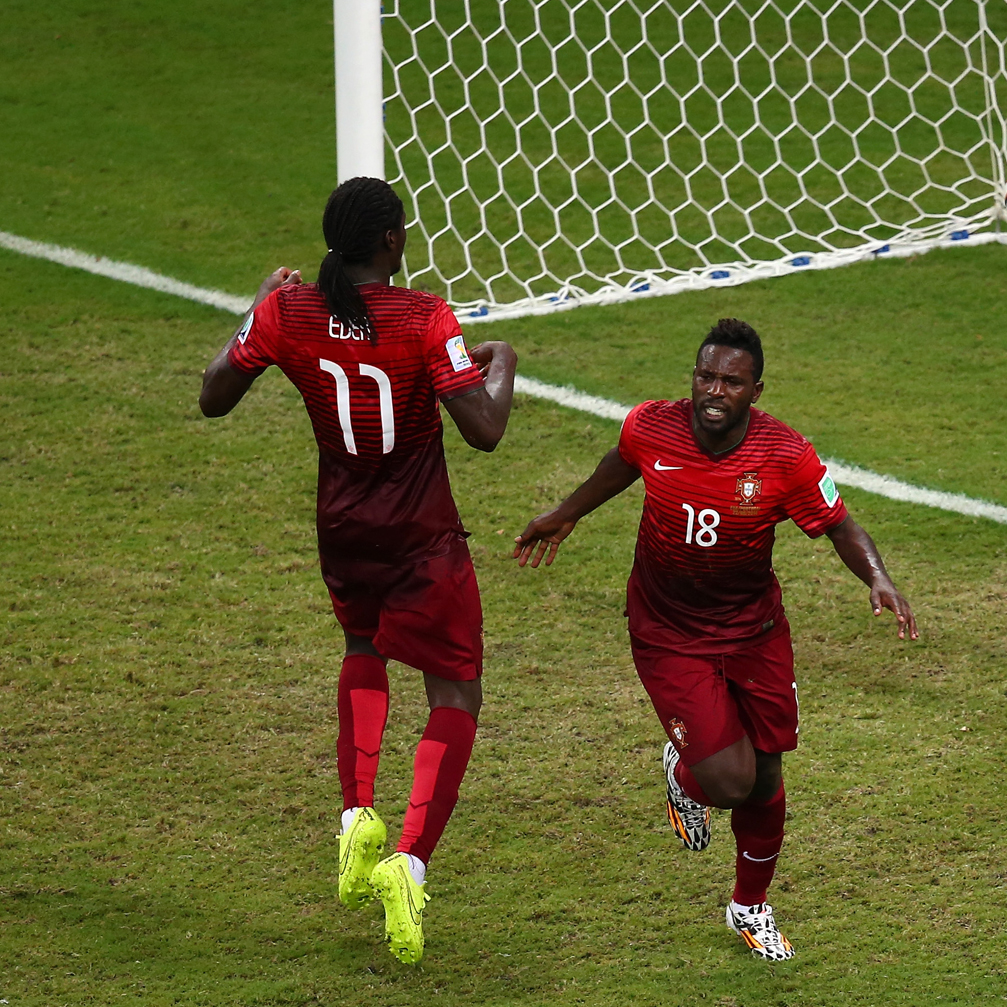 FULL-TIME Dramatic scenes as Portugal, sinking and sinking, scored a goal in the last 30 seconds to draw 2-2 and barely save their World Cup hopes. This means USA are not through yet, and all four teams are still in contention in this group. Scoreline 2-2 FINAL
90 + 5' GOAL! With 30 seconds left, a beautiful cross from Ronaldo meets a Varela header into the goal! What a moment!
90 + 5' Into the last minute as Portugal struggle for possession, let alone a shot at a goal
90 + 2' USA were keeping possession for a while and cutting through the Portugal left, but then are dispossessed by a defender who backheels it to the keeper
90 + 1' Five minutes of stoppage time begin as Gonzalez comes in to replace Zusi for USA
89' Moutinho puts in a chipped cross and finds Ronaldo but his header isn't strong enough and Howard watches it roll wide
88' Portugal have never lost 2 opening games at a World Cup. This could be the first time....and it will take them out of the competition. Spain gone, England gone, one of Uruguay and Italy will go, and now Portugal? What a World Cup!
87' Wondolowski replaces Dempsey, who gets a HUGE ovation from this crowd
86' The teams will get 5 minutes of stoppage time. Can Portugal get back and save their Cup?
85' Jermaine Jones has conceded a free kick after a challenge on Valera of Portugal
81' GOAL! USA are 2-1 in the lead and they are ecstatic! Portugal are going out! Incredible scenes in Manaus as a superb pass from the penalty area is put into the goal by Clint Dempsey!
79' Nani's attempt at goal is off target as Portugal get desperate
77' Portugal's mantra has changed drastically with the equalizing goal. They're sending everything forward now, taking a much more direct approach in possession. But they also have no substitutes left.
76' Costa of Portugal gets penalised for committing a foul
75' Jermaine Jones gets a yellow card after committing a foul
73' Ronaldo is adjudged to be in an offside position
72' Yedlin comes off the bench for USA to replace Bedoya
69' Varela replaces Meireles for Portugal
66' Meireles effort hits the target but again the USA keeper is up to the task, pushing it out for a corner
64' GOAL! USA scores! It's Jermaine Jones! USA are level 1-1 with Portugal and the roof has come off the stadium! Jones hit a ferocious swerving ball into the lower corner of the goal and Beto has no chance! That was really USA's goal, the Portuguese defence could have done nothing about it.
61' Ronaldo cuts through the USA right and he has a clear field as the crowd get into it, but his curling kick is way off the goal! That was very uncharacteristic
57' Nani of Portugal commits a foul
55' Great stop by the Portuguese defence. Ricardo Costa it is. Fabian Johnson continues to terrorise the right side and get in a service to the middle of the area. Michael Bradley is alone and his shot beats Beto but Costa clears the ball just in time. The USA coach is gutted.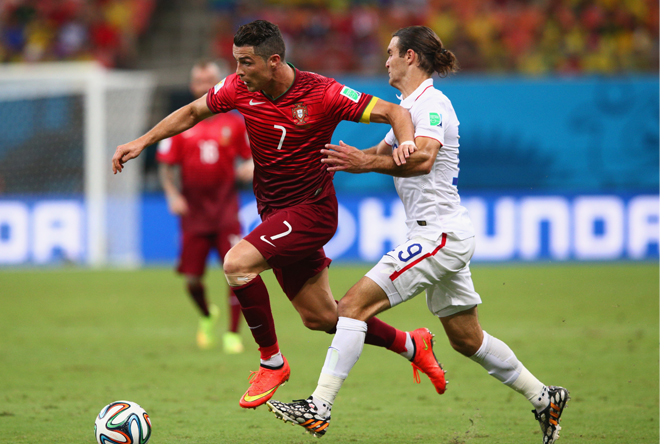 53' The possession is very even at this stage, 48% to USA and 52% to Portugal. USA have played well.
52' Miguel of Portugal concedes a free kick following a challenge on Zusi, but Portugal's defence intercepts the kick from Dempsey
49' Zusi of USA takes a corner kick, but Johnson's cross gets deflected for a corner
48' Bedoya of USA commits a foul, but Eder's effort is off target
46' We are back for the second half and Portugal substitute William for Andre Almeida, a midfielder for a defender
HALF-TIME Thanks to a brilliant save by Tim Howard, what should have been a 2-0 scoreline for Portugal stays at 1-0. Nani has looked impressive but Ronaldo has not. USA meanwhile, have been very aggressive after that first goal
45' What a save by the USA keeper Tim Howard. Lightning fast kick from Nani from the left, Howard is slightly out of position but he dives and just gets his right hand to the ball, which hits the right post and rebounds!
43' Now Ronaldo flies down the left and finds Nani with a great ball. Nani shoots but Howard is up to the task
42' Ronaldo gets a free kick as the fans cheer. However, his effort is off target as it sails over the bar. What a disappointment.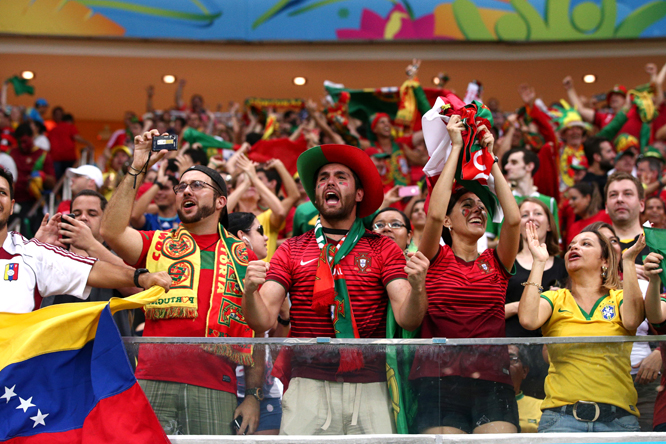 39' Play is stopped as Jermaine Jones of USA pulls up with an injury near midfield. He makes his way to the touchline to receive treatment.
34' Ronaldo is ruled offside after attempting an effort at goal
33' Eder of Portugal has illegally handled the ball
31' USA's Beckerman now commits a foul
30' Eder of Portugal has been penalised for a foul, a yellow card for this substitute would be terrible for Portugal
29' Ronaldo concedes a free kick following a challenge on Besler of USA
27' Dempsey's curling kick is on target but Portugal block it
24' Bradley again gets penalised for a foul, now he has to be careful
21' Bradley of USA gets penalised for committing a foul, but Joao Moutinho's effort is way off target and goes for a goal kick
18' Zusi of USA gets a corner, but Dempsey's resulting effort is off target and goes for a goal kick
17' Michael Bradley puts Clint Dempsey in on goal with a nice long pass. The No8 gets a shot off but Beto deflects out for a corner
17' That's 4 injuries now for Portugal, and one red card to Pepe. This is excluding Ronaldo who is fit for this game, but how fit is he really to last the World Cup? At this rate, Portugal may not have a proper XI by the Round of 16.
16' Postiga of Portugal is out and Eder comes in. Raul Meireles of USA and Helder Postiga of Portugal were both down on the ground. Meireles lashed out with an elbow at Postiga, who is injured and will go off.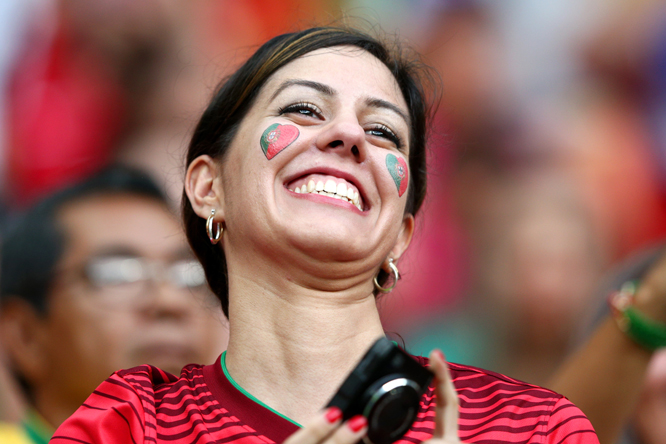 10' Johnson's effort for USA hits the target, but the Portugal keeper blocks it easily
9' Nani now concedes a free kick after a challenge on Bedoya
5' GOAL! Portugal score their first goal of this World Cup and the crowd have gone nuts! It's Nani who is Portugal's hero, as he aims a kick from the right of the penalty area. The USA defence is terrible and the ball easily hits the goal as the US keeper dives the wrong way!
4' ROAR from the crowd, big roar as Ronaldo gets possession again and this time makes a decent pass
2' Poor start from Portugal. They gain possession early on, passing it amongst themselves in defence. Ronaldo's pass runs out of play.
KICK-OFF USA kick off at the Arena Amazonia!
We are ready for kick off as the sky is covered in a beautiful twilight hue
Coach Paulo Bento has made four changes for Portugal, opting for Beto in goal in place of Rui Patricio along with Ricardo Costa, Andre Almeida and Helder Postiga coming on in favour of the suspended Pepe and the injured duo of Fabio Coentrao and Hugo Almeida.
USA are starting with a very conservative starting XI as they have not replaced the injured Altidore. Dempsey thus remains the only forward in front of a 5-man midfield
The national anthems are underway now and Ronaldo is there!
Ronaldo meanwhile, is wearing a knee wrap. He might play but I dunno how well he could play.
It's bad news for Portugal despite Ronaldo's return: Goalkeeper Rui Patricio and forward Hugo Almeida are all out due to injury in addition to Fabio Coentrao
The lineups for the two teams are out:
#POR LINE-UP: Beto, Bruno Alves, Veloso, Ronaldo (c), Moutinho, Costa, Meireles, Nani, A. Almeida, Pereira, Postiga #USAPOR #WorldCup

— FIFAWorldCup (@FIFAWorldCup) June 22, 2014
#USA LINE-UP: Howard, Bradley, Besler, Beasley, Dempsey (c), Bedoya, Jones, Beckerman, Zusi, Cameron, Johnson #USAPOR #WorldCup

— FIFAWorldCup (@FIFAWorldCup) June 22, 2014
Portugal have gone down 0-4 to Germany in a shocker of an opening game. Worse, their star player Cristiano Ronaldo may be out nursing a knee injury. Pepe has already been ruled out after recieving a red card in the game against Germany, and Fabio Coentrao was stretchered off in that match, and won't be playing either. Portugal thus face major challenges as they enter the must-win game against the USA.
Read: Cristiano Ronaldo abandons Portugal training early with ice on knee
USA on the other hand, played well to beat 2010 quarterfinalists Ghana, and after Ghana's draw against Germany, their confidence in their own ability should have been boosted. However, Ghana were very flat in that match against USA. Portugal thus remain firm favourites to win despite their 0-4 loss to Germany.
Read the complete Portugal v/s USA match preview here
Eventually though, assuming Portugal brush aside USA, a lot will come down to Ronaldo's performance in the later games, and the Real Madrid striker showed his ability in the play-off with Sweden scoring four exceptional goals in the 1-0, 3-2 (4-2 on aggregate) win over Zlatan Ibrahimovic's side. Read Portugal's complete team profile here
The US are without Jozy Altidore, who pulled a hamstring in their opening victory against the Ghanaians. Aron Johannsson should take his place. Tactical uncertainty has been a feature of Jurgen Klinsmann's reign, and it has been difficult to predict which players and even which system he will use from game to game, so there may be a surprise in store. Read USA's team profile here