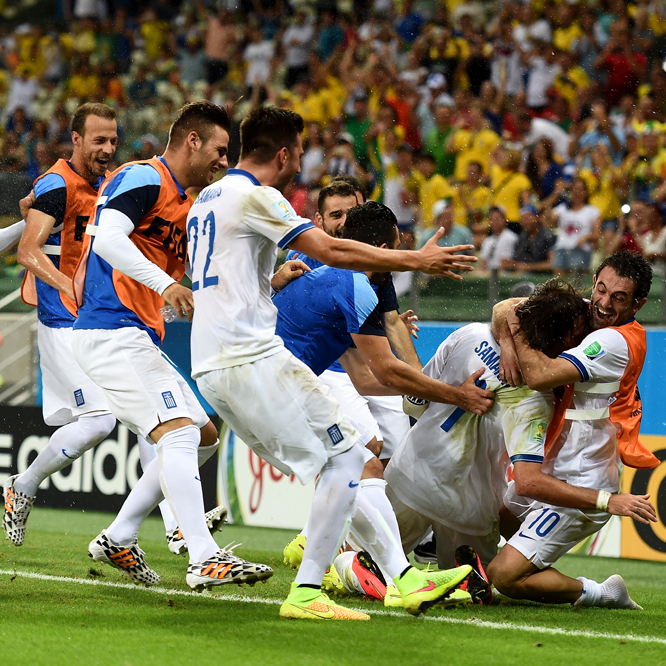 FULL-TIME Greece are through to the Round of 16 and Ivory Coast are shocked. That 93rd minute penalty by Georgios Samaras came off a controversial decision by the referee, but Greece will take it. They are through to the knockout stages for the first time ever in their World Cup history. Ivory Coast have just thrown away one of the best chances of an African side to make the Quarterfinals.
90 + 3' GOAL! Samaras has scored for Greece on the penalty kick. A short penalty, the keeper guessed the right way, was inches away from getting his fingers to it, but the goal has happened. He has surely sent Greece through to the Round of 16.
90 + 2' Samaras gets the penalty for Greece, as ruled by the referee! Giovanni Sio felled Samaras inside the box and the referee decided the violation is good enough for a penalty kick, after pointing to the area.
90' Three minutes of injury-time have been added
89' Meanwhile, a biting epidemic has ensued tonight in Brazil!
88' Greece have to score with just a few minutes left if they are to have a chance of qualification
87' So close for Greece! Salpingidis finds space on the Greek right deep inside the Ivory Coast penalty area. He fizzes the ball across goal and the ball goes through many legs, but nobody gets a touch on it and it's away to safety for Ivory Coast.
83' Japan have been virtually sent out of the World Cup in the other game, as Colombia are now 3-1 up
78' Ivory Coast substitute Ismael Deomande for Didier Drogba, who goes off to a great applause
77' Georgios Karagounis departs, and is replaced by Theo Gekas for Greece
73' GOAL! Greece 1-1 Ivory Coast! What a goal by Wilfried Bony - and Ivory Coast are back into the driving seat. Toure finds Gervinho with a searching pass, but he is played onside. Gervinho squares it with ease, and Bony does the rest. Now Greece must score to qualify for the last 16.
68' Karagounis, the Greek keeper, makes a quick run and fires in a great shot from the centre, but it just crashes into the crossbar.
63' Torosidis of Greece takes a shot at the goal but his effort is off-target
62' Ivory Coast have a substitution as Wilfried Bony is on for Cheikh Tiote.
62' Saloman Kalou gets a yellow card
56' A chance for Ivory Coast as Glykos flirts with danger heading poorly straight into the path of Kalou who has to get his composure right. Maniatis blocks it though.
54' Lazaros of Greece sees an effort go off target
51' Ivory Coast plying on the pressure on the Greek defence. Gervinho picks up the ball before racing into the box with a series of successful dribbles. However, he attempts to cut in past Maniatis, before Glykos takes possession of the loose ball.
47' Greece begin aggressively in the second half.
Japan have scored in their game against Colombia, which means that the 1-0 lead is not enough for Greece now. They need to score one more goal at least and hold Ivory Coast to no goals.
HALF-TIME At half-time, Greece are the happier team, scoring their first goal of this World Cup. They could very well go to the last 16 after scoring just one goal in the Group stages, if they manage to hold the Ivory Coast defence. Score Greece 1-0 Ivory Coast.
45 + 1' Four minutes of injury time has been granted.
42' GOAL! Greece have scored their first goal in this World Cup via Samaris, the substitute. It's Samaris' first international win. He sprints forward beating the Ivory Coast defence, and then delivers a kick sending the ball high but into the goal!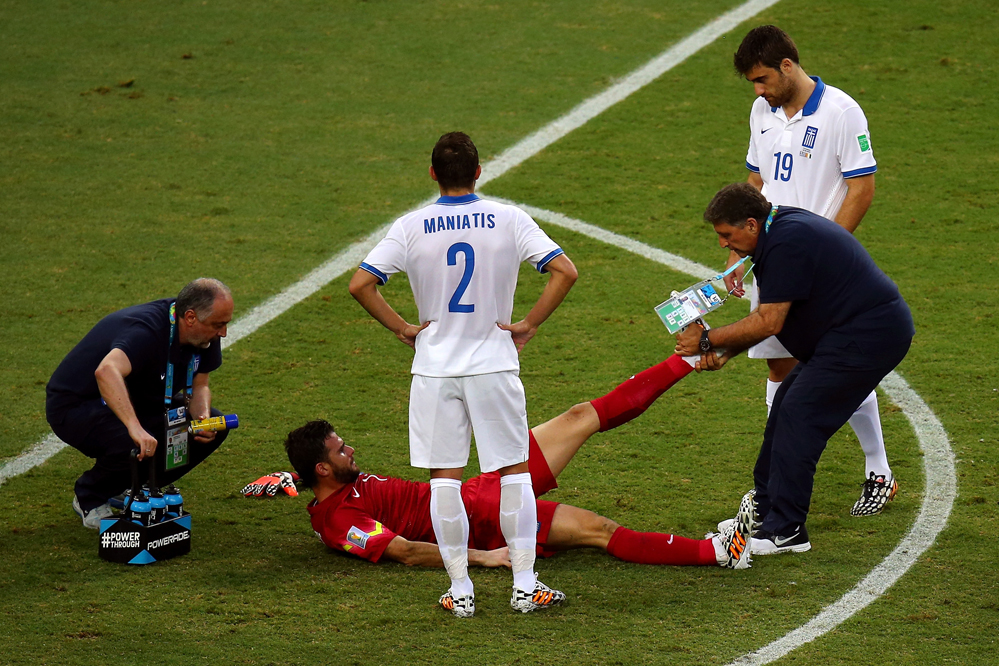 37' Didier Drogba commits a foul and gets a yellow card. He offered a strong challenge to Samaris, and sent him flying.
31' Great delivery from the left-back Boka, and Sokratis stretches to divert that away. Ivory Coast showing a lot of promise, especially from the flanks.
26' Salpingidis of Greece is adjudged to be in an offside position
24' Karzenis is going off now, and Greece have to get in the substitute goalkeeper Glykos. Two substitutions out of a possible three in 24 minutes, both due to injury.
20' After a lengthy halt, we continue as Greece regain possession. They have to win to enter the knockout stages.
18' Greece goalkeeper Karzenis has gone down in the box, for no apparent reason. He seems to have caught a back injury of some sort and is signalling for the physio. Greece are getting the substitute keeper ready. But Karzenis is back up and will stay in the game for now.
15' Salpingidis concedes a free kick after a challenge on Boka of Ivory Coast
11' Greece have to replace Panagiotis Kone, who seems to be suffering from a hamstring injury. Yes, he is replaced by Andreas Samaris
9' Great football from the Ivory Coast. Gervinho and Drogba combine, as the Roma winger sets the pace with a superb run towards goal, but the Greece defence send it away for a corner.
5' Free-kick to Greece as the noise builds. Whipped in towards Torosidis, but Drogba heads it away.
2' Kone buckles under a heavy challenge but the Ivory Coast is being aggressive early
KICK OFF Ivory Coast get us started in Fortaleza
The national anthems are over and we are about to begin this crucial game in Group C
The lineups for the two teams are out:
#CIV LINE-UP: Barry, Boka, K Toure, Kalou, Tiote, Gervinho, Drogba (c), Aurier, Y Toure, Serey, Bamba #GRECIV #WorldCup #joinin

— FIFAWorldCup (@FIFAWorldCup) June 24, 2014
#GRE LINE-UP: Karnezis, Maniatis, Manolas, Samaras, Kone, Karagounis (c), Salpingidis, Torosidis, Lazaros, Sokratis, Cholevas #GRECIV

— FIFAWorldCup (@FIFAWorldCup) June 24, 2014
Welcome to the live coverage of Greece v/s Ivory Coast from Fortaleza. The group is posed interestingly, with only Colombia through to the Round of 16. A win for Ivory Coast would ensure them a place there. A loss however, would mean they have to rely on the result of the Colombia - Japan game. For Greece, winning alone would not ensure qualification. They would depend on the Colombia - Japan game, even if they win.
Ivory Coast must bounce back from a 2-1 loss at the hands of Colombia last time out, though their opening match success over Japan suggests that they have the firepower to overcome the Europeans. Greece have yet to even find the net in the competition thus far. After losing 3-0 against the South Americans as the curtain lifted on their tournament, they responded with a typically gritty scoreless draw against the Samurai Blue, having seen Kostas Katsouranis dismissed - with the veteran of 113 caps subsequently banned for this encounter. Read the entire match preview here
And here's the Ivory Coast team profile
As discussed before, it is a must win for Greece. If they want to progress, they have to defeat Ivory Coast. Currently on the bottom of the group, Greece have only one point on their name. If they win against Ivory Coast, they go one point clear off Ivory Coast and ensure a spot in Round-Of-16. Read Greece's team profile