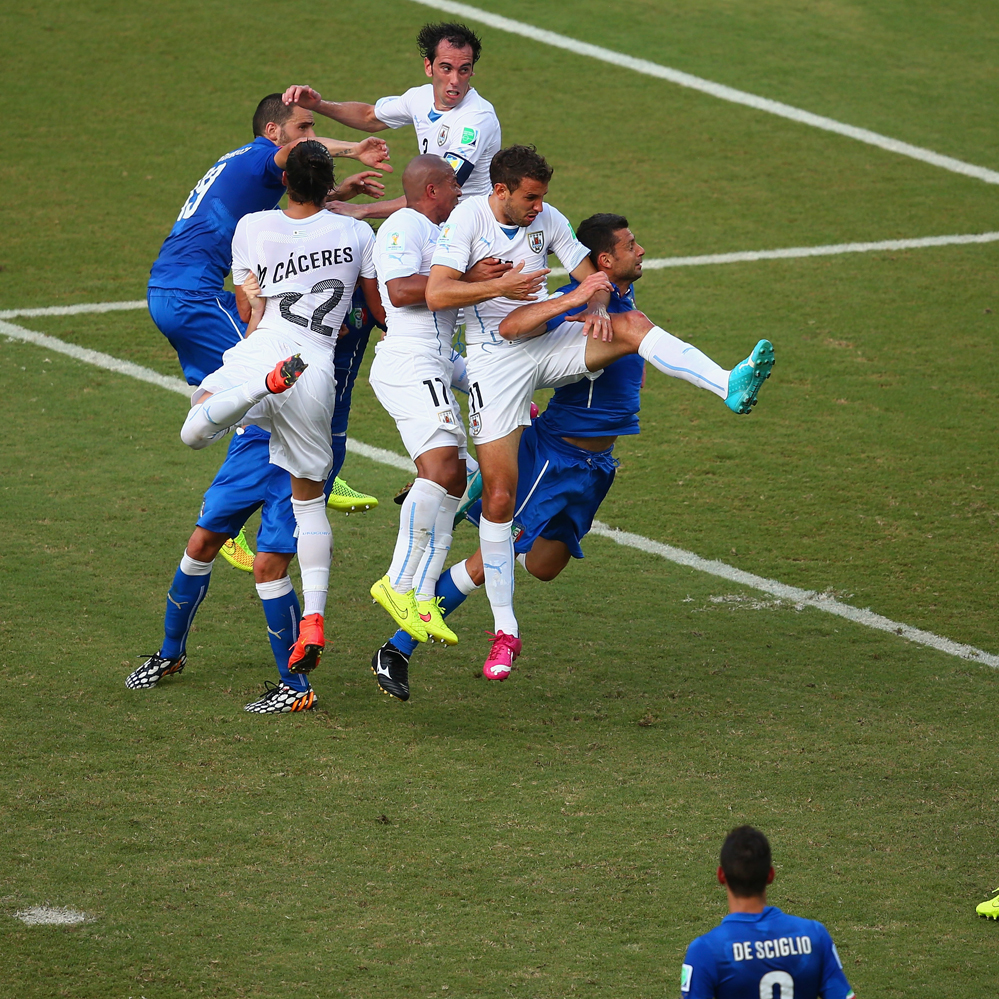 FULL-TIME It's over, the final whistle sounds and Uruguay have won 1-0, in the process qualifying for the last 16. The other story is that Italy are out of the tournament, after being reduced to 10 men. One may say that it was Costa Rica who put these teams in danger, but Italy have themselves to blame for two losses.
90 + 5' Italy get a free kick, with 13 seconds to go. Andrea Pirlo's curling kick is however, cleared by the Uruguay defence.
90 + 3' Two minutes of stoppage time left as Uruguay are doing all they can to deny Italy THAT GOAL. Italian supporters are in tears in the stands.
90 + 1' Muslera of Uruguay gets a yellow card
89' The teams have five minutes of extra time. Will we see a miracle like in Portugal's match against USA?
88' Now Martin Caceres saves the day for Uruguay with a superb clearance.
87' Suarez leads Uruguay on a counter-attack and has plenty of options forward but he elects to go it alone. He beats one defender but is ultimately stopped at the top of the area.
Luis Suarez has just done this!!! http://t.co/0t5gEZHkay #URU

— Football Vines (@FootballVines) June 24, 2014
85' Italy are getting desperate for a goal now
85' Pirlo's free-kick is a good one but misses wide. Muslera plays it safe though and pushes out for a corner.
81' GOAL! Uruguay finally score and look at the joy! Uruguay have well and truly bit Italy now. A corner for Uruguay finds Godin in the box, whose header goes right into the goal!
80' Suarez gets penalised for committing a foul, HE HAS BITTEN CHIELLINI but there is no card.
75' Italy have lost just 3 of their 19 games at the World Cup against South American countries. That looks unlikely to change tonight unless Suarez can find some inspiration.
75' Verratti goes out and Thiago Motta comes in for Italy, this is their last substitution
72' Uruguay are beginning to look desperate for a goal as only 18 minutes remain. Else, they get knocked out.
71' Ciro Immobile goes out and Cassano comes in for Italy
66' Great save by Buffon! Suarez weaves his way through the Italian defence and takes a quick left-footed shot but Buffon gets a hand to it and pushes out for a corner.
63' Stuani to replace Pereira for Uruguay
63' Gimenez of Uruguay commits a foul
59' Marchisio of Italy gets a red card! That was a really harsh challenge on Edigio Arevalo
57' Rodriguez tears away through the Italian left, gets close to the box and puts in a sliding kick, but its wide of the goal as the crowd gasps.
54' Immobile is ruled offside, he made a good run through the Italian right, but Gimenez does well to stop him
53' Suarez takes the free kick, his attempt is way, way over the goal. It flies into Row Z.
53' De Sciglio of Italy commits a foul now
52' Marchisio of Italy gets penalised for committing a foul
46' Arevalo Rios is booked by the referee and gets a yellow card
46' Marco Parolo substitutes Balotelli for Italy
We are back for the second half
HALF-TIME Italy will be the happier team at the break, as they have maintained superior possession and have not allowed Suarez to get into his element. Apart from that, Balotelli has got another yellow card. Score 0-0
45 + 1' Chelliani and Cavani wrestle for space in the Italian box and the former goes down, gets kicked in the mouth as well, but he seems okay.
44' Darmian of Italy is penalised for committing a foul
42' Balotelli has illegally handled the ball
42' Luis Suarez has looked very sedate in this game. In fact, he's hardly getting balls in his half and is slowly retreating into the midfield.
39' Luis Suarez challenges Pirlo and concedes a free kick. Balotelli releases Immobile down the right side but Godin is up to the task and puts in a great tackle to stop the Italian counter-attack.
38' Caceres' effort is off target. He attempted a spectacular shot from over the midfield seeing that the Italy keeper was out of position, but the shot is way off target.
34' Verrati of Italy illegally handles the ball
33' Good Save! After blocking Suarez's shot, Buffon blocks Nicolas Lodeiro
33' Luis Suarez makes a good effort at the goal but his shot is blocked by Buffon
31' M Caceres of Uruguay is penalised for committing a foul
31' Italy's No 17 Immobile receives the ball on the Uruguayan left but his resulting shot is far wide of the goal
27' Pirlo of Italy has illegally handled the ball
26' Barzagli of Italy's effort is on target, but the Uruguay keeper blocks it
22' Balotelli goes into the book after putting in a hard challenge on Pereira. Should Italy go through, Balotelli will miss their Round of 16 match after picking up his second booking during the Group Stage.
19' FIFA STAT: Before this game, Uruguay had scored three goals from just 5 shots on target
17' De Sciglio of Italy illegally handles the ball
13' Marchisio of Italy concedes a free kick after a challenge on Gonzalez, but Suarez, who takes the kick, lands himself in an offside position
13' There does not seem to be much atmosphere in the stadium at the moment. Which team provide the magic on the pitch to get the fans going?
12' Pirlo takes a good shot at the goal but his effort is off target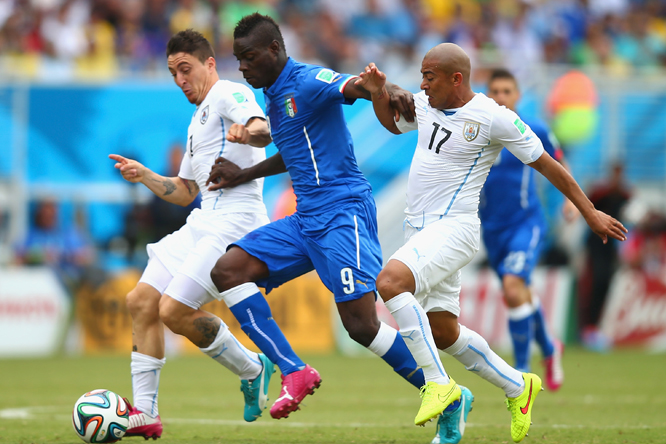 9' Luis Suarez is penalised for committing a foul
8' Buffon now blocks Uruguay's shot
6' Barzagli of Italy commits a foul. Both teams are going hard in the early minutes.
5' The game is slightly caggy at the moment as Chiellini goes in hard on Suarez, making his presence known
4' Rodriguez gets penalised for committing a foul
4' Darmian of Italy concedes a free kick after a challenge on Cavani
2' Ballotelli run through the centre of the pitch comes to nought as he is brushed away by Rodriguez, who retakes possession for Uruguay.
1' Mario Ballotelli is penalised for committing a foul
KICK-OFF And Italy kick off as we get underway!
The teams are out on the field as kick off is a minute away
The national anthems are underway in Natal
The lineups for the two teams are out:
#ITA LINE-UP: Buffon (c), De Sciglio, Chiellini, Darmian, Marchisio, Balotelli, Barzagli, Immobile, Bonucci, Pirlo, Verratti #ITAURU

— FIFAWorldCup (@FIFAWorldCup) June 24, 2014
#URU LINE-UP: Muslera, Godin (c), Pereira, Rodriguez, Suarez, Gimenez, Lodeiro, Arevalo, Gonzalez, Cavani, Caceres #ITAURU #WorldCup #joinin

— FIFAWorldCup (@FIFAWorldCup) June 24, 2014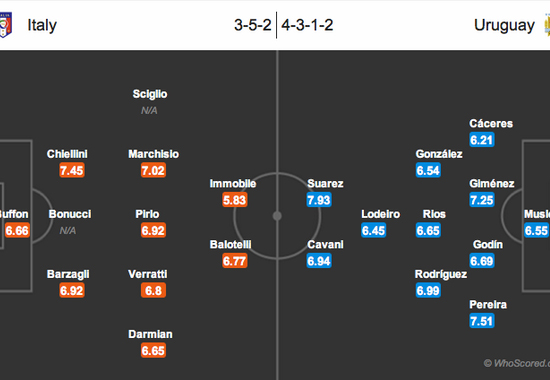 Welcome to the live coverage of the Italy v/s Uruguay clash in Natal. This is a virtual knockout match, as the team which loses is out of the World Cup. After this match, World Champions Spain, England, and one of Italy and Uruguay would no longer be in the competition, such has been the nature of this World Cup.
Both teams have three points after beating England and losing against the Central American surprise package, but the Azzurri hold advantage thanks to their better goal difference, so they just need a draw to stay alive in the tournament. Read the full match preview here
Despite winning their opening group match against England, Italy suffered a shock loss to Costa Rica. Similarly, Uruguay also lost to Costa Rica. With both the teams having one victory and one loss to their names, the Italy vs Uruguay match will decide who progresses to the next round of the World Cup. Though a single point is enough for Italy to progress, it is a must win match for Uruguay. Read the Italy team profile here
Andrea Pirlo is an Italian professional footballer who currently plays for Juventus and the Italian national team. He usually plays as a deep-lying playmaker for both, club and country. Pirlo is highly regarded for his first touch, playing technique, ball control, dribbling, incredible vision accurate passing. He is also a set-piece specialist, as he has a knack for scoring goals from dead ball situations. Pirlo has been nicknamed 'l'architetto' ("the architect") by his team-mates as he sets up goal-scoring opportunities with the help of his long range passes. The maestro was instrumental during Italy's 2-1 win agaisnt England. Pirlo set up Claudio Marchisio's strike with an exquisite dummy which left the England back line dumbfounded. Read Pirlo's full player profile
Heading to his fifth World Cup Juventus 'keeper Gianluigi Buffon's reflexes will one day see him remembered alongside such greats as Russia's Lev Yashin and England's Gordon Banks. One such demonstration of reflexes, a save from a flashing Zinedine Zidane header, helped deliver the 2006 World Cup. Promoted to captain, he led Italy by example past England and Germany all the way to the final of Euro 2012. Read Buffon's player profile
Mario Balotelli scored a sumptuous header agaisnt England that won the game for Azzuri. The 'clown prince' of Italy would be looking to keep scoring throughout the tournament, and especially against Uruguay tonight. Here's his player profile
Uruguay are in a do-or-die situation as they face Italy in their final Group D match. Having won against England, Uruguay leveled points with Italy, but are behind them on goal difference. Italy require only a single point to see themselves through to the knock-out phase. All the pressure will be on the shoulders of Luis Suarez, who single handedly won their match against England. Suarez will be the man to watch out. Here's the Uruguay team profile
Luis Suarez will play a key role in Uruguay's match against England. With both the teams losing their respective opening matches, this match will be the turning point of their fate. Suarez missed Uruguay's opening match against Costa Rica due to a knee injury and remained a doubt for the match against England. The Uruguayan almost single-handedly destroyed England, scoring two fantastic goals helping the Uruguayans to a 2-1 win. He will be the key for Uruguay agaisnt an organized Italian side. Here's Luis Suarez's player profile