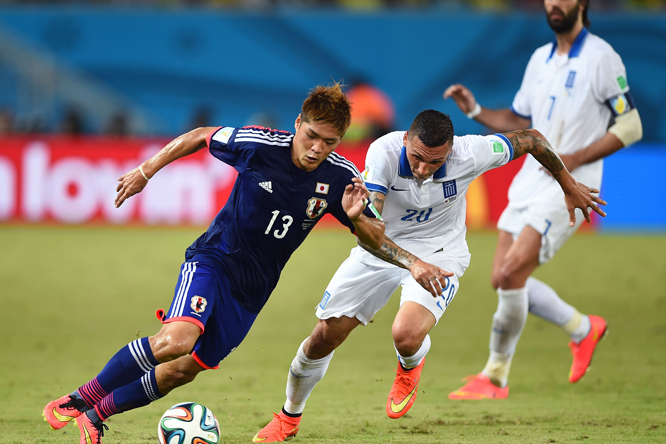 FULL-TIME This rather uninspiring match has ended 0-0, and both teams will be very disappointed. The Greek skipper was sent off with a red card, but it was Japan who had most of the chances yet failed to convert them. They failed to break down Greece even after the latter was reduced to 10 men. Both teams still retain a slim chance of progression, but given how they have played, it looks unlikely in all frankness.
90 + 3' Konno of Japan commits a foul
90 + 1' Four minutes of stoppage time has been granted
90' The free kick is taken by Endo, his shot is on target, but the keeper dives to parry it away, and Japan can't get a second shot in
89' Torosidis of Greece handles the ball and is penalised with a yellow card, and Japan get a free kick
86' Yoshida of Japan commits a foul, is penalised
83' Uchida puts a decent cross into the box but again, the Japanese forwards cannot capitalise
81' Samaras takes poor aim and his aim for Greece is way off target
81' Greece take out Kone and get Salpingidis in
77' Okubo drills a fine effort towards the bottom corner, but the Greek keeper Karzenis gets low to his right and parries it away
76' Look at the possession - 73% to Japan, 27% to Greece. 14 total shots from Japan to Greece's 7. 402 completed passes to Greece's 104. Greece 10 men, Japan 11. And yet Japan cannot score. Shows you how they have failed to take their chances. Most of the finishes have been very poor.
It's going to be really sad if #JPN can't score with #GRE playing with 10 players for so much of this game

— Dan Wohl (@Dan_Wohl) June 19, 2014
75' Greece get a penalty but just like the rest of this match, the result is drab and uninspiring
72' A promising Japanese attack goes down the drain as Sokratis dribbles the ball in the penalty area. Uchida comes flying across with a tackle-shot but the ball ends wide of the goal.
68' A big miss for Japan! Japan's Uchida hits the ball across goal, presenting Okubo with a perfect opportunity to open the scoring, but he blazes over from close range, well into the crowd!
65' Cholevas of Greece challenges Honda of Japan and has conceded a free kick. A very rough game so far.
64' Maniatis is doing a great job in midfield for Greece tonight, unlike most others. He has not stopped running and always seems to be in the right place to break down the Japanese attack
62' Okubo of Japan is penalised after a foul
60' Kone of Greece sees an effort go badly off target. Japan surely must score soon, they have the advantage with Greece one man down
#JAP - #GRE. Not the most attractive of games, but a tight affair all the same

— Vass.Papantonopoulou (@UEFAcomVassP) June 19, 2014
57' Japan replace Osako with Kagawa. Osako gets huge applause from this very pro-Japan crowd
56' Georgias Samaras of Greece gets a yellow card
51' Honda receives the ball on the edge of the Greek box, but is quickly closed down and his stabbed effort is comfortably collected by Karnezis
50' Kone of Greece is penalised for committing a foul. A lot of fouls in this match so far
47' Cholevas of Greece concedes a foul after a challenge on Okubo of Japan
46' Yasuhito Endo is substituted by Japan for skipper Hasebe
HALF-TIME At half time, neither team have scored, but Japan will be the happier side, as they have continuously been on the attack and the Greek captain has been sent off with a red card. Japan have the best chance of a win now, as the Greek coach looks despondent.
45 + 2' Okazaki of Japan commits a handball
45 + 1' Great pass from the substitute Karagounis, but Torosidis can't quite get his body shape right and his header goes behind for a goal kick
45' The referee signals two minutes of stoppage time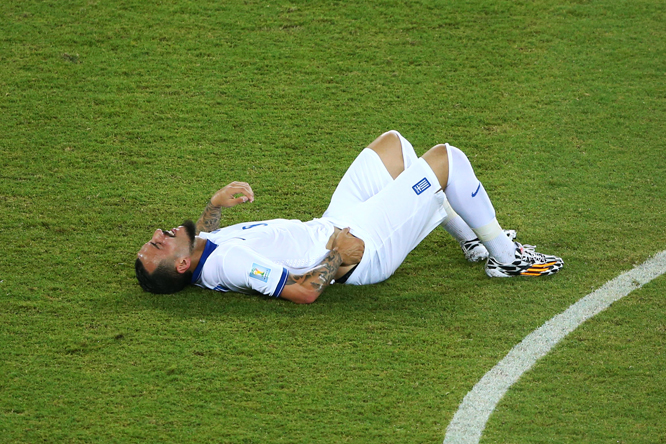 40' WHAT A SAVE! Torosidis of Japan finds space on the edge of the Greek box and, after an attempted through ball is cut out and rebounds, he hammers a shot at goal. Kawashima dives to his left and saves it.
39' RED CARD! That's another foul by Katsouranis of Greece and he has been sent off with a red card. Greece down to 10 men.
35' Very early substitution as Gekas comes in for Mitroglou for Greece. Mitroglou was holding his hip a while ago after a tackle and he is obviously injured
33' A long ball from the left flank meets a nice header from the Japanese forward, but its over the goal. Okubo was the man with the header.
29' Free kick to Japan, Honda steps up and attempts a curling shot at the goal which the Greek keeper fumbles with. Karzenis parries and the ball is cleared at the second chance
27' Katsouranis of Greece is yellow carded. Maniatis shows a neat piece of skill and burst of pace down the right-hand side reminiscent of his days as a full-back, but the ball is eventually cleared. A cynical foul from Greece spoils the fun.
25' Osako again gets penalised for committing a foul
23' Japan in particular have looked like scoring, but the Greece keeper continues to do a good job as he blocks another shot, this time from Yoshida
21' Osako nearly gets a goal! He curls in an effort from about 20 yards, but finds the keeper who had to put in a dive
20' Samaras again gets penalised for committing a foul, but once again Japan cannot capitalise
20' The teams have managed just 5 shots on goal between them so far
19' Osako of Japan gets a free kick following a foul, but again Greece manage to thwart it
15' Keeper Katsouranis of Greece commits a foul via a challenge to Okubo, but then blocks Okubo's on target shot
13' Sokratis of Greece now commits a foul
12' Hasebe of Japan commits a foul and gets a yellow card
11' Kone takes a shot at the goal but it is blocked by the Japanese keeper
8' Samaras of Greece commits a foul
7' An important interception from Greece's Manolas. He reads Honda's pass brilliantly and manages to step in and stop Osako from going through one-on-one with Karnezis
4' Hasebe of Japan concedes a free kick after a challenge on Kone, but Mitroglou can only fire it over the bar
2' Katsouranis of Greece commits a foul
KICK-OFF And the match begins as Japan kick off
The crowd are very lively and are singing something
The Greece anthem is underway
It's time for the national anthems. The Japanese anthem is first
The lineup for the Greece-Japan clash is out:
#GRE LINE-UP: Karnezis, Maniatis, Manolas, Samaras, Kone, Mitroglou, Torosidis, Fetfazidis, Sokratis, Cholevas, Katsouranis (c) #JPNGRE

— FIFAWorldCup (@FIFAWorldCup) June 19, 2014
#JPN LINE-UP: Kawashima, Uchida, Honda, Nagatomo, Okazaki, Okubo, Konno, Yamaguchi, Hasebe (c), Osako, Yoshida #JPNGRE #WorldCup

— FIFAWorldCup (@FIFAWorldCup) June 19, 2014
Greece v/s Japan is set to begin at 3:30 am IST after that high voltage England-Uruguay encounter.
Following defeats to Cote d'Ivoire and Colombia respectively, head coaches Alberto Zaccheroni and Fernando Santos know nothing but victory will suffice on Thursday. Greece and Japan will meet this Thursday in Natal forced to get a victory to keep their hopes of reaching the round of 16 following defeats at their opening matches against Colombia and Cote d'Ivoire. Read the complete Greece v/s Japan match preview here
The 2004 European champions Greece are appearing at a third World Cup in Brazil after 1994 and 2010 and their fifth major tournament in the last decade, thanks mainly to a mean defence and a ruthless counter-attacking trap. Only Spain (3) conceded less goals in the European qualifiers as trusty 'keeper Orestis Karnezis let in just four goals with Borussia Dortmund central defender Sokratis Papastathopoulos and full-back Vasilis Torosidis having fought like 300 Spartans to get Greece to Brazil 2014. However, after their crushing 3-0 loss to Colombia, Greece must win this match to remain in contention. Here's the whole team preview for Greece
Giorgos Karagounis is the most experienced player and the most capped player in the Greek squad. He was a part of the Greek squad that won the 2004 UEFA Euro. Greece lost their opening World Cup game 3-0 to Colombia. Here's his player profile
The Ivory Coast side left Japan stunned with a dramatic comeback in Japan's last game. Japan will rely on their strength - possession - to win this match.