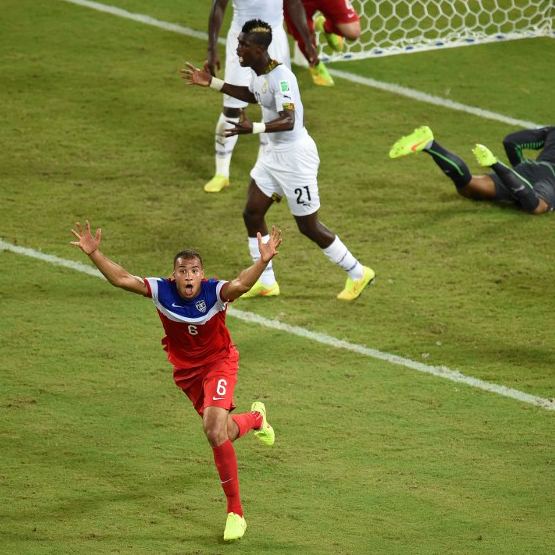 FULL - TIME The United States of America have won 2-1. Four years after being defeated by Ghana in the Round of 16, USA have found a hero in John Brooks - on his World Cup debut
90 + 5' Ghana only have 30 seconds left to rescue the game and equalise
90 + 2' Muntari clatters into Dempsey, gets booed, and also gets a yellow card. Five minutes of extra time
86' GOAL! It's the USA now, who have taken the lead courtesy their substitute John Brooks. A kick from the left flank meets a header from Brooks, straight into the goal
82' GOAL! GOAL for Ghana, Andre Ayew is the man for Ghana, and he's gone bonkers. A backheel from Gyan provides Ayew the ball, and he superbly kicks it into the goal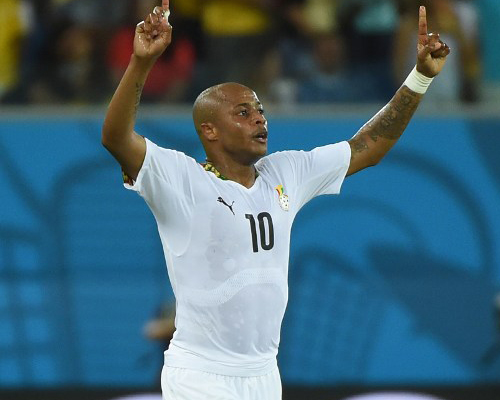 80' Michael Essien seems to have picked up a niggle...or has he? No, he's back.
79' Brilliant kick from Dempsey from the centre following a good pass. However, Ghana's keeper just about manages to block it. That goal would have been curtains for Ghana.
76' Alejandro Bedoya now seems to be nursing an injury, this is getting very serious for the USA
74' Bedoya makes a big challenge to Muntari, sliding and taking Muntari down as he neared the penalty area from the left flank
72' Essien gets right into the action, making a pass to Muntari, who however gets surrounded by the US defence on the right flank and loses his chance
71' Mohammad Rabiu goes out and Michael Essien comes in for Ghana. Essien missed the World Cup 4 years ago with a knee injury, can he make an impact?
69' It's been 12 years since a USA striker scored in a World Cup match. A record broken by Dempsey in 32 seconds
68' USA get a corner. The Ghanian goalkeeper never got anywhere near the ball, but thankfully it was way wide of the goal and there was no interception either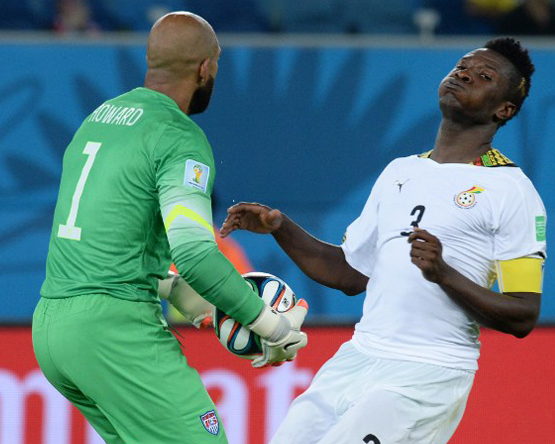 65' Tim Howard hangs on to the Ghana free kick from the centre. That was quite easy but Howard's been good today.
64' Great block by USA's Cameron who denies Gyan, who is having plenty of chances now
63' Atsu hits just off target. The midfielder works some space 20 yards out and has Opare out wide, but elects to shoot and bends a lovely effort just over the bar.
61' USA midfield is now struggling for possession as Ghana launch an all-out attack
58' Brilliant save by the USA keeper Howard as Ghana launch a brilliant kick from the penalty area. That ball was rushing into the goal before Howard dived.
56' Fantastic cross from Ghana, long ball, right into a Muntari header, which flies over the goal unfortunately. That was a moment of near-magic which didn't come off
55' Now USA's Bedoya seems to be injured, he's holding his hip and limping
53' Long kick from a USA midfielder goes right over the goal. How long before Ghana decide to make substitutions? They have held 61% possession but no goals to show for it
52' Ghana get a free kick, but to no avail
50' Tussle between USA forwards and Ghana defenders but the referee calls the whistle and USA look distraught
48' USA substitute John Brooks for Matt Besler
48' Ghana have just not showed enough quality in the midfield so far
46' We are back for the second-half, as Ghana look to correct their mistakes and USA look to not get any more players injured!
HALF-TIME At half time, Ghana have played a very aggressive (and sometimes physical) game, but its USA who are 1-0 up thanks to the 1st minute goal by Dempsey. Jozy Altidore's injury is the big concern for USA, as he seems to be out of the tournament with the hamstring pull. Dempsey might have broken his nose too.
45 + 2' Sulley Muntari has lost his cool. USA's Jones was involved in a challenge with Muntari and kicked him in the head as the two went down. Muntari argues with the referee as Jones comes up to apologise. Surprisingly, no one gets a red card
45' Five minutes of stoppage time have been added, thanks to the Jozy injury
44' Free kick for USA but to no avail as the Ghanian defence blocks it and sends it into orbit
43' Ghana's Opare takes down a USA's Geoff Cameron but gets away with it
41' Another USA player seems to have pulled a hamstring....well not quite, but it looks precarious as he holds his leg
40' Johannsson gets penalised for a foul on Boye, Ghana get the ball inside their own half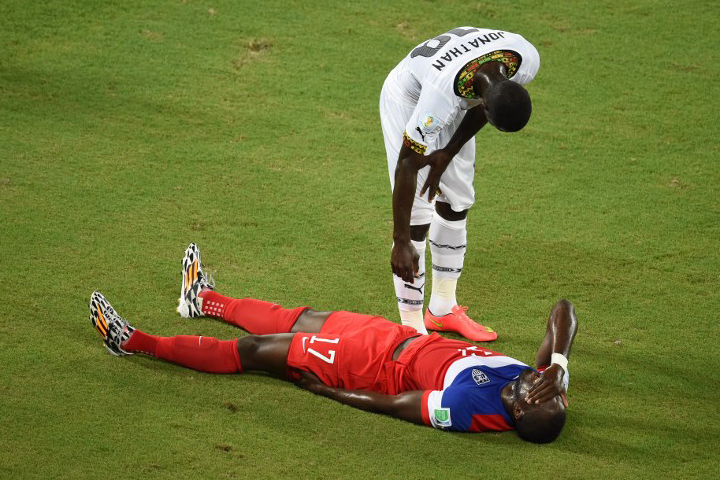 39' Ghana have more shots on goal (6) to USA's (4), but no goal. The USA chants begin again....
38' Kwarasey shanks a clearance straight to Johnson on the far side, but the USA can't make the most of the attack as it breaks down far too easily
37' Ghana have made a lot of unforced errors today, they have a big comeback to make
35' Too many stoppages in action due to the injuries
34' Dempsey has gone off for the moment, though he will probably come back
33' Ghana's Boye has hit Clint Dempsey hard on the nose with an elbow. He might have broken it
29' Ghana's Mohammad Rabiu gets a yellow card for dashing hard into USA's Beckerman
27' Ghana's Opare pops up on the right flank and swings in an early low cross. USA's Besler is first to it but he slices the clearance just over his own goal, much to his relief
27' Ghana have never come back to win a World Cup game after being behind
26' Joe Biden, the USA vice-president is here, but he missed the first goal by arriving late!
22' Aron Johannsson has come in as the substitute for Altidore
21' Altidore is in considerable pain as he is stretchered off
20' This might be the end of the match for USA's Jozy Altidore, who seems to have pulled a hamstring severely. Oh God, this might be the end of the World Cup for the striker and a big loss to USA
19' Brilliant block by the Ghana keeper, he was in the right place at the right time to stop that goal and prevent 0-2
15' Good keeping from the USA keeper! Atsu slides a wonderful pass through the USA defence and Gyan races to meet it, but Howard charges off his line to slide in and take the ball away from the striker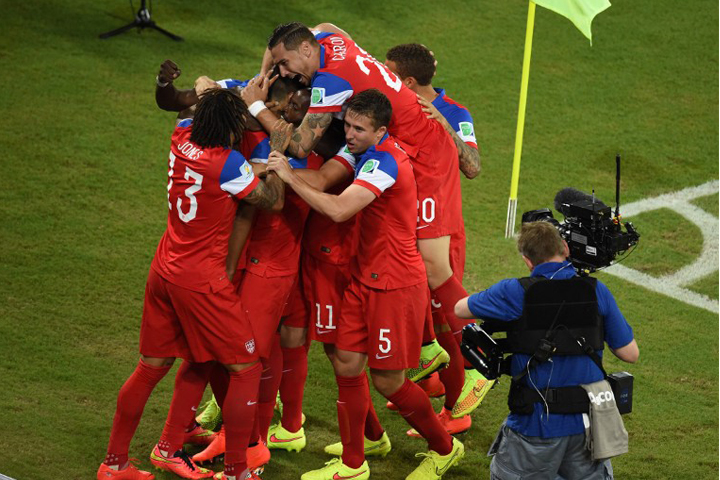 12' Ghana have started moving the ball around a bit now
10' Ghana's crossing has been poor in this game so far, but USA cannot rest on their laurels
7' That was the fifth fastest goal at the World Cup. Yes, there were four faster goals than 32 seconds. The fastest being at 12 seconds.
GOAL! Goal for the USA, who have taken off in the first minute. Clint Dempsey it is.
1' Loud USA chants around the ground
KICK OFF- Ghana kick off as we begin the match
Now the USA anthem is underway
National anthems begin, Ghana first
Enter Ghana and the USA into the field of play. These two teams have a storied rivalry. Ghana are favourites and are high on confidence.
In the 2010 World Cup Ghana were undone against Uruguay by a handball from Luis Suarez in the quarterfinals. They will fancy beating USA tonight.
The team line-ups are out: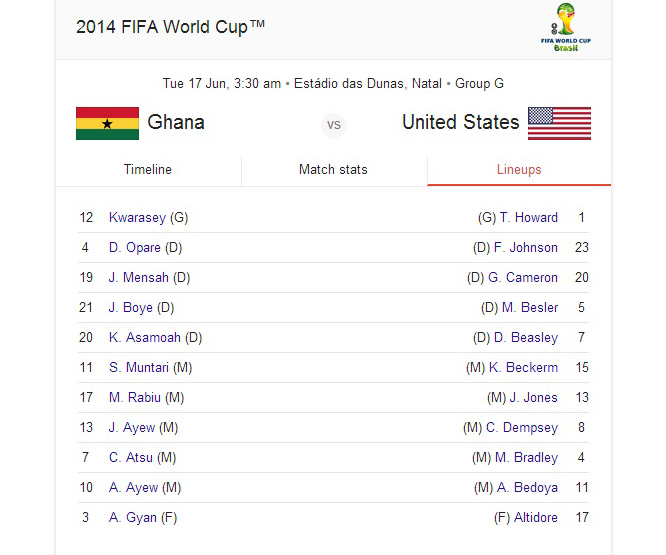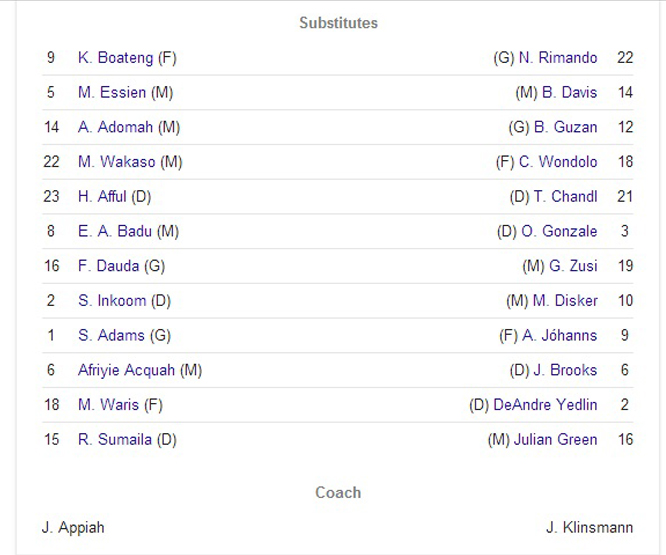 Ghana and United States meet at Arena das Dunas for the third time in a row in the World Cup, a rivalry that so far has been dominated by Ghana.
In 2006, Ghana won 2-1 in their last game of the group phase, making it to the second round in the process and sending the Americans home. Four years later, it was again a 2-1 in aggregate time in the round of 16.
A defeat won't mean elimination this time for either side but, considering they have Germany and Portugal as next opponents this is a game both need to win to have a chance of surviving, what many consider the Group of Death.
Four years after being a penalty shootout away from making history as the first African side to reach the semi-finals, Ghana have retained most of the squad of 2010 and the same style: solid in defence and dangerous on the counterattack, yet still lacking some creativity in midfield.
Coach Kwesi Appiah plays with a 4-2-3-1 formation in which the key player could start as left back. Kwadwo Asamoah was once expected to become the playmaker that the Black Stars lacked, but he has been converted to a wing-back at club level with Juventus.
He would still play as left winger, but it seems that spot will be to Jordan Ayew, who scored a hat-trick against South Korea in Ghana's last friendly match. His brother, Andre, will start on the right side.
Behind striker Asamoah Gyan, Kevin-Prince Boateng is more a support forward than a true playmaker. Michael Essien and Sulley Muntari will form a midfield duo that seems solid, although neither man is at the peak of his career.
Jonathan Mensah and John Boye have formed a good partnership in defence in recent games, with Harrison Afful the most likely option to play as right-back, although he could switch to the left if Appiah finally decides to play Asamoah in a more advanced role. Adam Kwarasey will start as goalkeeper.
On the other side, coach Jurgen Klinsmann made headlines when he left star Landon Donovan out of the World Cup squad, but a probably more significant decision has been his switch in his last four friendly matches to a 4-4-1-1 system with a diamond midfield, a rare occurrence among the teams in Brazil.
This formation allows Michael Bradley to play with less defensive responsibilities, constantly joining Clint Dempsey to provide chances for striker Jozy Altidore. Each of these three players is a big scoring threat to opposing defences.
Kyle Beckerman seems poised to play as holding midfielder, with Alejandro Bedoya and Jermaine Jones or Graham Zusi behind Bradley. Considering the strength of their group rivals, the more balanced Jones looks like a safer option than Zusi. Goalkeeper Tim Howard is the cornerstone behind a defence that has struggled to find its four best options.
Geoff Cameron and Matt Besler have not played together many times in the centre, while Fabian Johnson and DeMarcus Beasley are two versatile players who have not settled as full-backs; they are both willing and able to join the attack, but suspicious on their defensive duties.