LIVE UPDATES:
FULL TIME:
And Germany shut out France to make it in to the Semi Finals again. Final Score - Germany 1-0 France.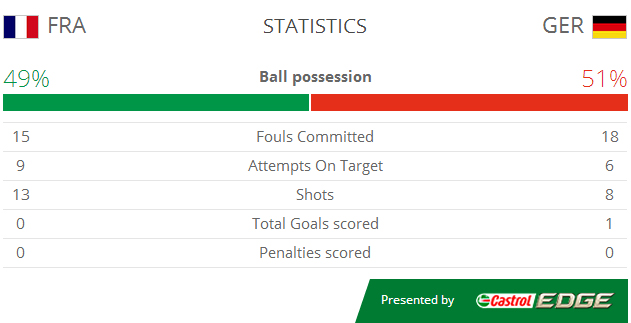 90+4' And Benzema misses his last Hail Mary moment, hitting the goal on target, but it's a brilliant save by Neuer.
90+4' France will have to go all or nothing.
90+3' Pogba commits a foul.
90+3' Looks like France will need a miracle play to win this one.
90+1' Kramer comes in to replace Kroos.
90' Geroud commits a foul.
90' 4 minutes of added time. 4 long minutes for Germany, 4 short minutes for France.
89' Gotze concedes a free kick.
89' Things look grim for France as we near the last minute of official time. Let's see how much time gets added.
88' Muller flies past Evra to give Schurrle a chance for a shot. His shot is on target, Varane blocks the shot.
85' Schurrle concedes a free kick.
85' Giroud comes off the bench to join Benzema in the attacking front. He replaces Valbuena for France.
83' Gotze comes off the bench to replace Ozil for Germany.
82' Lloris keeps France in the game as he blocks a shot by Schurrle. Schurrle runs out to the middle of the area and takes a first time shot toward the far post but Lloris manages to get a foot to it.
80' Andre Schurrle commits a foul.
79' Bastian Schweinsteiger gets a Yellow Card. He also concedes a free kick.
79' The German wall continue to keep them in the game, but France continues to attack.
78' Benzema continues to be in fine form, his first touch in the area is exceptional but he still can't get past the keeper.
77' Matuidi takes a shot but Neuer is there to block it.
77' Hummels does his part and blocks a shot by Benzema.
74' The German defence are on fire defying Benzema and co any chance of a goal.
74' Vlabuena takes a shot bu it's off target.
74' Previous goal scorer Schurrle takes a shot on target, but Lloris blocks the shot.
73' Remy comes off the bench to replace Cabaye for France.
72' Another attempt by Benzema, the French striker must be quite frustrated at this point.
72' Koscielny comes off the bench to replace Sakho for France.
70' Just 20 minutes are left and France just needs one goal to keep their World Cup dream alive.
69' Muller takes a shot, but it's off target.
69' Schurrle comes off the bench to replace Klose. Looks like he won't be beating the FIFA World Cup record in the game.
65' France will have to figure out a way to get around the German defence with just 25 minutes left to play.
65' So does Muller.
65' Evra commits a foul.
64' Benzema concedes a free kick.
63' Philipp Lahm consistent in form stops Evra from entering the box.
61' Valbuena sends in the corner, Varne hits the target, but the German keeper holds on to the ball.
60' Valbuena sends a ball straight down the line to Matuidi, but the German area looks strong. Benzema picks up the cross but Schweinsteiger slides in to clear out for a corner.
59' Evra commits a foul.
55' German greats Schweinsteiger, Muller, Ozil, Kroos and Lahm connect nicely but Lahm's unable to finish.
53' Kherdira commits a foul, and receives the first Yellow Card of the game.
52' Hummels commits a foul.
51' Kroos swings in the corner.
50' Hummels continues to test the team of Benzema and Matuidi.
49' Schweinsteiger commits a foul.
47' Valbuena is in an offside position.
45' And the second half is underway.
HALF TIME
Both teams are fighting tooth and nail, as Germany hold on to their 1-0 lead.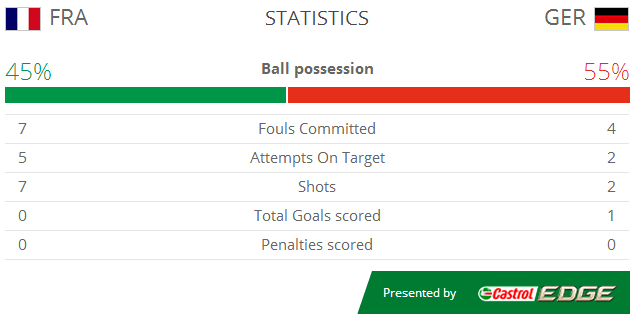 45' 1 minute of added play.
44' Benzema once again comes dangerously close to equalising the score, this time cutting in from the left and shooting straight through towards the goal. After beating two defenders, he takes the shot, but Neuer is there to save it.
43' Muller concedes a foul.
42' Debuchy is rulled offside.
42' Patrice Evra sends in a great cross and Benzema takes yet another great shot on target, but the German defence are at the top of their game today. The ball is blocked by Hummels.
40' Debuchy commits a foul.
37' Sami Khedira returns to the field, after receiving medical attention.
36' Cabaye commits a foul.
35' The Les Bleus seem to be building confidence in their last few plays, they come closer and closer to equalising the score.
35' Muller is cautioned after committing a foul.
34' Benzema takes the rebound and tries a shot, but Schweinsteiger is there for the save.
34' Benzema makes a great run in, passes to Cabaye while Valbuena takes a great shot on target. Mats Hummels saves the shot.
33' Some fancy footwork from Lahm allowed him to give a great pass to Ozil, but he was unable to convert.
31' Kroos swings in the corner.
30' Even though the match is quite fast paced, and free kicks have committed fouls, no card has been given to any player yet.
29' Evra commits a foul.
27' France seem to be putting a lot of pressure on Benzema. He'll have to play more creatively if he aims to get around the German defence.
24' Miroslav Klose's gets a touch on the ball, but it's still a way off. Lloris gets to the ball first and clears away the danger.
23' Benzema is found in an offside position.
20' Cabaye concedes a free kick.
19' Valbuena of France commits a foul.
* FIFA Stat: France have not conceded a first-half goal in 19 of their last 20 matches in all competitions, including all four at the 2014 World Cup.
A force that can't be stopped. @matshummels #allin or nothing. #worldcup pic.twitter.com/d1VROcpYhy

— adidasfootball (@adidasfootball) July 4, 2014
13' GOAL! Mats Hummels' scores a header off the crossbar to give Germany the early lead! Toni Kroos delivers an excellent free-kick and Hummels races past Varane to hit nothing but net.
GOAL Hummels http://t.co/1lFjOivRhq

— Football Vines (@FootballVines) July 4, 2014
12' Pogba commits a foul
9' Thomas Muller collects the ball but plays it wide to Mesut Ozil.
7' The one man the Germans have to fear almost gave France the lead. Karim Benzema connects with Mathieu Valbuena's cross, but his efforts go wide.
6' Early on in the game, Germany are also controlling the ball, keeping the possession with them.
5' Evra commits a foul for France.
4' Germany is attacking early on, seeing their efforts hit the target, but Lloris is there to block.
2' This match will be one of the tougher ones, as both teams have great players, and an even better record for making it to the semis.
1' Remember Miroslav Klose will hope to break the World Cup record for most goals scored in the tournament today
1' And the whistle blows, and the showdown begins!
* The National Anthems will begin soon, and the game will be under way.
Fans of both teams cheer their country on.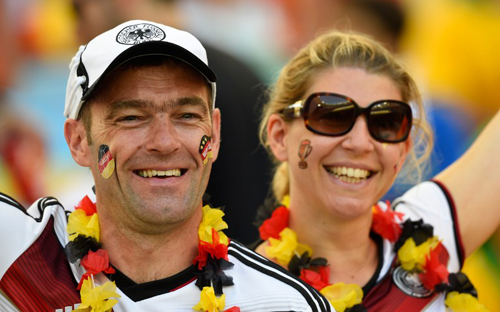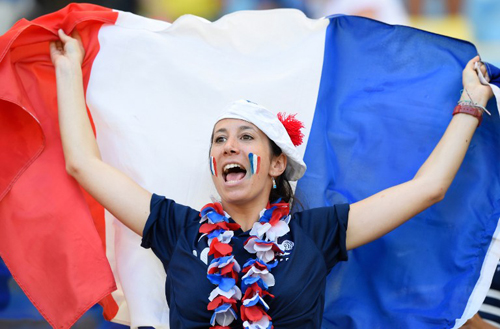 * The Squads have been announced:
#GER LINE-UP: Neuer, Howedes, Hummels, Khedira, Schweinsteiger, Ozil, Klose, Muller, Lahm (c), Kroos, Boateng #FRAGER #WorldCup #joinin

— FIFAWorldCup (@FIFAWorldCup) July 4, 2014
#FRA LINE-UP: Lloris (c), Debuchy, Evra, Varane, Sakho, Cabaye, Valbuena, Benzema, Griezmann, Matuidi, Pogba #FRAGER #WorldCup #Joinin

— FIFAWorldCup (@FIFAWorldCup) July 4, 2014
* The first quarterfinal match between heavy weights France and Germany will begin at 21:30 IST
A European team is guaranteed to make the last four of the World Cup as Les Bleus take on Joachim Loew's men at the Maracana on Friday after both overcame African opponents in their round of 16 matches. It has been a difficult World Cup for many traditional European powers but the continent is assured of at least one participant in the semi-final with France facing Germany at the Maracana on Friday.
It is a fixture that immediately recalls memories of the famous World Cup semi-final clash between the sides in 1982, when Germany won on penalties following a 3-3 draw best remembered for Harold Schumacher's brutal challenge on French forward Patrick Battiston.
Germany are playing in their ninth World Cup quarter-finals in a row, but Joachim Loew's side have failed to impress in Brazil since their thumping 4-0 victory over Portugal in their opener. Last time out, they scraped past Algeria with a 2-1 win in extra-time that has prompted a huge debate back home over the team's performances, tactics and style. One crucial issue for Loew as he debates his line-up is whether to play captain Philipp Lahm in midfield or at right-back. Another is the poor form of the likes of Mesut Ozil and Mario Gotze.
The Germans should be boosted by the return of Mats Hummels after he missed the Algeria game with an illness that struck the camp, but Shkodran Mustafi is out of the tournament with a hamstring injury. In attack, Andre Schurrle is expected to start after scoring as a substitute against Algeria, while Thomas Muller will continue to lead the line, meaning Miroslav Klose will have to come off the bench if he is to break the World Cup scoring record. While Germany have looked exhausted after a gruelling schedule that included group games in the north, France come into the clash as the fresher side after beating Nigeria 2-0 in the last round.
The French were unconvincing in the last 16 but have played some slick football during the tournament, with Didier Deschamps intelligently using his attacking options. The stage is set in this last eight clash for Paul Pogba to show why he is considered one of the best midfielders in the world at the age of just 21. The Juventus man has been inconsistent so far in his first World Cup but has shown flashes of his match-winning ability and scored the crucial opener against Nigeria. Mamadou Sakho is fit after a hamstring problem but may not regain his place in the side after Laurent Koscielny impressed against Nigeria as Les Blues kept a cleansheet. Deschamps has tinkered with his team in previous matches but the only anticipated change is the introduction of Antoine Griezmann for Olivier Giroud after the Real Sociedad winger added a much-needed zest to France's attacking firepower as a substitute against Nigeria.
Read The Full Match Preview Here
Also Read: The World Cup till the Round-of-16 has been entertaining so far and it is about to get even more exciting as the FIFA World Cup 2014 on July 4 with Germany playing France for the first Semi-Final spot. With eight teams fighting for footballs ultimate prize, the FIFA World Cup 2014 has reached its vantage point, from where millions worldwide will rejoice the victory of their supported teams and at the same time, millions will be left heart-broken with the exit of their teams.
Germany Team Profile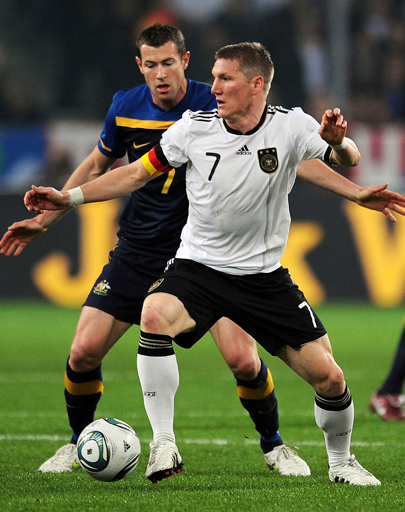 Germany, made it into the quarterfinals with a less than impressive 2-1 win against Algeria in their round of 16 match. The best performance the Germans put up was against Portugal, which ended 4-0 in the Germans favor. Apart from that the Germany have looked less than impressive and struggled through the group stages and then in the round of 16. If they are to qualify for the semifinals, then the team will have to display resilience and their players need to start clicking.
The Mannschaft, as the Germans call their national team, can also count on the monumental pair of Bayern Munich midfielder enforcer Bastian Schweinsteiger, and the vision and pace of Arsenal's Mesut Özil.
Players To Look Out For: Philip Lahm, Bastian Schweinsteiger, Miroslav Klose,​ Mesut Ozil​, Thomas Muller.
Real's Samir Khedira and three burgeoning younger talents Toni Kroos, Gotze (both Bayern) and Draxler (Schalke 04) will also stoke the fires in the German engine room. If the team has a weakness it might be the defence, with even Loew accepting that his backline could improve, especially when they don't have possession. Full-back Philipp Lahm can play on either flank as well as in midfield while Jerome Boateng and Per Mertersacker are also very solid, but their defensive line, which lacks the depth of their attacking options, leaked ten goals in ten qualifiers.
Their goalkeeper Manuel Neuer follows in the wonderful tradition of wall-like German 'keepers that previously provided us with Oliver Kahn and Sepp Maier. Neuer is a real gem, and his role will be crucial if Germany are to win their first World Cup since 1990. Read The Full Team Profile
France Team Profile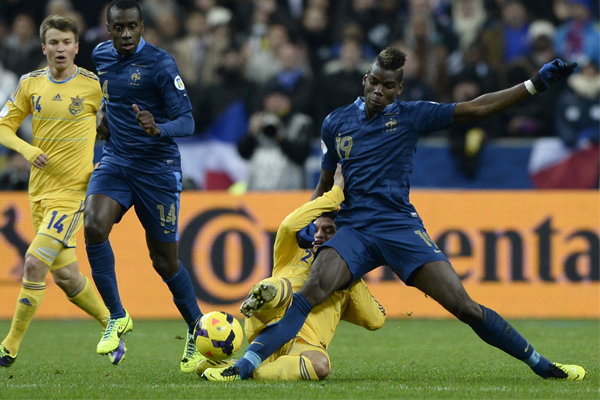 The 2006 World Cup final loss to Italy is still fresh in the memories of the French. But this World Cup, France are out to prove a point. Les Bleus have performed well in the group stages as they won two of their three group matches in convincing manner. The French won 3-0 in their opening match against Honduras. In their second group match, Les Bleus thrashed Switzerland 5-2, to go on top of Group E. Their last game was a dull 0-0 draw against Ecuador. They made it to the quarterfinals by beating Nigeria 2-0 in their round of 16 tie, but it was a less than convincing victory. Against a formidable German side, the French need to step up their game and hope Karim Benzema comes up with the goods.
Players To Look Out For: Karim Benzema, Blaise Matuidi
France's cathartic turnaround - France has a love-hate relationship with its national football team as perfectly demonstrated by the reaction to a 2-0 first-leg play-off defeat to Ukraine and the ecstatic euphoria generated at the Stade de France that carried the team to a 3-0 second-leg victory and a place in the finals in Brazil. There was something of the spirit of 98 (when France won the World Cup with a 3-0 win over Brazil) the night France came back to qualify, that ended a years-long schism between Les Blues and their fans. The problem stemmed from South Africa 2010 when the players protested the sending home of Nicholas Anelka by boycotting a training session leaving everyone, from top to bottom, aggrieved for one reason or another, not least the first round elimination. Laurent Blanc took over the team and went 23 matches without defeat until meeting Spain in the quarters at Euro 2012. The team had no real star and Blanc had done well to get that far, but he made way for another former international from 98, Didier Deschamps. After a trophy laden playing career, the silverware followed Deschamps into the dug-out at AS Monaco, Juventus and Marseille, and the French needed a modest yet winning type such as Deschamps to help bridge the divide with the public. Read The Full Team Profile.