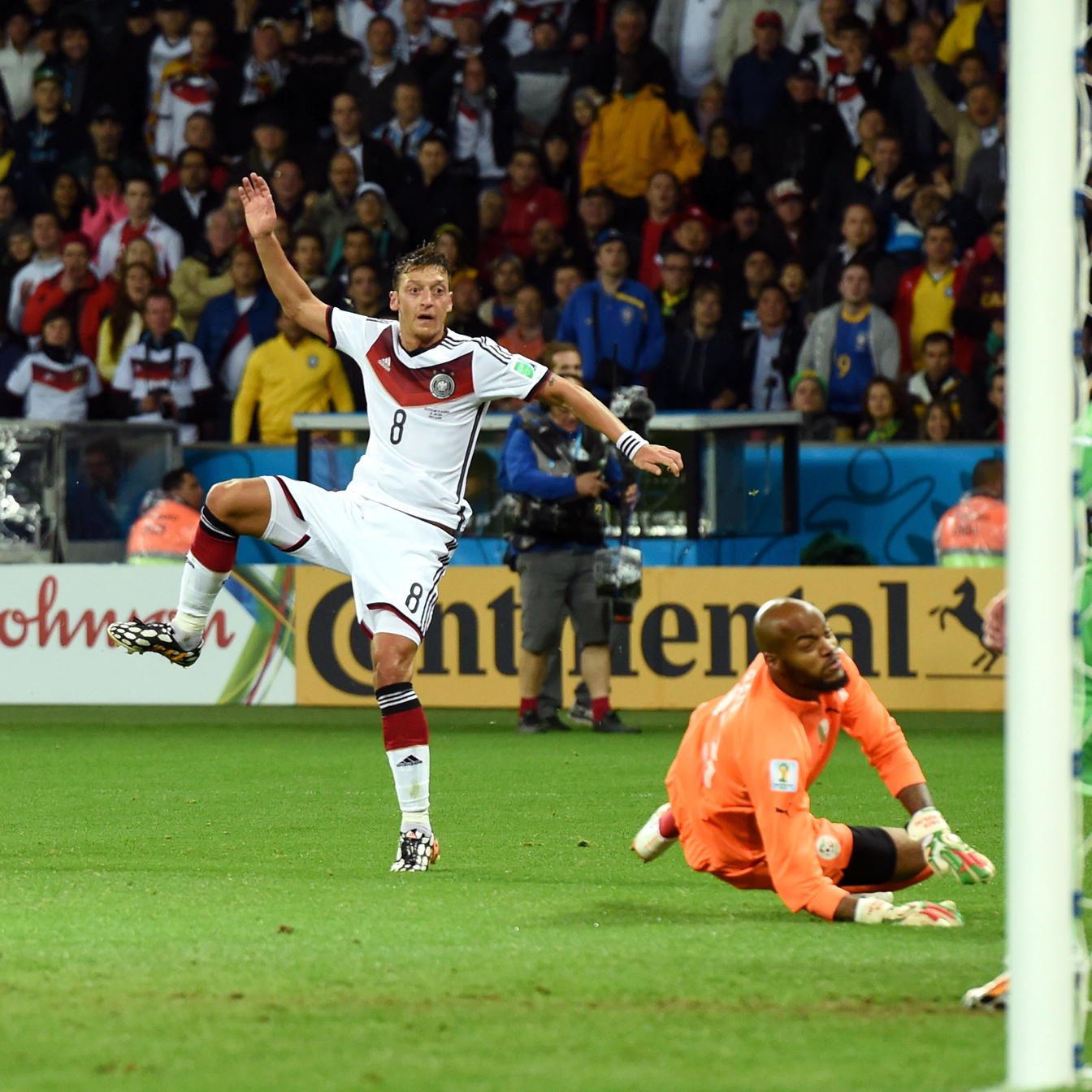 MATCH OVER. FULL TIME. Germany win 2-1 through Schurrle and then Ozil. The last few minutes were packed with drama, and though Djabou scored a goal in injury time for Algeria, it was just TOO LATE. Germany go through to the quarters, and a very spirited Algeria go out.
120 + 2' GOAL! Algeria have a goal! Score Germany 2-1 Algeria, a very slim, slim hope for Algeria. Djabou was the lifesaver for Algeria, and they at least have a piece of history to hold on to.
119' GOAL! Germany have scored again, despite Algeria's best efforts. Schurrle takes a shot after beating a few defenders, but it is blocked by the Algerian defence. There are two defenders and the goalkeeper to make the save right on the goal, but the ball falls to Mesut Ozil whose cross finds the goal!
119' All Germany have to do is keep possession now.
117' Muller was through! He was through the Algerian defence on the left, and his kick went really wrong, as he fired it into an Algerian defender. Thomas Muller was really adjacent to the keeper there, the goal was his for the taking.
116' Funnily enough, the Algerian fans, who are in majority, are making a lot of noise, whereas the German fans are looking very, very nervous.
114' Algeria are getting desperate now as the end of extra time beckons.
112' The Algerian fans howl in disbelief as Slimani is called for an offside on their latest attempt at a counter attack. Replays show that the officials were spot on though, however marginal it was.
110' Christoph Kramer comes on for Schweinsteiger
109' Schweinsteiger is holding his knee, he seems to be in pain, his World Cup may be over even if Germany progress - he's had problems with his knee in the past. He is going off after his 105th appearance for Germany.
107' Philip Lahm gets a yellow card. He made an uncouth-looking grab on the back of Feghouli.
The whistle sounds again and the second period of extra time begins. If the score stays this way, it would mean that every Round-of-16 match so far has been won by those who topped their Groups.
END OF FIRST HALF OF EXTRA TIME. Schurrle was the hero and gamebreaker for Germany in the 91st minute. Can Algeria find a way back? Scoreline Germany 1-0 Algeria.
105 + 1' One minute of injury time has been provided in the first half of extra time.
101' It's starting to rain quite heavily now in Porto Alegre
100' Algeria make their final change, with Djabou coming on for the industrious Soudani.
98' Muller! He wanted to score without help there. He dribbles and then shifts the ball onto the left foot, then he aims a curling kick, which is just wide of the goal.
97' Madjid Bougherra comes in for Algeria, Halliche will not be able to continue. Madjid is playing his last World Cup, he will retire after the tournament. Could it be his last 30 minutes for Algeria?
96' Oh dear Ozil....He had the space and the time down the left hand side to advance on goal but attempted an all too predictable cut onto his right foot that Ghoulam was able to read and intercept.
95' The rain is slowly starting to come down in Porto Alegre
91' GOAL! Muller with a cross from the left, and Schurrle scores! That was a sensational start to extra time, and Germany must back themselves to hold this advantage now.
Germany are going into extra time for the tenth time in their World Cup history. Four of these have gone into penalty shootouts, out of which Germany have won all four. So historically, Germany have the wood over Algeria.
We are back for the first half of extra time
FULL-TIME It's Germany 0-0 Algeria at full time. Few would have expected this scoreline at the beginning of the match, but Germany have simply been unable to break through the Algerian defence despite several attacks in the second half. Also, Thomas Muller has been off-target for a while. We go into EXTRA TIME.
90 + 4' Corner kick for Germany, but the Algerian keeper gathers it. We go into extra time.
90 + 4' Muller's cross is wide of the goal again...only just.
90' Four minutes of additional time has been provided. Can either team provide the winner here?
89' Germany are denied again. After cutting through the Algerian defence through the centre, Muller passes to Schweinsteiger, whose header is well blocked by the Algerian keeper.
85' Straight into the wall. It just doesn't work for Muller, who has had a hard time tonight.
85' Three Germans standing by the ball for the free kick, even as Halliche is back up.
84' Germany putting real pressure on the Algerian defence now as they look for a goal to prevent extra time. They win a corner, but play is stopped because Halliche goes down with a cramp.
82' And again, this time Thomas Muller beats an Algerian defender and tries a stab shot towards the goal, but its wide of the right post.
80' Almost a goal from Thomas Muller to put Germany 1-0 up. Powerful header, blocked brilliantly by the Algerian defence
76' Brahimi comes on for Taider as Algeria make their first change. Are we heading for extra time here too?
73' The fans are chanting 'Algeria, Algeria'. Overwhelming support for the side, which was expected by their coach.
72' Usain Neuer bolts off his line once again to clear a long ball, this time using his head to play it out for a throw lest Slimani get possession in a dangerous area.
70' Sami Khedira comes on for Mustafi for Germany
69' Algeria earn a free kick, but its to no avail.
65' Ya, the tempo of the match has slowed down considerably, hence the Mexican wave. BOREDOM.
63' Algeria again survive a slew of German onslaughts from corners as the pressure continues to be concentrated at one end of the field.
60' The crowd is making a Mexican wave - a sign of excitement or boredom?
57' The Germans are fighting back now through a slew of attacks on the Algerian defence
55' This has been an exciting start to the second half, but Neuer's performance for Germany will surely come under the scanner for fumbling a few, almost allowing Algeria a goal.
53' What a miss by Algeria! They have a four-on-three advantage but fail to score thanks to a superb block by Philip Lahm.
47' One change at the break for Germany as Low tries to inject some pace and directness into his lineup with the introduction of Schurrle for Mario Gotze.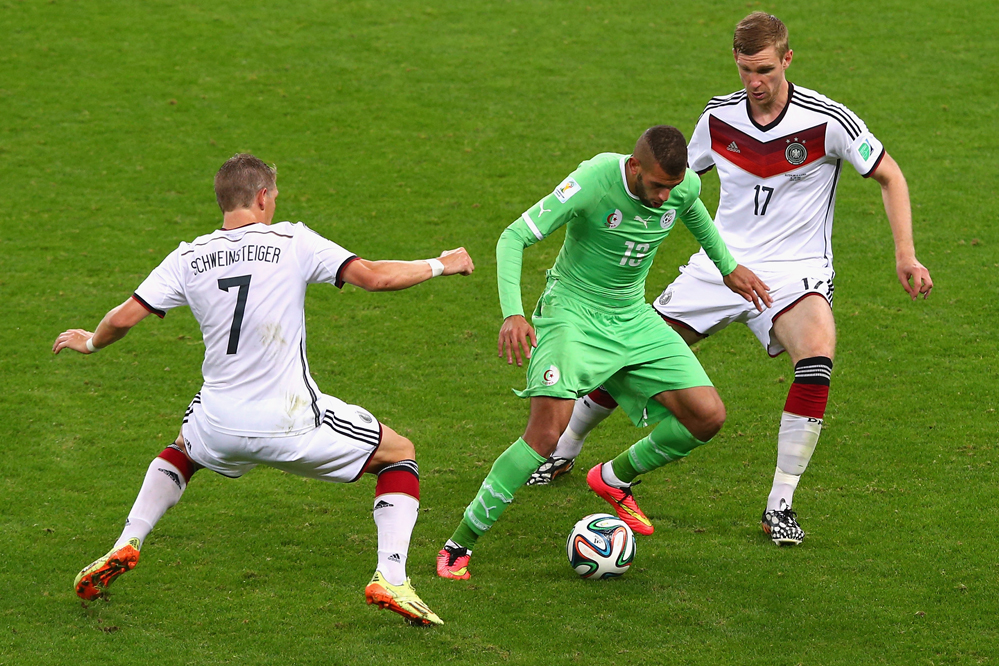 45+1' Germany passing well but fail to score any with the goal-scoring opportunities provided to them. End of first half.
44' Toni Kroos sends one over the crossbar
42' Algeria captain, Halliche is given a yellow card.
41' Algeria keeper Mbolhi denies Goetze a goal-scoring opportunity
40' Schweinsteiger commits a foul. Jerome Boateng instrumental as an Algerian shot is deflected to send the ball for a corner.
38' Muller fails to closely contrl the ball as the Algeria keeper wonders if there was a lapse in their defense
35' Muller heads wide
34' Algeria looking organised. Just as they move to attack Soudani is ruled offisde.
33' Feghouli (Algeria) sees an effort go off target.
32' Mario Götze commits a foul. Algeria awarded a free kick closer to the German goal.
27' Germans being to consolidate and they can't keep up to the pace of Algerian attack. Neuer slides out of the box again in what yet again seemed like a possibility of a goal for the Algerians. Neuer comes dashing out of his area and slides to clear the danger after Mertesacker gives the ball away close to his own goal.
24' Meisut Oezil crosses one in the center only to be pushed safely over the goal by the Algeria GK, Rais
20' Algeria defends well as they continue to trouble the Germans with their swift attack as well
18' Really encouraging play from Algeria. Faouzi Ghoulam crosses one in the middle but Algeria fail to capitalise. Germany is being tested. WIDE: More great build-up from Les Fennecs sees Faouzi Ghoulam storm into the box and shoot, trying to pick out the far post, but his effort is just wide.
17' A fantastic pinpoint cross to Slimani (Algeria) is adjudged offside
15' Algeria have a chance to take the lead...and the cross sails over the goal
14' Schweinsteiger goes for a long-range shot successfully blocked by German keeper, Neuer
13 Slimani, a versatile player score Algeria's opening goal against Belgium
9' Neuer's overconfidence in a counter-attack by Algeria came rushing out of the penalty box to nearly hand Algeria an early lead. This would have nearly cost Germany. Islam Slimani is on the end of a great ball and is behind the German defence. Manuel Neuer races out of his area and is now a long way away from goal! Slimani looks to touch past the No1 and shoot but the goalkeeper is able to block his effort. What a goal that would have been for Algeria!
7' Toni Kroos held back.by Mostefa (Algeria). However, Nigeria not allowing the Germans to settle down.
1' The match kicks off. Metersacker get his 102nd international cup tonight. Germany unbeaten in their last 14 matches.
Both the teams have sung their respective national anthems.
The team lineups are out:
#GER LINE-UP: Neuer, Howedes, Schweinsteiger, Ozil, Muller, Lahm (c), Mertesacker, Kroos, Gotze, Boateng, Mustafi #GERALG #WorldCup #joinin

— FIFAWorldCup (@FIFAWorldCup) June 30, 2014
#ALG LINE-UP: Mbolhi, Ghoulam, Belkalem, Halliche (c), Lacen, Feghouli, Slimani, Soudani, Taider, Mandi, Mostefa #GERALG #WorldCup #joinin

— FIFAWorldCup (@FIFAWorldCup) June 30, 2014
Welcome to the live coverage of the Germany v/s Algeria Round-of-16 game at Porto Alegre at 1:30 am IST.
Germany are the clear favourites to win this one and reach the quarterfinals, but they would be foolish to take a spirited Algerian side lightly. Algeria made the knockouts courtesy a fine 4-2 win over South Korea. Coach Vahid Halilhodzic believes his side is in high spirits and could do 'major damage' to the Germans in Porto Alegre. He also hopes to draw on the likely strong support for his side from the crowd. Read the Germany team profile
Algeria, the only African side in the tournament after the exit of Nigeria, would likely look to put up a strong defence and take the game as long as they can without conceding a goal. This could prove to be a fruitless task though, as we have seen in the Round-of-16 so far - where lesser teams competing against stronger opponents have managed to pull the game to the last minutes or into penalty shootouts, only to be exposed for their relative lack of ability in the end. The script has been the same for Brazil-Chile, Costa Rica-Greece and France-Nigeria. Read the Algeria team profile
Germany though, are no pushovers anyway. Captain Philipp Lahm believes this team combines well together and hopes they can improve on their third place finishes in each of the last two tournaments in South Africa and on home soil in 2006, and do away with their chokers tag. Striker Lukas Podolski is the only likely change in the Germany lineup from the USA clash, with coach Joachim Low ruling out the Arsenal man due to a strain. Here's the Germany v/s Algeria match preview
As Germany face Algeria tonight, Miroslav Klose knows that in this World Cup it will not be easy to score goals. Teams have upped their defending and goal-keepers just refuse to let goals into the net. The Germany will have to understand the challenges posed by teams in what may be rightly called as the 'World Cup of underdogs' if Germany are to proceed in the quarters and his name is to appear on the scoresheet. Read his player profile here
The pint- sized, defender captain, Philip Lahm an ever inspiring force for the side will look to inspire his team to a win against Algeria. Read Philip Lahm's profile here