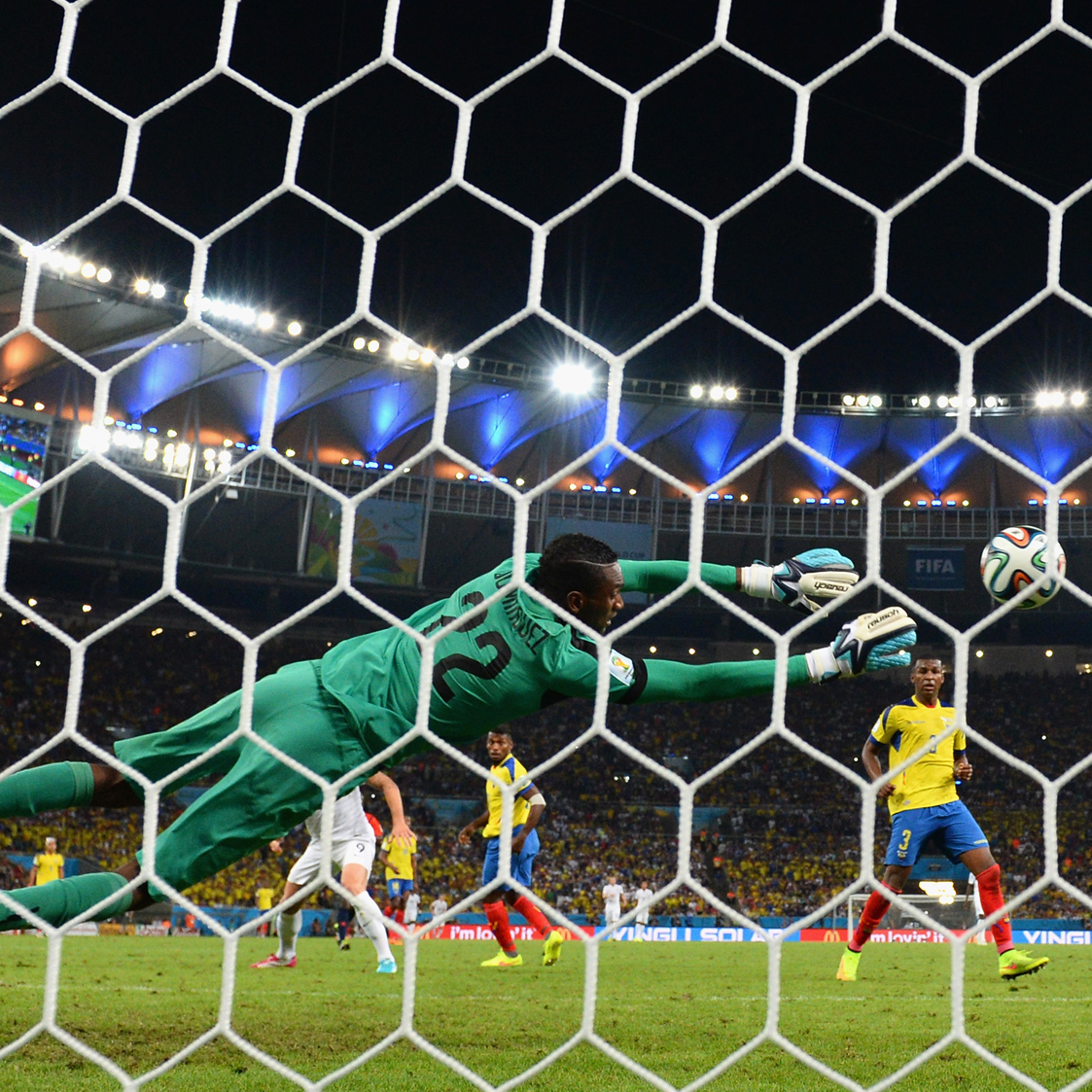 FULL-TIME It's a draw, a drab 0-0 draw between France and Ecuador. France weren't as good as usual today, but Ecuador just did not seem to have the ability to score. Ecuador go home from the World Cup. France will play Nigeria in the Round of 16, and Switzerland will play Argentina.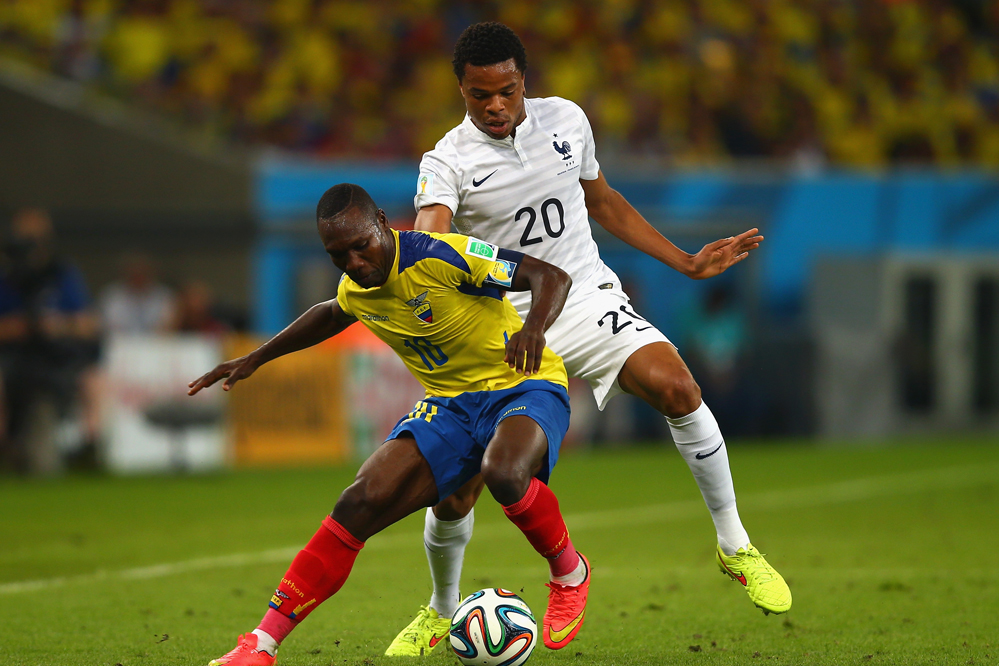 90 + 2' France just cannot score. A delightful cross in from the right from Remy, and the Arsenal striker rises highest over Guagua, but his header is straight at Dominguez. The keeper has been very, very good today.
90' Caicedo has been brough on as Noboa goes off for Ecuador. Four minutes of injury time have been added.
89' Pogba's effort for France is just wide of the goal, but ironically, the Ecuador keeper is down with cramps, it seems.
85' Benzema takes a shot at the goal, but again the Ecuadorian keeper is at his best. France will be disappointed to go back without a goal tonight, but with players rested, maybe not so much.
83' Erazo of Ecuador gets a yellow card
82' Ibarra does very well to turn his marker, and make progress into the box. But Hugo Lloris pulls off a fine save in order to keep France in the game. That was one of the last chances for Ecuador.
78' France: Loic Remy is on for Antoine Griezmann
74' A great pass is swung towards the far post as Pogba rises highest, but diverts the ball narrowly past the post. That was a great chance for Pogba and France.
73' Ecuador now need to win by 2 goals to go through to the last 16, because Switzerland are now 3-0 up against Honduras in the other match.
70' France beginning to toil as Ecuador keep them at arm's length. Les Bleus are resorting to taking chances from quite a distance, but it isn't working so far.
66' Arsenal's Oliver Giroud will replace Blaise Matuidi for France, who has had a torrid time
63' If the current scores in both matches hold, Switzerland will go through along with France. France will play Nigeria in the Round of 16 and the Swiss, Argentina.
62' Ibarra comes in for Montero for Ecuador, even as the French, and especially Karim Benzema, begin to look likely to score a goal.
61' France have substituted Raphaël Varane for Mamadou Sakho
57' Another chance goes abegging for Ecuador, and this time the culprit is Montero. Montero runs the ball too far and slams it into the side netting. A pass would have been more effective.
54' Golden chance for Noboa is missed. Ecuador breeze into a 3 vs 2 situation after Pogba is caught on the ball. Valencia finds Noboa arriving to his right. But he lacks the composure to hit the shot on target.
49' Antonio Valencia has been sent off with a red card for a challenge on Digne! He made contact with the ball before going over Digne's knee, but his studs were showing
HALF-TIME At half time, both teams are at 0 goals. This game has not been very interesting. Ecuador need to win but they do not seem to possess the ability, bar Enner Valencia.
41' Fine save from Lloris, Sakho kicks the ball away. For the second time, Valencia comes close to scoring a goal for Ecuador.
37' Fine save from Dominguez! Free kick from Griezmann on the left-hand side, and Pogba rises with a good header. Dominguez has to stretch to tip that one over the bar.
32' Revenge? Matuidi takes a nasty fall thanks to a challenge from Guagua, and he is hurt. But not hurt enough to leave the field of play.
31' Switzerland now lead Honduras 2-0. If Switzerland win, Ecuador must win. It's getting tougher and tougher for Ecuador.
29' Both Noboa and Matuidi are feeling the results of the clash of heads and both are taking treatment.
28' Free-kick awarded to Ecuador after Noboa is fouled by Matuidi in the penalty box. Both players clashed heads. Noboa requires some treatment though, after he fails to beat the French defence.
23' Ecuador are slowly gaining possession here
21' Valencia with a poor finish means Ecuador lose a chance! He shoots from an acute angle but hits straight to the French keeper.
16' Ecuador's Enner Valencia, who has scored three goals so far, was walking gingerly and has gone off for medical treatment.
14' France predictably have 61% possession until now, Ecuador 39%
12' Mamadou Sakho used an elbow on an Ecuadorian player, but it went unnoticed by the referee
10' Switzerland have scored a goal in their game against Honduras, which means that the task becomes more difficult for Ecuador and Honduras too.
8' Griezmann with a corner, but his swinging effort is well dealt with. France momentarily caught under pressure as Enner Valencia chases a loose ball forward, but he is unable to get past his marker.
2' Early pressure from the French. Digne drills in a cross down the left, but Ecuador do not clear the ball well. Scheniderlin just outside the penalty box finds Digne once more, but Guagua is on hand to see the ball behind for a goal-kick.
KICK-OFF And we are underway!
The national anthems are underway now
The lineups for both teams are out:
#FRA LINE-UP: Lloris (c), Sakho, Benzema, Griezmann, Matuidi, Sagna, Digne Sissoko, Pogba, Koscielny, Schneiderlin #ECUFRA #WorldCup #joinin

— FIFAWorldCup (@FIFAWorldCup) June 25, 2014
#ECU LINE-UP: Dominguez, Guagua, Erazo, Paredes, Noboa, Montero, W. Ayovi, E. Valencia, Minda, Arroyo (c), A. Valencia #ECUFRA #WorldCup

— FIFAWorldCup (@FIFAWorldCup) June 25, 2014
Welcome to the live coverage of the France v/s Ecuador match, which begins at 1:30 am IST.
France have virtually qualified for the Round of 16 and have scored 8 goals in the tournament so far, but they will be looking to go out on a high. That shouldn't be too difficult as their opposition is Ecuador. However, this World Cup has produced many surprises, so France will be silly to take Ecuador easy.
Ecuador on the other hand, must win against France to go through to the Round of 16. Switzerland take on Honduras in the other game tonight, and if the Swiss beat Honduras and Ecuador lose to France, France and Switzerland go to the last 16. However, if Honduras beat Switzerland, then Ecuador could qualify even with a loss to France, based on the goal difference. But Ecuador may not want to leave it to Honduras to secure their own place in the last 16. Read the France v/s Ecuador match preview here
Karim Benzema is the main man for Les Bleus as he has scored six goals in his last for appearances, having played a part in five of France's eight goals (scored 3; assisted 2).
The fantastic France are romping into the last 16, and they will be keen to reach there with a win. Here's the France team profile