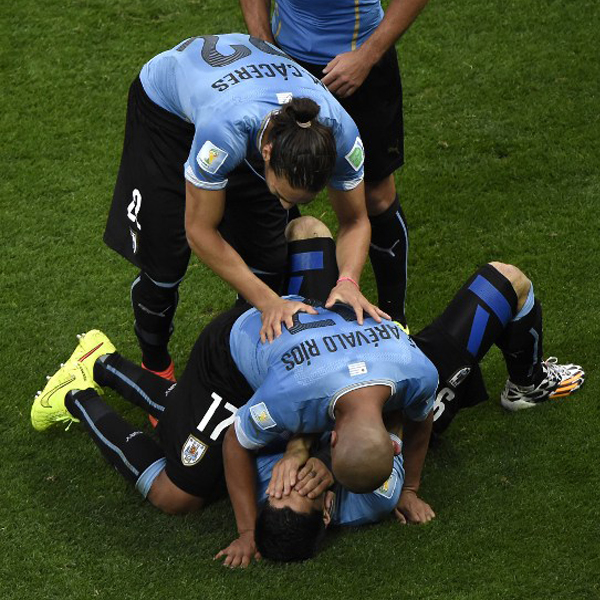 FULL-TIME It's a famous win for Uruguay thanks to the stunning Luis Suarez. Four weeks ago Suarez had surgery, and was rushed into the match. Rooney canceled out Suarez's header with his first World Cup goal, but a second goal from Suarez in the 85th minute sealed the match
90 + 3' Gerrard kick is again way off target and he looks irritated
90 + 1' The referee signals five minutes of extra time
90' After a long tussle for the ball, Steven Gerrard gets possession, but his cross is too long
88' Coates replaces Suarez for Uruguay as the latter comes off to a great ovation
Luis Suarez makes it 2-1 to Uruguay https://t.co/G2zCaS27qh

— Football Vines (@FootballVines) June 19, 2014
87' Lambert replaces Henderson for England
85' GOAL! Luis Suarez scores again and he's down in tears! What a performance coming back from injury. Suarez beats a few defenders, and after one touch, fires from the right of the penalty area, just away from Joe Hart's flailing hand and into the goal.
759 - Wayne Rooney has scored his first #WorldCup goal for #ENG, ending a run of 759 minutes. Wait.

— OptaJoe (@OptaJoe) June 19, 2014
79' Save by Muslera! Baines crosses to the near post for Sturridge, who takes a couple of assured touch inside the box before stabbing a shot to the bottom corner, which the goalkeeper palms to the right
75' GOAL! Wayne Rooney has scored, finally! Brilliant play-in from Johnson to give Rooney the ball from across the penalty area. Rooney curls the ball into the goal
Ladies and Gentlemen Rooney scored his first ever World Cup goal http://t.co/Ad0Po5kkNF

— Football Vines (@FootballVines) June 19, 2014
74' Once again, England fail to convert the chance, and this time its Sturridge whose effort is on target, but very weak
72' Wayne Rooney commits a foul
Waiting for Rooney to score a World Cup goal.. pic.twitter.com/UuQ8aU7Lii

— Football Funnys (@FootballFunnys) June 19, 2014
71' Lallana comes in for England to replace Welbeck
70' There's a bit of good passing among the England forwards, but once again they cannot hold possession long enough for a shot at the goal
68' Steven Gerrard gets a yellow card for a late challenge on Rodriguez
64' Barkley is substituted by England to replace Raheem Sterling
64' Luis Suarez concedes a free kick after a challenge on Cahill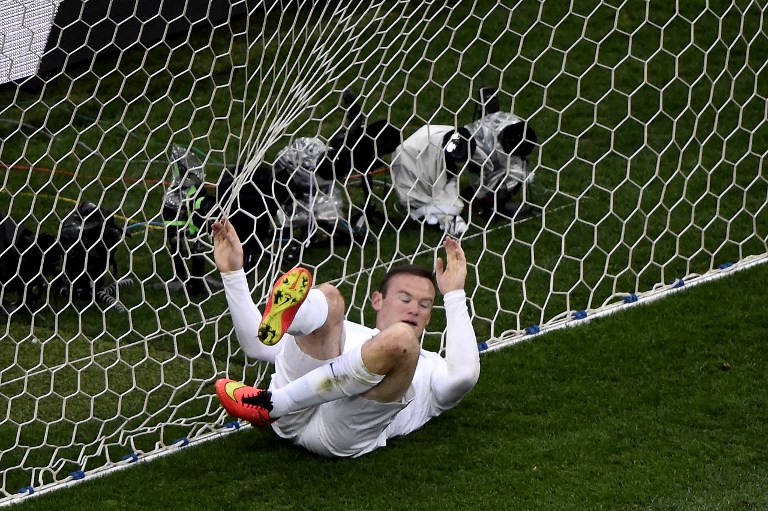 61' Uruguay's Alvaro Perera is down after an unintentional shot to the face by Raheem Sterling. He was barely conscious for a while, but he gets up on his feet after a while. He argues with the officials and is allowed back in
60' Luis Suarez takes on the England defence but is on side when he gets to the ball
57' Welbeck of England concedes a foul after a challenge on the keeper Muslera
Cavani doing a Torres http://t.co/NcOTwLXyYL

— Football Vines (@FootballVines) June 19, 2014
54' Wayne Rooney! He's been denied again. A curling shot from the left, but the Uruguay keeper brilliantly blocks the shot.
52' Cavani charges and beats two defenders. That seemed to be easy, but the England goalkeeper blocked the shot.
51' Very poor pass from Welbeck sees Uruguay takes back possession
49' England are rocking and shaking at the back again as Suarez nearly scores again with a corner kick! Hart of England barely blocks the shot
48' Sturridge of England gets penalised for committing a foul
47' England have dominated both possession and shots at the goal, but no goal to show for it
46' England kick off in the second half
The second half is set to begin, and the Uruguay team look a picture of confidence
HALF-TIME At half time, Uruguay are 1-0 in the lead thanks to the Luis Suarez header. England have had a couple of close chances but have been unable to convert them. Frankly, Uruguay have looked the better team so far.
45' Luis Suarez concedes a free kick after a challenge on Cahill
40' Sturridge gets an opportunity after a pass by Rooney, but his kick is superbly blocked by the Uruguay keeper
39' GOAL! Uruguay score! Luis Suarez's header meets its mark, after a superb pass from Cavani. It was written in the stars.
Suarez gives Uruguay the lead 1-0 England http://t.co/XGHq4XQBhS

— Football Vines (@FootballVines) June 19, 2014
35' Baines of England commits a foul
33' Rooney concedes a free kick after a challenge on Caceras of Uruguay
32' Steven Gerrard concedes a foul
31' Header from Rooney hits the bar from under the bar! That was close! He still searches for his first World Cup goal
30' Caceres commits a foul after a challenge to Welbeck
30' Too many of England's passes at the moment are being understruck
27' Welbeck takes on two Uruguay defenders after a pass from Sturridge. However, as he nears the goal, his touch on the ball is too strong and its offside
26' Gonzalez passes to Cavani of Uruguay, but Cahill is right behind him and Cavani has to kick it away. Uruguay get a corner
24' Uruguay have never lost their first two games at the World Cup. They have never qualified after losing their opener. That is a big stat.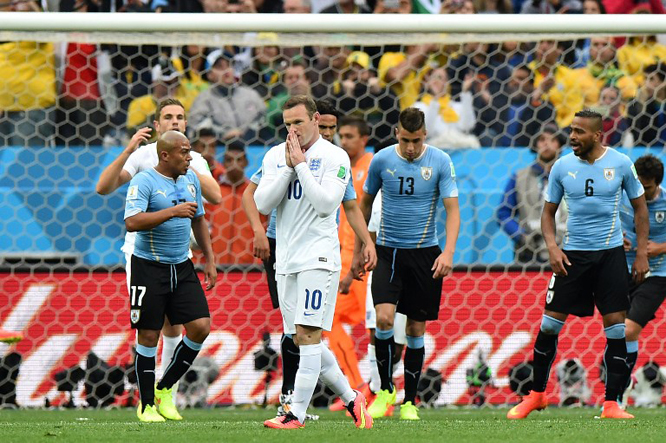 22' Very unconvicing clearance from the central defender from England. He is looking very nervous
20' Sturridge is ruled offside
19' Now Sterling is penalised for committing a foul
17' Sturridge of England plays a curling shot and his effort is on target, but it gets blocked by the Uruguyan keeper
15' Jagielka of England makes a mess of his clearance and the ball falls to the onrushing Rodriguez, who lashes the ball just over the sidebar
14' Luis Suarez is adjudged to be offside after a long ball
11' Caceres of Uruguay commits a foul
10' Wayne Rooney takes the free kick, and it's just wide of the goal to the relief of the Uruguyan fans
Rooney still hasn't found the net at the World Cup. http://t.co/PagCM1uqiI

— Football Vines (@FootballVines) June 19, 2014
9' Diego Godin of Uruguay gets a yellow card for a hand ball
7' England get a free kick
6' E Cavani of Uruguay is adjugded to be offside. The PSG striker was adjudged offside after the corner
5' Suarez takes a corner kick but the header from the centre goes haywire
3' Baines picks the ball up on the left hand side close to the Uruguay penalty area and slides a through ball towards Sturridge, which the Uruguayan keeper fumbles but holds
Meanwhile, police have arrested 15 people for throwing fireworks at English fans
KICK-OFF And we are underway in Sao Paulo!
* The players walk on to the field as the national anthems are about the begin.
* The match between England and Uruguay will begin shortly
The lineups for both the teams are out:
#ENG LINE-UP: Hart, Johnson, Baines, Gerrard (c), Cahill, Jagielka, Sturridge, Rooney, Welbeck, Henderson, Sterling #URUENG #worldcup

— FIFAWorldCup (@FIFAWorldCup) June 19, 2014
#URU LINE-UP: Muslera, Godin (c), Pereira, Rodriguez, Suarez, Gimenez, Lodeiro, Arevalo, Gonzalez, Cavani, Caceres #URUENG #WorldCup

— FIFAWorldCup (@FIFAWorldCup) June 19, 2014
Uruguay will be pleased that Luis Suarez has sufficiently recovered from injury and will be fit to play against England. After a shock loss to minnows Costa Rica, Oscar Tabarez will be hoping his team can put it across England it what is a must-win situation for the side.
Even before they were humiliated by Costa Rica in their opening game, Uruguay knew that Luis Suarez's fitness would be key to their hopes of qualifying from Group D. Since Luis Suarez has been declared fit for the tie, England have a massive test on their hands. Tabarez has concerns elsewhere too, though. Maxi Pereira's rash challenge in the dying moments of Saturday's defeat mean he is ruled out through suspension, while the space granted to Joel Campbell in particular could spark a change at the back. Read the whole Uruguay-England match preview here
Luis Suarez will play a key role in Uruguay's match against England. With both the teams losing their respective opening matches, this match will determine their fate. Suarez missed Uruguay's opening match against Costa Rica due to a knee injury and remained a doubt for the match against England. Uruguay will be dependent on Suarez as he was an instrumental player for Liverpool, as he scored 31 goals in 33 matches for the Reds. Read Suarez's whole player profile here
For once England are enjoying a World Cup finals without the players, the fans and the media all believing that they can win it. There was even a sense of achievement that they actually qualified for Brazil 2014. But with their loss to Italy, things have changed, as even though no one expects them to win the trophy, a first-round exit would be a horror. Read the whole England team profile here
Uruguay having traveled to the 2014 World Cup in Brazil with a certain relish having clinched the 1950 title by beating hosts Brazil 2-1 in the decider at the mythical Maracana stadium. However, after the shock defeat to Costa Rica, the nostalgia is over and reality has hit home for Uruguay. Here's their team profile