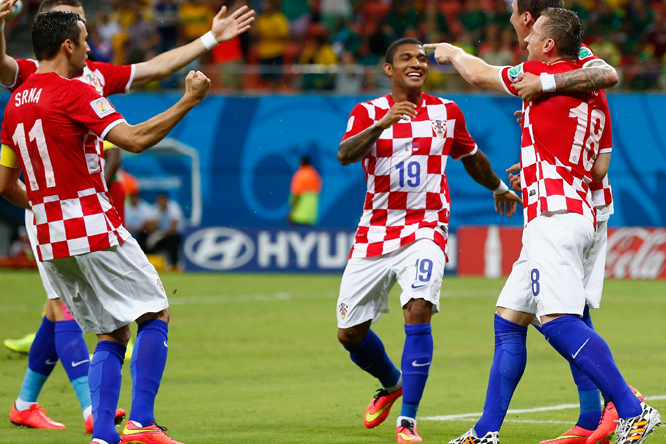 FULL-TIME Croatia have won the match 4-0 thanks to some magic from Olic and Perisic and then a brace from Mario Mandzukic. Cameroon have lost badly and they never looked in control at any stage, as they crash out of the tournament
90' Webo of Cameroon gets a shot on target but is blocked by the keeper. Cameroon are looking very disorganised now, as they are surely out of the tournament
89' Eduardo of Croatia gets a yellow card
88' Rebic now beats the offside trap to sear down the right hand side. He passes to Rakitic who is unmarked, and Rakitic fires it just wide of the goal!
87' It could have been 5-0 to Croatia there as Rebic beat the Cameroon defender down the left side, but his curling shot was blocked by the keeper just in time
85' Rebic out-muscles his way down the left hand side past N'Koulou, and his low cross into the box sparks a game of hot-potato amongst the interested Croatian parties, but it ends with a whimper
84' Mandzukic now commits a foul after two great goals
Oh GOD we are beaten! #CMRvsCRO

— odette behn (@odettebehn) June 18, 2014
81' If Croatia score one more goal, they will equal Cameroon's biggest ever margin of defeat at the World Cup
78' Rebic comes off the bench to replace Perisic for Croatia. The latter has put in a good performance tonight
77' Now Kovakic of Croatia commits a foul
76' Moukandjo of Cameroon commits a foul, is penalised
73' GOAL! Another goal for Croatia as Mario Mandzukic scores yet again! Cameroon's defence is in tatters as Croatia go 4-0 up
70' Webo replaces Aboubakar for Cameroon
68' Eduardo replaces Olic for Croatia, as the latter goes off to an ovation
67' He tries again and this time, Aboubakar's shot is way over the bar
66' Aboubakar of Cameroon takes a shot at the goal but is way off target as his shot is blocked by Corluka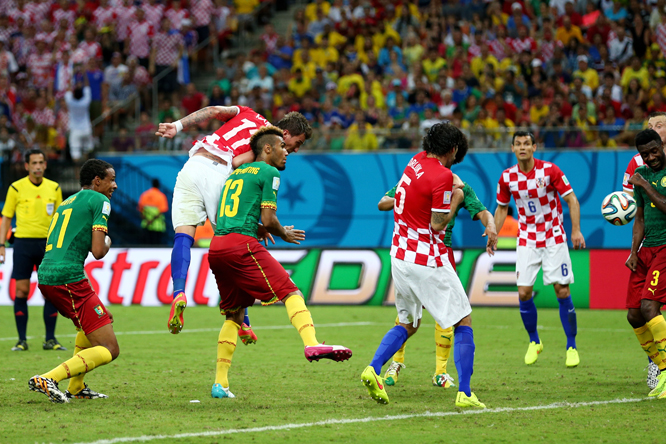 61' GOAL! It's 3-0 for Croatia! It's Mario Mandzukic who obliges with a powerful header off the corner kick by Pranjic. Now, Cameroon are surely out of the match and the tournament
58' Nounkeu commits a foul, gives Croatia a free kick. The free kick however, flies way over the bar
54' Moukandjo makes a good run and dribbles through several Croatian defenders, but he is ultimately stopped before he can create any danger
52' Nounkeu of Cameroon sees his kick just go off target - over the bar
52' Sammir of Croatia concedes a free kick following a challenge on Enoh of Cameroon
48' GOAL! Croatia go 2-0 up with Ivan Perisic's goal. Perisic sprinted past Mbia and covered a lot of ground before his kick found its mark past the Cameroon keeper
HALF-TIME At half time, Croatia are 1-0 in the lead and Cameroon are licking their wounds after Alex Song's red card. Olic in particular has looked dangerous for Croatia
45' Aboubakar's encouraging counterattack comes to nought as he skies the shot after reaching close to the penalty area. The disappointment continues for Cameroon.
44' Croatia have dominated possession ever since Song was sent off, as we near half-time
42' That was a completely moronic move from the Barcelona man Song. I guess Barcelona are having a really bad time of late, in various ways!
40' Alex Song of Cameroon has got a red card as the team's troubles compound. He dragged down Mandzukic of Croatia after a challenge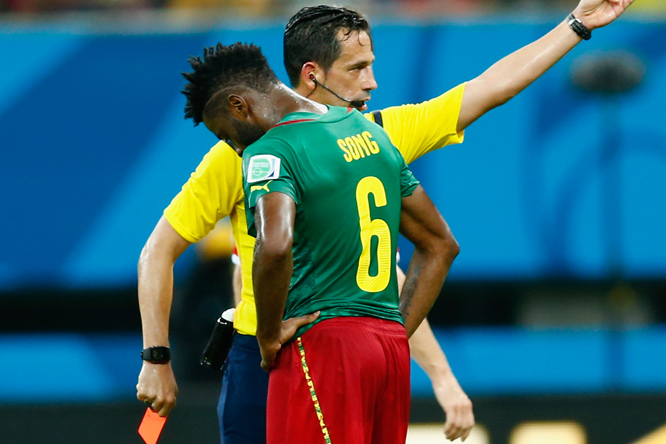 38' Matip of Cameroon blunders his way past two Croatian challengers in an ungainly manner, but the Croatia defence is very strong
36' Cameroon's Mbia can't get his cross on the mark. This is a frustrating passage of time for Cameroon who are out of the World Cup if they lose
As Spain have crashed out of the World Cup following another shock defeat, you can read: Five facts about Spain's golden era
32' Enoh of Cameroon concedes a free-kick following a challenge on Perisic
29' The pace of the match has slowed down considerably after that goal by Croatia
26' Olic of Croatia strikes a volley but his effort is way off target
24' Pranjic of Croatia is ruled to be offside after attempting a goal
21' Mbia takes a few touches towards goal and unleashes a strong effort from far out but it swerves away from goal
20' Matip of Cameroon is penalised for a foul
17' Perisic's effort hits the target but the Cameroon goalkeeper blocks it
16' Croatia are applying strong pressure after that goal, as Mario Mandzukic nearly puts one away but it's deflected out for a corner
11' GOAL! Goal for Croatia through Ivica Olic. Perisic does well to find Olic on the far posts who fires it past Charles Itandje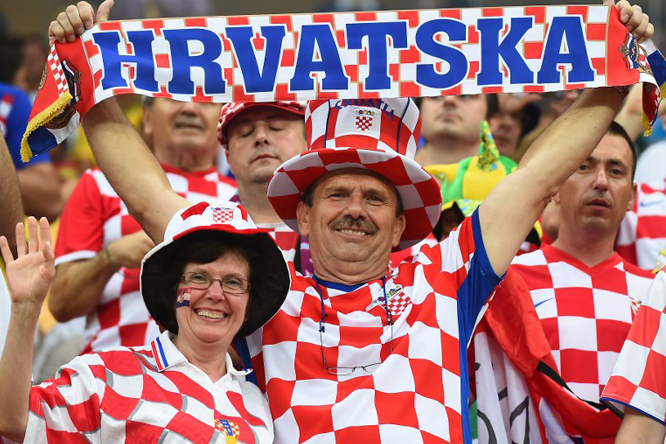 8' Croatia are now gaining in possession after Cameroon controlled the ball for a while after kick-off
6' Ivan Perisic clears the cross out for a Cameroonian throw-in
4' Matip of Cameroon concedes a free-kick following a challenge on Corluka of Croatia
2' Daniel Pranjic of Croatia commits a foul as he comes flying in and crashes into Benjamin Moukandjo, and Cameroon get a free kick
KICK-OFF And the game is underway and Cameroon kick off
Vincent Aboubakar will be coming in for the injured Samuel Eto'o. Pierre Webo was the favourite to make the cut in Eto'o's absence
The national anthems are underway now
It's almost time for the match.
The team line-ups are out:
#CRO LINE-UP: Pletikosa, Pranjic, Perisic, Corluka, Lovren, Rakitic, Modric, Srna (c), Mandzukic, Olic, Sammir #CMRCRO #WorldCup

— FIFAWorldCup (@FIFAWorldCup) June 18, 2014
#CMR LINE-UP: Itandje, Assou-Ekotto, Nkoulou (c), Song, Moukandjo, Aboubakar, Choupo Moting, Chedjou, Mbia, Enoh, Matip #CMRCRO #worldcup

— FIFAWorldCup (@FIFAWorldCup) June 18, 2014
Welcome to the coverage of the Cameroon v/s Croatia match beginning at 3:30 am IST. The World Champions Spain have been eliminated from the World Cup following another horror match, this time against Chile. But it's time for the next game after all that euphoria.
Cameroon forward and captain Samuel Eto'o is battling to be fit for Wednesday's match between Cameroon and Croatia in Manaus, with both sides well aware that defeat would spell the end of their World Cup dreams.
Both Brazil and Mexico have four points following their draw in Fortaleza on Tuesday, leaving the losers in Manuas out of the tournament with zero points from two games. Eto'o exacerbated a knee problem during the first-round defeat to Mexico, and the team doctor insisted he needed 10 days to recover. Read the full match preview here
Not only did Cameroon have to overcome another African World Cup giant in the form of Tunisia to make the cut for the 2014 World Cup finals, they also had to settle what their coach called 'primary school squabbles' within the ranks too. After losing to Mexico, Cameroon are desperate for a win. Here's their whole team profile
Since becoming eligible to compete in international tournaments, Croatia have missed only one World Cup and one European Championship. Their loss to Brazil in the opening game of the World Cup was expected, though they took a 1-0 lead in the opening minutes owing to a Marcelo own goal. Like Cameroon, a defeat means curtains for Croatia. Read their whole team profile here