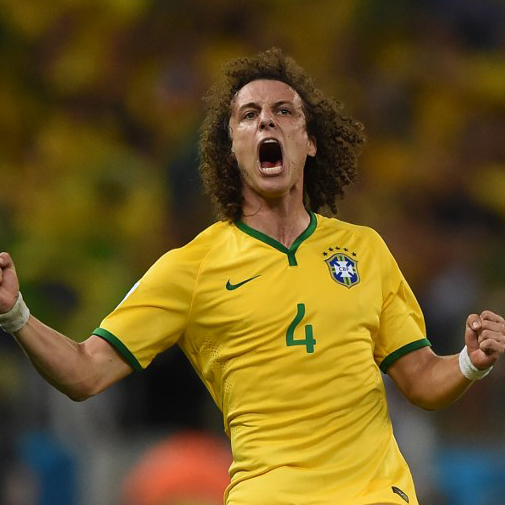 FULL-TIME Brazil are through to the semifinals after beating Colombia 2-1. Though James Rodriguez scored for Colombia off a penalty, David Luiz's fantastic free kick and Thiago Silva's early goal helped Brazil win. They will face Germany in the semifinals.
90 + 4' Colombia get a free kick. But again, Ramos heads it way over the goal, for a goal kick.
90 + 3' Colombia get a corner, but Ramos' header is way wide of the goal. This might have been their last chance.
90 + 1' Five minutes of extra time have been added
90' Rodriguez concedes a free kick following a challenge on Marcelo
88' FIFA Fact: Rodriguez is one of the 12 players to have scored in five consecutive World Cup matches. Only Fontaine and Jairzinho made six in a row.
87' Zuniga puts in a wild challenge on Neymar, kicks him in the hind and takes him out. The Brazilian medical staff is out as Neymar is wincing in pain. Now he is being taken off on a stretcher. Worries for Brazil, especially if they make the semis.
86' Hernanes comes in off the bench to replace Paulinho for Brazil
84' Brazil are now taking time to get things started for corners, for throws, for everything. Cunning but effective strategy.
83' Ramires comes off the bench to replace Hulk, who's had another mediocre outing.
78' GOAL! Rodriguez with his sixth goal of the tournament, gives Colombia hope! The No 10 sends the keeper the wrong way and sidefoots home.
78' James Rodriguez gets a penalty kick for being taken down by Julio Cesar!
73' However, Neymar's effort is way, way off target and the crowd boos.
72' Bacca, the suubstitute for Colombia, concedes a free kick after a challenge on Thaigo Silva
69' Yepes has been yellow carded for Colombia
69' GOAL! David Luiz scores an unbelievable goal for Brazil off a free kick, over 30 yards out and in the centre of the field, struck sweetly by the centre-back. It sails past the wall and into the top corner despite Ospina getting the slightest of touches on it!
68' James Rodriguez gets a yellow card
64' The captain Silva goes into the book for stopping Ospina from kicking the ball out of his hands, and will miss a potential semi-final - if the hosts win this game, because he gets a yellow card.
63' Cuadrado commits a foul, concedes a free kick, but Neymar's kick is safely into the hands of Ospina, the Colombian keeper.
61' Brazil have started taking things casually now, and Colombia are exerting pressure. Brazil might mind up making the same mistake as against Chile.
59' However, Guarin who takes the ball after the free kick, fires it far wide of the goal
58' Fred concedes a free kick after a challenge on Armero
55' Neymar looks to send Hulk careering towards the byline, again on the left, but his pass out towards him is too weak and Zapata gets to it first.
52' Brazil win a free kick around 30 yards from goal and Neymar flights it into the centre of the box. Zapata and David Luiz both go for it, Luiz gets the touch so referee awards a goal kick.
49' FIFA Fact: Neither France or Colombia had been behind at Brazil 2014 before today. The only team who have yet to trail at this year's World Cup are Argentina.
46' Ramos comes in for Ibarbo for Colombia
We are back for the second half, Brazil kick off.
HALF-TIME Thiago Silva's 7th-minute goal gave Brazil a 1-0 lead. Colombia on the other hand have hardly tested the Brazilian keeper Cesar. Though Colombia have generally defended well, one moment of poor defence cost them a goal. Can they get back in the second half?
44' Neymar's header was very close to goal, but it hits the crossbar as he fails to dip it enough.
43' Fred does superbly to hold off Yepes and control Julio Cesar's kick on his chest. He then turns and sends the ball over to Neymar on the left, and the Barcelona man draws a foul from Zuniga about 20 yards from goal.
41' Fred of Brazil is penalised for committing a foul
40' Five minutes left of the first half as Colombia get desperate to score
36' Hulk gets a pass into the Colombian left, but his kick is way too high, that might reach Argentina's match. Again poor from Hulk.
35' Cuadrado commits a foul on Thiago Silva
35' Fernandinho concedes a free kick for Colombia. Rodriguez takes the free kick, but Neymar is upon him in a lightning flash as the ball goes out into the midfield.
30' The Brazilian keeper Julio Cesar has had little to do yet.
28' Ospina saves the day for Colombia again! Once again the Colombia keeper denies Hulk, getting down low and parrying the danger away.
27' Hulk nearly embarrasses himself on the left as he loses control of the ball during a flurry of stepovers. He's embarassed himself all tounarment, frankly.
24' Fernandinho of Brazil commits a foul, and now there's a scuffle between the Colombian players and Fernandinho...the referee has blown the whistle for the free kick already, so Rodriguez places the ball on the ground and kicks it.
21' Cuadrado is working relentlessly for Colombia on the left, but Rodriguez has been kept quiet...yet.
19' Brazil are really pressing the attack here. Neymar makes a run through the left, reaches the penalty area and aims, but he is blocked by the Colombian keeper Ospina. Another attempt from Hulk is also blocked, with a superb dive.
17' Neymar gets a free kick, and Brazil almost score. They had two attempts there, the first attempt was blocked by the Colombian defence, a header was sent into the midfield, but a second attack is lost because Hulk's header was way off target.
16' FIFA Stat: Brazil have lost just one of their last 16 World Cup games after opening the scoring.
14' Fernandinho of Brazil concedes a free kick following a challenge on James Rodriguez
12' Oscar of Brazil is penalised for committing a foul
11' Colombia get a corner, but the Brazil defence clears it
7' GOAL! Thiago Silva scores for Brazil! It was a dangerous corner, and Silva snuck in from behind Sanchez to score that goal. That was poor defending from Colombia.
5' Brazil get a free kick and Neymar is the man to strike it, but he bends a weak effort wide of Ospina's right-hand post.
3' The Brazilian fans are not happy with the ovation for Rodriguez, he's been booed by them, and they are going wild with Neymar on the ball
1' Cuadrado of Colombia commits a foul
And Colombia get us underway in Fortaleza!
Colombia have not scored in 7 of their last 9 meetings against Brazil
We are about to kick off
Colombia have a decent number of fans in the stadium though Brazil is of course the overwhelming hue at Fortaleza
The teams are out to the middle for the national anthems
The team lineups are out:
#BRA LINE-UP: Julio Cesar, Thiago Silva (c), David Luiz, Fernandinho, Marcelo, Hulk, Paulinho, Fred, Neymar, Oscar, Maicon #BRACOL #WorldCup

— FIFAWorldCup (@FIFAWorldCup) July 4, 2014
#COL LINE-UP: Ospina, Zapata, Yepes (c), Sanchez, Armero, Gutierrez, Rodriguez, Cuadrado, Guarin, Ibarbo, Zuniga #BRACOL #WorldCup #Joinin

— FIFAWorldCup (@FIFAWorldCup) July 4, 2014
Welcome to the live coverage of the quarterfinal clash between hosts Brazil and Colombia in Fortaleza. The good news for Brazil is that Neymar is in the starting XI.
Brazil have struggled for form and consistency in this tournament, being held to a 1-1 draw by Mexico in Fortaleza in the Group Stages and barely defeating a spirited Chile in a penalty shootout in the Round-of-16.
Colombia have been the surprise of the tournament along with Costa Rica, and James Rodriguez has astonished one and all by becoming the leading goal-scorer in the tournament with five goals. Nevertheless, they still go into this match as underdogs, having made the quarterfinals for the first time; also, with Brazil being Brazil and playing at home. Read the Brazil v/s Colombia Match Preview here
Anyhow, Colombia are on a hot streak after beating Italy and Uruguay in the Group Stage and beat a Suarez-less Uruguay in the Round-of-16. Here's the team profile for Colombia
In the opening match against Croatia, Brazil were a goal down within the first 15 minutes, but managed to equalize a few minutes later. However, even after equalizing, there was not much improvement in their performance and took the lead through a controversial penalty. Read the Brazil team profile
The fitness of Neymar is a major concern for Brazil, who sustained thigh and knee problems in the narrow success over Chile, although the medical team of the Selecao have been at pains to stress that Neymar will be fit for this encounter. The latest news is that he is part of the starting XI, but how fit is he remains a question which will be resolved during the match only Read Neymar's player profile here
Captain Thiago Silva and David Luiz have to form rock solid defence to avoid any kind of problems for Brazil. The defence seemed to be vulnerable at times against Chile, which they have to avoid if they want to progress to the semi-final round. Read Thiago Silva's full profile here
James Rodriguez is having the time of his life. After having scored five goals in four matches, he is the top scorer in this World Cup at the moment. He also scored a fantastic volley against Uruguay in the Round-of-16, which is considered as potentially the best goal of the FIFA World Cup 2014. After having reached such a terrific form, James Rodriguez will aim for a semi-final spot for Colombia. The Brazil vs Colombia match is more likely to be Neymar vs Rodriguez. Here's James Rodriguez's player profile