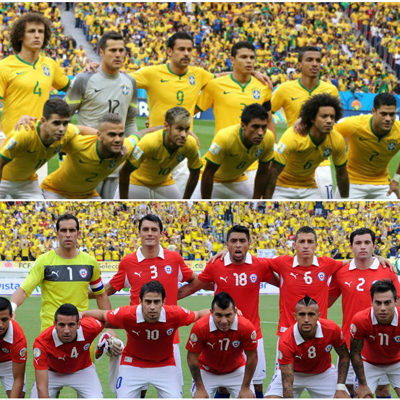 Chile-5: Jara HITS THE POST from the spot, he misses! And Brazil are into the quarters, Chile go home.
Brazil-5: Neymar SCORES! Brazil are 3-2 up and Chile must score now!
Chile-4: Diaz SCORES for Chile! 2-2, both teams have one penalty kick left and here comes NEYMAR!
Brazil-4: Hulk...is BLOCKED! The Chile keeper will go down as a hero even if his team loses. 2-1
Chile-3: Aranguez SCORES for Chile, score 2-1!
Brazil-3: Marcelo SCORES, Brazil are 2-0 up on penalties with 3 to go for Chile, this game is nearly over.
Chile-2: Blocked! Cesar saves again and Brazil are still 1-0 up on penalties. It was Alexis Sanchez's kick!
Brazil-2: Blocked! Willians misses for Brazil and Chile have pulled one back. What a save by Bravo.
Chile-1: Blocked! Pinella of Chile takes their first penalty and is blocked by Cesar!
Brazil-1: David Luiz to take the first penalty for Brazil...and he SCORES!
It's come down to the penalty shootout here in Belo Horizonte!
END OF EXTRA TIME: We go into the penalty shootout as neither team is able to score a goal in the extra-time, despite both teams getting several chances. Sanchez of Chile came very, very close to pulling off a massive upset, but the crossbar came in the way.
120 + More close chances go abegging for Brazil as Hulk gets overwhelmed by the Chilean defence after a fantastic run through the right.
120' Sanchez! Sanchez takes a pass from the Chilean midfield and charges through the left, his kick is incredible but it JUST smashes into the crossbar.
118' Guitterez of Chile concedes a free kick after a challenge on Marcelo, but the Brazilian defence blocks the resulting kick
114' Mena of Chile is penalised for committing a foul
113' Diaz of Chile puts an effort off target. Diaz's shot is high and lands deep into the stands. Tired legs are beginning to show.
112' Brazil have a free-kick about 40 yards from goal! Neymar takes it short and gives the ball to Alves. However, much to the annoyance of the full-back's team-mates, the Barcelona man sends a long-range effort well over the crossbar.
110' Chilean players seem to be at their wits' ends right now, as the replacement Rojas goes down after clashing with Willian, and Guitterez is down too following a knock from Ramires, who concedes a free kick.
108' Rojas replaces Medel for Chile, who has gone out injured. It seems to be a hamstring injury on his left leg.
107' Brazil get a corner kick, but it comes to nought.
106' We are back for the second quarter, and a close chance for Brazil is blocked by the Chile keeper
FIRST QUARTER OF EXTRA TIME: The scoreline stays at Brazil 1-1 Chile, and the penalty shootout looks ever so closer with neither team looking likely to convert their chances.
105' Neymar commits a foul again, is let off again.
105' We get one minute of stoppage time
104' David Luiz has committed a foul
102' Maurico Pinalla of Chile gets a yellow card for a foul
100' Jo's effort hits the target as Bravo makes another save, albeit an easy one this time
96' Neymar commits a foul and is let off with a warning.
93' In fact Jo has got a yellow card for that awful kick.
93' Jo of Brazil kicks his metal studs into the Chilean keeper's chest, who then collapses over Jo's head. Both are down. But now both recover and are back in the game.
91' Mena commits a foul for Chile, after a challenge on Hulk, taking him down. The crowd is livid and Hulk is revving them up.
We are back for the first 15 minutes of extra time.
FULL-TIME We will go into extra time as the scoreline stays at 1-1 at full time, thanks to some awesome saves by the Chilean keeper Bravo and Brazil's inability to force a good finish in the second half.
90 + 1' Three minutes of stoppage time has been awarded
90' Chile are pressing ahead and giving the Brazilian backline a hell of a time
87' Pinalla replaces Vidal for Chile
84' Hulk now commits a foul in rage
84' HULK! Hulk beats a few Chilean defenders and shoots a cross from the right of the penalty area. Bravo the Bravo saves it with a spectacular dive, that was travelling like a rocket. Bravo just got his fingertips to it and parried it away. He has been brilliant all night.
Incredible save Bravo https://t.co/ugAJPEgP4L

— Football Vines (@FootballVines) June 28, 2014
80' Brilliant save by Bravo the Chilean keeper. Neymar knows he's missed out on a big chance there, as Brazil have all night.
79' Jara of Chile commits a foul
76' Hulk's shot from the edge of the area misses the goal; instead it goes out for a goal kick.
74' Jo misses a chance! Brazil finally they craft an opening. Hulk crosses in from the left and Jo looks destined for an easy tap-in, but Mena pokes the ball away at the last moment.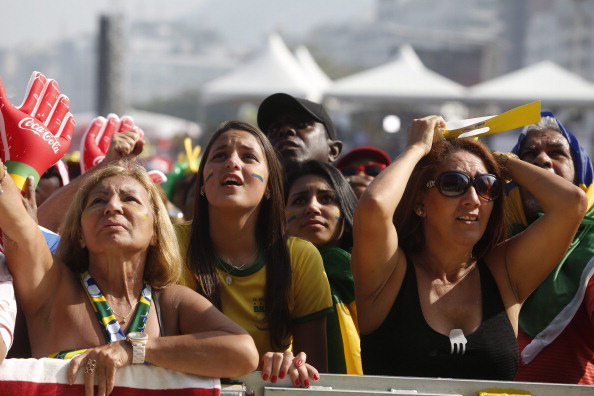 72' Immediately, Ramirez replaces Fernandinho
71' Guitterez concedes a free kick following a challenge on Fernandinho of Brazil
69' Chile have held 56% possession to Brazil's 44% percent so far, have more passing accuracy and committed lesser fouls.
67' Hulk is adamant he should be given a penalty as he races into the left-side of the Chile area and is nudged over by the powerful Silva. Webb rightly igores the forward's desperate claims, though.
64' Great save by Julio Cesar! A reaction from Charles Aranguiz of Chile is denied by a superb save from Cesar, he basically managed to somehow block the goal with his foot as it was curving at lightning speed into the goal
64' Jo replaces Fred for Brazil
62' Isla of Chile concedes a free kick after a challenge on Brazil captain Thiago Silva
59' Chile have a moment to catch their breath as Luiz Gustavo charges into the back of Silva outside of their own area. They take plenty of time over the kick.
57' Guitterez comes in for Vargas for Chile
55' Hulk commits a foul, gets yellow card
49' Fernandinho's effort is off target after Neymar passes the ball to him
HALF-TIME The half-time whistle sounds and Chile have done well to equalise after an early goal by David Luiz for Brazil. Chile have not been at their best but they have shown that if Brazil let their guard down just a bit, they will find an opening. Meanwhile, Neymar has missed a few chances and Brazil will be hoping he can finish well in the second half. Score 1-1.
45 + 1' Chile get a corner kick, but the Brazilian defence makes sure its cleared, and the ball is back in the midfield.
45' Two minutes of stoppage time has been provided
43' Great save by the Chilean keeper. Dani Alves was within 30 yards of the goal, and measuring his position, he took a thunderous shot at the goal. Bravo does a back-flip and saves it!
41' Alexis Sanchez is ruled to be in an offside position.
40' Francisco Silva of Chile gets a yellow card after a challenge on Neymar, and also concedes a free kick.
39' Ooh...Neymar passes to Fred in the penalty area whose kick goes over the bar.
36' Neymar...! Oscar looped a clever cross into the danger area and Neymar arrived late, meeting it with a towering header. The ball takes a deflection of Medel and then goes just wide of the right-hand post. That was very close.
32' GOAL! Alexis Sanchez scores for Chile to make it 1-1. There was a mix-up in the Brazilian defensive area, through which the ball passed to Sanchez, who puts in a side footed effort from the penalty area. The finish was excellent.
Alexis Sanchez equalizer http://t.co/xdqG6OjG6M

— Football Vines (@FootballVines) June 28, 2014
29' Neymar goes down! It's Vidal who has smashed into him, sending him flying. Neymar landed on his back after a mid-air flip and banged his head and back. Vidal though has got away with a warning.
26' Neymar sees an effort go off target
22' Neymar has fouled Medel after a struggle and the referee is lenient not to hand him a (second) yellow card, else he would be out of the next game.
20' Chile have struggled so far. Their passing has been a little sloppy and their final ball has left a lot to be desired.
18' GOAL! David Luiz scores for Brazil to put them 1-0 ahead just after Mena's yellow card. Neymar whips in a superb delivery from the Brazil left which is flicked on at the near post by Thiago Silva. David Luiz runs on to the ball at the far post and applies pressure to Gonzalo Jara. The ball ends up in the net. The fans are ecstatic.
GOAL David Luiz http://t.co/4A0dKvwh2X

— Football Vines (@FootballVines) June 28, 2014
15' Mena of Chile has illegally handled the ball, and gets a yellow card, his second of the tournament. If Chile makes the quarters, he won't play.
14' Neymar gets a free kick after Chile foul. His curling kick from the right is however, collected by the Chilean keeper Bravo.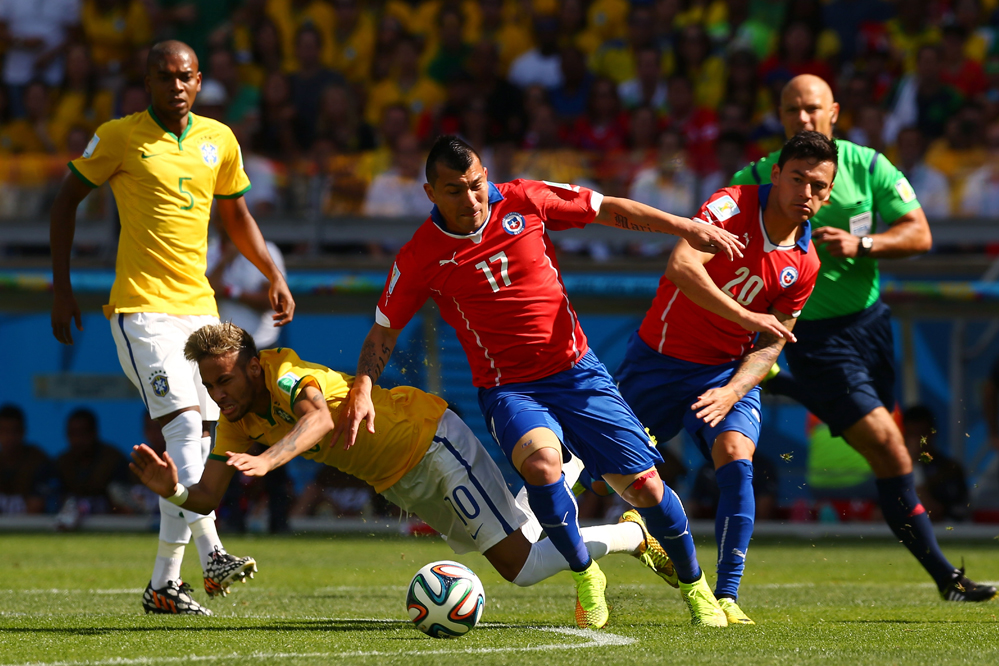 12' Neymar was making a good run down the left, but eventually the Chilean defenders crowd and overcome him; he even loses possession.
10' But Hulk now concedes a free kick following a challenge on Vidal of Chile
8' Hulk is looking in good form tonight, though he has struggled all tournament
6' Diaz of Chile sees an effort go off target
6' Marcelo aims a left-footed kick at the goal but the ball hits the right side netting
4' Aranguiz of Chile gets penalised for committing a foul, He took down Neymar on the run
3' Fred of Brazil commits a foul, he basically took a Chilean midfielder right off his feet from behind.
1' Thiago Silva gets penalised for committing a foul
KICK-OFF Chile kick us off!
The Chile team are in a huddle
It's nearly time for kick-off
The national anthems are now underway. Scolari has replaced the under-fire Paulinho with Fernandinho for Brazil.
The stadium is a sea of yellow, and the fans go wild as Brazil head out onto the field of play.
"I always speak to Alexis on the phone. Now we are going to come up against each other. Alexis is a star. I admire him a lot. He is a great player and we will need to be careful with him. We can't leave him any space." - Neymar on Alexis Sanchez
Head to head, Brazil are 48-7 against Chile on wins, and 13-13 on draws.
The lineups for both teams are out:
#BRA LINE-UP: Julio Cesar, Dani Alves, Thiago Silva, David Luiz, Fernandinho, Marcelo, Hulk, Fred, Neymar, Oscar, Luiz Gustavo #BRACHI

— FIFAWorldCup (@FIFAWorldCup) June 28, 2014
#CHI LINE-UP: Bravo (c), Mena, Isla, Silva, Sanchez, Vidal, Vargas, Medel, Jara, Aranguiz, Dias #BRACHI #WorldCup #joinin

— FIFAWorldCup (@FIFAWorldCup) June 28, 2014
Welcome to the live coverage of the first Round of 16 match at the FIFA World Cup 2014. Brazil play Chile at Estado Mineirao at 9:30 pm IST.
Brazil will hope to extend their impressive record against Chile as the two teams meet in the last 16 of the World Cup at Estadio Mineirao on Saturday. The Selecao are unbeaten against their South American rivals since a World Cup qualifier in 2000 and have won 10 of their last 12 meetings with La Roja, but face a Chile side who have already sent Spain packing in this competition. Read the Brazil v/s Chile match preview
Brazil have performed well in the group stages of the FIFA World Cup as they booked the top spot in their group (Group A). They have been superior in attacking as they scored seven goals in three matches and conceded only two goals. Here's the Brazil team profile
With the weight of an entire nation on his shoulders, Neymar has answered his critics is style. Having played only three matches, Neymar already has four goals to his name, helping Brazil top the Group A. Wearing the iconic No.10 jersey which was worn by Brazilian legend Pele previously, Neymar is proving his worth. Read Neymar's full profile here
Having been the best player of Brazil in the 2013 FIFA Confederations Cup, Fred has failed to perform for Brazil in the FIFA World Cup 2014 as he has scored only one goal so far. With Fred not performing to his potential, all the pressure is on the shoulders of 22-year old Neymar. Read Fred's full profile here
Thiago Silva, the Brazilian captain will be aiming for the nations record 6th World Cup trophy. He has been good in the defence with partner David Luiz, as the duo have conceded only two goals, The Brazil captain has a tough task ahead as the face Chile in their Round-of-16 clash. Read Thiago Silva's player profile
Chile showed a glimpse of their potential when they shocked the former world champions 2-0 in the group stages. Chile won their first two group matches convincingly against Australia and Spain, but lost to Netherlands and finished on the second spot of the Group B. Read the Chile team profile
Alexis Sánchez is having a tough time in Brazil. The Barcelona winger has managed to score only one goal through-out the group stages for Chile. He will have a tougher time as Chile face Brazil in the Round-of-16 match. Here's his player profile