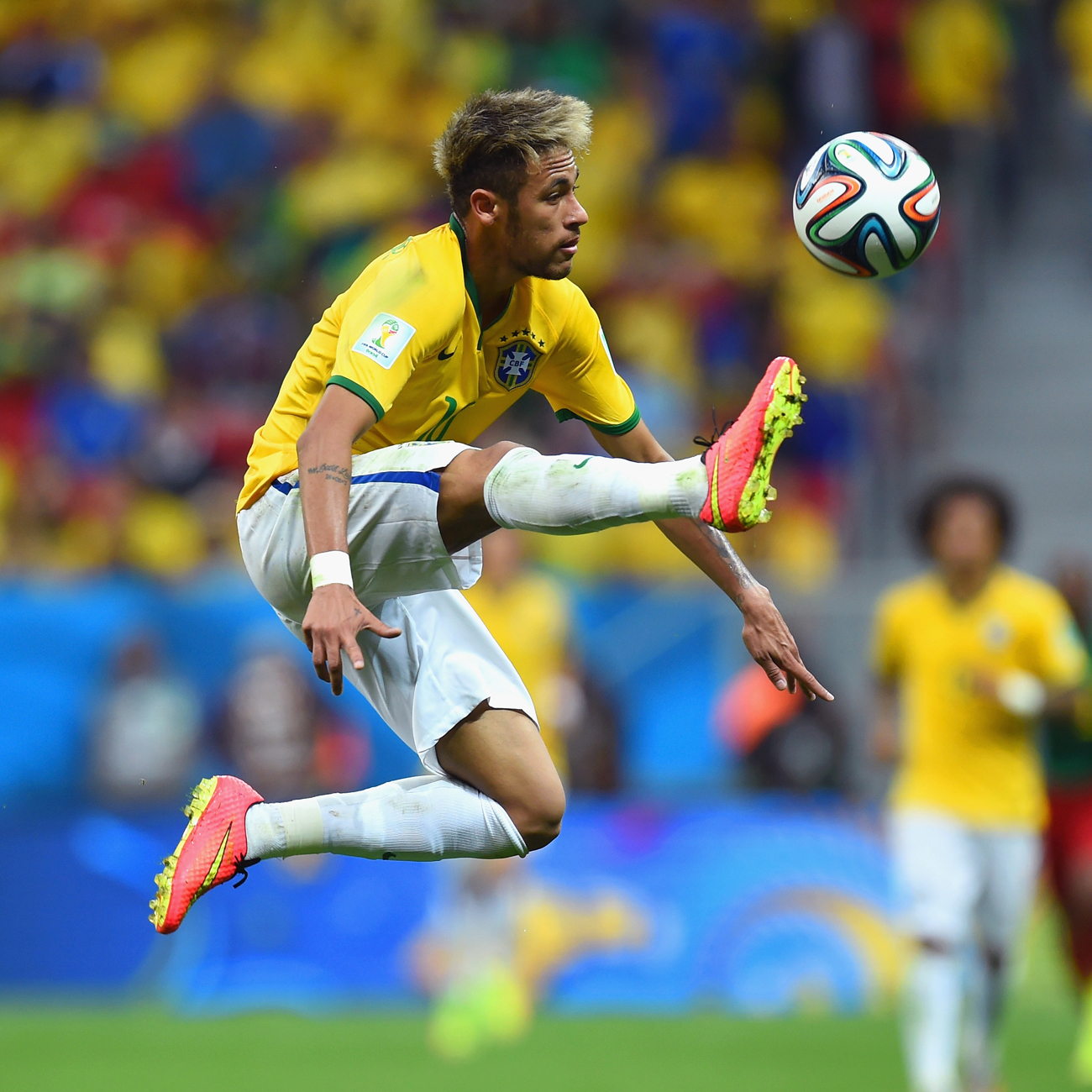 FULL-TIME Brazil have beaten Cameroon 4-1, after a few nervous moments in the first half. It was the brilliance of Neymar in the first half, and then goals from Fred and Fernandinho in the second, which saw Brazil beat Cameroon easily despite Cameroon not giving in at any stage.
90 + 2' Chance for Brazil, as Willian is the man over on the left side of the box and he gets the ball easily. He shapes to bend a shot inside the far post but he sends it too close to Itandje.
90' Four minutes of extra time will be provided.
89' The Indomitable Lions Cameroon just weren't able to keep up their level of performance from the first half after the break. Their defence has always been weak, and they will go off from this tournament very disappointed.
87' Cameroon put one way over the bar, and Croatia have scored against Mexico to reduce the deficit to 1-3. Brazil will surely end as table toppers now.
84' But it won't be so as Fernandinho scores! GOAL! Fernandinho aims his kick from the left of the penalty area into the far corner as the Cameroon keeper Itanje despairs.
82' Mexico are 3-0 up against Croatia in the other match. So Mexico and Brazil now have equal goal difference. Brazil are ahead only because of more goals scored. If Mexico score one more goal and Brazil score none, Mexico will top the group!
80' Luis Gustavo of Brazil is coming off limping. With all substitutions made, Brazil will be playing with ten men now. Mbia of Cameroon gets a yellow card for his efforts in taking down Gustavo.
79' Fernandinho of Brazil is adjudged to be in an offside position
79' Fred's effort hits the target but the Cameroon defence deflects it
77' An important clearance from N'Koulou of Cameroon stops Marcelo's cross from the left from finding Fred in the centre of the box.
75' Oscar of Brazil commits a foul.
75' Salli of Cameroon is booked for a challenge on Dani Alves.
72' Pierre Achille Webo is replacing Vincent Aboubakar for Cameroon.
71' William will replace Neymar. It's all for the good as Brazil need Neymar later on in the tournament.
69' Neymar falls hard on his right leg after a struggle for possession. He is being taken off the field of play, but he looks okay - and so Brazil will hope.
67' Cameroon have held their own, with 43% possession and 79% passing accuracy to Brazil's 57% and 85% respectively.
65' A woeful effort from N'Guemo of Cameroon. He has space to shoot from the far side of the box but he makes an absolute hash of his effort.
63' Ramires replaces Hulk for Brazil.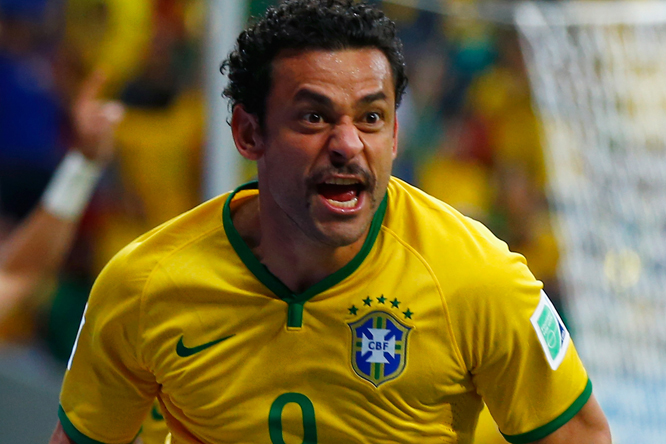 63' Luiz Gustavo almost gifts Cameroon a second as he dallies on the ball as the last man in his own half. Fortunately for him Julio Cesar rushes out to kick the ball away. Thiago Silva is irate.
58' Now Hulk commits a foul, and Salli comes off the bench to replace Moukandjo of Cameroon
57' Hulk's effort is on target but the Cameroon keeper blocks it
57' Oscar of Brazil commits a foul and is penalised
53' Moukandjo concedes a free kick after a challenge on Dani of Brazil
49' GOAL! Brazil go 3-1 up with a goal from Fred, his first of the tournament, from the left of the penalty area! Cameroon fail to clear the ball and Fernandinho pushes it out wide to David Luiz. The centre-back takes a touch before putting the ball over to the back post for Fred to head into the net!
HALF-TIME Brazil, or rather Neymar are 2-1 in the lead at the end of the first half, but Cameroon will be delighted to have played so well. If only they had brought this aggression and desperation to their first two games.
45 + 1' Good passing from the Brazilian forwards and the ball eventually falls to Hulk, whose kick is just over the goal
45' Referee announces one minute of stoppage time as the crowd chants NEYMAR
42' Cameroon have looked a very different team today to the one which played the first two games. They had 30 attempts at goal in this World Cup, but only hit the target on three so far, including one goal.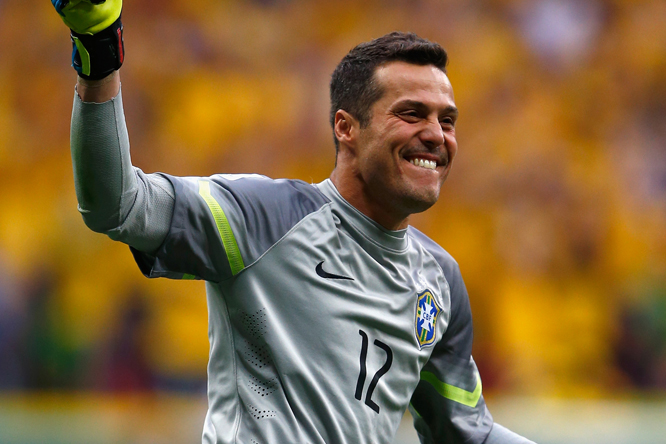 41' Oscar of Brazil commits a foul, and moments later Gustavo also does the same
40' Mbia of Cameroon concedes a free kick after a challenge on Hulk
39' Choupo-Motig of Cameroon takes a corner kick, but his effort is off target
35' GOAL! Neymar scores again as Brazil collectively heap a sigh of relief. That was a clinical goal. A long ball was intercepted by Cameroon but it fell to Marcelo who passed to Neymar, who ran at the defence, cut through the right and then scored!
33' Moukandjo of Cameroon gets a corner kick, but the pass to Nyom is cleared by the Brazil defence
32' Mbia of Cameroon commits a foul
31' Paulinho of Brazil is penalised for committing a foul
26' GOAL! Joel Matip has equalised it for Cameroon! Can you believe it. Brazil block the first attempt at a pass from the left, but Matip gets the ball on the second attempt. From inside the penalty area, his kick lands the ball straight into the goal, as the Brazilian keeper looks hapless and dumfounded! This is Matip's first international goal as well. What a moment!
25' Moukandjo of Cameroon gets a corner kick. The header from the forward hits the crossbar!
21' Paulinho darts down the Cameroon left and into the penalty area before crossing towards Fred. Fred is blocked by the goalkeeper and, in trying to throw his body at the ball in an effort to get it over the line, he fouls Itandje.
17' GOAL! Neymar scores for Brazil! Cameroon get dispossessed after a tussle in the midfield and then a superb pass from the left flank is met with a perfect kick from Neymar from inside the penalty area into the goal! This is also the 100th goal of the tournament, in Brazil's 100th match, and arguably the world's best player Neymar scores it!
15' A moment of madness from Nyom of Cameroon. Nyom and Neymar are chasing a ball that is clearly heading off the pitch, but as he goes to retrieve it he shoves the Brazilian to ground.
14' WOAH! If not for keeper Julius Cesar, that would have been Cameroon 1-0.
12' Cameroon have been very aggressive and continue to attack as the Brazilian defence has to use all its skill to block them.
10' Enoh of Cameroon has been booked by the referee for taking down Marcelo, who looks in a bit of trouble as he holds his leg on the ground. Yellow card.
9' Cameroon showing a lot of enterprise as they seize possession from Brazil and Enoh beats a couple of Brazilian challengers. Just on the right of the penalty area however, Brazil send it outside play for a corner kick.
6' Neymar takes a corner kick, Hulk beats two Cameroon challengers and passes to Fred, but Cameroon manage to clear. However it goes behind for a corner again.
3' Paulinho of Brazil makes an effort at goal, but it is off target. The cleared free kick is tossed back in to the Brazilian third and Neymar is clean through but onside. Neymar's pass is taken by Paulinho whose shot is blocked. Midfielder Gustavo then has a go, but it's deflected for a corner. That got the crowd excited.
1' Bedimo concedes a free kick after a challenge on Hulk of Brazil
KICK-OFF The crowd are singing as we head to kick off....as Brazil kick off in their 100th World Cup game!
Brazil are playing the same XI as the one which played against Croatia
The anthems are over and the match is about to get underway, as a huge cheer erupts from the crowd.
The national anthems are about to get underway.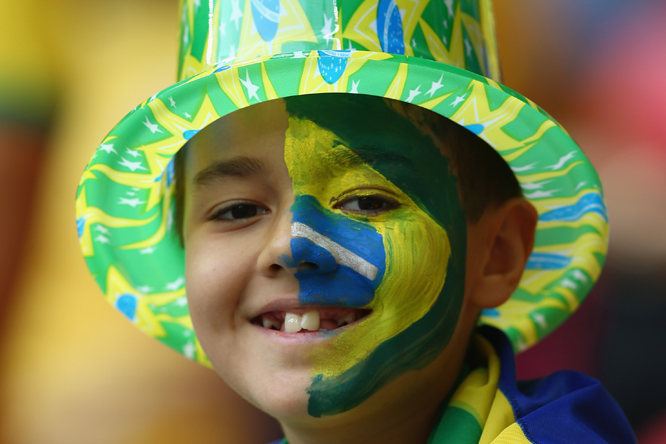 FIFA FACT: This is Cameroon's first game against a team that is hosting the World Cup
The team lineups are out:
#BRA LINE-UP: Julio Cesar, Dani Alves, Thiago Silva (c), David Luiz, Marcelo, Hulk, Paulinho, Fred, Neymar, Oscar, Luiz Gustavo #CMRBRA

— FIFAWorldCup (@FIFAWorldCup) June 23, 2014
#CMR LINE-UP: Itandje, Nkoulou (c), Nguemo, Moukandjo, Aboubakar, Bedimo, Choupo Moting, Mbia, Enoh, Matip, Nyom #CMRBRA #WorldCup #joinin

— FIFAWorldCup (@FIFAWorldCup) June 23, 2014
Brazil defeated Croatia easily by a 3-1 margin, despite an own goal by Marcelo within minutes of the commencement of the game. They were however, held to a 0-0 draw by Mexico. Brazil will be looking for an easy and big win against unfancied Cameroon in their last league match, to go top of the table in Group A. Cameroon on the other hand, will have to try hard to not lose after losing both their opening games to Mexico and Croatia.
Brazil somewhat surprisingly dropped two points against Mexico in its last outing as coach Luiz Felipe Scolari went for a slightly more cautious approach than in the opener against Croatia, with Ramires taking the place of Hulk on the right wing after the Zenit man was deemed not fit enough to start. The Ramires experiment was not as successful as Scolari would have hoped, however, and Bernard or Hulk is expected to start in the Selecao's final group game, given that Hulk is fit. Read the Brazil v/s Cameroon match preview here
Being the hosts of the 2014 FIFA World Cup, Brazil is expected to lift their record 6th FIFA World Cup in front of the home crowd. Here's the team profile for Brazil
Cameroon were really flat in their first two games, going down to Mexico and Croatia without scoring a single goal. They have little hope for a win against mighty Brazil, but they could fight hard for a draw given that Mexico held Brazil the other day. Read the Cameroon team profile here
Brazil's Neymar is currently the best young player in the world. He showed his potential talent while playing for Santos. Neymar scored two goals against Croatia but he failed to score in Brazil's draw against Mexico. Neymar is expected to perform against Cameroon. Read Neymar's player profile here
Fred is another important player for Brazil. In the 2013 FIFA Confederations Cup, Fred scored five goals in the tournament, out of which 2 came in the finals against Spain. He also won the Silver Shoe in that tournament. Fred is the most exprienced player in Brazil's attack and therefore is expected to lead the team from front. Read Fred's full profile here