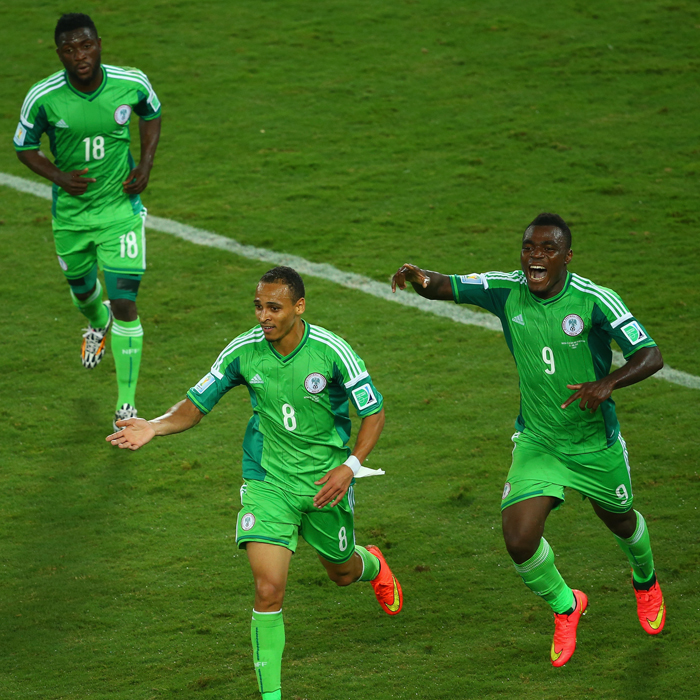 FULL-TIME Nigeria have won their first World Cup game in 16 years, while Bosnia-Herzegovina are going home. The Bosnians were really flat tonight after a strong showing against Argentina, while Nigeria deserve credit, especially Emenike and Odemwingie.
90 + 3' So close, so close! Bosnia's Dzeko rises with a high jump following a pass recieved by Pjanic from the corner kick, but the Nigerian keeper barely manages to save it! It hit the corner post after the save and rebounded back!
90 + 1' Dzeko's header goes straight to Nigerian keeper Enyeama who drops down to collect it on the goal line
90' Once again Misimovic's kick goes way wide to the left of the goal. Bosnia are going out here after a spirited game against Argentina. They have been really flat today, except that a goal was ruled as an offside in the first half. That was possibly the last chance Bosnia and Herzegovina will get, and it goes abegging.
89' Emenike wins a free kick just outside the corner of the box. Sadly, the ball is sent in towards the back post but no effort on goal comes from it.
88' Four minutes of added time has been provided
86' Amoebi of Nigeria commits a foul, and a minute later, Bosnia also commit a foul
83' Besic of Bosnia-Herzegovina makes an effort at the goal but is easily stopped by Omeruo of Nigeria. Nigeria have been so much better tonight than in the game against Iran. Argentina might want to beware.
83' Yes, she's had plenty to cheer about today as Nigeria's Onazi puts in a good sliding kick from the right flank, though the Bosnian keeper collects it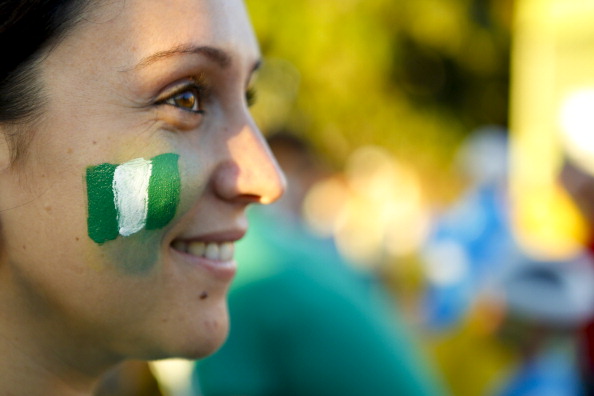 81' Mikel of Nigeria commits a foul and is yellow carded
78' Nigeria get another free kick, conceded by Sunjic following a challenge on Ameobi of Nigeria, but it is wasted
76' Nigeria's keeper has had little to do so far as the Bosnian attack has failed to put many shots on goal - just 4 to Nigeria's 8, despite holding 60% possession
75' Nigeria substitute Uzoenyi for Babatunde
74' Misimovic of Bosnia gets a free kick off Odemwingie's challenge on Susic, but Ibisevic's header flies over the goal
72' Bosnia have failed tonight so far because of tactical errors, and too many similar players on the pitch. The substitutions might help change that, but it has to happen quickly for their World Cup chances to stay alive
71' A good pass from the left flank is fumbled by Dzeko who fails to get a proper header on it. The ball goes for a goal kick
69' A free kick for Bosnia is wasted as the kick is too high and misses Dzeko by miles
68' Odemwingie again commits a foul, he has to be careful not to get a yellow card after playing so well
68' Mudzja of Bosnia is penalised for committing a foul
Bosnia-Herzegovina UR FLIGHT IS READY FOR DEPARTURE. .. @MoolchanNbu @fernandagfi_ #NGAvsBIH

— Sony Spotlight (@sony_spotlight) June 21, 2014
64' Tino Susic comes in for Bosnia-Herzegovina, replacing Haris Medunjanin
61' Musa of Nigeria swings in the corner, but the set piece is cleared by the Bosnian defence
61' That's two saves by the Bosnian keeper Begovic. First from the centre and then the incredible Emenike in the penalty area, but this time Begovic won't make a mistake.
60' Emenike is in brilliant form! Once more he proves too strong for Spahic as he races down the channel. He then attempts to cut inside Sunjic and get into a scoring position in the process, but he fails to beat his man this time around.
58' Salihovic replaces Lulic for Bosnia
57' The 'legendary' Ibisevic, who scored an 85th-minute goal against Argentina, comes off the bench for Bosnia replacing Hajrovic
56' Odemwingie into the act again as he makes an effort at the goal, but it is blocked by the Bosnian defence
55' Babatunde's effort is way off target for Nigeria
52' Onazi of Nigeria is penalised after committing a foul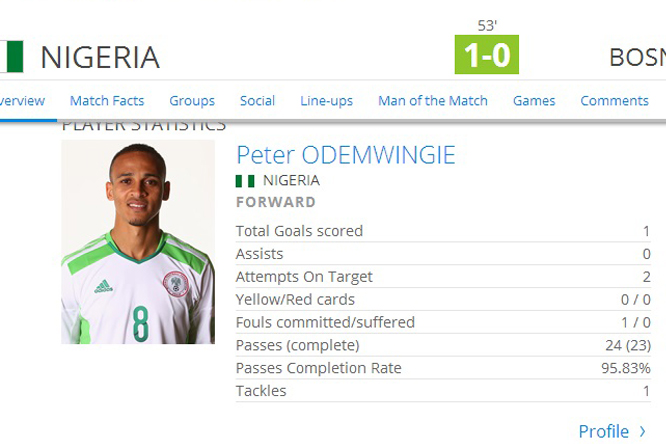 47' Bosnia have got us underway in the second half, and Dzeko's effort is way off target
We are back for the second half
HALF-TIME Nigeria are 1-0 up going into half-time thanks to some consistent brilliant work from Emenike and a moment of inspiration from Odemwingie. Bosnia really have to fight hard now if they are to win and remain in the tournament.
44' Pjanic works some space for himself on the Bosnia right and he cuts back to the Manchester City forward. His sidefooted effort is just over the bar and Nigeria look relieved.
41' It does not augur well for mighty Argentina that Bosnia, who played a spirited game against them and lost 2-1 thanks to an own goal (and Messi) are looking down the barrel against Nigeria, who drew dully against Iran. Remember, Iran took Argentina into extra time before that man Messi managed to save the South American side the blushes.
40' Musa cuts in from the Nigeria right, where Bosnia and Herzegovina are looking particularly vulnerable, and hits a shot at the goal. Begovic gets down and gathers at the second attempt. He is really struggling today
Emenike is bullying #BIH defenders well @Arsenal need to buy him. #SuperEagles #WorldCup2014 #nga

— Seun Thorpe (@seunthorpe) June 21, 2014
38' What a good kick from Emenike! It was a curling shot, which the Bosnian keeper barely managed to parry as he flew to his right. The ball goes out for a corner
34' Dzeko finds space behind the Nigerian defence again, but his effort is easily stopped by Nigeria's Enyeama
33' Odemwingie puts in another effort at a goal but this time the Bosnian keeper manages to hold on
29' GOAL! Odemwingie of Nigeria scores! That was a brilliant pass from the right flank from Emenike, and Odemwingie had little to do as he pushed the ball into the goal through the legs of the Bosnian keeper!
28' Pjanic receives the ball after a skillful pass by Medunjanin. He hits a dipping drive towards goal, and Enyeama pushes the ball out into a dangerous position. But it's cleared with ease by the Nigerian defence
25' Nigeria are looking very vulnerable as Bosnia-Herzegovina counterattack. Bosnia are trying very hard to break in behind the Nigerian defence
23' Harjovic of Bosnia sees his effort hit the target, but the Nigerian keeper is equal to the task and blocks the shot
21' Goal....or Bosnia thought it was. Dzeko beat a few defenders and aimed a kick straight into the goal from a central position beside Enyeama, but the referee adjudged it to be offside
18' Pjanic of Bosnia swings in the corner kick, but Misimovic's effort is way off target
16' Besic of Bosnia concedes a free kick after a challenge on Babatunde of Nigeria, but Emenike's effort is way off target
14' Powerful strike from Onazi of Nigeria but the goalkeeper goes down and parries the ball aside; then collects it on the second attempt
11' It was so close for Mikel and Nigeria! Musa springs the offside trap and sprints onto a through-ball on the near side. His cutback is fairly slow, however the ball is shifted inside to Mikel who fires a low effort into the side netting from 20 yards
10' Odemwingie of Nigeria gets penalised for committing a foul
8' Besic of Bosnia receives the ball in space outside the Nigerian box after some intricate build-up play. He gets a touch out of his feet and hits his ambitious effort over Enyeama's crossbar.
5' Medunjanin of Bosnia gets a yellow card following a challenge on Ahmed Musa of Nigeria
3' A long ball up towards Emenike is brought down well by the striker but he is quickly closed down in the area and forced back towards the byeline. But Nigeria manage to get a corner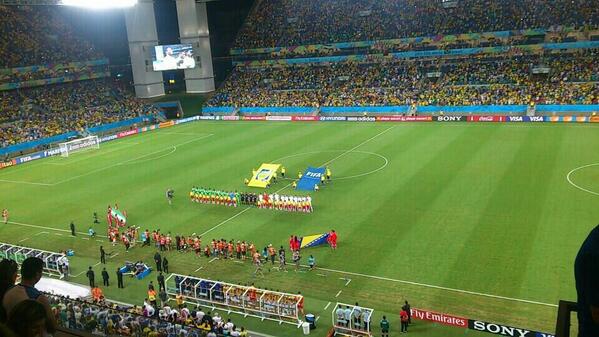 KICK-OFF And we are underway in Arena Pantanal
The captains shake hands and we are ready for kick-off
It's time for the national anthems of the two teams
The team lineups are out:
#BIH LINE-UP: Begovic, Spahic (c), Besic, Pjanic, Misimovic, Dzeko, Mujdza, Sunjic, Lulic, Medunjanin, Hajrovic #NGABIH #WorldCup #joinin

— FIFAWorldCup (@FIFAWorldCup) June 21, 2014
#NGA LINE-UP: Enyeama, Yobo (c), Ambrose, Musa, Odemwingie, Emenike, Mikel, Oshaniwa, Onazi, Babatunde, Omeruo #NGABIH #WorldCup #joinin

— FIFAWorldCup (@FIFAWorldCup) June 21, 2014
The third game of the evening, between Bosnia-Herzegovina and Nigeria, is set to begin at 3:30 am IST from Cuiaba. Bosnia-Herzegovina proved to be tough challengers for Argentina, losing only because of an own goal and Lionel Messi. Nigeria on the other hand, were uninspiring in their draw against Iran. But its Bosnia-Herzegovina who are more desperate for a win, as with no points, they will be out of the tournament if they lose to Nigeria.
The nature of Nigeria's drab 0-0 draw with Iran left Super Eagles fans dejected, as their best chance of three points disappeared without a trace. The reality of the matter, however, is that they are now more or less involved in a straight shootout with Bosnia-Herzegovina for a place in the second round. Simply put, if they beat Bosnia in Cuiaba on Saturday, they will eliminate their opponents from the running. Here's the match preview
Coming into this World Cup though, Bosnia-Herzegovina felt their task is already complete having merely qualified for their first international finals, meaning the Dragons (the Zmajevi) can go out and play at Brazil 2014 without pressure. Bosnia won independence from the former Yugoslavia in 1992 and had come close twice previously to making the cut only to lose in the play-offs against Portugal for both the 2010 World Cup and Euro 2012. Read Bosnia-Herzegovina's team profile here
Having won the 2013 African Nations Cup and the 2013 Under-17's World Cup Nigeria are the flag-bearers of the African continent and their authoritative coach Stephen Keshi is hoping a certain stability in the national game means they can target the quarter-finals. However, their performance so far has been disappointing, and a Round of 16 place itself looks dicey after their game against Iran. Read Nigeria's team profile here