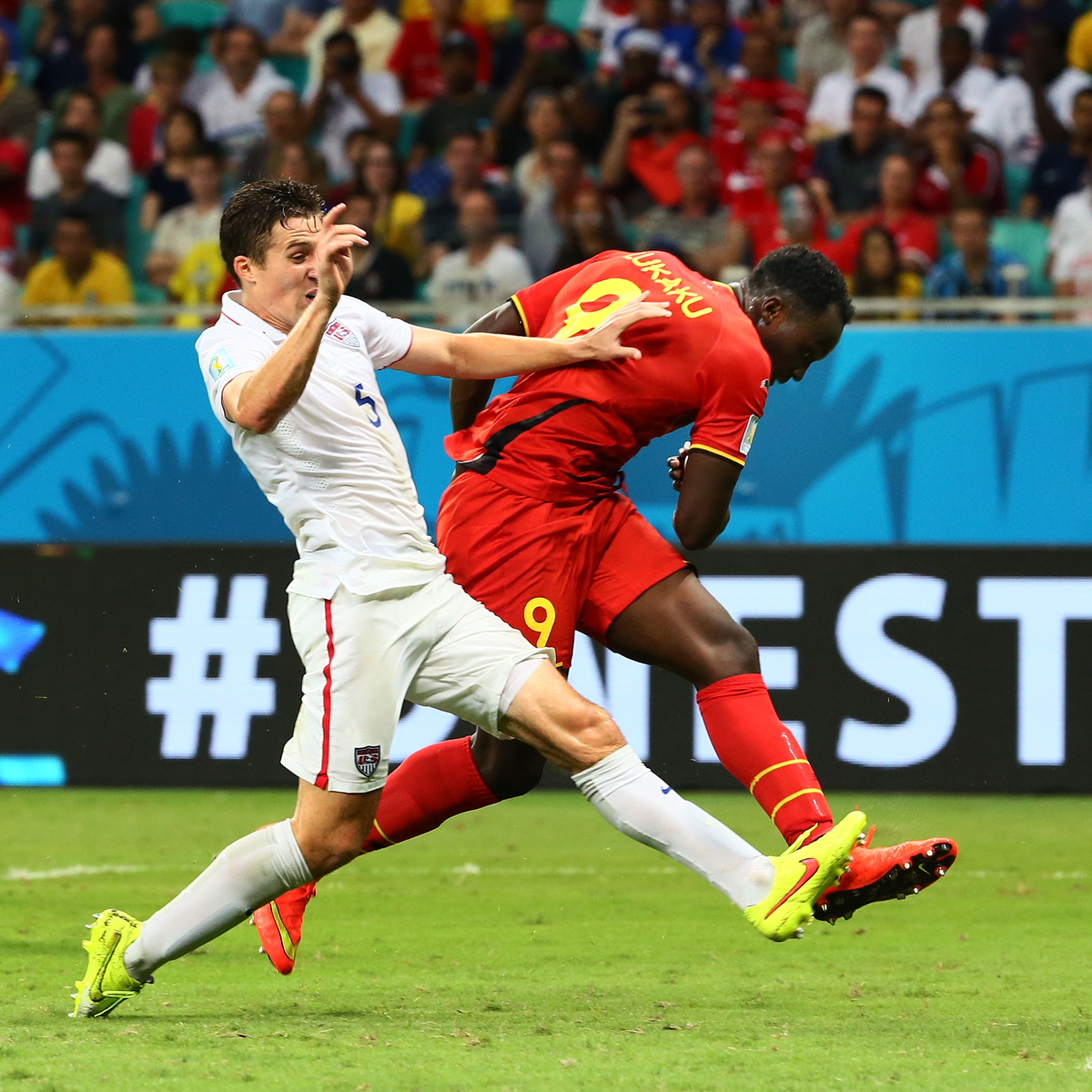 FULL-TIME The whistle goes and the Belgians have survived! When they went 2-0 up it seemed like it was curtains for USA, but Julian Green's wonder goal put USA back into the game. They could not however, score an equaliser, and Belgium go through to the last eight. USA crash out. FINAL SCORE Belgium 2-1 USA
118' The free kick comes to nothing, but now Lukaku charges through the US left, passes superbly to Mirallas, who cannot however put in a header.
118' Mirallas challenges Beasley and USA get a free kick
117' Jones of USA goes for glory from the left flank, puts in a volley but its over the bar.
116' Four minutes left in the game, can the USA lift themselves for one equaliser to take this incredible game into penalties?
113' Chadli commits a foul soon, and USA gets a free kick. Dempsey befools the Belgian defence for a long, long time before he is blocked by Courtois with a desperate slide! What a game!
109' Eden Hazard is going off, and being substituted by Chadli for Belgium
107' GOAL! 19-year-old Julian Green of USA has been on the pitch for a minute or less! The ball is lofted into the Belgian area, Green watches the ball over his shoulder and volleys towards goal. The Belgian keeper gets a hand on it but can't keep it out. Amazing!
106' Julian Green is substituted for Bedoya for USA
End of first half of EXTRA TIME. De Bruyne and Lukaku have combined in 15 minutes to give Belgium two goals, with one assist and one goal each. USA are looking tired, and will find it extremely difficult to come back from here in just 15 minutes.
105' GOAL! Lukaku scores this time for Belgium! A good pass from De Bruyne is taken near the penalty area on the left by Lukaku after a diagonal run, who launches it swiftly into the goal. Howard could do nothing as his dive was way under the ball.
Romelu Lukaku with a brilliant finish to make it 2-0 Belgium. http://t.co/W3RuuMyOZ7

— Football Vines (@FootballVines) July 1, 2014
103' Dempsey! He rushes through the Belgian left flank and puts in a curling effort, but the kick is too high and gets cleared by Belgium.
103' Huge support for USA here, there's a "USA" chant going, but it's not as strong as before, because they are 0-1 down.
101' Lukaku charges again and shoots from the penalty area, but Tim Howard blocks yet again.
99' Jones of USA hits the target. The Belgian keeper blocks the shot well.
97' Lukaku this time himself takes a shot on target, but Tim Howard does well to parry it away
93' GOAL! De Bruyne scores for Belgium! Lukaku bursts down the US right, and passes inside. De Bruyne gets the ball after it is cut out, he beats a few USA challengers with deftness and curls it into the goal. This time Tim Howard went the other way.
91' Jones header is over the bar, way over, after a good pass from the left.
We are back for the first half of extra time, and the whistle goes.
FULL-TIME At 90 minutes, Belgium 0-0 USA, thanks to Tim Howard. Belgium were incredibly aggressive in the second half. There is no count of how many chances they had...especially Origi, but nearly every time they were denied by the USA keeper. USA though, will rue Wondolowski's unbelievable miss. What would Tim Howard say?
90 + 2' Wondolowski misses a golden chance to win it 1-0 for USA! The ball is lofted into the box and Jones gives it to Wondolowski with a header. Completely unmarked, he just has to slot it into the net, but somehow he fires over the bar!
90 + 1' Fellaini of Belgium sees an effort go off target
90' Three minutes of stoppage time allowed, as Howard makes ANOTHER save. This time however, Vincent Kompany's cross was hampered by the ball getting tangled in his own foot.
88' Eden Hazard now beats a few USA defenders, gets into the penalty area and shoots, but this time it hits the right side netting (even as Tim Howard dives again)
83' Van Butyen is now denied by Tim Howard!. He remains up from a corner and is played behind brilliantly, but his attempt to dink the ball over the keeper is unsuccessful.
Tim Howard in goal like... http://t.co/GNI2g7a7V4

— Football Vines (@FootballVines) July 1, 2014
80' Tim Howard needs an award tonight, his side may just go out despite his tremendous heroics.
This is Tim Howard tonight:
Tim Howard pic.twitter.com/uKvjKauO1d

— Football Funnys (@FootballFunnys) July 1, 2014
79' And again, Belgium and Origi have a great chance, and again, Howard blocks them with a slide.
76' Origi turns wonderfully to create space between the USA midfield and defence. He plays Mirallas in and he hits a left-footed effort at goal, but AGAIN, he is denied by the legs of Tim Howard.
72' Wondolowski of USA comes off the bench to replace Zusi
70' Denied again, and again and again. It's Origi on the charge again, and he is into the USA penalty area, but gets denied by Tim Howard again, who this time puts in a sliding kick to stop Origi's cross.
69' Just wide from Witsel! The midfielder is giving an unbelievable amount of time on the ball just over 20 yards from goal. He takes one touch to set himself and then rifles a low shot which skids narrowly wide of Howard's net!
63' Belgium and USA have met 6 times in the past, with Belgium winning four times and USA once.
61' Kevin Mirallas replaces Mertens for Belgium
60' Origi is quite amazing! He is stuck alone on the US half but manages to repossess the ball after a great challenge from Besler he takes the ball back, only to be really crowded out by the US.
57' So close again were Belgium! Alderweireld's cross from the right is headed brilliantly towards goal by Origi. Origi's header hits the bar, as Howard looks on helplessly and then heaves a sigh of relief.
54' Vertonghen with a great cross from the left, it skids past De Bruyne and then Besler, but with Origi lurking at the back post you would be certain it was going in. But Origi steps over the ball and misses a great chance. What a miss.
48' Good save by Tim Howard! Origi somehow manages to wriggle through a couple of USA defenders and carry the ball out to the right. He lays it off to De Bruyne who stabs a cross in for Mertens. Mertens gets the best attempt possible off, looping a header behind him and towards goal and Howard has to leap on his line and knock it behind for a corner.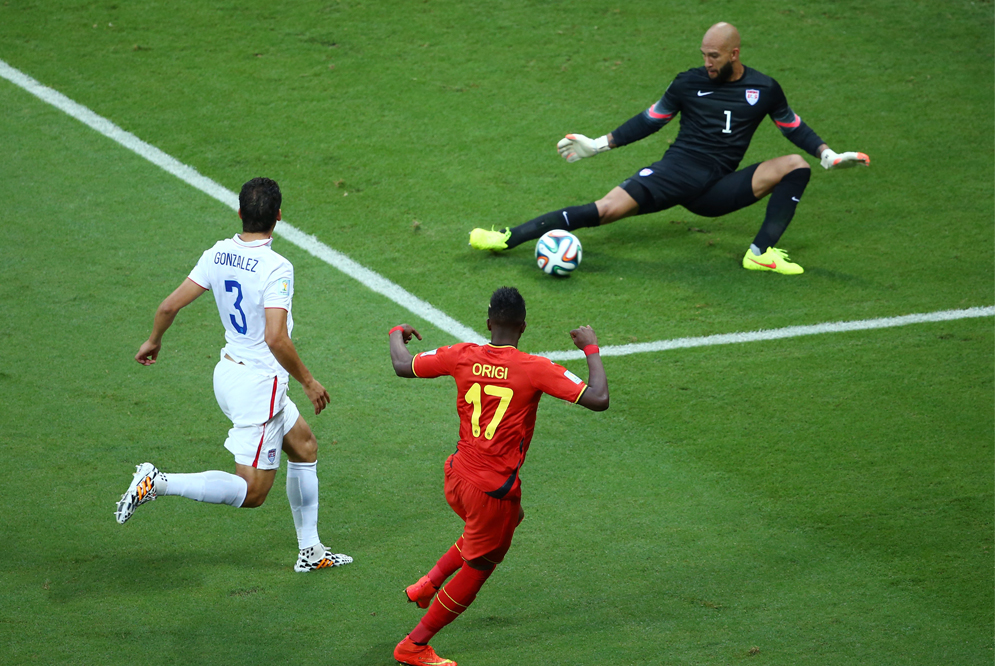 We are back for the second half
HALF-TIME USA and Belgium are 0-0 at half-time, with Belgium creating more chances but failing to convert them. Belgium will regret the chance they had in the first minute, when Origi could not score despite the field being clear for him, thanks to Tim Howard, the USA keeper who has been good all tournament.
45 + 3' De Bruyne of Belgium takes the corner kick, but it is cleared by the USA defence again.
45' Three minutes of extra time have been provided.
45' Bruyne swings in the corner for Belgium but is blocked by the US defence forces...players that is.
42' Vincent Kompany of Belgium commits a foul and gets a yellow card
41' Without possession, USA are dropping deep, allowing Eden Hazard and Mertens space to negotiate inside the USA half, but the defending is good.
40' Belgium get a free kick. Mertens takes the free kick, but Dempsey kicks away the volley to make it another wasted chance for Belgium.
36' De Bruyne sprints down the Belgian right and the ball is worked inside to Hazard. The Chelsea man steadies himself before striking towards goal, but it's stopped before it can trouble Howard.
31' Yedlin is introduced for USA's Johnson as the latter goes down with a strain.
26' The USA defence is cut through with ease by the Red Devils, but Mertens' ball across the face of goal for Origi is dealt with by Beasley.
25' Stat: USA have had 55% possession today, but they have had just 39% in the tournament, just better than Iran at 39%
22' What a miss from De Bruyne of Belgium! Bruyne cuts inside but his effort is wide of the goal even as the Belgian keeper dives frantically.
21' A shot on target from USA! Dempsey cleverly flicks the ball into the path of Bradley and the midfielder charges his way into the box. He runs out of space to shoot but manages to lay it off for Dempsey, whose attempt to place the ball in the corner is at a nice height for Courtois to save.
19' USA get a corner, Suzi had five players to aim for. He plays it well but the resulting header goes awry.
18' USA's Cameron hacks a Belgian defender to the ground during a challenge, and is swifty given a yellow card by the referee.
16' A fan has invaded the pitch! I think its the first time this has happened in this World Cup. Stewards watch him for a long while before escorting him off.
15' Mertens of Belgium commits a foul and USA get a free kick
11' Cameron of USA commits a foul, and Belgium get a corner. Really clumsy defending there, but Belgium cannot convert the chance.
8' Vincent Kompany commits a foul for Belgium
5' Beasley breaks down the USA left and, under pressure from Fellaini, skews his cross behind for a goal kick.
3' Zusi of USA is penalised for committing a foul
1' Origi of Belgium breezes past a USA defender and the field is clear for him, but Tim Howard makes a good save and roars.
1' USA kick us off in Salvador!
The teams are out to the middle and the national anthems get underway
The team lineups are out:
#BEL LINE-UP: Courtois, Alderweireld, Kompany (c), Vertonghen, Witsel, De Bruyne, Fellaini, Hazard, Mertens, Van Buyten, Origi #BELUSA

— FIFAWorldCup (@FIFAWorldCup) July 1, 2014
#USA LINE-UP: Howard, Gonzalez, Bradley, Besler, Beasley, Dempsey (c), Bedoya, Jones, Zusi, Cameron, Johnson #BELUSA #WorldCup #Joinin

— FIFAWorldCup (@FIFAWorldCup) July 1, 2014
Welcome to the live coverage of Belgium v/s USA match from Salvador. Both teams have been hit with injuries, with Vincent Kompany struggling with a groin problem and Thomas Vermaelen yet to recover from a hamstring strain for Belgium, and Jozy Altidore injured for USA. While Belgium are slight favourites to win, they haven't had an easy time in the tournament, despite winning all three group games. The winner faces Argentina in the quarterfinals, and while Argentina themselves haven't been at their best, they have improved vastly in the last two games. Read the match preview of Belgium v/s USA here
Belgium won their 1st match against Algeria 2-1 and their 2nd match with Russia 1-0, before beating Korea 1-0. They have not been very convincing in attack or defence, only to be helped by weak teams putting in mediocre performances. Read the Belgium team profile here
USA have made it to the Round-of-16 literally through the backdoor, thanks to Portugal's poor performance. A 0-1 loss to Germany did not eliminate them thanks to their 2-2 draw against Portugal and a stunning 2-1 win over Ghana. Read the USA team profile here