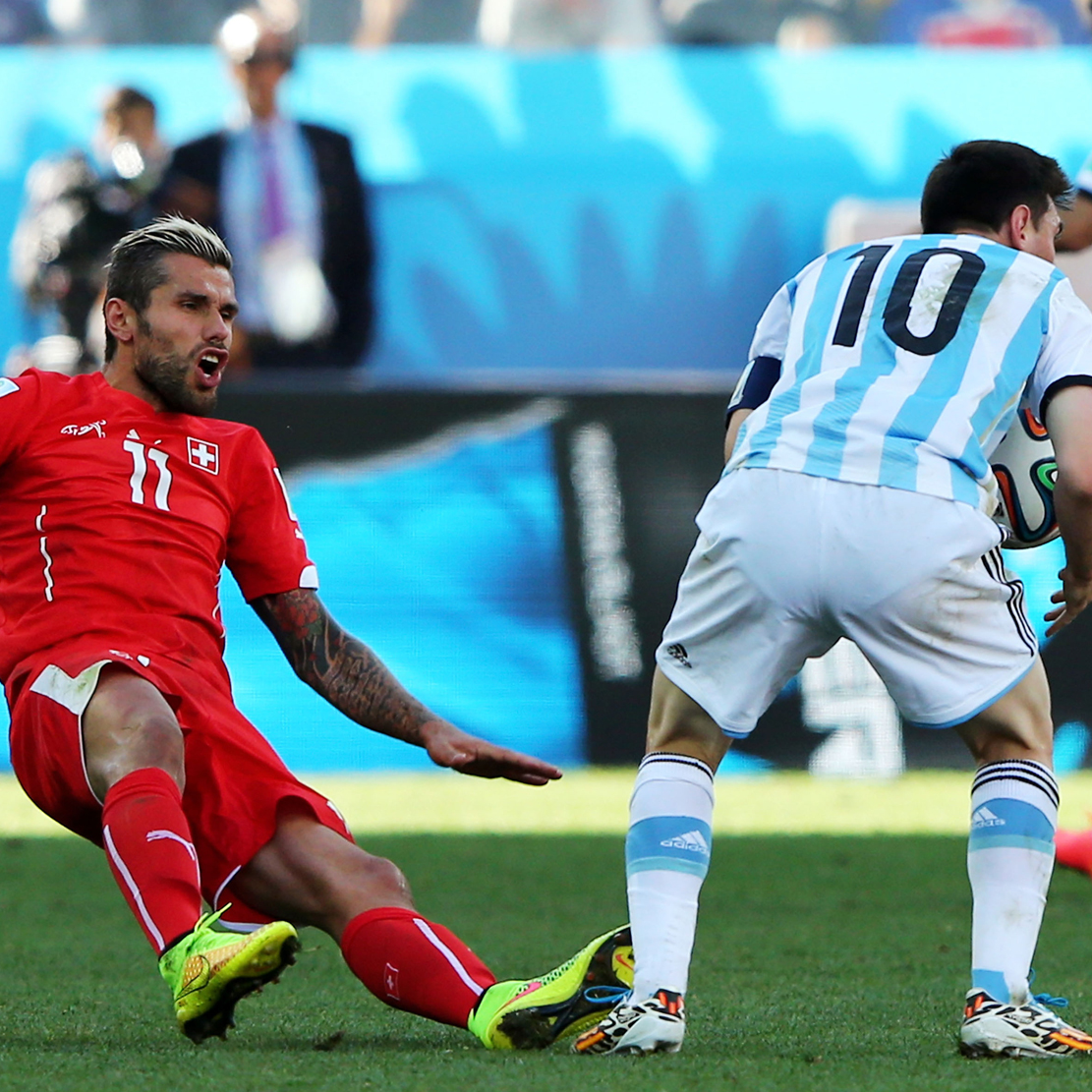 FULL TIME. Whoa. What a finish to the game. Argentina win 1-0 thanks to Di Maria finding inspiration in the 118th minute after a poor game. Switzerland missed a very close chance in additional time, but they will be very gutted about missing the free kick. Argentina make the quarterfinals, Switzerland go out.
120 + 5' And he messes it up! Shaqiri hits the Argentinian wall and Argentina are through to the quarters!
120 + 4' Shaqiri gets hacked down by Garay of Argentina and the Swiss have a free kick!
118' GOAL! Di Maria puts Argentina into the lead! His final pass has been very poor all day, but this time a fantastic pass from Messi after skipping his defender, finds Di Maria's curling right foot which beats the incredible Swiss keeper!
115' Basanta concedes a free kick after a challenge on Seferovic of Switzerland, but the kick comes to nought.
112' Swiss substitute Dzemaeli for Mehmedi.
110' Argentina continue to probe down the right, but Di Maria's cross is again poor, its straight to the keeper. He has been very poor with his final ball today.
108' Another great save by the Swiss keeper! Di Maria, who has looked dangerous all game, strikes from the edge of the area and forces Benaglio to tip it wide, just in time.
106' Switzerland gets us underway in the second half of extra time. Basanta has been substituted for Rojo.
End of first half of extra time. Argentina continue to be frustrated by a spirited Switzerland, and the latter even enjoyed a decent spell of possession in the middle. Scoreline 0-0
105' Argentina's Rojo is hobbling off the field.
102' The handful of Swiss fans in the crowd are cheering hard as Switzerland enjoy a long spell of possession, despite many attempts by Argentina to change that.
99' Palacio of Argentina is penalised for committing a foul, but Argentina clear the resulting free kick.
Angel Di Maria has lost possession 37 times this game, all time record since 1966. [via @AamirSBrar]

— Purely Football (@PurelyFootball) July 1, 2014
98' Switzerland are doing a decent job at the moment. They are seeing plenty of the ball at the moment and they are keeping Argentina out of the attacking third.
95' Palacio's header, however, is saved by Benaglio, another good save. What would Switzerland do without his theatrics tonight?
94' Djourou concedes a free kick following a challenge on Higuain
94' Decent cross from Shaqiri into the penalty area for the Swiss, but no striker to back him up.
Argentina kick us off in extra time
We are back for the first half of extra time. Argentina looked more and more dangerous through the second half, but could not score thanks to Benaglio's acrobatics.
FULL-TIME The Swiss have managed to drag Argentina into extra time after denying Messi for ninety minutes, as he grew increasingly dangerous. It is Swiss keeper Benaglio who deserves credit for two spectacular saves. Score 0-0
88' Switzerland are doing well to hold on, but Argentina are piling on the pressure and Messi is becoming increasingly dangerous
87' Messi wins the ball and the free-kick and when attempting to take the set-piece quickly, he barges the Switzerland midfielder over. He escapes a yellow card.
85' Switzerland clear the corner, but only just, as this game looks headed into extra time.
84' Sabella's men probe down the left yet again. Rojo does well to come inside Fernandes, whose attempted tackle is feeble. Di Maria receives the cut-back and tries to smash a half-volley towards goal, but it is blocked behind for a corner.
82' Seferovic has been brought in for Drmic, frankly Argentina may not mind that.
79' Argentina get a free kick, but Switzerland manage to clear it
78' Messi makes another great run into the Swiss area. Benaglio makes the initial stop but can't hold on to it and his defenders help clear the danger.
74' Who heads wide! Argentina had a brilliant chance to score a goal there...Messi tears through the Swiss defence and puts in a great cross to Palacio. Palacio was unchallenged but his header went wide!
73' That was completely unnecessary, he could have caused Di Maria a hamstring injury. Meanwhile, Argentina replace Lavezzi with Palacio.
71' He hasn't been on the pitch for long, but Fernandes is the latest Swiss player to earn a booking. Di Maria races away from his own area and he is callously cut down in full flight as he approached the Switzerland half.
69' Messi! The best player in the world beats two defenders, then takes the ball on the bounce, putting in a curling half-volley towards the goal, but its just over the bar! That was Messi's first shot at the goal tonight.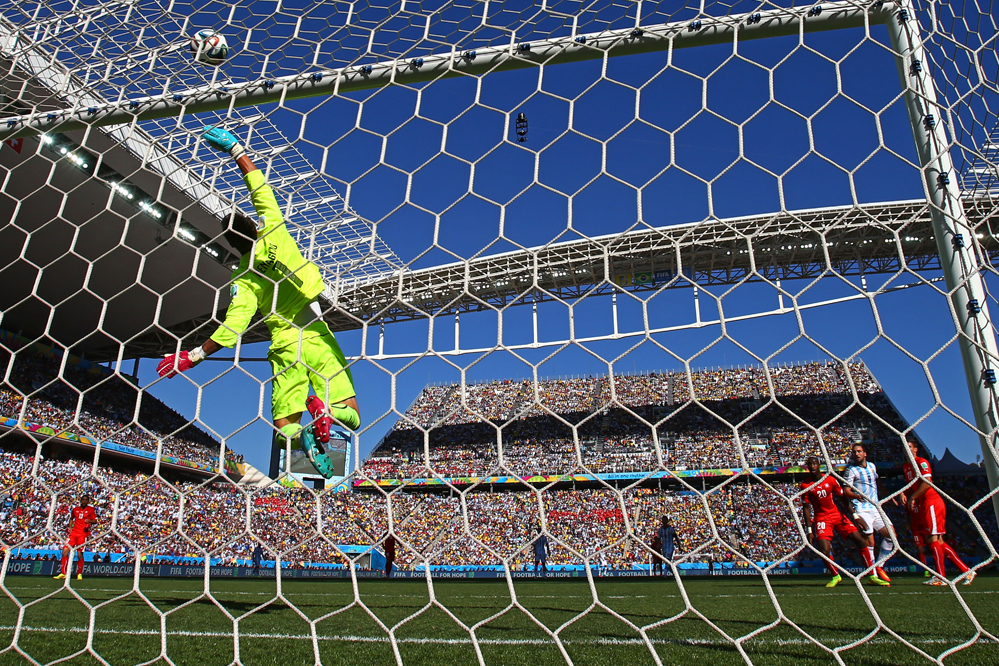 66' Gelson Fernandes has come in for Xhaka for the Swiss. Xhaka was getting close to a yellow card.
63' Rojo crosses from the left, and his kick is received by Higuain, whose header is brilliantly blocked by the Swiss keeper, who gets a hand to it just in time to send it over the goal.
61' Scharr sends Messi flying after a challenge and Argentina get a free kick, but they can't convert it.
59' Almost a goal for Argentina. A great pass by Messi from the centre is intercepted by Rojo, whose curling cross is met by a diving Swiss goalkeeper, who barely parries it away.
54' Both sides are looking to pour men forward after the break, as the game gets a little more aggressive.
50' However, once again Argentina are unable to convert the free kick into a goal.
49' Xhaka is lucky to escape a second yellow card there. Messi jinked in from the right and easily skipped past the 21-year-old, who tripped the Barcelona man up.
We are back for the second half.
HALF-TIME Switzerland have done well to hold Argentina to 0-0 at half-time, and deny Messi. However, they will be gutted that a golden opportunity at a goal was missed by Drmic.
42' Drmic drives down the left side but Argentina are all around him, so he wins a corner for the Swiss. Shaqiri takes the corner but it comes to nought as the Argentinian defence block it.
39' Oh God. That was a Titanic miss from Switzerland. Drmic had received a really good pass from Shaqiri, but he throws it away. There was no Argentina defender in front of Drmic as he raced towards the goal, but the ball met Romero's hands.
36' Xhaka of Switzerland has earned a yellow card after taking down Lavezzi.
34' However, the free kick cannot be collected by the Swiss strikers as Romero puts his own header in to deflect it away
34' Shaqiri gets a free-kick for the Swiss after Argentina take him down by Lavezzi.
29' After a looping header, Ezequiel Lavezzi shoots but Bengalio is up to the task for his first big save of the game.
27' Shaqiri earns a corner for Switzerland. Mehmedi takes the corner kick, which is intercepted by Xhaka, whose kick nearly results in a goal, but Romero blocks it expertly; now there's a rebound which gets to Lichsteiner who fires at the goal, Romero saves again.
25' However, Messi's kick was intercepted by Higuain, whose header is high over the bar
24' Mehmedi has committed a foul, and Argentina get a free kick, taken by Messi.
21' It's Di Maria this time who commits a foul on Behrami. Both teams are trying to control the midfield.
18' This time Behrami concedes a foul on Di Maria, after tackling him down. Maria is not pleased that there's no yellow card yet for the Swiss.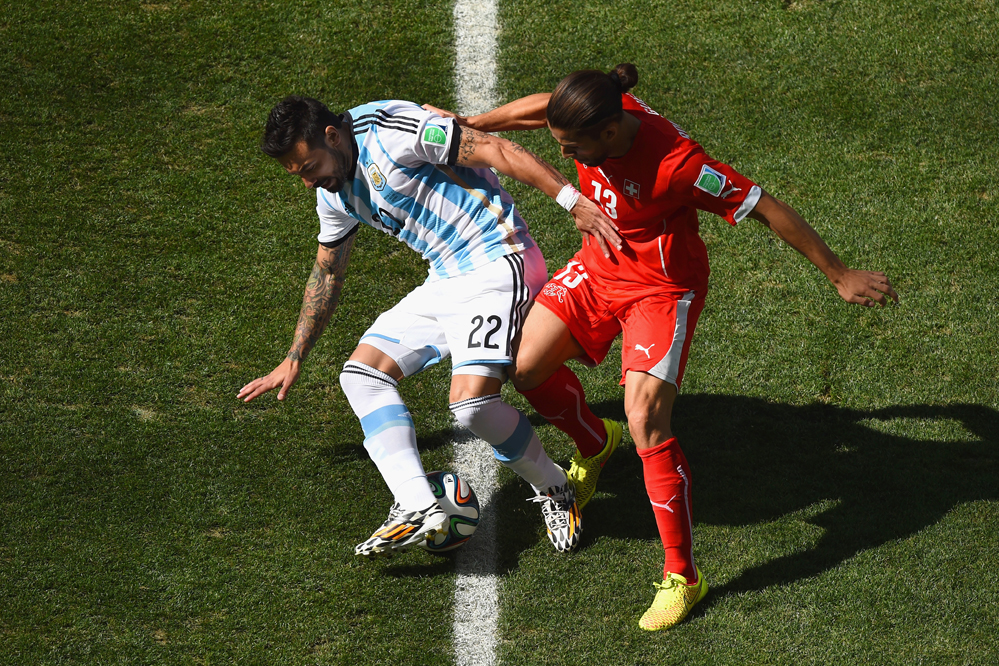 15' Messi is awesome. He recieves a pass inside the Swiss half and then keeps the ball bouncing, knocking it between two defenders who have no option but to nudge him over
11' Xhaka tugs Di Maria now and Argentina win another free kick, but not much comes off it.
9' Shaqiri wins Switzerland a corner as he is crowded out and then plays the ball off Zabaleta. They are unable to make use of the set-piece, though, as Argentina clear their lines easily.
6' Lichstenier of the Swiss fells Di Maria after the striker beats him, causing Maria to demand a yellow card, but to no avail.
3' Shaqiri goes in hard on Argentina's Lavezzi, causing a foul
2' The stadium is dominated by sky blue shirts, Argentina seem to have the bulk of fan support here
1' KICK-OFF Argentina get us started in Sao Paulo!
Sabella has gone with a 4-3-3 formation, his usual, for Argentina
The Argentinian national anthem is over and now the Swiss anthem has begun
The teams are coming out to the middle to loud applause from the crowd
The two teams have announced their lineups:
#ARG LINE-UP: Romero, Garay, Zabaleta, Gago, Di Maria, Higuain, Messi (c), Mascherano, Rojo, Fernandez, Lavezzi #ARGSUI #WorldCup #Joinin

— FIFAWorldCup (@FIFAWorldCup) July 1, 2014
#SUI LINE-UP: Benaglio, Lichtsteiner, Inler (c), Xhaka, Behrami, Rodriguez, Mehmedi, Drmic, Djourou, Schar, Shaqiri #ARGSUI #WorldCup

— FIFAWorldCup (@FIFAWorldCup) July 1, 2014
Welcome to the live coverage of the Argentina v/s Switzerland match at Sao Paulo at 9:30 pm IST.
Here are some statistics about the two teams' performance on the field so far:
STATS CENTRE: Compare teams in our exclusive #WorldCup statistics hub #ARG #SUI #ARGSUI - http://t.co/J86B1oZBC9 pic.twitter.com/zSZAEtoPtQ

— FIFAWorldCup (@FIFAWorldCup) July 1, 2014
Argentina are hot favourites to win this match and enter the quarterfinals, but perhaps only due to Lionel Messi and reputation. They have managed to scrape out victories by a difference of one goal in every group match they played, with Messi coming to the rescue each time. Against Switzerland, they will have to up their game considerably, finding spaces in the Swiss defence and taking their chances at the goal.
Switzerland have little to lose but having made it to the Round-of-16 by beating Honduras 3-0 thanks to Shaqiri. Argentina are no Honduras though and there is no second chance in the Round-of-16. Read the Argentina v/s Switzerland match preview here
Argentina will be looking forward to end a 28-year wait to win their third World Cup. The closest Argentina came to win their third World Cup was in 1990, but lost to West Germany. But this World Cup, Argentina have different plans. The team won all their group stage matches, which helped them secure the top spot of Group F. Though the team struggled with goal-scoring, Argentina won against all teams in their Group. They defeat Bosnia-Herzegovina 2-1 in their opening match. In their second match against Iran, Argentina struggled through-out the match to break the dead-lock. But Lionel Messi had some other plans as he gave the Argentines the lead on the 90th minute to secure the victory. In their last group match against Nigeria, Argentina had to fight hard for their victory. Firstly, they took the lead in the 3rd minute, but conceded it a minute later to Ahmed Musa's strike. Lionel Messi restored the lead at the half time with the help of a wonderful free-kick, but two minutes into the second half, Ahmed Musa equalized for the Nigerians for the second time in the match. But after struggling, Argentina took the lead for the third time, with Marcos Rojo in the 85th minute. But despite the struggle, Argentina won all their group stage matches and progressed for the knock-out phase. Read the Argentina team profile here
Read the Switzerland team profile also
Lionel Messi seems to be a man on a mission - to take Argentina to World Cup glory. With four goals in the World Cup to his name, Messi is Argentina's top goal scorer. He will be looking forward to follow the foot-steps of Diego Maradona and help Argentina win their third World Cup. Read Messi's player profile