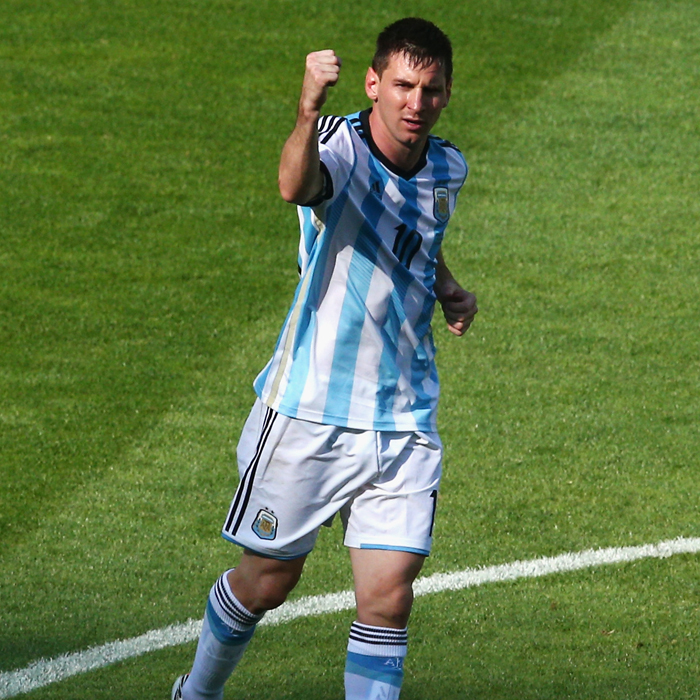 FULL-TIME It's over and Argentina have got out of jail. A goal from the omnipresent Messi in extra time has given Argentina a facile win over Iran. The Iranian defence was very compact for the most part, but again, a bit of magic from Messi sealed it. Argentina though, will be quite worried about their performance tonight. Score Argentina 1-0 Iran
90 + 1' GOAL! Messi scores for Argentina in additional time! Cuts in from the right, and shoots into the far post. Argentina 1-0, and Messi has saved them the blushes. Two minutes of extra-time had been added.
That's what Messi does..... Doesn't matter what minute he can pop up and do something like that!! #class

— Chris Wood (@officialcwood) June 21, 2014
Lionel Messi with the beautiful winner http://t.co/l7Mxxy0d1g

— Football Vines (@FootballVines) June 21, 2014
89' Messi makes a good pass to an Argentinian forward after a few good touches, but the forward cannot keep the ball in play
86' Good save by Argentina! Romero denies Ghoochannejhad once again after the No16 is put in clear on goal. His shot isn't as strong as he would have liked but it still forces a good save out of the keeper
85' Alireza comes off the bench to replace Dejagah for Iran
83' Iran get a free kick, which is so poor that the ball's first bounce is left of the goal, nearly behind it
82' Now Rojo commits a foul
80' D Maria takes a corner kick, and Lavezzi swings from the pass. Rojo is close but his effort is off target. The frustration continues for Argentina.
STATS: #ARG finding it tough to break down compact #IRN. Real-time #ARGIRN statistics here - http://t.co/tpa3HjoDHc pic.twitter.com/LEMVW0mn3y

— FIFAWorldCup (@FIFAWorldCup) June 21, 2014
76' Heydari replaces Masoud for Iran, which is wise considering how recklessly Masoud had been playing. Lavezzi replaces Aguero for Argentina, and Higuain is replaced by Palacio
75' Another goal saved by the Iranian keeper, who has been fantastic today. This time its Maria who gets a pass from the centre and plays a curling shot, but straight to the keeper.
73' Messi! He fails again as the resulting free kick hits the side netting!
73' Masoud of Iran has been handed a yellow card. He challenged D Maria and it was once too many times
70' Messi gets a corner and swings, but again the Iranian defence is too strong
70' Iran are really making Argentina sweat in the second half.
68' What a save! Romero somehow gets a fingertip to Dejagah's header, who connected on the end of a great cross, and the keeper tips the effort over the bar.
67' Degajah gets a corner, Hosseini's shot hits the target, but Romero blocks the shot
64' Degajah takes a corner kick. Panic in the box as the ball settles just in front of Romero's goal! Ghoochannejhad comes closest but can't get the ball out from under his feet and Gago clears.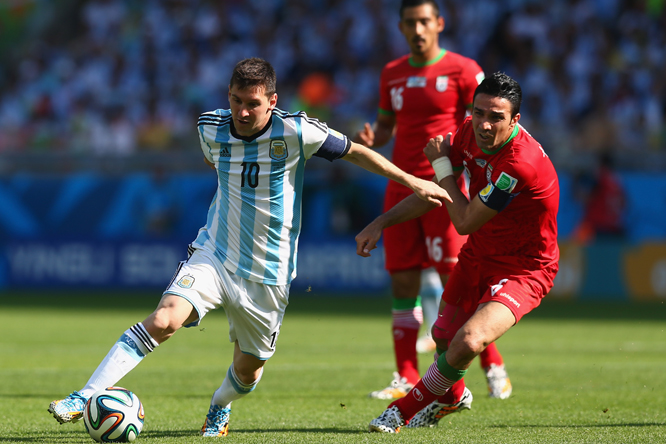 60' Messi...fails to score! Messi darts through the middle, beats two defenders and makes a curling kick into the left bottom of the goal, but it is agonisingly off target!
59' Poor attempt by Gago as it goes flying over the bar
55' Iran have been denied a penalty! Zabaleta lost focus when running back to chase the ball and Dejagah nipped in front when the right-back tried to clear his lines. However, he caught the Fulham man with the swing, bringing him down without making much contact with the ball. But the referee denies a penalty.
54' Javed Nekounam of Iran gets a yellow card
50' Zabaleta of Argentina sees an effort go off target
47' Gago of Argentina gets a free kick. Rojo beats a few defenders with clever touches but there are no Argentinians in the box to back him up
HALF-TIME Argentina will be very disappointed not to have scored at half time. They had many chances, many shots at the goal but very few on target. Iran will be happy to hold Argentina to 0-0 at half-time.
45 + 2' Iran get a free kick, which is cleared by the Argentinian defence
45' Argentina get a corner, but again the header is off target, it's just over the goal
44' Argentina are getting desperate as half-time nears, they are fighting tooth and nail for possession
43' Another curling kick from the left flank is saved by the Iranian keeper
42' Degajah gets a free kick after a foul by Zabaleta and the kick is good, Argentina are forced to clear
38' Zabaleta of Argentina concedes a free kick following a challenge on Dejagah of Iran
34' Fernandez of Argentina commits a foul, but Iran fail to capitalise
33' Argentina get a free kick, taken by Messi. It's a good curling shot by flies just over the goal
30' Once again Messi is blocked superbly by the Iranian keeper, and Argentina are getting frustrated now.
26' D Maria with another good shot on target, but it is saved by Hosseini
24' Argentina's No 16 Rojo puts in a header which is just wide. He rose up well but his effort wasn't accurate enough.
22' Superb curling shot by Sergio Aguero gets superbly blocked by the Iranian keeper
19' Di Maria of Argentina puts in a curling shot after a good pass, but its way over the goal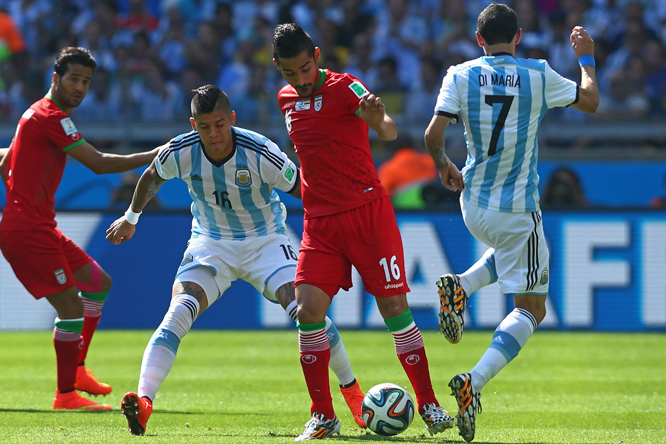 16' Rojo of Argentina commits a foul, allowing Iran to take a cormer. which they miss
13' Diego Maradona is in the stands
11' Messi....Messi's effort is on target but the Iranian goalkeeper puts in a dive to save, which is applauded even by the Argentinians
11' Di Maria breezes past a defender and then fires a cross into the penalty area, but is blocked by the Iranian defence
7' Masoud of Iran commits another foul, he's pushing the referee here
5' Aguero shows great skill to manoevre the ball towards the goal but his first touch is poor and the Iranians dispossess him
3' Twenty years to this day, Diego Maradona played his last game for Argentina, as Iran miss an effort
1' Reza of Iran concedes a free kick following a challenge on Gago of Argentina
1' Masoud of Iran commits a foul
KICK-OFF Iran begin the proceedings in Belo Horizonte
It's Iran's turn next, and they hold each other's shoulders as they sing proudly
Argentina's national anthem is first
Both Iran and Argentina will be looking for a better show today. Both teams looked in mediocre form against Nigeria and Bosnia-Herzegovina respectively.
The match is set to begin in under 10 minutes, and the national anthems are about to get underway
The Argentina v/s Iran clash begins at 9:30 pm IST. While Argentina struggled to beat Bosnia-Herzegovina in their first match, Iran drew with Nigeria in an uninspiring, goalless draw. Argentina are favourites but given the way the World Cup has played out so far, Lionel Messi and Co will be foolish to take the Iranian challenge lightly.
The lineups for the two teams are out:
#ARG LINE-UP: Romero, Garay, Zabaleta, Gago, Di Maria, Higuain, Messi (c), Mascherano, Rojo, F. Fernandez, Aguero #ARGIRN #worldcup #joinin

— FIFAWorldCup (@FIFAWorldCup) June 21, 2014
#IRN LINE-UP: Haghighi, Haji Safi, Hosseini, Sadeghi, Nekounam (c), Shojaei, Timotian, Montarezi, Ghoochannejad, Dejagah, Pooladi #ARGIRN

— FIFAWorldCup (@FIFAWorldCup) June 21, 2014
Argentina is set for a return to its habitual 4-3-3 formation in the Group F clash against Iran on Saturday. Coach Alejandro Sabella surprisingly started with a 5-3-2 system in his side's opener versus Bosnia-Herzegovina, but switched back to the team's favored formation after the interval. Captain Lionel Messi, who scored a wonder goal to seal a 2-1 victory for the Albiceleste, claimed on Monday he feels more comfortable in a 4-3-3, while defender Pablo Zabaleta also revealed he prefers the system. Read the whole match preview here
Barcelona's, and Argentina's magical player Lionel Messi has won the Champions League three times and the Ballon d'Or four times, but will need to win a World Cup with Argentina to earn his place alongside Pele and Maradona as a pretender to the title of greatest ever player. Messi was anonymous for about 60 minutes in the game against Bosnia-Herzegovina before bursting to life with a splendid goal. Read Messi's full player profile here
As a 19-year-old, Javier Mascherano was so good that he made his full Argentina debut before making his league debut for River Plate. Despite his modest stature, he has proved his worth in central defence at Barcelona thanks to a tireless pursuit of possession and great passing skills. He plays in defensive midfield for Argentina and has been captain since 2008. He first hit the spotlight when Argentina were beaten finalists in the 2004 Copa America. Read Mascherano's full player profile here
Sergio Aguero is another important player for Argentina. Sergio Aguero tipped the balance of power to the blue half of Manchester in 2012, his last-minute goal on the last day of the Premier League season sealing the title for City on goal difference. With Argentina he forms a terrifying attacking trident alongside the masterful Lionel Messi and the goal-hound Gonzalo Higuain. Aguero is the oil in the machine, brilliant in a tight space, fast thinking, great technique and a killer final touch. Here's Sergio's full player profile
The Argentina national football team is one of strongest teams from South America. It is controlled by the Argentine Football Association (AFA), the governing body for football in Argentina. The home stadium is Estadio Monumental Antonio Vespucio Liberti and their head coach is Alejandro Sabella. Nicknamed 'Albicelestes', Argentina has appeared in four World Cups. They made it to the first ever final in 1930, but lost 4–2 to Uruguay. Argentina won their first ever World Cup in 1978, as they defeated the Netherlands 3–1. Diego Maradona led Argentina towards their second World Cup glory in 1986. After winning their first game against Bosnia-Herzegovina by a margin of just 2-1, Argentina need a big win against Iran to regain their confidence. A win would also take them into the Round of 16. Here's the team's entire profile
Iran is the highest ranked Asian team in the FIFA World Cup 2014 on No 43. With the help of Carlos Queiroz, former Real Madrid manager, Iran qualified for the FIFA World Cup 2014. They qualified for the FIFA World Cup 2014 as group winners. However, a dull draw against Nigeria means Iran must pull up their socks and desperately seek a win to stay in contention. Their opponents though, are the mighty Argentina. Read Iran's team profile here