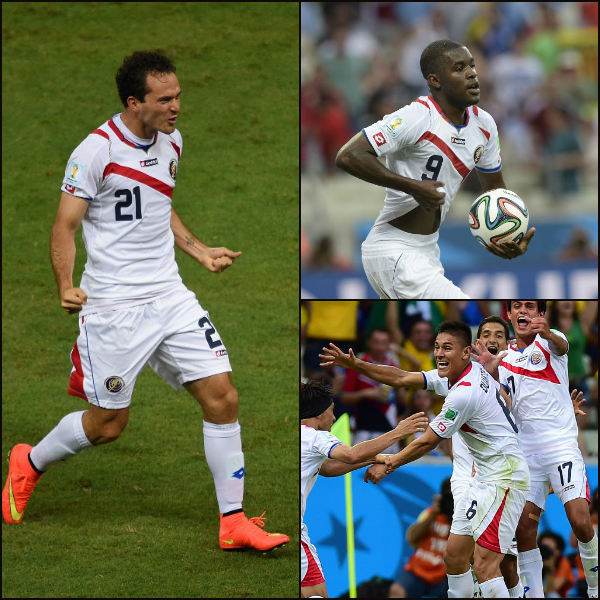 LIVE UPDATES:
* Costa Rica defeat former World Cup champions Uruguay winning with a final score of 1-3. Read More
* Goal Scorers: Uruguay - Edinson Cavani; Costa Rica - Joel Campbell, Ó. Duarte, M Ureña
95' The final whistle is blown. Costa Rica win 3-1, in what is a historic victory for the country.
94' Maxi Pereira receives a red card.
92' Uruguay struggle to make something happen, but are at a loss.
90' There will be 5 minutes of added time.
84' GOAL! M Ureña delivers Costa Rica its 3rd goal, with an assist from Joel Campbell. Thus, cementing their win, with just 6 minutes of play left.
83' Martín Cáceres receives a yellow card
76' Substitution: Cristian Rodríguez - Abel Hernández
71' Substitution: Y Tejeda José - Miguel Cubero Loria
70' Great save by Navas as he fends off what could have been another goal.
69' Borges makes a valiant effort from a distance but his try sails past the top of goal.
62' Uruguay seem to be faltering, as the second half is underway. Their defence isn't as tight as it was in the first half.
60' Substitutions: Diego Forlán - N. Lodeiro, Walter Gargano - Alvaro Gonzalez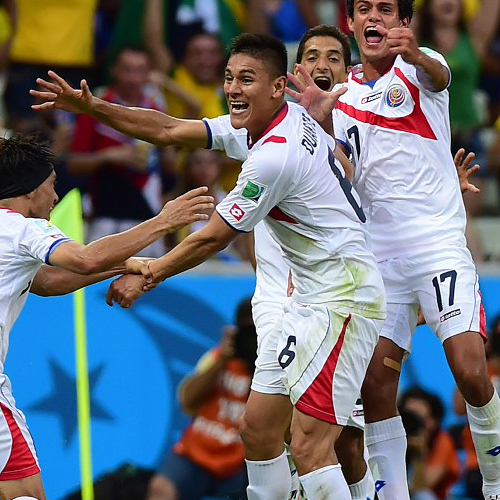 58' GOAL! Ó. Duarte scores a header for Costa Rica, his first international goal.
56' Walter Gargano gets a yellow card.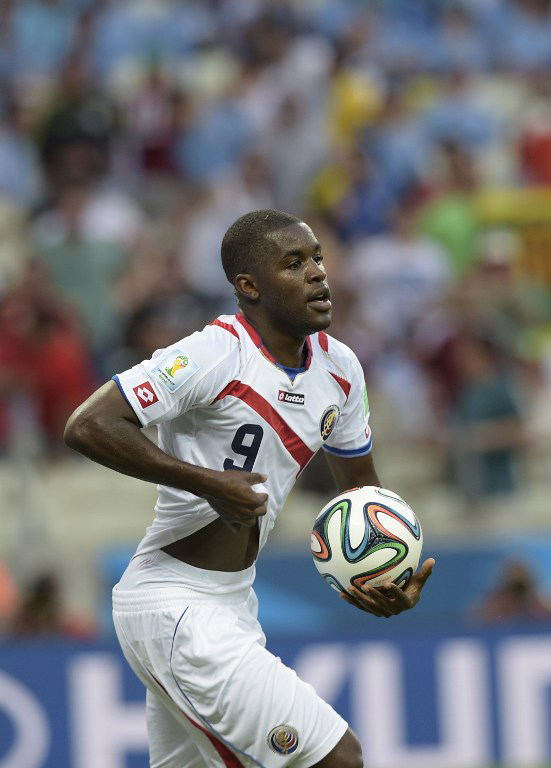 54' GOAL! Costa Rica's Joel Campbell scores making the score 1-1.
52' Cavani tries yet again, shooting from 25 yards out.
51' Luis Suares warms up, looks like he will be playing this match even though he was rumoured to be out due to an injury.
50' Diego Lugano receives a yellow card
* 2nd Half Resumes
HALF TIME
46' Costa Rica reclaim possession with a 54%. 2 minutes of added time.
45' Costa Rica's keeper Navaz delivers a brilliant save from a deflected shot by Diego Forlan.
43' Costa Rica miss a good chance, with Gonzalez missing a header.
39' Costa Rica still can't seem to find their way through the centre, Gargano and Arevalo seem to be holding their own. Balls are getting intercepted left, right, and centre.
36' Campbell still trying as much as he can to create some room, but the Uruguay defence seems to be keeping him at bay.
27' Costa Rica's Campbell is really in form, attacking from any side possible. In a stunning try, the ball just about misses the goal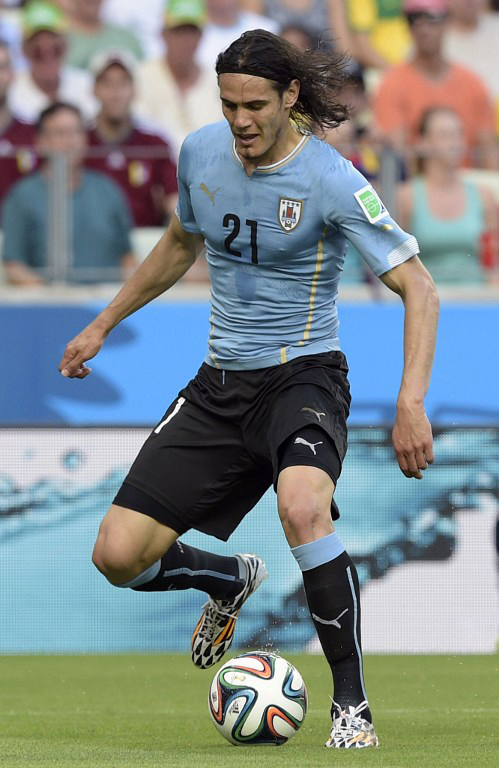 24' GOAL! Edinson Cavani ​makes full use of the foul, scoring the first goal of the match.
22' Uruguay win a penalty from a foul. Cavani to take the penalty.
Read Also: #Nike FIFA ad #RiskEverything gets a more creative sequel featuring animated versions of Ronaldo, Rooney, Neymar
16' The ball possession seems to be dominated by Uruguay as they seem to be locating cracks in the Costa Rica defence, but as of yet neither team has conceded a goal yet.
14' A goal was tried by Diego Godin, but the referee declares it as offside.
LIVE: #URU & #CRC are underway in #worldcup Group D in Fortaleza #URUCRC #worldcup #joinin - http://t.co/jnAtzeAHmQ pic.twitter.com/XK3ZH4RCAA

— FIFAWorldCup (@FIFAWorldCup) June 14, 2014
10' The referee awards a free kick after the ball strikes Lugano's hand in the box.
9' In a worthy play, Arsenal's Campbell dodges past a couple of players before passing a smooth the ball out to Bolanos.
8' Costa Rica goalie K Navas gives a great save in what might have been an early goal for Uruguay.
6' The game is off to a good start with both teams seeming to have almost equal ball possession, with Uruguay coming out a head by just a nose.
* The whistle sounds off as Kick-off begins.
* The national anthems begin.
* The players arrive on the field, ready for the match. Uruguay's star player Luis Suarez is to miss the match due to an injury. Read More
* The FIFA World Cup match between Uruguay and Costa Rica is set to begin in a short while.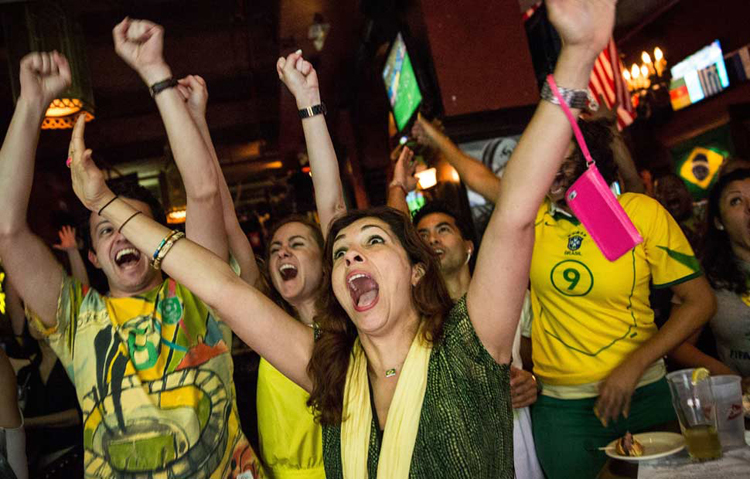 As expected, Luis Suarez only fit enough to make the bench for #URUvsCRC. Cavani & Forlan start pic.twitter.com/odzczoQLBt

— Ben Smith (@BenSmithBBC) June 14, 2014
Group D contains England, Uruguay, Italy, and Costa Rica. Although this match seems to favour Uruguay with a landslide win, the next match will be a tooth and nail battle between England and Italy.
Uruguay enter the 2014 World Cup with considerable expectations after their surprising run to the semifinals in 2010, while Costa Rica, in their fourth World Cup, will be looking to get out of the group stage for the first time since 1990.
Uraguay has also won the FIFA World Cup twice, once in 1930 as the hosts after defeating Argentina 4–2 in the final.
World Cup specialist Uruguay heads into its opening match of the 2014 tournament against Costa Rica at Castelao, Fortaleza with hopes of improving on the third-place finish they achieved in South Africa four years ago and replicating the 1950 success at Rio de Janeiro's Maracana that stunned Brazil. Oscar Tabarez's side, however, heads into the tournament under something of a cloud, with star striker Luis Suarez rated doubtful for much of the group stage. Read More
Team lineups for Uruguay v/s Costa Rica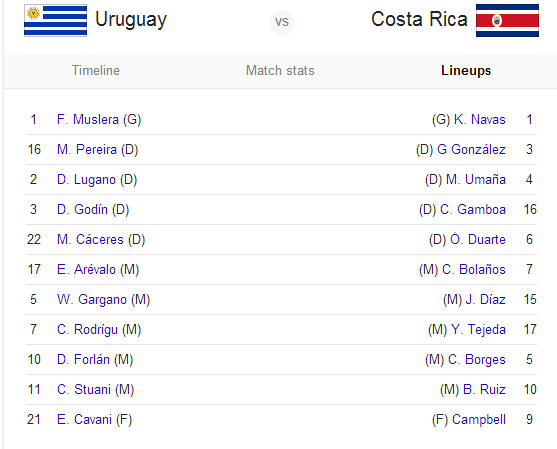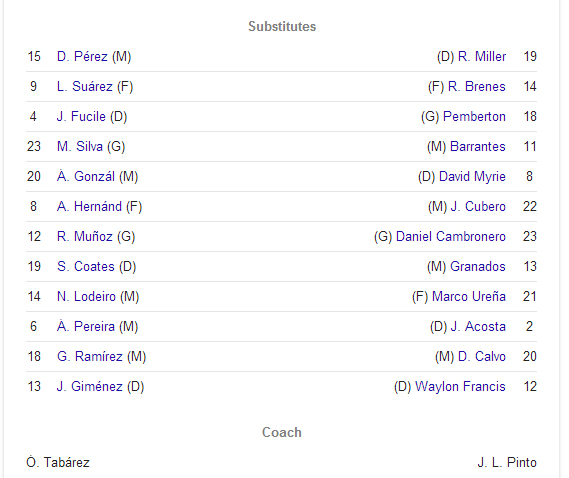 Uruguay travel to the 2014 World Cup with a certain relish having clinched the 1950 title by beating hosts Brazil 2-1 in the decider at the mythical Maracana stadium. It was their second World Cup trophy, they have made the semis three times, and have won the Copa America a record 15 times too. Although Uruguay are reigning continental champions, something went awry during the World Cup qualifying campaign and they had to book their ticket via the back door. For the full team profile, click here
Also Read: FIFA World Cup Colombia v/s Greece: James Rodriguez scores as Colombia beat Greece 3-0
A convincing qualifying campaign has given Costa Rica a boost as the Central Americans head south for their fourth World Cup brimming with confidence. The Ticos's captain Bryan Ruiz wants to at least equal their best ever World Cup showing down in Brazil by emulating or surpassing the 1990 group, who were led by Hernan Medford and his teammates. Back at Italia 90 Costa Rica qualified from a group featuring Brazil, Scotland and Sweden before taking a cold shower in their last-16 match with the Czech Republic, when they lost 4-1. For the full team profile, click here