In a completely one sided game, France dominated throughout. It was Karim Benzema that led France to victory with 2 goals, and a third that should have been his, but was attributed as an own goal by Honduras keeper Noel Valledares
LIVE UPDATES:
FULL TIME SCORE - France 3 - 0 Honduras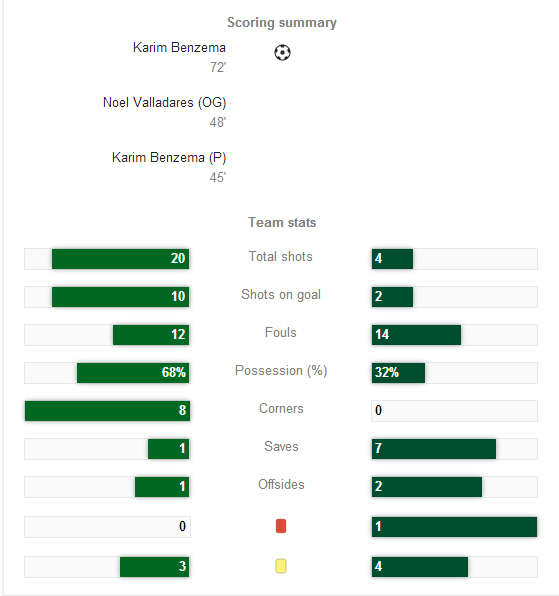 90' 3 minutes of added time.
83' Luis Garrido receives a Yellow Card with just 7 minutes of play left.
78' Mathieu Valbuena comes off for Olivier Giroud
72' Karim Benzema scores his second goal of the night, with an assist by Mathieu Debuchy. Should be a hat trick for the Real Madrid player, however the previous goal was counted as an own goal.
66' France earns a corner
64' Yohan Cabaye comes off and Rio Antonio Mavuba goes in.
63' Matuidi takes a great shot, looked like it was definitely a goal, however he hits just shy of the post.
59' Andy Najar comes off for Jorge Claros.
56' Paul Pogba taken off for Moussa Sissoko.
52' B. García receives a Yellow Card.
49' GOAL! Karim Benzema shoots a powerful kick, scoring once again barely 2 minutes into the second half. Goal line technology comes into play and confirms that it was in fact an own goal by Honduras keeper Noel Valledares.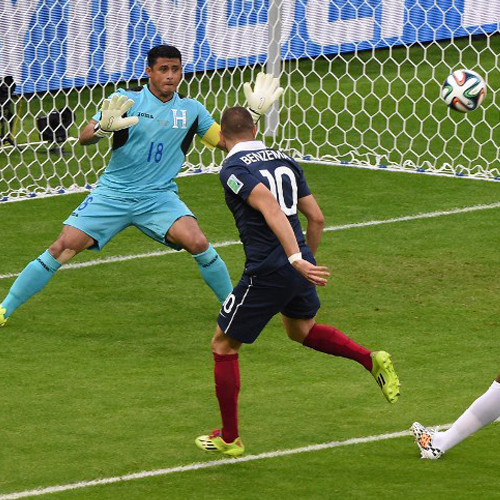 A look at Goal-Line Technology
45' Second half begins
HALF TIME
45 + 2' Yohan Cabaye gets a Yellow Card.
45 + 2' 3 minutes of added time.
45 + 1' GOAL! Benzema makes it 1-0 for France.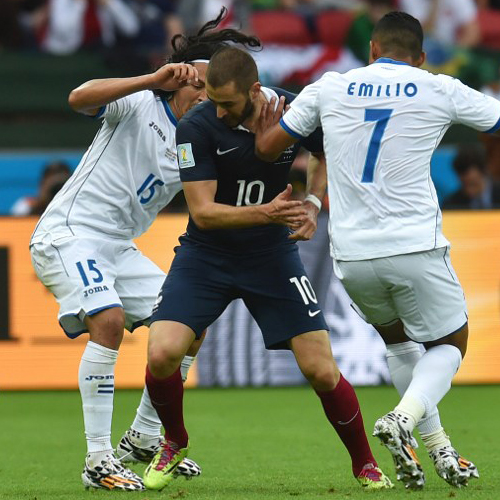 45' Benzema steps up to take the penalty.
43' France receives a penalty after W Palacios receives his second yellow card, resulting in his exit from the match. This is a dangerous situation for Honduras
38' The Brazilian referee seems to be ignoring the smaller fouls, continuing play past minor infractions.
36' France continues to push the Honduras defence, piling on the pressure at every turn.
30' Valbuena is trying everything to get past the Honduras defence, but can't seem to find his way through.
27' France's Paul Pogba and Honduras' W Palacios both receive Yellow Cards.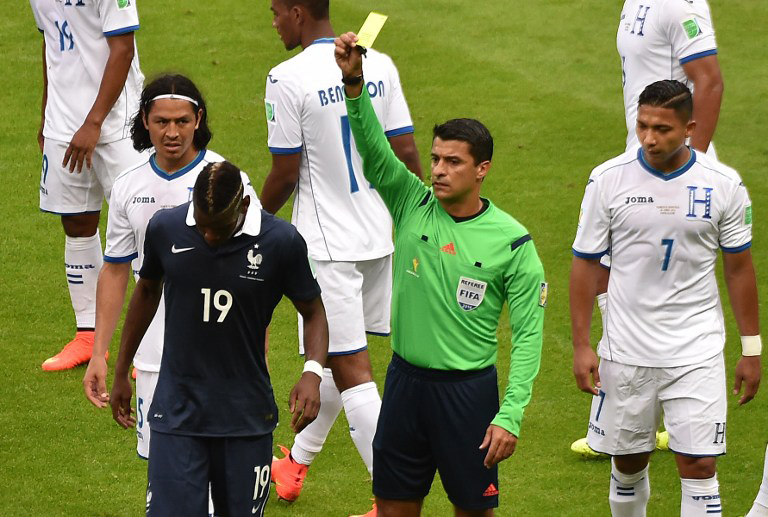 23' Griezmann shoots out another try! Honduras need to do something quickly, as they just barely avoid conceding a goal to the French attacking force.
22' France continue to attack, while Honduras maintains a very physical game, tackles are happening left, right, and centre.
18' Karim Benzema seems to be leading the French charge, trying to wiggle through Honduras' defence.
16' Great save from Valladares who tips the ball off the crossbar.
15' France seem to be dominating possession, Honduras will have to change this if they hope to win.
14' Honduras as expected is playing a very physical game.
12' France earn a free-kick right outside the Honduran penalty box. This could spell out to be a dangerous situation.
10' Patrice Evra receives a Yellow Card for a foul on Andy Najar.
4' It seems there was a technical glitch, and hence there were no national anthems.
2' Jerry Bengston strikes from a distance but is blocked by Rafael Varane. France will face a test of physicality here
KICK OFF: And the game is underway. Incidentally, France defeated Jamaica 8-0 in their last international match. Honduras drew 0-0 against England, a match which saw Honduras receive 8 yellow cards and a red card.
Oh...there were no national anthems as the referee asks the teams to shake hands
It's time for the national anthems
* The match between France and Honduras is to begin shortly.
Group E contains France, Honduras, Ecuador and Switzerland. France is the strongest team in this group, although Switzerland just played a fantastic match, putting up one hell of a fight. Read more about the match - Switzerland v/s Ecuador: Switzerland score second goal in 93rd minute to defeat Ecuador 2-1
Barring any extraordinary events, former World Cup champions France seem like the obvious winners tonight.
Les Blues supporters were left with heartbreak when coach Didier Deschamps announced the Bayern Munich star would not feature in Brazil. As did his team-mates, with defender Laurent Koscielny highlighting the winger's participation on building up dressing room atmosphere. "He's very important in the dressing room; he communicates well with everyone. His passion is crucial. But other players have come in and the atmosphere has remained very good, even though we still have to deal with those absences."
France bounced back with confidence and went to Brazil with an 8-0 thrashing over Jamaica. Back then, Deschamps gave a hint on what his backup plan would be like, with marksman Karim Benzema being moved to the left to make room for Olivier Giroud. It wouldn't be a surprise, however, if the Arsenal man exits the starting XI so Benzema can return to the centre, with Antoine Grizmann opposing Mathieu Valbuena on the left wing. Another doubt for the French boss lies in defence, as Debuchy and Sagna fight for the right flank spot, though the latter should be line up after the Newcastle man missed some training ahead of this encounter. Read the full preview of France v/s Honduras.
Read Also: France will look to overcome their own unpredictability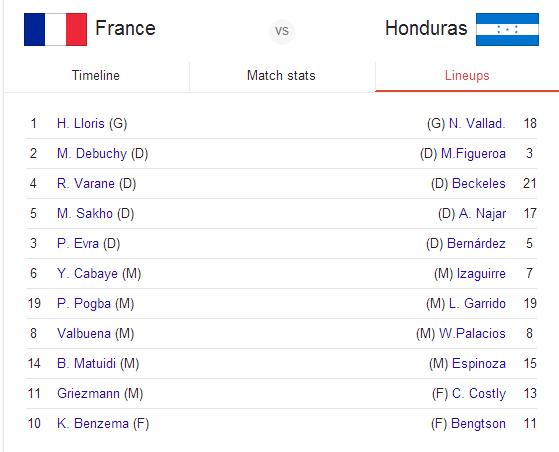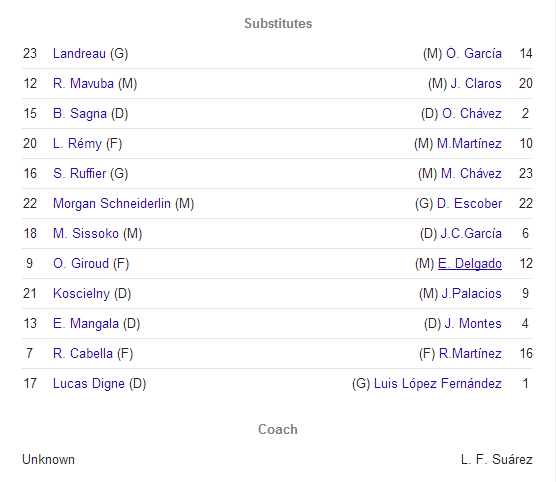 Although, France might be at a disadvantage as winger Franck Ribery will miss the 2014 World Cup due to a back injury. This news was confirmed by Didier Deschamps, the head coach of France, during a press conference on Friday afternoon. Read More.
It will be a tough World Cup for the French national team as their main man, Franck Ribery will miss the tournament due to injury. To make matters worse, the head coach Didier Deschamps dropped their Premier League winner Samir Nasri from the squad. Here's the full France team profile.
For their second straight World Cup finals and its third ever after 1982 and 2010, Honduras are hoping to play more than just a cameo role, with the Central American side set to take on Switzerland, France and Ecuador in a challenging but not overly daunting group. During qualifying Honduras enjoyed a historic victory at Mexico's Aztec Stadium, a 2-1 win which will live long in the memory alongside their home triumph over the United States by the same scoreline. Those two results will help the Catrachos (as Hondurans call themselves) to dream of other scalps. Read the full Honduras team profile.
Also Read: FIFA World Cup Brazinga 2014: Cup Star Karim Benzema