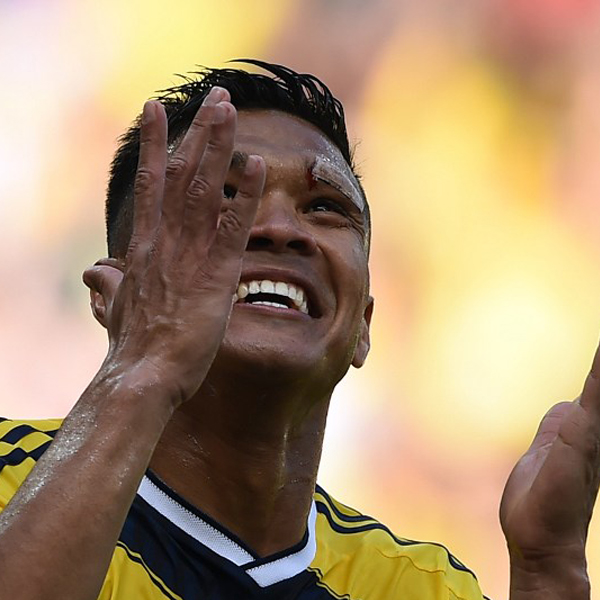 FULL TIME, Yes, the whistle has sounded and the Colombia fans erupt, this has really been a clinical victory. Simply put, Greece didn't take their chances, Colombia did.
90 + 3' GOAL! Third goal for Colombia, James it is, and now it really is over. Assist Cuadrado.
85' Greece are failing to take their chances and the writing is on the wall
83' The Greeks look tired now, but they are still pushing for it even as they fail to get a penalty
81' Now the teams are merely exchanging possession in the centre
79' James is trying hard for a third goal. He bursts forth into the Greek area after holding possession for a long time, but gets stopped by a defender
C'mon, Wazza, and give us a hat trick! #fifa2014 #worldcup2014 #threelions @waynerooney http://t.co/GZwxKGr9z5

— Geof Kirby (@GeofKirby) June 14, 2014
78' Georgios Karagounis is substituted for Panagiotis Kone, which means Kone's attacking effort is over without bearing fruit
77' Armero hits a low shot which eventually goes to Karnezis' hands
74' S Arias is substituted for Pablo Armero
70' Mitroglou unleashes a powerful effort, but his shot goes right side and deflects off Yepes anyway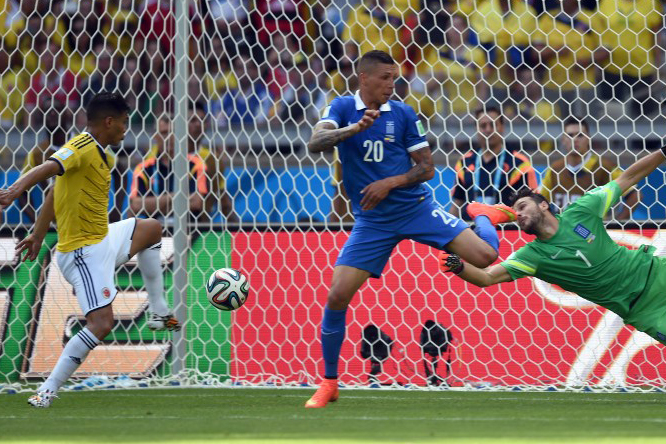 Greece have done a good job to keep Colombia restrained in their penalty area in the second half
68' Colombia - Mejia gets substituted for Aguilar, who was the assist for the second goal
64' Konstantinos Mitroglou is being substituted for Gekas now. Mitroglou has a lot to prove.
63' A brilliant pass from the right flank leads into a header. The Greek striker Gekas, however, only manages to smash it into crossbar. What a let-off for Colombia!
58' GOAL! That's the second goal for Colombia and the team goes bonkers. A kick from the left flank was blocked by the Greek keeper but his save ricocheted into the legs of Teófilo Gutiérrez who scored
55' Dimitris Salpingidis now gets a yellow card
53' The free kick taken by James is blasted straight into the wall
Sokratis charged into Ibarbo from about 30 yards and took him down down, earning the referee's ire
52' Sokratis Papastathopoulos gets a yellow card
50' James charges through the middle of the field, holding off two challengers before being cut off by the Greek defence
48' Colombia are doing well to keep the ball to themselves.
Surprised by the lack of diving being done by the Greeks. #FifaWorldCup #FIFA2014

— Sebastian Szajnocha (@checkmypumas) June 14, 2014
Samaras goes to the ground as he tries an attack from the left flank. The penalty is denied to Greece
47' We are back for the second half as Greece look to continue their quest for the first goal
HALF-TIME
42' After a struggle for possession, Greece earn a pass into the midfield. A strong kick from the centre is brilliantly blocked by the Colombian keeper.
Greece are finally starting to put together a good attack
40' Greece's Kone darts in from the left, skips two defenders and makes a pass into the penalty area, but the ball is collected by the keeper in time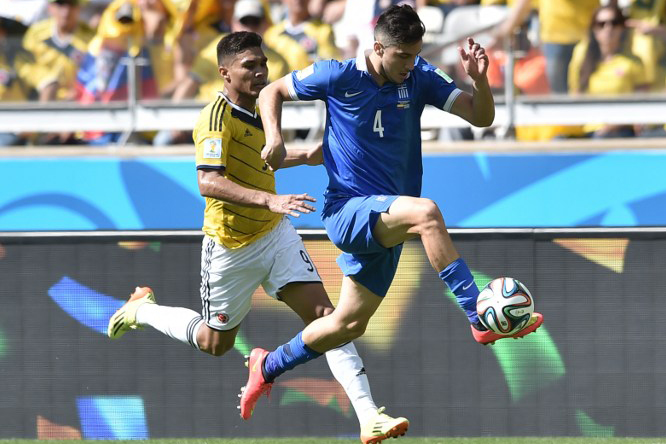 37' Ibarbo fires a high, deep cross from the left flank. James kicks it from the back post but way over the goal
35' Greece get another corner, can they make it count this time?
30' Gutierrez is off for medical attention, and Colombia are down to 10 men
28' Holebas is excellent in the pass this time, but Torosidis' header cannot make it past the Colombian defence
26' Colombia's Sanchez gets a yellow card after a short scuffle on the ground with some Greeks
21' Colombia are looking dangerous in attack but Guttierez in particular has not done much yet.
19' Colombia are back with possession, but Ibarbo's charge to the left and fancy footwork can't get beyond the Greek defence.
16' Greece have won some possession lately but they are just passing the ball around in defence
14' Colombia gets a free kick as Greece's Salpingidis cannot collect a long ball and instead delivers a high kick to Yepes.
It's always nice when you turn on the tv and realize Colombia already has a goal #FIFA2014

— Stephanie Loor (@StephLoor) June 14, 2014
11' The free kick gets fired into the wall, Holebas is the culprit. Greece really have to pull up their socks here, their attack has been shoddy and their defence weak.
10' Greece win themselves a free kick
7' Greece try for a comeback there, Samaras attacks down the left and puts in a good pass, but the midfielder hits it wide of the right-hand post.
5' GOAL! Colombia have got their first goal and the team is ecstatic! That was poor defence from Greece. The Greek keeper had abandoned his position and had to dive backwards, but to no avail.
3' Maniatis charged forward down the right and attempted a lofted pass in towards Gekas, but his over-hit ball sails all the way through to Ospina, who catches easily.
2' Colombia win a corner early
The stands are not full for this match, but the crowds will surely come in as the game progresses.
1' Greece gets underway, kicking from right to left
The whistle sounds and here we go
Lovely sunny skies as the teams make their way out to the field of play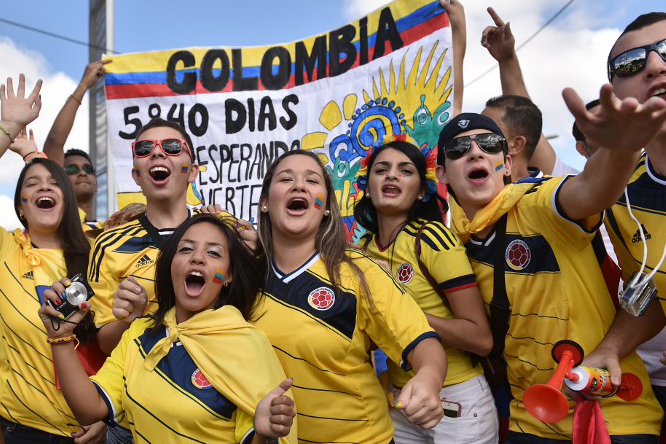 A huge cheer goes around the ground.
The national anthems are now underway
21:31 IST Saturday, 14 June 2014
Colombia (4-2-3-1): Ospina; Zuniga, Zapata, Yepes, Armero; Sánchez, Aguilar; Cuadrado, Rodriguez, Ibarbo; Gutierrez.
Colombia subs: Mondragon, Vargas, Arias, Carbonero, Mejia, Alvarez Balanta, Bacca, Ramos, Quintero, Martinez.
Greece (4-3-3): Karnezis; Holebas, Sokratis, Torosidis, Manolas; Kone, Katsouranis, Maniatis; Salpingidis, Gekas, Samaras.
Greece subs: Tzavellas, Christodoulopoulos, Moras, Tziolis, Mitroglu, Karagounis, Vyntra, Glykos, Kapino, Fetfatzidis, Samarais, Tachtsidis.
Greece have been given a huge boost by the return of Sokratis. Their preparation has been far smoother than Colombia's.
Colombia have had numerous injury troubles coming into this tournament. With Falcao out, Victor Ibardo comes in.
The FIFA World Cup match between Greece and Colombia is set to begin in a short while. Both teams are minnows, with Greece having won just 2 games in World Cup history and Colombia returning after 16 years. The team lineups for both Greece and Colombia have been announced.
Team lineups for Greece v/s Colombia
Group C appears to be full of opportunities for the teams that can grab points with Colombia and Ivory Coast most favoured to get through to the next round. The South Americans return to the World Cup after a 16-year hiatus with a game against Greece, the perpetual underdogs of the group looking to win their second-ever game in the World Cup.
For the full Greece v/s Colombia match preview, click here
Goal King Radamel Falcao's Colombia were the revelation of the South American qualifiers, but the striker himself will watch the finals from the stands after losing his race to get over a knee injury. The nation however make a welcome return to the World Cup fold at Brazil 2014 for the first time since France 1998. Colombia have been drawn in Group C with dark horses Greece, African giants Ivory Coast and the Blue Samurai of Japan. Here's the complete team profile for Colombia
The 2004 European champions Greece will appear at a third World Cup in Brazil after 1994 and 2010 and their fifth major tournament in the last decade, thanks mainly to a mean defence and a ruthless counter-attacking trap. Here's the complete team profile for Greece