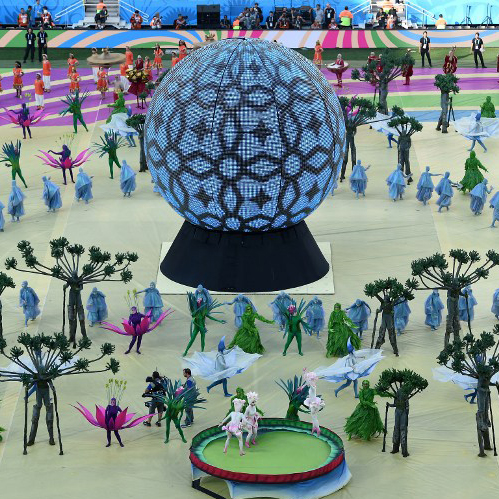 3:33 IST Friday, 13 June 2014
Brazil have defeated Croatia 3-1 to kickstart the World Cup with a win.
However, the night will be memorable for Marcelo's own goal which gave Croatia a 1-0 lead in the 11th minute.
Brazil also benefited from a few crucial calls, especially Neymar's penalty.
Brazil v/s Croatia has begun
1:11 IST Friday, 13 June 2014
The first match of the World Cup - Brazil v/s Croatia, is set to begin in a few minutes. The lineups have been announced:
Despite the technical problems with the sound, the World Cup 2014 has had a rousing start.
That is the end of the opening ceremony.
The official song Ole Ola comes to an end to a loud round of applause from the raucous fans.
Pitbull and Jennifer Lopez put up quite a performance tonight. The Brazilian 'flavour' is spread across the entire stadium.
[PHOTO]Jenipher Lopez and Pitbul pose for the camera back stage. #Openingceremony #Brazil2014 pic.twitter.com/qUv8C76lUr

— 97.3 Citi FM (@Citi973) June 12, 2014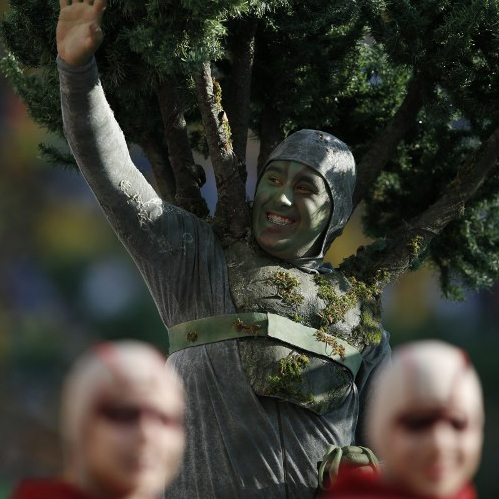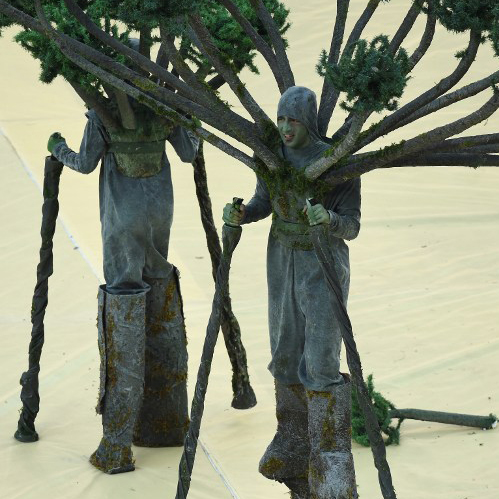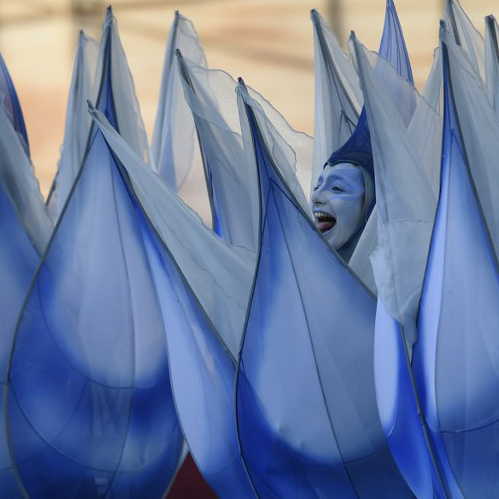 Ok Croatia, playing Brazil at home in @FIFAWorldCup is like wrestling @TheRock in Miami. Good luck, youll need it. @FIFAcom #worldcup2014

— John Cena (@JohnCena) June 12, 2014
The opening ceremony has begun at the Sao Paulo stadium in Brazil
Argentine players laughed off criticism of their supposed defensive weakness on Thursday and vowed there would be no repeat of their 2010 World Cup quarter-final thrashing by Germany.
Read: Argentina scoff at doubts over their defence, play for Lionel Messi
Bollywood superstar Shah Rukh Khan expressed his excitement about the World Cup:
And on the most exciting note….I am completely over the moon with FIFA starting. TV glue ready!!! pic.twitter.com/GE3nDAMbp4

— SHAH RUKH KHAN (@iamsrk) June 11, 2014
Protests against the World Cup continue in Brazil. Police fired tear gas, stun grenades and rubber bullets to break up dozens of protesters gathering near a Sao Paulo subway station with a red banner reading "If we have no rights, there won't be a Cup," saying they planned to march as close as possible to Corinthians Arena, the city's World Cup stadium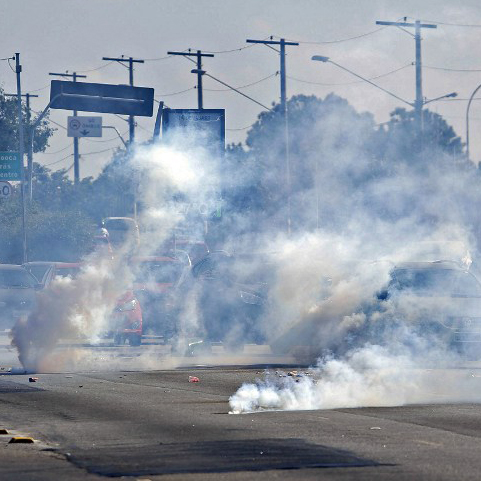 Argentina striker Gonzalo Higuain, who has had an ankle injury for the past month, is his team's only major worry for their World Cup opener against Bosnia-Herzegovina at the Maracana on Sunday.
Read: Argentinian striker Gonzalo Higuain a doubtful starter due to ankle injury
Pop superstar Jennifer Lopez, hundreds of dancers, drummers and gymnasts, and a paraplegic who will kick a football in a robotic suit will be part of the Opening Ceremony of the World Cup, which will begin at 11:45 pm.
Brazil are one of the favourites to win the World Cup. We take a look at some of the top goals scored by greats like Pele:
Watch: Short compilation of Brazil's World Cup goals scored by Pele, Kaka and many more
Honduras hit back at claims made by France coach Didier Deschamps on Thursday that they are overly-physical, believing the accusations are deliberately designed to influence referees against them.
Read: Honduras fear 'superpower plot' at the World Cup
United Nations Secretary-General Ban-Ki Moon wishes the teams the best of luck:
People are celebrating the start of the FIFA World Cup 2014 around the world in unique ways:
Slideshow: FIFA World Cup fever engulfs the world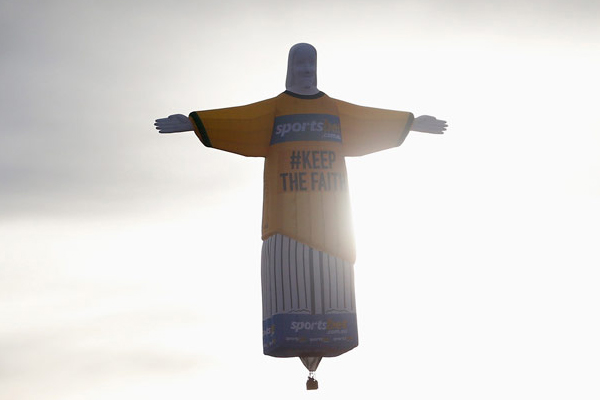 The enthusiasm for the World Cup is running high in India, but especially in Bangalore. Children from Goutama Pura, also known as mini-Brazil, are going all out to show their support for the home team:
Slideshow: Bangalore's children show their support for Brazil for the World Cup
Pope Francis is hoping the World Cup, which kicks off in Brazil later on Thursday, will be played in a spirit of fraternity and fair play, and can overcome any form of racism or intolerance.
Read: Pope Francis hopes World Cup will help global solidarity
It is wonderful news for the people in West Bengal as the FIFA World Cup 2014 will be broadcasted in Bengali on Sony AATH. The Bengali commentary for 2014 World Cup will be a blessing for the people of West Bengal, as the state is a football crazy state. Football is considered a religion in this state.
Read: FIFA World Cup 2014 to get commentary in Bengali
From UEFA President Michel Platini to Pope Francis , everyone's having their say about the FIFA World Cup
Read: Who's saying what at the FIFA World Cup
Joining millions of football lovers across the world, Prime Minister Narendra Modi on Thursday released commemorative postage stamps on the 2014 FIFA World Cup and hoped that the international event becomes a "bridge for connecting nations".
Read: Narendra Modi joins football lovers, releases FIFA World Cup postage stamps
Brazil's ambivalence toward the World Cup was on full display as the country geared up for the game, the sea of green and yellow in some areas contrasting with the clashes between police and protesters in Sao Paulo and fears of more nationwide.
Read: Protest clashes mar divided Brazil's World Cup party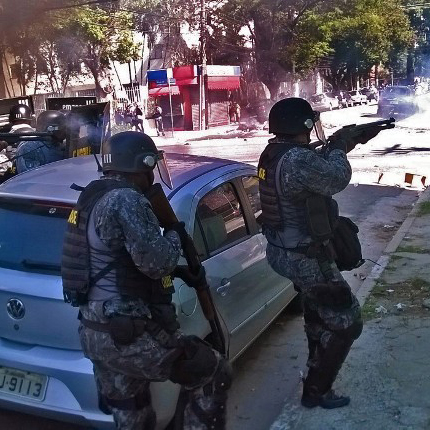 Read: Ex-England Football Association chairman says FIFA acts like 'mafia family with president Sepp Blatter as Don Corleone'
Read: What ails Indian football?
With the world gearing up to watch FIFA 2014, Indian football still remains an enigma, ranking 154 in the FIFA table.
UEFA President Michel Platini withdraws support to FIFA boss Sepp Blatter
UEFA president Michel Platini withdrew his support from FIFA counterpart Sepp Blatter on Thursday, plunging world football into open warfare.
The FIFA World Cup opening ceremony will begin at 11:30 pm IST
Read: Brazilian protestors, police clash with World Cup just a few hours away
Brazil kicks off the World Cup on Thursday hoping to unite the football-mad country after a chaotic seven-year build-up plagued by violent protests.
The 32-team extravaganza gets under way in the teeming mega-city of Sao Paulo, where the host nation's beloved 'Selecao' faces Croatia at 5:00 pm (1500 GMT) before 61,600 supporters and a worldwide television audience of several hundred million.
Thursday's Group A match signals the start of a month-long football fiesta taking place against backdrops which showcase Brazil's breathtaking diversity, from the picture postcard beauty of Rio de Janeiro to fading colonial grandeur of Manaus, deep in the Amazon.
After years of apathy and simmering resentment at the tournament's record $11-billion price tag, Brazilians were grudgingly embracing World Cup fever in the final hours before the big kick-off.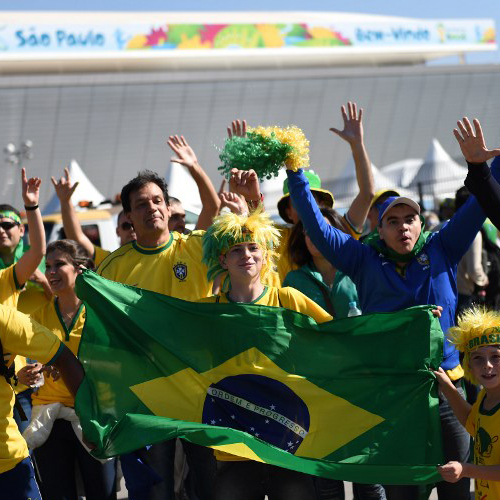 Read: World Cup Team Profile -Brazil
Brazil coach Luiz Felipe Scolari urged compatriots to unite behind his players as they launched their bid for glory.
"To all Brazilians I want to tell you the time has arrived. This is our World Cup," Scolari said in an eve-of-tournament rallying cry.
The popular Scolari, who masterminded Brazil's last World Cup win in 2002, said his team were seven matches from immortality.
"The first step is Croatia," he said. "After that we have six steps that we want to go up if we want to win the World Cup."
Read: World Cup Team Profile - Croatia
World Cup fever
As the last of the 32 teams who will contest the greatest prize in football arrived in Brazil, mounting evidence of World Cup fever was visible.
Rio's iconic Christ the Redeemer statue has been illuminated in the colors of all nations taking part while Brazilian flags fluttered from cars, bars and apartments as excitement built.
In Rio de Janeiro, some of the 600,000 foreign fans travelling to Brazil thronged the famous Copacabana beach, staging impromptu football matches.
Hollywood star Leonardo DiCaprio was among the many overseas fans flying into the country, taking in the tournament from the luxury of a mega-yacht offshore.
Twelve government leaders or heads of state will be among the VIPS at Thursday's opening ceremony.
Moreover, excited people have taken to Twitter to express their feelings of joy:
Not sure whether you're aware of this but the World Cup kicks off today. OH YES!!!!!!

— Gary Lineker (@GaryLineker) June 12, 2014
Once in lifetime thrill to land in Rio on morning World Cup starts in Brazil. I feel as buzzed as Ferris Bueller aboard a parade float

— roger bennett (@rogbennett) June 12, 2014
But even though more Brazilians are sporting the yellow jersey of star forward Neymar, discontent continues to bubble.
Scattered protests are planned in several host cities during the tournament.
And as Sao Paulo subway workers late Wednesday voted against a repeat of the strike which plunged the city into gridlocked paralysis last week, airport workers in Rio announced a partial 24-hour walkout.
"We're Brazilian and we continue to root for Brazil, but it's our duty to fight for workers rights," union leader Rui Pessoa said.
Read: Brazil feel familiar weight of expectation in this World Cup
Public rage
The multi-billion-dollar cost of the World Cup has angered many in a country which has chronically under-funded health and public services and rampant violent crime.
Rage at poor public services morphed into a nationwide movement during last year's Confederations Cup test event, with deadly clashes rippling across the nation.
For the World Cup, a vast security blanket is being deployed, with 150,000 soldiers and police on duty along with 20,000 private security officers.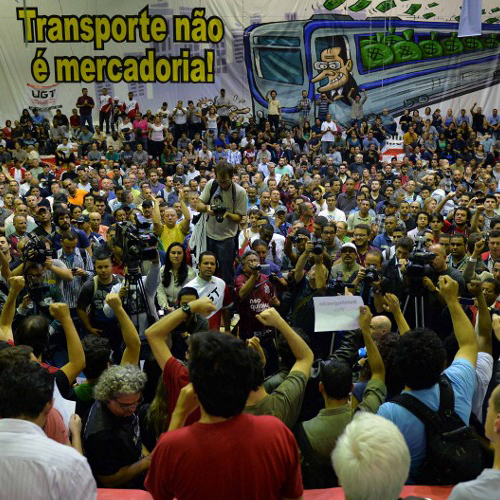 Brazil's President Dilma Rousseff warned that her government will not tolerate a repeat of last year's protests.
"We will guarantee the security of Brazilians and of those who come visit us," she said.
Football's governing body FIFA begins the tournament under mounting pressure over allegations of corruption linked to its decision to award the 2022 World Cup to Qatar.
FIFA President Sepp Blatter has responded to the scandals by shoring up his power base.
On Wednesday he signalled his intention to seek a fifth four-year term next year, despite calls for him to step down.
"My mandate will finish next year... but my mission is not finished," he said to boos from sections of the FIFA Congress.
FIFA secretay-general Jerome Valcke meanwhile told French radio station France Inter on Thursday he was confident after years of cajoling the organisers to speed up delivery of the stadiums that things were ready.
"Overall the stadiums are ready," the 53-year-old Frenchman said.
"Now it is more a problem of organisation than security."
For all the off-field problems, the tournament itself has the makings of a classic.
Reigning champions Spain are bidding to make history by becoming the first side from Europe to win a World Cup in South America, which last hosted the tournament in 1978.
Vicente del Bosque's side have dominated international football for the past six years, winning two consecutive European championships either side of their 2010 World Cup triumph.