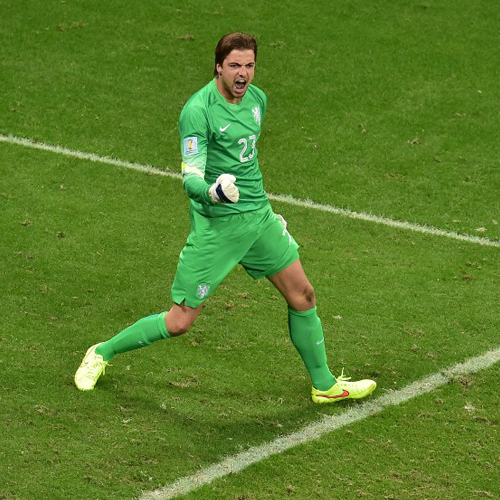 Costa Rica-5: Umana takes the last penalty for Costa Rica, and he MISSES! Tim Krul makes the save, and the substitute keeper is a hero! Netherlands win 4-3 on penalties.
Netherlands-4: Kyut SCORES, 4-3 to the Dutch
Costa Rica-4: Balanios finds a way past Tim Krul, and SCORES, but the Dutch have two penalties left to Costa Rica's 1.
Netherlands-3: Sneijder gives the Netherlands a 3-2 advantage, as he SCORES, sending the keeper the wrong way again!
Costa Rica-3: Gonzalez takes the penalty, and he SCORES.
Netherlands-2: Arjen Robben it is, and he SCORES, sending the keeper the wrong way!
Costa Rica-2: Bryan Ruiz takes the second Costa Rican penalty, and he MISSES! Tim Krul went the right way and saves!
Netherlands-1: Van Persie goes for Netherlands, and he SCORES, on the back of the net, though the keeper went the right way. Netherlands 1, Costa Rica 0
Costa Rica-1: Borges is the first to go for Costa Rica, and he SCORES, just as he did against Greece! Tim Krul though was very close to getting a hand on that.
Penalty shootout: Tim Krul has saved only 2 of 20 penalty kicks in the English Premier League. One has to ponder the reason for the substitution, then.
END OF EXTRA TIME Costa Rica will be happier of the two teams after keeping out Netherlands for 120 minutes. The last few minutes were full of excitement, with both teams getting chances. Netherlands have never won a penalty shootout in a World Cup match. This will warm the Costa Rican hearts, and indeed they seem happier.
120 + 1' The Netherlands have substituted the goalkeeper Cillissen for the new keeper Tim Krul, who plays for Newcastle United. This is a surprising change, obviously they think he can do better than Cillissen in the penalty shootout.
120' Sneijder hits the FRAME OF THE GOAL as the Costa Rican defence block it out by the skin of their teeth. The ball hit two defenders and a Robben, whose kick hits RVP before being cleared. Costa Rica always seem to have a defender on the goal line when it matters most!
119' Now Robben makes a run into the Costa Rican right and attempts a long range effort, but blocked by a defender!
118' What excitement! First it was was Urena for Costa Rica who made a fine run into the Netherlands' penalty area. From nowhere, Urena takes on De Vrij, leaving his marker behind with a surprising turn of pace! He musters a powerful effort, but the Ajax goalkeeper is able to turn it away excellently!
116' But he has overhit the corner kick, too far, far away from any Costa Rican in the box.
116' Balanois gets a corner for Costa Rica, the first one of the night for them, after an exciting play with Dutch strikers in the penalty area
114' Sneijder passes to Robben who passes to Lens who is the penalty area, but Lens is ruled offside, the 12th offside for Netherlands in this game.
111' Huntelaar clashes with Navas as he tries to win a header, earning the substitute a yellow card.
109' Robben whips a corner into the box, but Van Persie's effort is off the mark. The Costa Rican defence is INVINCIBLE at the moment.
108' Acosta gets a yellow card, even if Costa Rica win they could have a problem on their hands in the semis. Netherlands get ANOTHER free kick.
107' Robben looks to beat Diaz and Acosta for pace down the right hand side, with the flying Dutchman almost getting the better of his markers. As he looked to leave the defenders behind, Acosta collided with the winger, but thankfully they're both fine to continue.
106' Klaas-Jan Huntelaar comes in for Martins Indi for Netherlands
HALF-TIME The first half of extra time ends with both teams still unable to score, though Netherlands have had several chances at the goal.
105' Two minutes of injury time has been provided for the first half of extra time
103' The free kick from Robben hits the wall, and Lens gets blocked too.
103' Diaz almost got another yellow card tonight, as a ball from Robben careers into his lower shoulder. Referee decides a free kick for Netherlands is enough.
99' It's absolutely pouring down at Salvador, as RVP is ruled offside, the 11th time in this game for Netherlands, and more times in the tournament than any other.
98' Costa Rica have not one a single corner tonight, though they have had to defend NINE. That's why, despite Netherlands being so average tonight, you always expect them to score a goal.
95' Another corner kick from Sneijder is blocked by the Costa Rica defence, Navas doesn't need to move at all.
95' But Navas has gone down, and the Dutch might just sneak in a goal in the next available minutes. Navas crumpled as he jumped to take the ball during play. Thankfully, he's gonna be okay. He has another corner to defend.
94' Arjen Robben takes a corner kick, Vlaar almost nets it in, but another good save by Navas, the Costa Rican keeper.
We are back for the second half. The Dutch will get it started.
FULL-TIME At the end of the initial 90 minutes, both Netherlands and Costa Rica are 0-0. We go into extra time, despite a sterling performance by Arjen Robben so far.
90 + 4' Arjen Robben makes another run through the Costa Rica left, but he's adjudged to be offside.
90 + 4' What a moment! Yasin Tejeda blocks a certain Netherlands goal from the goal line, and what's more, as he attempts to kick it away, it loops up and hits the bar!
90 + 3' Netherlands get a free kick again, RVP takes it. Van Persie's kick is blocked by the keeper.
90' Four minutes of additional time has been given, before we can go into extra time in the absence of a goal.
87' Only a few minutes of the game remain, with neither side prepared to concede any ground or make any mistakes.
84' Van Persie finds space inside the Costa Rica penalty area and fires a right-footed shot at goal. Navas repels his effort.
83' Another free kick to Netherlands after another foul by Costa Rica, this time its by Bolanos
82' Another superb free kick from Sneijder, this time he beats the Costa Rican keeper Navas but hits the left post!
81' Gonzalez of Costa Rica brings down Arjen Robben hard, and will get a yellow card. He will miss the semifinal against Argentina if Costa Rica make it.
79' Gamboa jarred his knee in an earlier challenge, and it looks like it's taken its toll, as he goes off on a stretcher.
76' Jeremain Lens substitutes for Memphis Depay for the Dutch. That might reenergise them a little bit.
74' Sneijder whips a terrific ball in from the Dutch left from a free-kick. Vlaar gets his head to it, but it flies over Navas' crossbar.
73' Gamboa of Costa Rica concedes a free kick after a challenge on Blind of Netherlands.
68' Netherlands get a corner kick, but Van Persie is offside again.
67' A Costa Rica striker gets the ball down the Netherlands right but his cross is just too long.
66' Marcos Urena has come in for Joel Campbell for Costa Rica. Urena, a striker, has not scored a single goal in the last three years!
64' Martins Indi concedes a free kick after a challenge on Ruiz of Costa Rica
62' Costa Rica win yet another free-kick at range, which means that they can load the box with white shirts once again. Bolanos takes up the responsibility once again, but fires high and wide.
60' Junior Diaz is set free down the Costa Rica left and breaks clear of the Dutch defence. He crosses inside towards Campbell, but Martins Indi comes across to clear.
58' Half chance for Kuyt of the Dutch! Sneijder sprays a brilliant pass out to the right hand side with a diagonal ball, which Robben plucks out of the air brilliantly. He drives at Diaz, but the wing-back can't stop the cross, meaning that Kuyt is presented with possession at the near post - but the Dutch utility man is under too much pressure to hit the target.
56' Robben takes his time in finding Van Persie, and the No 9 tries to hit a right-footed cross into the six yard box, but it's blocked behind for a corner, which is eventually cleared.
56' The pace of this game is extremely slow, still.
55' Campbell of Costa Rica is adjudged to be in an offside position
52' Arjen Robben gets a free kick for the Netherlands, but it is well blocked by the Costa defence.
52' Umana of Costa Rica is penalised after committing a foul, he will be yellow carded.
46' Netherlands kick off this time
12 of the Netherlands' last 14 World Cup goals have come in the second half, so Costa Rica better watch out.
We are back for the second half.
HALF-TIME: A cagey first half as the scoreline remains at 0-0. Both sides have got at each others goals on several occasions but not been able to get their names on the scoresheet.
45+1' Last opportunity maybe for the Dutch to break the deadlock
44' A few minutes until the end of the half and still Van Gaal's men can't find a way through this disciplined Costa Rica set-up. The longer this game goes on, the more you have to favour the incisive and vibrant counter-attacking from los Ticos
43' V. PERSIE (Netherlands) concedes a free-kick following a challenge on UMAÑA M. (Costa Rica).
42' Van Persie is slipped in by Robben and the No9 rushes through behind the Costa Rica defence. Navas sprints out though and collects before the Manchester United man can get a shot away. Good goalkeeping once again.
41' The Netherlands are struggling to break down the thick Costa Rican lines, as the neutral supporters start to get on Oranje's back for slow football. Pinto has his unit extremely organised, with los Ticos able to force possession all the way back into the Dutch half.
38' GOOD STOP BY NAVAS! Sneijder floats one above the wall and Navas makes a clawing save. Sneijder manages to get his free-kick attempt up and over the wall excellently, with Navas extending himself towards his top right hand corner well to palm the ball behind for a corner! The Costa Rica goalkeeper is yet to let his country down.
37' DIAZ J. (Costa Rica) is booked by the referee.
36' Instead of falling into the trap of engaging in end-to-end football, the Netherlands slow things down once again with some tentative possession. Sneijder tries to put Robben in behind Diaz once again, but the left wing-back gets a firm header on the pass to clear.
35' GAMBOA C. (Costa Rica) concedes a free-kick following a challenge on ROBBEN (Netherlands).
34' The Netherlands certainly aren't in control of this game anymore, with Costa Rica growing in confidence. Another Bolanos free-kick picks out Borges at the back post, who squares a header back into the danger zone, but an ambitious overhead kick effort isn't caught cleanly. Martins Indi clears.
33' ROBBEN (Netherlands) concedes a free-kick following a challenge on GAMBOA C. (Costa Rica). Bolanos floats in yet another long-range free-kick delivery, but Cillessen is quick off his line to claim the ball with ease. The Ajax goalkeeper distributes upfield quickly, but Robben is penalised for a shove on his marker as he looked to control inside the Costa Rica penalty area.
31' Less than a quarter of an hour until the interval, with both teams certainly in the mix to make their way into the semi-finals. Costa Rica are preying on the Dutch scraps somewhat, but have been able to either break quickly or fire long balls forward which have stuck to Bolanos and Campbell. MARTINS INDI is penalised after committing a foul.
28' HALF CHANCE FOR BORGES! The defensive midfielder rises highest to try and steer a Bolanos' free-kick delivery towards goal, but he can't get enough contact on the ball to place it inside the far post! Martins Indi and the Costa Rica man had their hands all over each other, the referee will have to keep tabs on that.
27' SNEIJDER (Netherlands) commits a foul. Netherlands continue to see the lion's share of possession, but Pinto's side are displaying that they're rather more hardy than most people give them credit for. We're nearly at the half hour mark and while we haven't seen goals, we've certainly witnessed an interesting tactical battle.
25' Costa Rica have never gone past beyond the round of 16, going way back in 1990.
24' Cillessen remains untested in the Netherlands net, but some of Costa Rica's approach play has been promising. Kuyt and Depay are stretching los Ticos' back line and creating a few inlets, but generally Pinto's men are stifling Robben and Van Persie effectively.
23' Campbell striving as he positively makes attempts to get an attack through for Costa Rica
22' VAN PERSIE AND SNEIJDER GO CLOSE! Two back-to-back shots by van Persie and Wesley Sneijder of an attack are not able to test the Costa Rican keeper, Keylor Navas
21' Campbell does well but unable to get past Martins Indi
18' Costa Rica seize their opportunity to hold onto the ball and have a bit of a breather after early Dutch pressure. Ruiz and Bolanos are always keen to have possession, while Campbell is constantly willing to drop deeper and participate in play. Promising stuff from los Ticos.
16' De Vrij gives the ball away needlessly 25 yards out from goal, allowing for Borges to burst onto the loose pass and drive onwards. Wijnaldum manages to get across his man well, defusing the situation. Cagey start to proceedings.
14' Patience continues to be the name of the game for the Netherlands, who are more than happy to circulate the ball around their back three and probe for gaps to exploit. Depay and Van Persie looks to break, but the former is robbed of the ball by a clever tackle from Acosta.
12' Gamboa drives down the right-hand side excellently, before squaring a cross to the penalty spot which Vlaar reacts to and belts clear. Costa Rica's wing-backs will be vital tonight, they provide all of the width and can be excellent outlets if the Netherlands afford them space.
11' Dirk Kuyt puts a through ball for van Persie, squeezing in through the Costa Rica defence, only to be intercepted by the defenders.
10' V. PERSIE (Netherlands) concedes a free-kick following a challenge on ACOSTA J. (Costa Rica).
9' Martins Indi provides a long ball to Robben. Robben loses control.
4' Bolanos is felled by a scrappy challenge from De Vrij, as Oranje look to stifle any counters. The midfielder tries to float an early free-kick delivery in to Campbell at the back post, but it's slightly overhit and bobbles out for a goal-kick.
3' Argentina await the results of this match. The winner will got to the semi-finals against them.
1' The Netherlands are donning their famous orange, while Costa Rica are in all white. Costa Rica kick-off. Arjen Robben provides an early attack.
Nigel De Jong and Leroy Fer have been dropped owing to an injury
Costa Rica set to play a 5-3-1-1 formation and Netherlands a 3-4-3 formation
The Dutch 'Het Wilhelmus' and Costa Rica national anthem 'Himno Nacional de Costa Rica' is played.
Robin van Persie announces his message rejecting discrimination of any sort on behalf of the entire team. Bryan Ruiz, Costa Rican captain folows suit
Players of both the teams have lined-up. The day also coincides with the 13th Annual Anti-discrimination day
Here are the team lineups:
#NED LINE-UP: Cillessen, Vlaar, De Vrij, Martins Indi, Blind, Van Persie (c), Sneijder, Robben, Kuyt, Wijnaldum, Depay #NEDCRC #WorldCup

— FIFAWorldCup (@FIFAWorldCup) July 5, 2014
#CRC LINE-UP: Navas, Acosta, Gonzalez, Umana, Borges, Bolanos, Campbell, Ruiz (c), Diaz, Gamboa, Tejeda #NEDCRC #WorldCup #Joinin

— FIFAWorldCup (@FIFAWorldCup) July 5, 2014
Welcome to the live coverage of the Netherlands v/s Costa Rica match in Salvador at 1:30 am IST from Arena Fonte Nova, Salvador
Netherlands are reeling from the loss of defensive midfielder Nigel de Jong while Costa Rica are sweating on the fitness of goalkeeper Keylor Navas and defender Roy Miller ahead of their World Cup quarter-final clash in Salvador. De Jong was forced off just nine minutes into his country's 2-1 last 16 win over Mexico and subsequent scans revealed a groin muscle tear, ruling him out of the remainder of the tournament. Read the Netherlands v/s Costa Rica Match Preview here
The Dutch are proving their worth as they won all of their group matches. The best of those three victories was the one against Spain in their opening match. No one expected Netherlands to thrash the former world champions Spain 5-1. In three matches, the Dutch went on to score ten goals and conceded only three. After having a fantastic group stage, they beat Mexico 2-1 in an enthralling encounter. Down 1-0 in the 89th minute, Wesley Sneijder equalized and they made it 2-1 in injury time through a Klaas Jan Huntelaar penalty, snatching victory from the jaws of defeat. Read the Netherlands team profile
Costa Rica shocked the world by topping the Group of Death which included Uruguay, England and Italy. They beat Uruguay in their opener 3-1 and then beat Italy by a 1-0 scoreline. In their final game, they were involved in a drab 0-0 game against England. Costa Rica would be brimming with confidence when they face fellow underdogs Greece in their round of 16 match. Read the Costa Rica team profile
Robin Van Persie, the Dutch captain has led the team from the front, scoring three goals in four group matches. Van Persie's partnership with Arjen Robben has been deadly as the Dutch won all of their group matches, which included a 5-1 thrashing of former world champions Spain. Read Robin Van Persie's player profile
Dutch winger Arjen Robben is on top of his form. The 30-year old has already scored three goals in the tournament, out of which two were scored against Spain in the teams opening World Cup fixture. Robben, along with Robin Van Persie and Wesley Sneijder have given their opponents a tough time as the Dutch won all of their group matches in a convincing manner. Read Robben's player profile