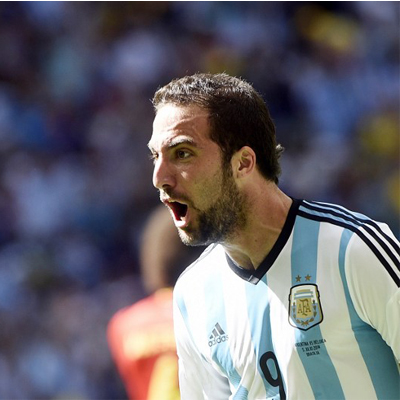 FULL TIME: Argentina 1-0 Belgium. Higuain's early goal was the only goal of the match, but he nearly scored another. Argentina deservingly make the semifinals after their best display in this World Cup, and Belgium go out after a successful but stumbling campaign.
90+5' Messi has a chance to make that GOAL no. 2 and the keeper makes a fine save to thwart the attempt. MESSI THROUGH ONE-ON-ONE WITH COURTOIS! But it's the goalkeeper who comes out on top, denying the Barcelona star as he tries a delicate chip.
90' Perez and Zabaleta are involved in a nasty collision and the former is currently receiving treatment. Belgium won't welcome this stoppage.
89' Argentina looking to become the second South American nation to qualify for the semi-finals.
88' Fellaini wins a corner for Belgium. Fellaini wins a late corner as Basanta dives in to block the midfielders cross. Chadli gets the eventual effort at goal, but it's tame and bounces into the arms of a grateful Romero.
87' Belgium being caught offside way to often. Another foul by Lucacu.
86' The corner comes to nothing as Lukaku is eventually flagged offside - another chance falling by the wayside.
84' Too high for Rodrigo Palacio as he fails to reach the cross in the center. Gago's first contribution is a delightful cross from the right that narrowly misses the head of fellow substitute Palacio. Argentina currently looking more likely to score than Belgium.
81' SUBSTITUTION FOR ARGENTINA: Argentina are readying their final substitution, with Fernando Gago set to be thrown into the action for Gonzalo Higuain.
79' WITSEL (Belgium) is penalised after committing a foul.
76' Lucacu freekick does not bother the Argentina goalie
75' Lucas Biglia is penalised. Yellow card shown. CHADLI (in) comes off the bench to replace E.HAZARD (out) (Belgium)
73' BASANTA (Argentina) concedes a free-kick following a challenge on FELLAINI (Belgium).
71' SUBSTITUTION FOR ARGENTINA: PALACIO (in) comes off the bench to replace LAVEZZI
70' The ball seems tied to Messi's laces as he keeps the ball, with two Belgium players on his tail.
68' Argentina believe that they are on their way to the semi-finals. ALDERWEIRELD (Belgium) commits a foul. He is punished and shown the yellow card for a rash tackle.
64' Belgium trying to salvage their world cup dreams by fighting hard. The game is opening up and the pace is increasing as Belgium continues to commit numbers forward. Argentina are taking advantage of this with quick counter-attacks.
63' FELLAINI (Belgium) is adjudged to be in an offside position.
62' Belgium look like a hotter prospect now. Fellaini winning two aerial prospects now
61' Mertens floats in a beautiful ball for Marouane Fellaini and it sails over the Argentine goal.
60' SUBSTITUTION FOR BELGIUM: Mertens for Mirallas and Lukaku for Origi.
58' Ezequiel Lavezzi goes down in pain
57' Belgium throw in but cannot keep possession for long. They lose the ball.
56' Kompany well-played again. Swift in defence he does well.
55' OFF THE BAR: Just as Belgium break down the field, Mirallas can't control and Argentina quickly launch their own counter-attack. The ball finds its way up to Higuain, who goes on a dazzling run and beats his defender before shooting. He beats Courtois but his shot hits the crossbar and flies over for a goal-kick.Higuain wastes a chance after making a fine run of 60 wards. Belgium breathe a sigh of relief as the ball hits the crossbar
54' Messi's freekick fails to find any of his team mates
53' Argentina playmaker Lavezzi squeezes one from the flanks to the center.
52' Corner for Argentina. They fail to make the most of it.Vertonghen whips in a cross from the left, Mirallas meets it with his head, but the ball is directed just wide of the left-hand upright from eight yards out. I make that Belgium's best chance of the match so far.
51' Daniel van Buyten stretches to put the ball out of play. Belgium safe yet again.
50' Belgium look to make a cross but settle for a throw-in acquired through a deflection off an Argentine player
49' Referee being lenient today, not punishing any shoulder-to-shoulder challenges
48' Messi kick goes wide. Belgium players including the goal keeper unperturbed
47' Well defended by Kompany to thwart an Argentine attack.
46' Play between the two teams commences.
Half-time: Argentina end this half with a goal lead over Belgium.
45+2' Argentina have not been in the semi-finals since 1990. Doesn't seem like Belgium can equalize by the end of this half.
43' Argentina win their first corner of the match.
42' Kevin Mirallas misses a big chance for Belgium to equalize. Vertonghen whips in a cross from the left, Mirallas meets it with his head, but the ball is directed just wide of the left-hand upright from eight yards out. I make that Belgium's best chance of the match so far.
41' Messi pulls it wide. The wall is not tested
39' Messi goes down close on the edge of the box. Referees is surrounded by red shirts as Belgium players protest. Free kick awarded to Argentina.
37' De Bruyne passes it out of play to Argentine coach Alejandro Sabella
36' Vincent Kompany supplies a ball to De Bruyne in the center. Safely cleared by Argentina.
35' Belgium are enjoying plenty of the ball at the moment, but it's all in the middle of the park. Origi has had limited chances to make any kind of impression on this match.
32' SUBSTITUTION: Enzo Perez comes in for Di Maria
30' Danger is posed again. Precision in passing by Argentina.
Cooling break of three minutes
28' And Magician Messi puts through a fine defence splitting ball which Angel Di Maria fails to capitalize, owing to good defending by Kompany. This one went through the heart of the Belgium defence.
26' Romero is tested for the first time as De Bruyne pulls the trigger from distance
25' Belgium consolidate an attack only to lose the ball. Messi continues to add to Belgium's defending woes.
23' Offside says the referee as a Belgium cross goes unacknowledged.
20' Eden Hazard hits the deck as he tried to burrow his way through the Argentine defence. He gets nothing from the referee and, for me, he went down a little easily. Correct decision.
19' Mascherano sends it back to safety to the Argentine goalie Sergio Romero as a Belgium attack presses. MESSI (Argentina) is penalised after committing a foul.
18' After the first corner is ruled out for some tussling in the area, the re-take winds up going behind for a Sergio Romero goal-kick. A wasted opportunity for Belgium to threaten the Argentina goalkeeper.
17' Ezequiel Garay clears the danger but concedes a corner kick after Jan Vertonghen sends in a good cross.
15' DE BRUYNE (Belgium) swings in the corner. Belgium awarded the first corner of their game. Too much height on the ball and it goes out of play.
13' Argentina are on the attack again, but Lavezzi's strike from the edge of the penalty area, and Belgium can breathe easy - at least for the time being.
8' GOAL. Messi toying around with the opposition in the midfield. The ball reaches an already waiting Gonzalo Higuain who appears on the scoresheet for Argentina, his first goal in the tournament. Thibaut Courtois, Belgium goal-keeper caught unaware.
7' Belgium players pressing hard in what seems like a a two-sided affair
5' Javier Mascherano makes a tackle pleading his innocence. He is already on a yellow card.
4' Angel Di Maria's shot is blocked after he cuts two Belgium players.
3' Messi puts in a defence-splitting ball only to be cleared by opposition defenders.
2' Belgium starting positively.
1' An early attack seems possible as Belgium advance towards the Argentinian goal.
MATCH KICKS OFF: Kick off by Belgium
Marck Wilmots takes charge of his 27 match as a manager for Belgium, of which he has won 18.
Argentina national anthem Canción Patriótica (Patriotic Song) and Belgium national anthem Brabançonne played.
Both the teams are out on the ground, lined up as the captains take a pledge against anti-discrimination/ racism before they sing their national anthems
The lineups for the two teams are out:
#ARG LINE-UP: Romero, Garay, Zabaleta, Biglia, Di Maria, Higuain, Messi (c), Mascherano, Demichelis, Lavezzi, Basanta #ARGBEL #WorldCup

— FIFAWorldCup (@FIFAWorldCup) July 5, 2014
#BEL LINE-UP: Courtois, Alderweireld, Kompany (c), Vertonghen, Witsel, De Bruyne, Fellaini, Hazard, Mirallas, Van Buyten, Origi #ARGBEL

— FIFAWorldCup (@FIFAWorldCup) July 5, 2014
Welcome to the live coverage of the World Cup quarterfinal between Argentina and Belgium in Brasilia at 9:30 pm IST.
Both Argentina and Belgium have not been at the best in this tournament, yet both have produced moments of magic to make it to the quarterfinals. Argentina had a decent group stage as they defeated Bosnia 2-1, Iran 1-0 and Nigeria 3-2. In their Round-of-16 match against Switzerland, Argentina had a tough time as the Swiss denied Argentina the chance to convert goal-scoring opportunities throughout the match.
Belgium had a modest group stage, as they defeated Algeria, Russia and Korea Republic by thin margins. Surprisingly, despite wining all their group matches, they failed to score a single goal in the first half of every match they played. Against USA, Belgium won thanks to a splendid performance in extra time, but if Wondolowski had scored a simple 89th-miute goal for USA, Belgium would not have made it to the quarters. Read the Argentina v/s Belgium match preview here
Argentina will be looking forward to end a 28-year wait to win their third World Cup. Lionel Messi will look forward to follow the footsteps of Diego Maradona, who won them their last World cup in 1986. Runners up in the 1990 FIFA World Cup, Argentina's performances in the recent World Cups haven't been good. Since 1998, Argentina have been knocked-out of the World Cup from quarter-final stage on three occasions (1998, 2006 and 2010). Their worst performance in recent years was in 2002, when they went out in the group stage itself. But leaving past behind, Argentina will aim for their third World Cup trophy. Lionel Messi has been instrumental for the team, scoring four goals. He also made the match winning assist against Switzerland. Argentina will put in their 100% against Belgium to make it through to the semi-final round. Read Argentina's team profile.
Though they only scored 6 goals so far, they have fired 81 shots in four matches, with 55 shots on target, making them one of the best team in the World Cup in terms of attacking. With the likes of Romelu Lukaku, Eden Hazard, Kevin De Bryune and Vincent Kompany, they Belgian side seem to be equal to Argentina. This is Belgium's only second ever quarter final appearance in their history after 1986, when they finished fourth. With a young and talented squad, Belgium have a point to prove against Argentina. Read Belgium's team profile here
Lionel Messi seems to be a man on a mission. With four goals in the World Cup to his name, Messi is Argentina's top goal scorer. He also made the match winning assist against Switzerland during their Round-of-16 clash. With an entire nation, and perhaps the whole world expecting him to take Argentina to World Cup glory, Messi's will continue to feel the pressure against Belgium. Read Lionel Messi's player profile here
Eden Hazard has had a poor World Cup so far for Belgium. He is yet to show his best this World Cup. Hazard has managed only two assists in four matches, and no goals. Despite Hazard's poor form, Belgium have reached the quarter-final round. If Hazard finds his top form, it will be an added advantage for the Belgians. Read Eden Hazard's full player profile