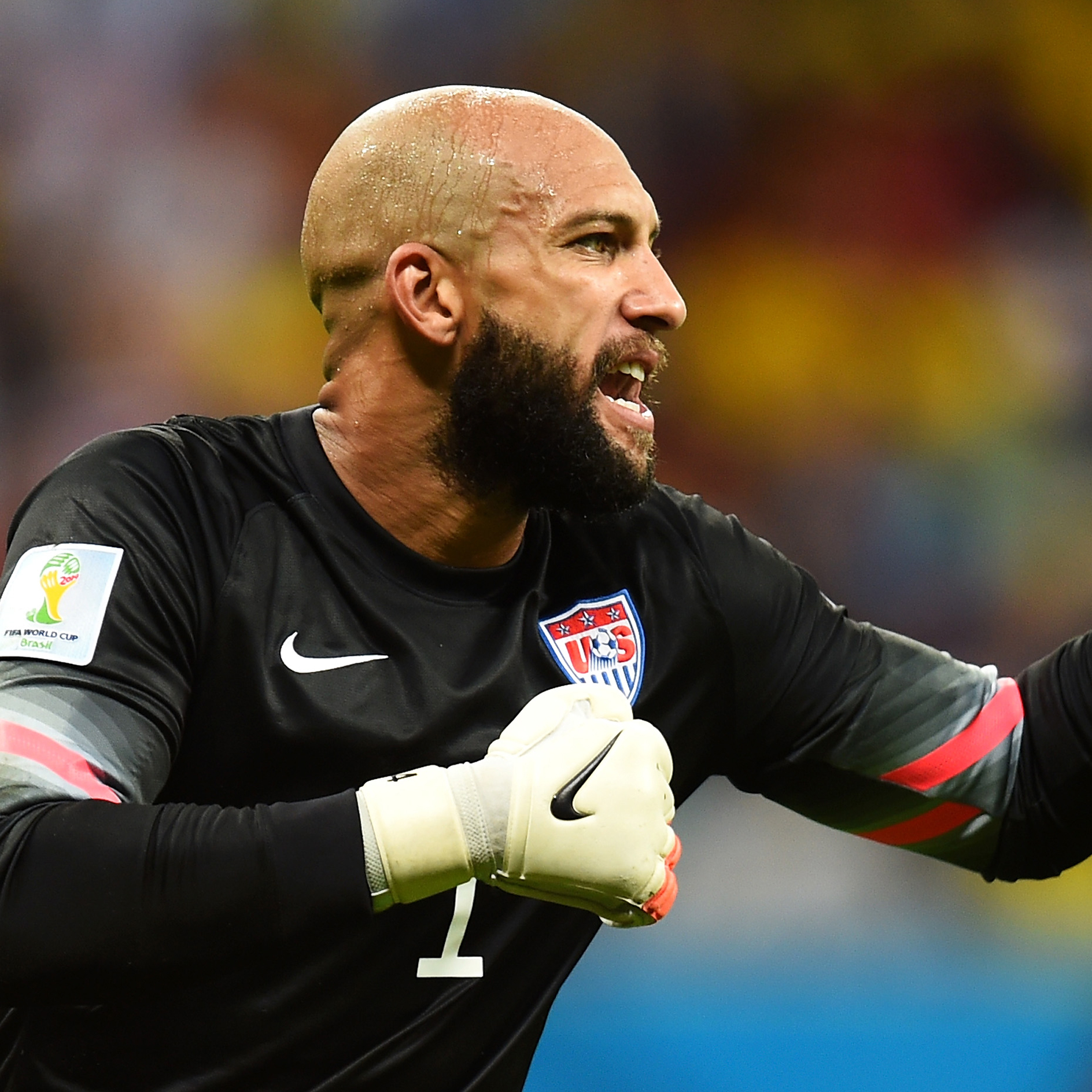 The Belgium-USA Round-of-16 clash saw Belgium getting in far more shots on goal than their opponents in the 90 minutes of normal time, yet fail to score a single goal.
It all came down to the efforts of one man - USA goalkeeper Tim Howard - who made as many as 16 saves throughout the match - the most ever in a World Cup match. Yet, he ended up on the losing side, such is fate.
Here are some of Howard's saves tonight:
Belgium were the far more aggressive of the two and USA had few balls in the Belgian half, but a blunder from substitute Wondolowski denied the USA a chance at a certain 1-0 win, for it happened in the second minute of injury time after the 90 minutes of normal time. Jones sent in a header to Wondolowski, who was completely unmarked, yet his kick from about ten yards saw the ball fly way wide of the goal. It was the payoff to Tim Howard's brilliance that never came to fruition.
Belgian striker Origi proved to be a serious threat, with several shots on target during normal time. He came extremely close to scoring at least thrice, only to be denied by Tim Howard. The second half of normal time was almost all about Belgium attacking in the US half and Tim Howard preventing goals. Without the excellence of the keeper, USA might as well have lost 4-0, and that's a conservative estimate.
Howard wasn't so lucky in extra time though, as Romelu Lukaku and Kevin de Bruyne combined to provide two fascinating goals. First, Lukaku made a fine pass to Bruyne in the penalty area, and Bruyne skilfully dodged a few challengers, finally putting in a curling kick from the box into the left bottom corner of the goal. Tim Howard, who had had to readjust position several times during the play, was caught on the wrong side - the right - and this time his wide legs could not prevent the goal.
The second goal was scored by Lukaku himself, but this time with Bruyne's assist. A diagonal run in from Bruyne past a USA defender saw him pass the ball to Lukaku, who slammed it past a diving Howard - above the height of his dive - into the back of the net.
19-year-old Julian Green then gave the USA hope with a stunning volley in the 107th minute. Despite a few more brilliant saves from Howard though, USA were unable to score another goal, and lost 2-1.
Howard had been exceptional throughout the tournament, though this was easily his best effort. Like Nigeria's Enyeama, Howard saw his excellence come to nought, because like Nigeria, USA have crashed out despite their keepers.
Twitter exploded in praise of Howard after the keeper's extraordinary feat:
Tim Howard was the best keeper in the World Cup and did ever thing in his power to will the US to victory but they just came up short

— Zachary Martz (@ZachMartz13) July 1, 2014
Tim Howard deserves a medal. Great run, USA. #2018

— Angie Allgood Rae (@isitallgood) July 1, 2014
So many missed chances in that game, only reason I'm disappointed. Tim Howard did his job and we could've won with a little more focus

— Justin D (@jdeee21) July 1, 2014
Tim Howard Today has to go down as the top sports performance of the year & then some! Talked about for along time pic.twitter.com/SNuXsk8ze8

— PAG METER (@PAGMETER) July 1, 2014
Devastated..so proud of their fight 2 the end. #USMNT. @TimHowardGK was amazing & a true professional in interview after

— Shannon Boxx (@ShannonBoxx7) July 1, 2014
Tim Howard, all-American. If he ever wants to run for office, I'm there. Great game, #TeamUSA

— Joshua Lyman (@joshualyman) July 1, 2014
This World Cup has been labeled as the tournament of the underdogs, but the incredible performances we have seen from the underdogs in the Round-of-16 could not have come without the performances of their goalkeepers.
What's worse, however for Tim Howard is that he is 35 years of age and this is probably his last World Cup. At the very least, he can take home the joy of having made the most saves ever in a World Cup match.