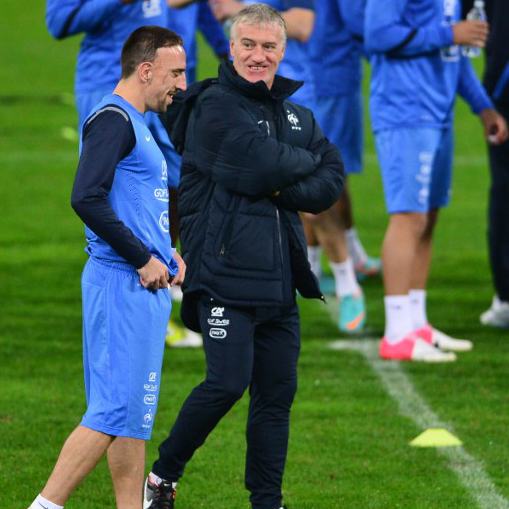 France is one of the most unpredictable teams featuring in the World Cup. After the victory in 1998, France was eliminated in the 2002 World Cup in the group stages itself. Seeking redemption in Germany, four years later, France reached the final of the 2006 World Cup. They lost the final in the penalty shoot-out after the score was tied 1-1.
France did their reputation of being inconsistent no harm, as again in the 2010 World Cup they put their tails between their legs and made an early exit after finishing last in their group.
Which France shows up in Brazil would be hard to say. Their squad however boasts of outstanding talent. Hugo Lloris is a complete keeper and has been instrumental in Tottenham's good performance in the Premier League. Raphaël Varane is mature beyond his years and is steady at the back. Put in Patrice Evra and Bacary Sagna you get an experienced yet solid defence.
Paul Pogba is France's most exciting young prospect, Pogba has scored some spectacular long range goals for Juventus, and coach Didier Deschamps will be hoping he can show some of his skills in Brazil as well. Yohan Cabaye and Moussa Sissoko are not afraid to go forward and Blaise Matuidi can keep things simple and protect the back four.
They have firepower upfront, with Karim Benzema and Franck Ribéry. These two remain France's most dangerous players. Benzema has become one of the most lethal strikers in the world and would want to make up after missing the 2010 tournament. Ribery, at 31 still has terrific speed in him and has been lethal on the counter. Olivier Giroud is another talented striker who will be looking to contribute with a goal or two.
Concern remains over the availability of Ribery who has been injured with a back problem and it would be a huge setback for France if he misses the World Cup. This brings to light France's biggest weakness which is lack of depth in squad. If a big player like Ribery does end up sitting out the World Cup, they do not have a perfect back up player for him.
Drawn in a somewhat ridiculously easy group with Switzerland, Ecuador and Honduras it would be a national failure if they do not get into the second round. Come this World Cup, France will be looking to make amends for their previous failure and finally put the demons of the 2010 World Cup to rest.