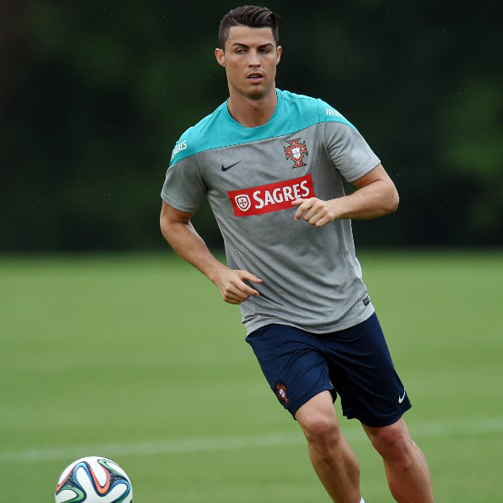 Portugal is often put down as a 'one man team' and no matter how much the fans or the manager call it nothing but a stereotype, it is disappointing yet true. Never really able to reach its full potential, the highest point of Portugal's history was reaching the 2004 European Championship finals.
Portugal's hopes in Brazil will entirely be riding on Cristiano Ronaldo's fitness. He is nursing a thigh injury which according to a wild rumour was 'caused by a Ghanaian witch doctor'. The 2014 FIFA Ballon d'Or winner is Portugal's star man and without him, the rest of the squad does look shaky.
Fabio Coentrão and Pepe played big roles in Real Madrid's Champions League victory, and they will be essential for Portugal as well for a good defensive display. Pepe will have to be careful to keep a calm head and not get a red card or get into a fight. If he manages to do that, he has a great technique for defending as well as when attacking.
Luis Nani, a player with immense talent and swagger, but he has let himself and the team down with inconsistent performances. There is no doubt about his technique or ability, but looks like comparisons of him with Ronaldo are still affecting his performances.
William Carvalho is the kind of player who will run hard and tackle and look to pick up the ball and send it forward so that the likes of Nani and Ronaldo an shine. Beto might just get the nod over Eduardo in the goalkeeper position for his anticipation of spot kicks if the boss Paul Bento thinks in that manner.
Portugal is in the group of death, Group G, which has Germany, USA and Ghana. If Ronaldo is not fully fit to play the crucial game against Germany on 16th June, it is difficult to even fathom Portugal improving on their 2010 World Cup performance.
Portugal manager Paul Bento will have to choose his squad carefully and will have to make sure he gets his combinations right with or without Ronaldo, so that Portugal is able to hit the ground running as soon as possible.