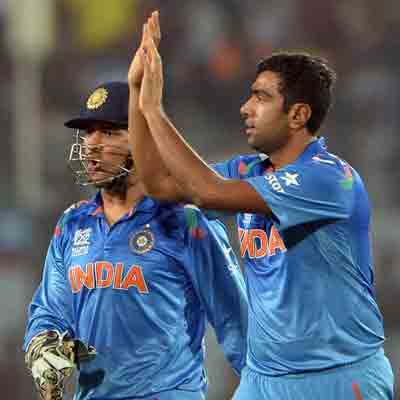 India heaped more misery on Australia, steamrolling them by 73 runs in a lop-sided Group Two match of the World Twenty20 on Sunday.
Put into bat, Yuvraj Singh shrugged off his poor form and scored 60 runs off 43 balls to help India to a competitive 159 for seven at the Sher-e-Bangla National Stadium.
On their return, off-spinner Ravichandran Ashwin claimed four for 11 as Australia's top half, teeming with power-hitters, imploded before the whole team folded for 86 in 16.2 overs for their third successive defeat in the tournament.
For them, Glenn Maxwell topscored with 23, hitting three towering sixes before departing when Australia needed him most.
Having already qualified for the semi-finals, India brought in Ajinkya Rahane and Mohit Sharma and persisted with a struggling Yuvraj, a ploy which appeared to pay off as the left-hander showed glimpses of his vintage form hitting five fours and four sixes.
Yuvraj added 84 runs with his skipper Mahendra Singh Dhoni (24) but fell in the final over that denied India the late surge they were looking for.
Australia pulled things back in the final overs to restrict India to a modest total but their marquee batsmen once again put up a dismal show that has led to their elimination from the tournament.
Live Match Updates:
Australia innings:
Over 17
OUT! Muirhead is caught behind by MS Dhoni off Ashwin. 86/10 off 16.2 overs
This is a thumping win for India. But Australia never seemed to be serious about this chase, they went about being aggressive even as wickets kept falling.
India have now won all four of their league matches and will finish top of Group 2
Over 16
Amit Mishra to continue. Australia take a second run off a wild throw
OUT! Brad Hodge skies Mishra to Jadeja as the procession continues. Australia 83/9
Muirhead is in, and he gets a googly which he manages to fend away
Over 15
Jadeja to continue, swept away for a single
OUT! As if the wild aggression wasn't enough, they now commit harakiri with the running. Hodge went for a quick run and Starc was run out
Over 14
OUT! He wasn't waiting. He tried to clear the ground and holed out like many of his predecessors. 6 off 8 balls. Australia 75/7
This should be over soon now, unless a tailender decides to have some fun (and succeeds)
Over 13
Brad Haddin hits Ravindra Jadeja for a boundary
Straight delivery gets defended back to the bowler
Haddin seems to have given up hope, or he's waiting for the last few overs. Three dot balls. Australia 74/6
Over 12
Amit Mishra into the attack
Five singles off the over. Australia 69/6
Over 11
Jadeja into the attack, flicked to short fine leg for one
SIX! Now Bailey advances down the track and lofts Jadeja over long on for six
Australia's batsmen have thrown the kitchen sink at the bowling, but they are still only 63 off 10.2 overs
OUT! Kohli holds on to another as captain George Bailey holes out this time. We could be in for an early dinner
Over 10
OUT! Now Maxwell tries to reverse sweep Ashwin and gets bowled. That was a bizarre, if entertaining innings. 23 off 12. Australia 55/5
Bailey can't read Ashwin's spin. Australia 56/5
Over 9
SIX! Maxwell won't calm down. Another big slog, huge six over deep midwicket. Could be the longest six of the match
That midwicket stand could be named after Maxwell
Over 8
OUT! Warner goes a big one now and holes out in the deep. That was a SUPERB catch from Rohit Sharma.
Well he should have figured out the difference between Raina and Ashwin. 44/4 and Australia in deep strife now
George Bailey now in, takes a single. Australia 46/4
Over 7
SIX! The imperious approach continues as Maxwell goes down on a knee and lifts Raina over midwicket for six
SIX! Six again. Full on leg stump and slogged over fine leg
Big over for Australia. Was it a mistake to give the ball to Raina? 43/3
Over 6
Appeal for a stumping, or was it bowled? The replay shows the ball hit the stumps before reaching Dhoni's gloves.
OUT. Watson is bowled by Mohit Sharma for 1, Australia sink futher. 21/3
Short, rising delivery. Maxwell tried an uppercut but missed
Slower ball on middle stump, flicked away for a single
Warner finds the boundary, spooned through point, not very convincing
Australia 27/3 at the end of the over
Over 5
OUT! Now Cameron White goes, couldn't clear mid on. What are Australia thinking here? Strange approach
Bhuvaneshwar Kumar is bowling a good line, not giving the batsmen room
Single to third man from Watson ends the over. Australia 21/2
Over 4
OUT! Finch miscues one off Ashwin, Kohli take the catch behind the umpire. Australia 13/1
Warner lifts Ashwin for a straight six
India Innings
Over 20
OUT! Yuvraj tries to go big over long off, can't get the distance. 60 off 42. Good knock
Wide outside off, Jadeja tried to go after it but got an edge to third man.
This strategy of bowling wide may actually be working for the Aussies
Low full toss from Watson, Ashwin failed to get it away but Watson had overstepped. Free hit coming up
Free Hit - Ashwin manages just a couple behind square
What a run out. Ashwin came down the track, missed a full toss, ran for the single anyway and Jadeja was run out
Leg bye to end the Indian innings. 159/7. Australia pulled it back well towards the end.
Over 19
Was that a no ball for height? The umpires confer. No, it's ok.
OUT! Dhoni, looking to go inside out, gets bowled. 24 off 20 balls. India 150/5
Good over from Starc so far. Just 4 off 4
Low, slow full toss outside off, Yuvraj misses
Low full toss on middle and leg, Yuvraj missed and there was a muted appeal. India 152/5
Terrific over from Starc, just 5 off it and a wicket
Over 18
Yuvraj hooks a short Watson delivery for four. That was almost six
Yuvraj on 49
Wide ball
SIX! Another six. Poor delivery, full toss on the legs, and Yuvraj flicked it for six.
Yuvraj 55 off 37 balls. What a relief for him
Banged in short, down the leg side, hooked over the keeper's head for four
16 runs off the over, India 147/4
Over 17
SIX! Dhoni hooks a short ball over the long leg boundary
Wide. That was so wide it should have been two wides
Yuvraj flicks a low full toss through mid wicket, the fielder tried very hard to prevent the four
SIX! Wow. Yuvraj made room, the bowler followed him with a half volley. Yuvraj picked it and deposited it high over long off.
India 131/4
Over 16
Dhoni tries to send a ball from Bollinger into the semifinals. Big slog for no run.
He tries it again and ends up skying it into no man's land for two
Flicked away behind square leg for two
Bollinger has 2 balls left in his spell and has just given away 18 runs.
Dhoni lifts a good length ball for four over mid on.
Short ball, Dhoni freed his arms and tried to hit it over midwicket, it went flat to the fielder at deep midwicket. Two runs
India 112/4 after 16 overs
Over 15
Shane Watson is back into the attack
Yuvraj drives for no run
Wide ball
Leg byes as Dhoni tries to evade a ball leaving leg stump
Flicked away from middle and off for a single
Over 14
SIX! Yuvraj hits big into the stands! Now that's like the old Yuvi.
SIX! Another six
Now aggressively cut away for a single. Yuvi has upped the ante. This could be dangerous for Australia
Muirhead got taken for 17 in that over
Over 13
Yuvraj hits Hogde for four. A big finish from Yuvraj would give India a decent score
Wide ball
Hodge ends the over with 0, 2 leg byes, and 0. 8 off the over. 77/4
Over 12
OUT! Raina now holes out in the deep, well caught by Finch. He has fielded well today.
Raina 6 off 10 balls. India 66/4
MS Dhoni walks in.
Yuvraj sweeps but can't connect well. Gets a single. India 69/4
Over 11
Yuvraj cover-drives Bollinger perfectly for a boundary
Oopsie! Now he slips while attempting to abort a tough single, almost run out
Nasty short delivery from Bollinger, Yuvraj swayed out of the way
Misses the last delivery which was on leg stump. India 64/3
Over 10
Two singles off the first two balls
Yuvraj attempting to find form through solid defence, but he can't take too much time out there
Raina flicks to short fine leg as India score 5 off the over.
India 59/3 after 10 overs
Over 9
Yuvraj off to sluggish start again, just 4 off 9 balls so far
OUT! Rahane goes now, caught behind off Doug Bollinger
Rahane 19 off 16 balls. An opportunity wasted
Suresh Raina is in now
Over 8
Close shave for Yuvraj as that ball from Maxwell nearly got him out LBW, saved by the line
Over 7
OUT! Newbie James Muirhead gets Kohli to slap one down to long off, out caught
Kohli 23 in 22 balls
Over 6
Doug Bollinger comes into the attack
India doing it in singles this over
Rahane hits Bollinger for four
That was a pretty poor over from Bollinger, who was all over the place
Over 5
Down the track and Rahane hits Starc for four, India 34/1
A single
That was hit powerfully by Kohli, Aaron Finch did well to stop it
Single to end the over, India 37/1
Over 4
Kohli now hits Shane Watson for four. Australia seem to be rotating the bowlers very often
Two runs to end the over, India 30/1
Over 3
Mitchell Starc gets edged away for four by Virat Kohli
Over 2
SIX! Kohli goes big over long on against Glenn Maxwell. India 16/1
Over 1
Brad Hodge sends back Rohit Sharma for 5, India 6/1