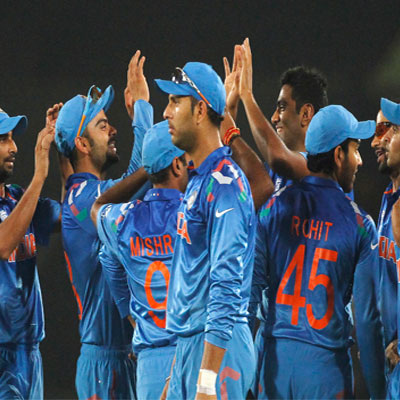 India vs Bangladesh, League match, Group 2, Shere Bangla Stadium, Mirpur
India defeated Bangladesh comprehensively by 8 wickets to continue their strong form in the ICC World Twenty20 on Friday. Chasing 139 to win, India won with 9 balls to spare.
Opener Shikhar Dhawan once again looked uncertain and was almost bowled twice, and clearly bowled the third time, leaving India at 13/1.
However, Rohit Sharma and Virat Kohli ensured that there were no further hiccups with a 100-run stand off just 12.3 overs.
Sharma had made 56 before he cut one straight to cover, continuing his habit of throwing away his wicket after a good start.
However, captain MS Dhoni and Kohli ensured India reached the target without the loss of any more wickets. Dhoni took to the bowling at the end, hitting Al-Amin Hossain for a four and a six in one over, before sealing the inevitable with a massive six off Ziaur Rahman.
​Earlier, Bangladesh scraped through to 138/7 off their 20 overs in their match against India in the ICC World Twenty20 on Friday evening, on the back of Anamul Haque's 44 off 43 balls.
India won the toss and sent Bangladesh in to bat at Mirpur on Friday evening. Bangladesh are desperate for a win after having suffered a sound defeat at the hands of West Indies in their first league match.
Opener Anamul Haque attacked in the first over itself, hitting Bhuvaneshwar Kumar for three boundaries. However, Bangladesh soon suffered several setbacks when Tamim Iqbal (1) and Shamshur Rehman (0) were both dismissed by Ashwin in one over. Kumar then struck to remove Shakib Al Hasan (1) to leave Bangladesh reeling at 21/3.
Mushfiqur Rahim and Anamul Haque then attempted to rebuild with a 46-run stand off 41 balls, before Mohammad Shami sent back Rahim for 24. Amit Mishra then bowled Haque for a well-made 44 to leave Bangladesh struggling once again at 82/5.
Live match coverage:
Indian innings:
Over 19
Single off the first ball
Kohli tries for a big shot, gets a thick edge to sweeper cover
SIX Dhoni finishes it as usual, with a six. India seal the match, Bangladesh almost out of the tournament
Over 18
This should now be over quickly
Couple of singles off the first two balls
Mortaza bowled shorter, Kohli tried to come down the track, but changed his mind. A single
Six to win. Will Kohli try for the big one?
He doesn't. India 133/2
Over 17
Dhoni lifts Hossain high over mid off for a boundary. This looks easy now.
SIX Flat six from Dhoni, that flew over the midwicket boundary at low height. India 129/2
Over 16
OUT Mushrafe Mortaza into the attack, gets Rohit out first ball of the over. Rohit 56 off 44
MS Dhoni is the new man. He was twirling his bat earlier, looked hungry for a hit
A few defensive shots from Dhoni. Probably looking to set up the match for his famous finishes?
Over 15
Short and wide, and dismissed for four with contempt by Rohit Sharma
Time for Kohli to bring up his half century with an easy single
Aggressively punched down to deep extra cover for one
Over 14
Mahmudullah into the attack, bowls a wide to begin with
100 up for India, look on course for easy win
Sharma on 48, flicks a single
Fifty for Rohit Sharma and this must come as a relief. India 104/1
Over 13
Five runs off the over, India 97/1
Over 12
Kohli easily flicks it to long on for one
This time a wristy flick to square leg and quick running for a possible couple of runs, but they settle for 1.
Kohli hits Ziaur for four
India 92/1
Over 11
Shakib al Hasan to Kohli, 1 run
Sharma flicks Shakib to mid on for a single
Now a low ball gets slogged to deep midwicket. India 82/1
Over 10
Kohli now on the attack, boundary off the second ball of Gazi's over.
Another boundary as Kohli continues to toy with the bowling. India 77/1
Over 9
Dropped! Rohit Sharma skies one off Zaiur Rahman, and the fielders collide while making a mess of it
And just like that, rubbing salt into the wounds. A boundary to end the over. India 64/1
Over 8
Three singles off the first three balls as Sohag Gazi comes back into the act
Decent over from Sohag Gazi, just 5 from it. India 55/1
Over 7
Sharma seems to have decided to take on the bowling. Yet another boundary. India 45/1 now
India scoring smoothly now, 50/1 after 7 overs
Over 6
Rohit Sharma cracks Shakib al Hasan for four, India 35/1
Down the pitch and driven away for four! Rohit getting into better form, 24 off 19.
Over 5
Al-Amin Hossain to continue, flicked away for a single
Kohli hits Hossain for a big six
1 no ball, free hit coming up
Good bowling on the free hit as Sharma can score only 1
Over 4
Bangladesh plays trump card, bring Shakib-Al-Hasan into the attack
A wide ball
India 18/1 after 4 overs
Over 3
Sharma hits Al-Amin Hossain for six off the first ball
Hossain bowls one short and Dhawan attempts to send it into next week, misses.
OUT Shikhar Dhawan bowled by Hossain for 1, India 13/1 after 2.5 overs
India's best batsman, Virat Kohli, is in
Over 2
Spin introduced in the second over, Sohag Gazi comes in
India doing it in singles now, Shikhar Dhawan opens his account
End of the 2nd over, India 6/0
Over 1
Indian openers begin cautiously, India 3/0 after the 1st over
Over 20
Mishra gets Hossain out stumped for 16, Bangladesh 131/6 after 19.1 overs
Ziaur Rehman is the new batsman
Ziaur Rehman is out for 0 as Mishra gets him out caught in the deep
They crossed strike so Mahmudullah gets strike. But he can only score 1 off the next two balls
Two balls to go and Bangladesh at 132/7
Oh! Mushrafe Mortaza hoicks Mishra for six off the last ball of the innings to take Bangladesh to 138/7.