01:08 pm
As we near the end of the massive event, all eyes in India are on wrestler Sushil Kumar, the lone Indian left in the Games.
01:29 pm
Here's a look at India's performance on day 15:
Wrestling: Yogeshwar Dutt gave India lot to cheer about by winning the bronze medal in the men's 60kg category to give the country its fifth Olympic medal.
Athletics: Basanta Bahadur Rana ranked 36th in the men's 50km walk. Yet he managed to create a national record.
Hockey: The Indian team ended their worst-ever Games with a wooden spoon in 12th position after losing to South Africa.
01:32 pm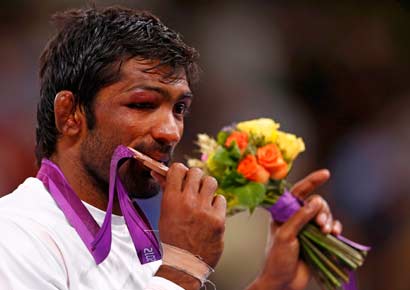 Yogeshwar Dutt bites his bronze medal at the podium
01:44 pm
There are 15 gold medals being awarded on the last of London Games.
01:47 pm
Wrestling: Sushil Kumar has beaten 2008 gold medallist Ramazan Sahin of Turkey 3-1 to make his place in the quarter-finals bout of men's 66kg freestyle category
01:54 pm
Wrestling: Sushil Kumar will take on Ikhtiyor Navruzov of Uzbekistan in his quarterfinal bout.
02:19 pm
Wrestling: Sushil Kumar has levelled scores after a shaky start in the first period.
02:20 pm
Wrestling: Sushil Kumar grabbed another point to take lead 3-1 and win the first round.
02:25 pm
Wrestling: Sushil Kumar has lost the second round 2-1.
02:26 pm
Wrestling: Sushil Kumar has taken lead in the last round with 1-0.
02:29 pm
Wrestling: Sushil Kumar has won the last round to win the match against Ikhtiyor Navruzov of Uzbekistanwith 3-1 and secure his place in the semifinal round.
02:32 pm
Wrestling: Sushil Kumar will take on Akzhurek Tanatarov of Kazakhstanto secure a place in the finals.
03:02 pm
Taekwondo: Carlo Molfetta of Italy has taken gold in a tight heavyweight taekwondo final. This is the first Olympic medal for the Central African nation.
03:08 pm
Wrestling: Sushil Kumar has taken lead 3-0 in the first round.
03:11 pm
Wrestling: Sushil Kumar is down in the second round 3-0.
03:14 pm
Wrestling: Akzhurek Tanatarov has won the second round.
03:15 pm
Wrestling: Sushil Kumar has taken lead with 5-3.
03:17 pm
Wrestling: Sushil Kumar has won the last round as well.
With this win, Sushil qualifies for the final round of 66kg men's freestyle wrestling, ensuring another medal — silver or gold — for India.
03:33 pm
Wrestling: In the second semi-final, Tatsuhiro Yonemitsu of Japan has beaten Jabrayil Hasanov of Azerbaijan.
Sushil Kumar will thus take on Tatsuhiro Yonemitsu of Japan.
03:43 pm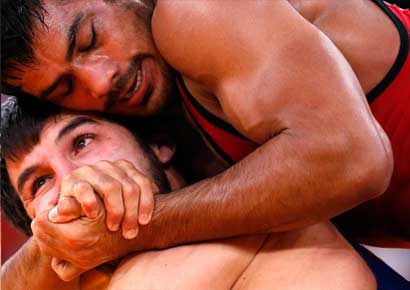 Sushil Kumar (in red) fights with Turkey's Ramazan Sahin

04:03 pm
Wrestling: The final match in the 66 kg freestyle category will be held at 6:30 pm.
All eyes are on Indian contingent Sushil Kumar who may just be the first Olympian to win Gold in London Games.
04:09 pm
Boxing: Ukraine's Olexander Usyk has taken gold after winning a bruising final against Italy's Clemente Russo.

Read complete report
04:19 pm
Volleyball: Italy has won their match against Bulgaria 3-1to win the bronze medal.
05:13 pm
Handball: Croatia beat Hungary 33-26 to win the Olympic men's handball bronze medal
05:33 pm
Basketball: Russia won the Olympic bronze medal in the men's basketball on Sunday at the North Greenwich Arena in London.
06:15 pm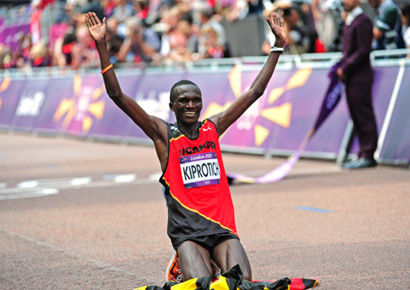 Stephen Kiprotich of Uganda celebrates winning gold in the Men's Marathon on Day 16 of the London 2012 Olympic Games at The Mall on August 12, 2012 in London, England. (Photo by Stu Forster/Getty Images)
06:15 pm
Athletics: Ugandan Stephen Kiprotich shot to the front with six kms remaining to win the men's Olympic marathon on Sunday in two hours eight minutes 11 seconds. It was his country's first medal of the Games and came in the final event of the athletics programme.
06:25 pm
Boxing: Cuba's Robeisy Ramirez Carrazana beat Mongolia's Tugstsogt Nyambayar to win the men's Olympic flyweight boxing gold medal on Sunday. Carrazana claimed a 17-14 victory at the Excel Arena in east London. Losing semi-finalists Michael Conlan of Ireland and Misha Aloian of Russia took bronze. —Reuters
06:26 pm
Wrestling: Men's freestyle wrestling 96kg repechage, second round results. Results Table Khetag Gazyumov (Azerbaijan) beat Rustam Iskandari (Tajikistan) 3-1 Kurban Kurbanov (Uzbekistan) beat Khetag Pliev (Canada) 3-1
06:30 pm
Wrestling: Fingers are crossed for Sushil Kumar, who early today made it to the finals. He is the first Indian to win back-to-back individual Olympic medals.
06:33 pm
Sushil Kumar lost a Olympic gold to Japan's Tatsuhiro Yonemitsu. Kumar will come home with a silver.

06:42 pm
Wrestling: Kazakhstan's Akzhurek Tanatarov won an Olympic bronze medal in the men's freestyle wrestling 66kg on Sunday. Results Table Akzhurek Tanatarov (Kazakhstan) beat Ramazan Sahin (Turkey) 3-1
06:44 pm
Basketball: Russia beat Argentina 81-77 in a thrilling finale to win the bronze medal in Olympic men's basketball on Sunday, breaking away in the last minute to end a 12-year medals drought. In a game dripping with tension between two evenly matched teams that had 17 lead changes and was tied a dozen times, young Alexey Shved caught fire from the outside to lead the Russians to victory. —Reuters
07:08 pm
Modern pentathlon: Hungary's Sarolta Kovacs broke the Olympic record for the swimming leg of the women's modern pentathlon on Sunday while her compatriot Adrienn Toth took an overall lead in the race for the last gold medal of the London Games. A sport invented by Pierre de Coubertin, founder of the modern Olympics, the event involves fencing, swimming, horse-riding, shooting and running. At the 2012 Olympics, it takes place in a single day at three separate venues.—Reuters
07:22 pm
With Sushil's silver, India has ended its London Games campaign with six medals — its best ever show at the biggest sports extravaganza.
07:34 pm
Boxing: Serik Sapiyev stunned a boisterous home crowd on Sunday when he pummelled his way to welterweight gold with a 17-9 demolition of Britain's Freddie Evans and hand Kazakhstan its first boxing title of the Games. Kazakhstan, a rising force in amateur boxing who will host next year's world championships, had pocketed a bronze elsewhere in the men's draw but when Sapiyev bounded into the ring, it looked like he was fully intent on getting gold.
08:14 pm
Wrestling: Indian Prime Minister Manmohan Singh congratulated wrestler Sushil Kumar for winning a silver medal at the London Olympics and expressed hope that his feat will "motivate a new generation of sportsmen and sportswomen".
In a message, the prime minister said: "By improving his performance during the London Olympics over Beijing Games, he has proved his determination and sheer tenacity."
08:17 pm
Gymnastics: Russia won the Olympic gold medal in the women's rhythmic gymnastics group competition on Sunday. Belarus won the silver and Italy won the bronze.
Results Table

Overall 1. Russia 57.000 2. Belarus 55.500 3. Italy 55.450 4. Spain 54.950 5. Ukraine 54.375 6. Bulgaria 54.375 7. Japan 54.100 8. Israel 53.400 ()
08:18 pm
Mountain bike cross country: Czech Republic's Jaroslav Kulhavy won the Olympic gold medal in the men's mountain bike cross country on Sunday. Switzerland's Nino Schurter won the silver and Italy's Marco Aurelio Fontana won the bronze. Results Table (All times provisional) 1. Jaroslav Kulhavy (Czech Republic) 1 hour 29 minutes 7 seconds 2. Nino Schurter (Switzerland) 1:29:08 3. Marco Aurelio Fontana (Italy) 1:29:32 4. Jose Antonio Hermida Ramos (Spain) 1:29:36 5. Burry Stander (South Africa) 1:29:37 6. Carlos Coloma Nicolas (Spain) 1:30:07 7. Manuel Fumic (Germany) 1:30:31 8. Geoff Kabush (Canada) 1:30:43 9. Alexander Gehbauer (Austria) 1:31:16 10. Todd Wells (U.S.) 1:31:28

08:18 pm
Cycling: Defending champion Julien Absalon of France pulled out of the Olympic men's mountain bike race after a puncture ruined his chances of clinching a third title in a row on Sunday. Absalon, the 2004 and 2008 champion and one of the pre-race favourites, withdrew from the race on the second of seven 4.7-kilometre laps after he suffered a flat tyre on the opening circuit. Czech Jaroslav Kulhavy eventually took the gold.
08:18 pm
Boxing: Russia's Egor Mekhontcev won the Olympic gold medal in the men's boxing light on Sunday. Kazakhstan's Adilbek Niyazymbetov won the silver. Results Table Egor Mekhontcev (Russia) beat Adilbek Niyazymbetov (Kazakhstan) 15-15 ()
10:09 pm
Basketball: The United States won the Olympic gold medal in men's basketball on Sunday. Spain won the silver and Russia took the bronze.
Results Table
US beat Spain 107-100 (35-27, 24-31, 24-24, 24-18)
10:52 pm
It's raining awards fr wrestler Sushil Kumar
Delhi government has announced a prize of Rs1 cr, so has Haryana government.
The railways announced a cash award of Rs75 lakh