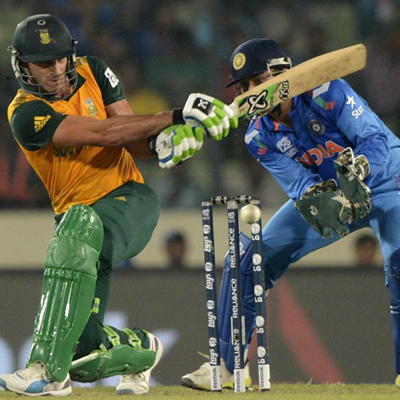 21:28 IST Friday, 4 April 2014
Suresh Raina is the new batsman
Slower ball bouncer, Raina thought about it but let it go
Slower ball again, this time wide outside off stump. WIDE.
SIX! Shortish ball on leg stump and Raina effortlessly pulls it for six behind square!
Low ball wide outside off, Raina slaps it out behind point for two
Another short ball, Raina edges it behind the keeper for four
Poor bowling from Parnell
Full ball, now an inside edge down to fine leg for four!
Good yorker to end the over, but this could be the over that turned the match India's way. 17 off it.
India 150/3 after 17 overs
21:18 IST Friday, 4 April 2014
Steyn back into the attack
Kohli pulls for one. India need a few boundaries now. The required run rate has crossed 10
Just four singles from the over so far
Another single
Finally the boundary. Full ball and Yuvraj just hit it straight down the ground, lofted, for four
India 122/2 off 15 overs
Four. Finally Yuvraj manages a decent shot, cuts Imran Tahir hard for a boundary
Kohli down the track again and gets a single to long on
Short but low, Yuvraj managed to pull it hard to midwicket for one
India 113/2 after 14 overs
Four. Kohli pulls Hendricks to the square leg boundary
Very quick single, and they take the second off the misfield.
Slower short ball, and dabbed into the leg side for another quick two. Some really good running by these two.
Oops...that was really short...and slow. Kohli tried to smash it into the ground but it looped up and crossed his stumps to the wicketkeeper.
India 104/2 after 13 overs. We have a match on our hands here
21:03 IST Friday, 4 April 2014
Imran Tahir into the attack
Kohli comes down the track but can just get one
Yuvraj Singh advances down the track and misses, called a wide. Yuvi almost fell over and could have been out stumped.
Bludgeoned down to deep midwicket for one
India 94/2 after 12 overs, just 5 off the over
20:59 IST Friday, 4 April 2014
Yuvraj Singh is in.
SIX! Kohli creamed that for six
Huge appeal for LBW by Duminy against Yuvraj Singh, not given by the umpire Dharamsena
India 89/2 after 11 overs
20:54 IST Friday, 4 April 2014
JP Duminy into the attack, isn't this quite late to introduce spin on a turning track?
India 75/1 after 9 overs
20:49 IST Friday, 4 April 2014
Morne Morkel into the attack. A quick two.
Another quick couple to end the over. India 69/1 after 8 overs
20:45 IST Friday, 4 April 2014
Oh. Was that a dropped return catch. Kohli came down the track and it almost carried to the bowler.
India 61/1 after 7 overs
20:39 IST Friday, 4 April 2014
Wayne Parnell to bowl to Rahane. Wide to start off.
Virat Kohli is the new batsman
Innovative stroke by Rahane for two runs
SIX! Superb shot from Rahane, backs away and hits a good length ball over extra cover for six!
India 52/1 after 5 overs
20:30 IST Friday, 4 April 2014
Short and wide again, this time from Hendricks and Rahane lifts it over the off side for four
Oooh...Rahane dabbed it to the wicketkeeper and tried to take a quick single, but was nearly run out
Slower short ball, plucked out to backward short leg for one
Surprisingly, SA didn't start with Dale Steyn. Here he comes now.
Searig delivery first up, but down the leg side
The ball is speeding off the bat tonight. Single down to third man
SIX! Rohit backs away, Steyn bowls short and Rohit smashes it over third man for six!
India 33/0 after 3 overs
20:22 IST Friday, 4 April 2014
Rohit, Rahane just hit 3 boundaries off the first over. India 14/0
19:55 IST Friday, 4 April 2014
Huge appeal from Ashwin. Duminy had missed another one and it looked out, but the umpire declines.
SIX! Now Duminy is down the track and lifts Ashwin over long on for six.
Flicked away for a single. Decent over for SA, 146/4 after 18 overs.
19:44 IST Friday, 4 April 2014
OUT! De Villiers looks to go big over deep midwicket and is caught on the boundary. Good catch by Sharma and another wicket for Ashwin.
David Miller is the new batsman
Now Duminy very nearly slaps it straight to gully. Terrific spell from Ashwin
SA 130/4 after 16 overs. Just 3 off that over.
Mishra continues and is promptly dispatched for a boundary. Nice sweep shot.
AB De Villiers now drives Mishra to sweeper cover for one
SA 127/3 after 15 overs
Mishra and Raina have been hammered (0/25 off 2 and 0/29 off 3), so its time to bring back Ashwin.
SIX! Faf du Plessis gives himself room and launches a short ball over deep midwicket for six. Poor delivery.
Duminy goes for an aggressive sweep but gets only 1
OUT! Bowled. Faf came down the track, slipped and was bowled. Weird end to a good innings.
Faf du Plessis 58 off 41 balls
19:26 IST Friday, 4 April 2014
Wow. Du Plessis charged down, missed, and Dhoni knocked off the bails. But it was a NO BALL.
FREE HIT. Smashed over extra cover for four.
SA 74/2 after 11 overs
19:15 IST Friday, 4 April 2014
Du Plessis goes over the man at midwicket, and Rohit Sharma makes a hash of it. Four.
SA 66/2 after 10 overs.
Nine overs gone, SA 58/2
19:07 IST Friday, 4 April , 2014
India now employing an all-spin attack, Raina in to bowl
19:04 IST Friday, 4 April , 2014
Amla is emulating Dilshan today. Opens the front leg and smashes this over extra cover.
SA 44/1 after 5 overs
Another boundary from Amla. South Africa off to a quick start here
A quick two. SA 34/1 after 4 overs
Cross batted slog from Faf du Plessis, once bounce for four over midwicket
Edged for four to third man! Amla was in no control of that.
Amla has an interesting stance today. Walks over to the off stump and flicks one behind square leg
3 overs gone, South Africa 17/1
Dhoni comes up to the stumps
Another drive for no run. 2 overs gone, SA 13/1
Amla on drives but finds short mid-on
Mohit Sharma to bowl the second over, no spinner this time
South African Innings
18:42 IST Friday, 4 April 2014
OUT! Bhuvaneshwar Kumar gets Quentin de Kock in the first over. South Africa 9/1
18:21 IST Friday, 4 April 2014
South Africa win the toss and choose to bat
India vs South Africa, 2nd semifinal, Dhaka, ICC World Twenty20
Match start time: 6:30pm IST
This match is a true clash of the titans. India have an enviable record in the subcontinent, while South Africa have always been known as one of the top teams in the shorter formats, and boast of a certain Dale Steyn.
However, India have not reached the semifinals of the World Twenty20 since they won the inaugural edition in 2007, and South Africa keep retaining their tag of being 'chokers' in knockout games. Both teams, therefore, have great motivation to win Friday's game.
India are clearly the team to beat in this tournament, having won all four of their league games without much trouble. South Africa, on the other hand have been jittery, and relied on Dale Steyn to give them their moments of glory. A near-loss to a minnow will also continue to play on their minds.
India will be looking to avenge their poor South African tour last fall, and South Africa will try to capitalise on the mental edge they hold over India.